SLA is an essential component of any technology vendor contract, especially those outsourcing-related ones. Apart from listing the expectations of service type and quality, an SLA also defines the agreed penalties when those expectations aren't met.
Traditionally, an SLA is used to define promises from service providers to customers. Nevertheless, it can also serve the vendor's internal operations as well. For instance, when aligning your sales and marketing efforts or improving team communication. According to a recent LinkedIn survey, around 60% of global respondents believe that misalignment between Sales and Marketing could damage financial performance, while Microsoft discovered that these departments' alignment could boost customer retention by 36%.
But what does SLA stand for and how does it improve business performance? This article will explain the SLA basics, describing its major types, key metrics, and what makes an SLA so important today.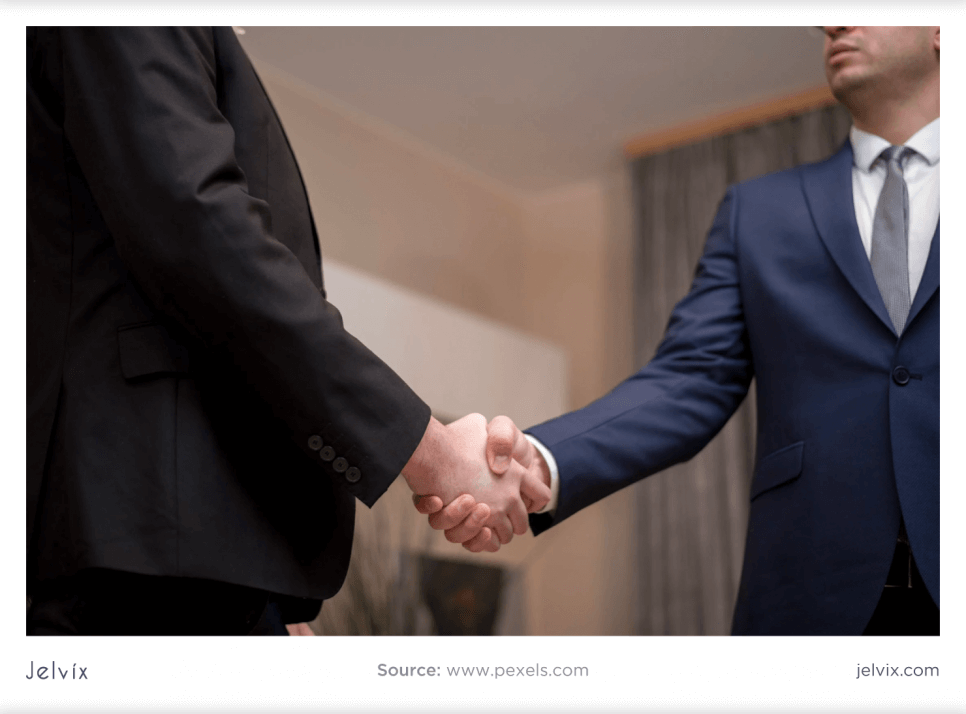 What Is SLA
& How Does it Work?
An SLA, also known as a Service-Level Agreement, refers to the agreed-upon level of service between a vendor and a client (Gartner's IT Glossary,). The metrics covered in SLA help to determine the success or failure of the agreement, as well as clear out the remedies or penalties if any of the agreed-on service levels aren't achieved. SLAs are arranged between companies and external suppliers, but they may also be between two departments within a company.
The term "Service-Level Agreement" has a significantly wide scope of use. Typically, it's used in IT outsourcing, but now more and more businesses, eCommerce stores, and other industry-specific people have also been implementing SLAs to legitimize their services.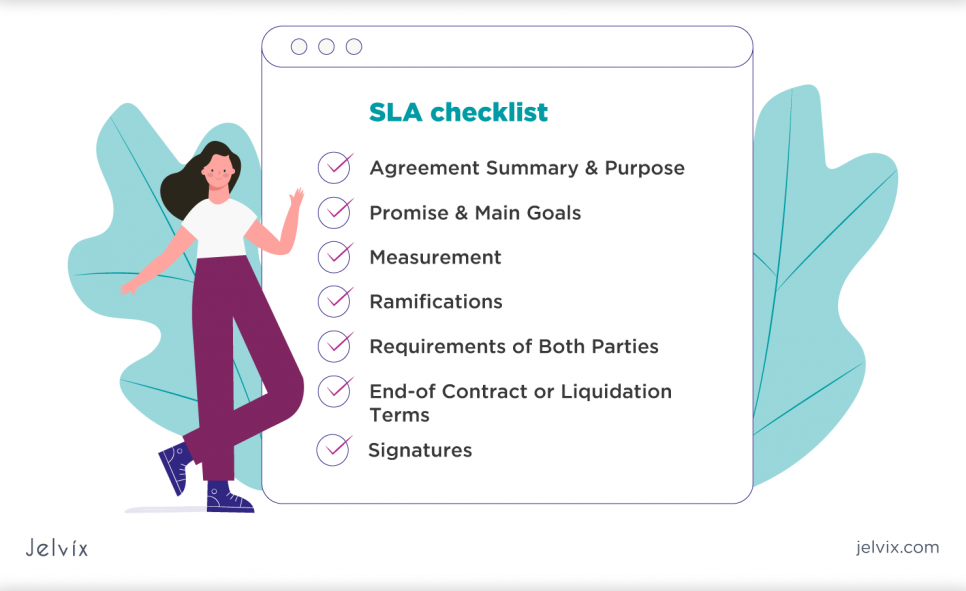 Though the SLA definition seems a bit difficult at first, the structure of this agreement is pretty straightforward. In most cases, it includes six basic elements:
Agreement Summary & Purpose:

Why does this data SLA exist? What are the major aspects to be resolved, and how can those be achieved?

Promises & Main Goals:

What are the core promises to the other party (the client, team, or department)?

Measurement:

How will you measure the data SLA and who will measure it? How often is the SLA review done?

Ramifications:

What happens when the data SLA is missed? Who is responsible and what penalties can be applied, if any?

Requirements of Both Parties:

What do you expect to get from the SLA in return? How are your promises conditional?

End-of Contract or Liquidation Terms:

How and when one of the parties can opt-out of the SLA?

Signatures:

Who is committing to the data SLA?
Before the conclusion, the SLA should be carefully evaluated and designed to provide the maximum value for both parties. The best practices also recommend keeping it short and simple, ensuring there's no ambiguity or changes in meaning.
The practice of delivering service-level agreements is not a new concept. It has already been applied by thousands of reputable corporations and businesses across many industries, including Microsoft, HubSpot, AT&T, PandaDoc, and others.
3 Key Types of SLA
Ultimately, the core SLA meaning is to create alignment between two parties by defining clear expectations and alleviating any issues before they happen. However, not all SLAs are identical in target audience and content.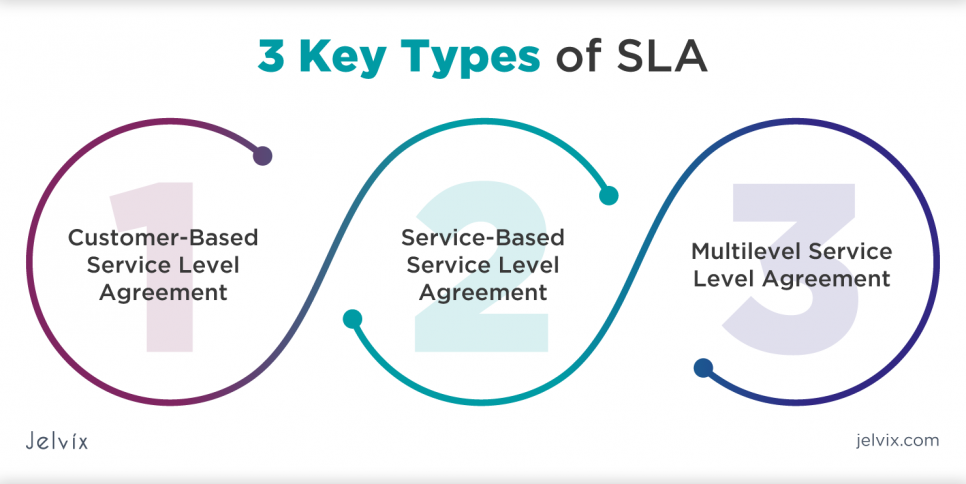 Depending on the use case, there are multiple types of service-level agreements to know:
Customer-Based
Service Level Agreement
A customer-based SLA is a kind of agreement done with a single customer to deliver a certain level of services required. Usually, this type leverages a single contract, which is convenient for the vendor because of its simplicity. For instance, a telecom service provider may include all the services it delivers (cable TV, Internet, and more) into a single contract for a particular customer.
Service-Based
Service Level Agreement
Service-based SLA is the standard contract applied to all customers. Usually, it features unchanging standards that are more simple and pretty straightforward for vendors and comprehensive for their clients. An excellent example of this type is a mobile operator agreement valid for all customers who agree to use the services.
Multilevel
Service Level Agreement
Multilevel SLA is a specific document in which the end-users can optimize the services delivered according to their preferences and needs, create the add-on conditions and point out some other aspects to create the personalized service model. The most typical example of this type of SLA exists in many freemium software products (YouTube, Google Cloud Platform, Trello, WordPress, etc.), in which vendors list the guaranteed service levels, those provided for higher price points, or exclusive to specific subscription plans.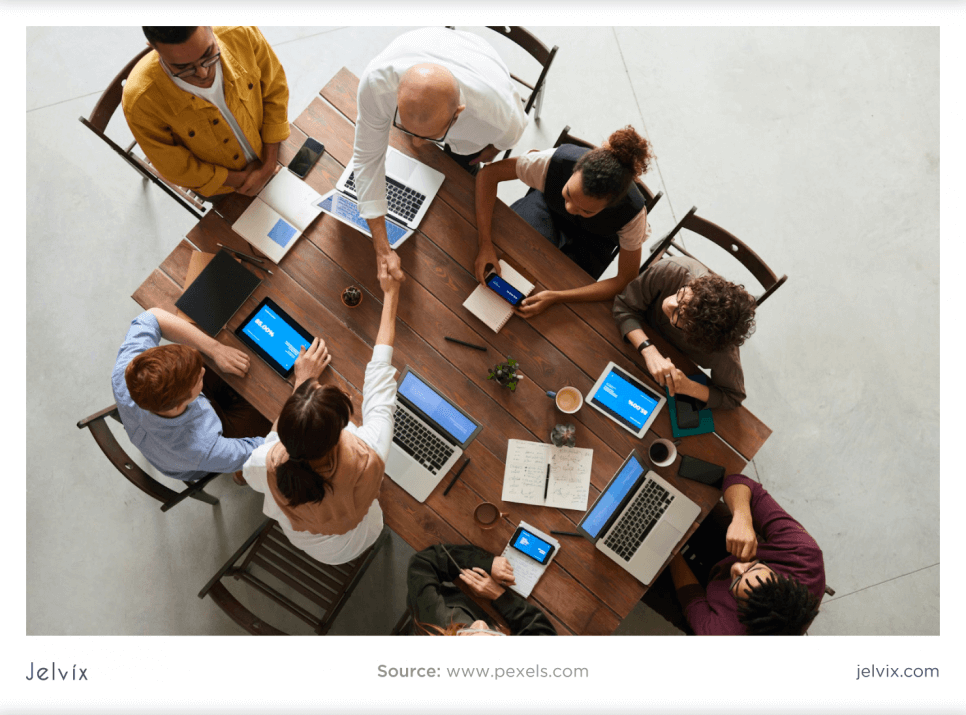 Why Is Service-Level Agreement Important?
An SLA is not solely a contract itself – behind the service level agreement definition stand plenty of agreed-upon terms between the service provider and its customers. Any agreed-upon terms are focused on ensuring the services provided meet certain thresholds (for instance, uptime, responsiveness, first call resolution, and many more).
Traditionally, SLA functions as a blueprint of the services which a company promises. They can protect the vendor's reputations and assets – one of the top priorities of any business. Along with that, the reasons for implementing SLA into the contract include:
SLA helps to set clear, measurable, and achievable guidelines.

Therefore, the company and its clients have identical opinions on the standards and service. It also helps clients form certain expectations and ensure they get what they've paid for. As for the provider itself, SLA metrics allow getting a better understanding of the service quality and the ways it can be improved.

SLA determines the ramifications when the service obligations aren't met.

This helps companies to create an alternative plan of action if the performance standards don't comply with those stated in the contract. For instance, vendors can offer monetary penalties that can relieve the situation without huge reputational damage. Additionally, it assists in projecting the possible scenarios the company can possibly face, which means the employees will always know how to act if any happens.

SLA allows finding the service provider according to the customer's requirements and expectations.

This is exceptionally important for consumers: in most cases, clients will get excellent customer service or decent compensation in case of any losses. Companies, on the contrary, apply rock-solid SLAs to enhance customer retention rates and get an advantage over competitors.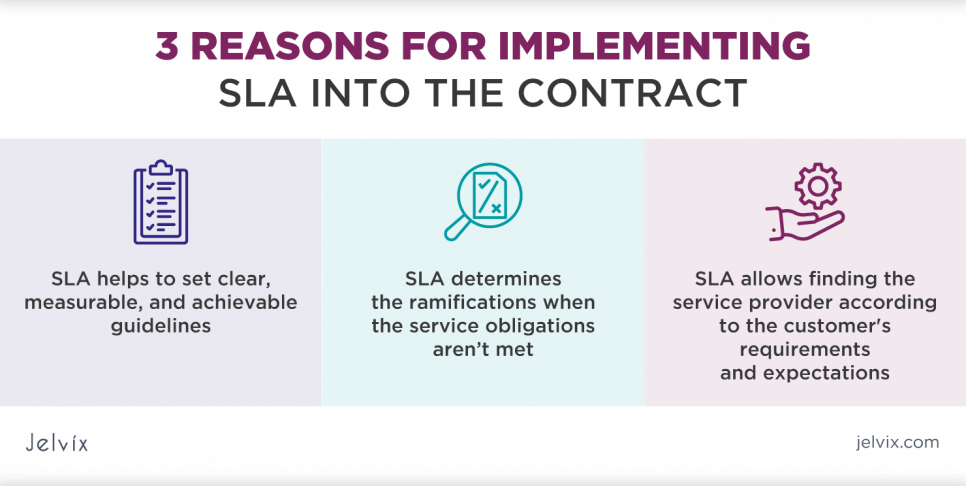 With this said, service level agreements play a significant role in building a competitive business with professional services, a great reputation, and satisfied customers. They provide an edge when helping an organization deliver on its promises. And the ability to create and manage the SLA metrics can ensure the vendor and its customers have a common vision for fulfilling the mutual needs.
How to Properly Set SLA Metrics & KPIs
The core value of service level agreements lies in their metrics. These measurements help to better control the quality of services delivered and should be fair and rational to both parties involved. Usually, the data for SLA metrics are captured automatically at regular intervals over a certain period, which further enables tightening the benchmark.
Take a look at the video about the difference between an SLA and a KPI:
These metrics are continuously improving to cover the most important aspects of service quality in client-vendor relations. An SLA can cover one or more agreed-upon metrics to measure the performance of a vendor. As an example, below you'll find the most common categories of SLA metrics for the scope of cloud solutions.
Availability

– the percentage of time the service is working for its users. The common illustrations of this metric are uptime, service availability, or defect rate.

Response time (latency)

– the amount of time it takes for a response to return after a request. Here, the typical tracking indicators are a mean time to repair (MTTR), Transaction Response Time, etc.

Throughput

– the amount of data over a period that the cloud resources send and receive tickets can be interpreted with the metrics such as disk write bytes, link throughput, and more.

First-call resolution

– the percentage of tickets resolved upon the first request.

Abandonment rate

– the percentage of queries not responded to within the response time. For example, HTTP errors, disk read errors, client errors, and more.

Meantime to recover

– the average time it takes to resolve a specific kind of service outage.
An SLA may specify the parameters for different types of customer infrastructure, providing analysts with the up-to-date service performance and quality. Therefore, this list of SLA metrics is variable and solely depends on certain business objectives and needs, as well as the industry it operates.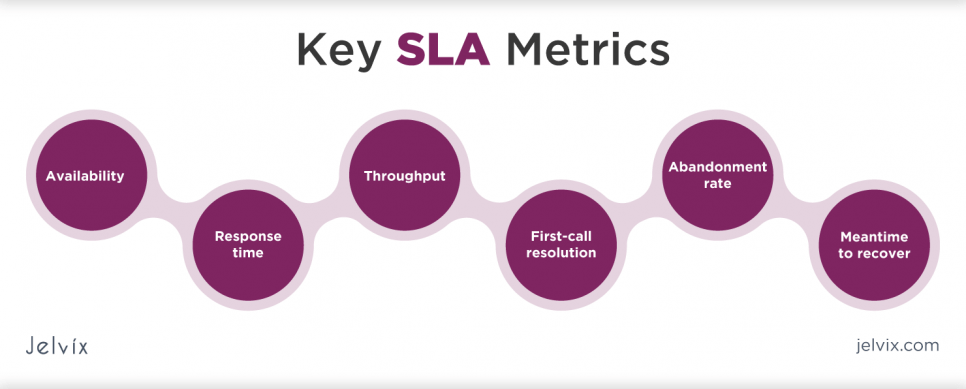 SLA Best Practices for Any Business
The simplest way to build a service-level agreement is to find the template and examples online. For instance, companies can take Microsoft Azure SLA Example for Cloud Services as an example, use the template for marketing and sales services offered on HubSpot, or any other offered sample within the same industry.
But how to make an outstanding service level agreement contract from scratch? Here are some great tips that shouldn't be missed out.
Make the SLA Flexible & Adjust Periodically
As any business evolves, it experiences different sorts of volatility. Small organizations are more nimble and able to grow much faster than larger companies (Investopedia). Therefore, vendors can see positive or negative changes in, for example, transactions, revenue, and customer retention, or else face unforeseen issues that can blow off all the estimates.
That is why companies should search for scalable and flexible SLA metrics that are strictly focused on business objectives. It's also recommended to set achievable goals that can be re-defined during hard times.
Additionally, reviewing the SLAs on time can help companies ensure they're developing in the right direction.
Choose Measurements That Can Be Easily Collected
One of the best characteristics of a good SLA metric is its ease of collection. Ideally, they are captured automatically with specific software (Datadog, ManageEngine, SuperOps, and many more). Though it's not always possible for all the desired metrics, vendors should search for efficient ways of optimizing this process to get the most value or compromise in favor of a decent alternative.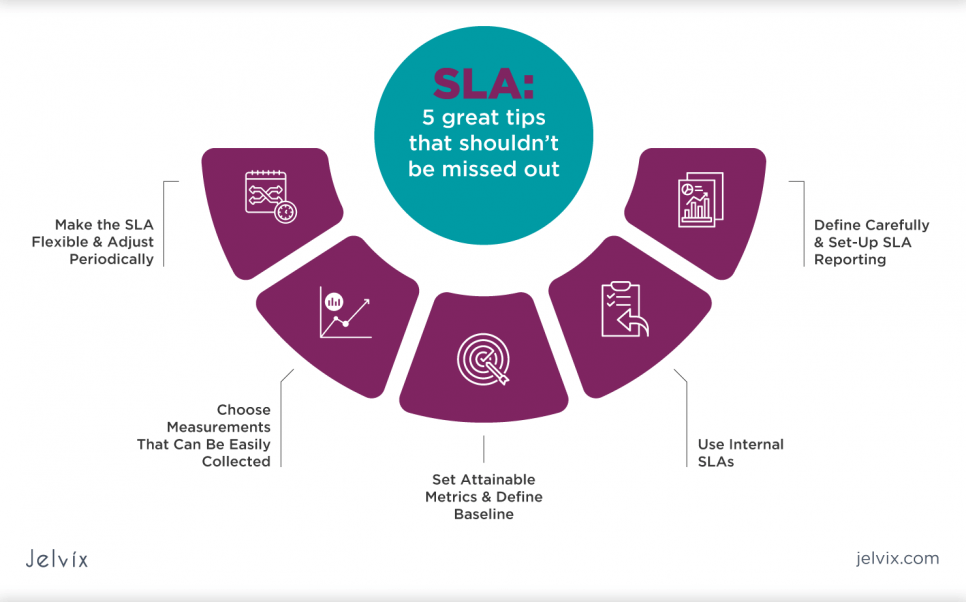 Set Attainable Metrics & Define Baseline
The major intent of the companies to create SLAs is to improve customer service. Therefore, incremental and traceable improvements are the most reliable way to achieve this goal.
After defining the baseline metrics, service providers should opt for the achievable SLA metrics by setting the KPI on the proper level. It's important to find the golden middle between the time and goals: having unrealistic KPIs, or those that are too easy to obtain will make no use for the company and service delivered.
Use Internal SLAs
Apart from the client-focused SLA metrics, it is also recommended to use internal ones, those responsible for interdepartmental communication. IBM gives a great explanation for this type of agreement: internal SLAs are the agreements between a service provider and an internal customer (for instance, another organization, site, or department).
Properly set internal SLAs help to provide realistic expectations for internal use. Depending on the culture of a company, there are multiple ways to deliver the SLA data:
Normal SLA template, adjusted for the internal client

SLA draft with the key metrics and expectations
Internal service level agreements are a great option for both large and small teams, helping to set clear expectations among team members.
Less Is More
One of the most common mistakes of the companies new to SLA documents is the intention to track as many parameters as possible. However, this strategy may be useless: it takes hours to cover the SLA data.
To ensure the company is making the most of the SLA, the optimal option will be to prioritize the list of SLA metrics. This way, vendors can filter out the less valuable parameters while focusing on the critical ones.
Define Carefully & Set Up SLA Reporting
Setting up the SLA metrics is only half of the battle. In some cases, providers may tweak these parameters to ensure they're on the top. For example, the first-call resolution hits 100% SLA because of delivering an automated ticket response for an incident. In fact, no actions were taken. This strategy significantly devalues all the principles of a service-level agreement. So, vendors should always define their SLAs clearly to get clear, up-to-date performance data.
Another essential aspect of the SLA management process is monitoring. In other words, the documentation captures the momentum of service performance and compares the results. Vendors should always consider how often and in what way the data is captured, and who is responsible for this process.
How Can We Help?
Creating a comprehensive SLA document can make or break the company's performance. While it's mostly known as a public promise to clients, they're a bilateral agreement: the vendor provides certain services while getting customers' loyalty and trust. In other words, SLAs can keep the vendor honest and expectations early on and drive the business forward.
Jelvix experts have years of expertise in digital transformation scope. Our best experts know how to identify the business goals and needs and are always ready to create an outstanding development strategy for the company's growth.
Should you have any questions about SLA, reach out to Jelvix. We've helped various companies set the right SLAs that align with the target business objectives and create a personalized documentation model that will benefit for years.
Conclusion
A service-level agreement is one of the first steps toward improving the relationship between clients and service providers. SLA helps to understand the responsibilities of each party better and shape clear expectations from the service delivered. Therefore, it is now widely applied across many industries by companies of different sizes.
Creating a professional SLA document can put your company on a completely new level of growth. Once you've learned what a service level agreement is and are ready to start its implementation, it's worth considering one of the following models:
A customer-based SLA

A service-based SLA

A multilevel SLA
However, if you still have any questions concerning SLA meaning, performance, or efficiency, contact Jelvix today. Our managers are always ready to assist in creating a powerful service level agreement specifically for your business.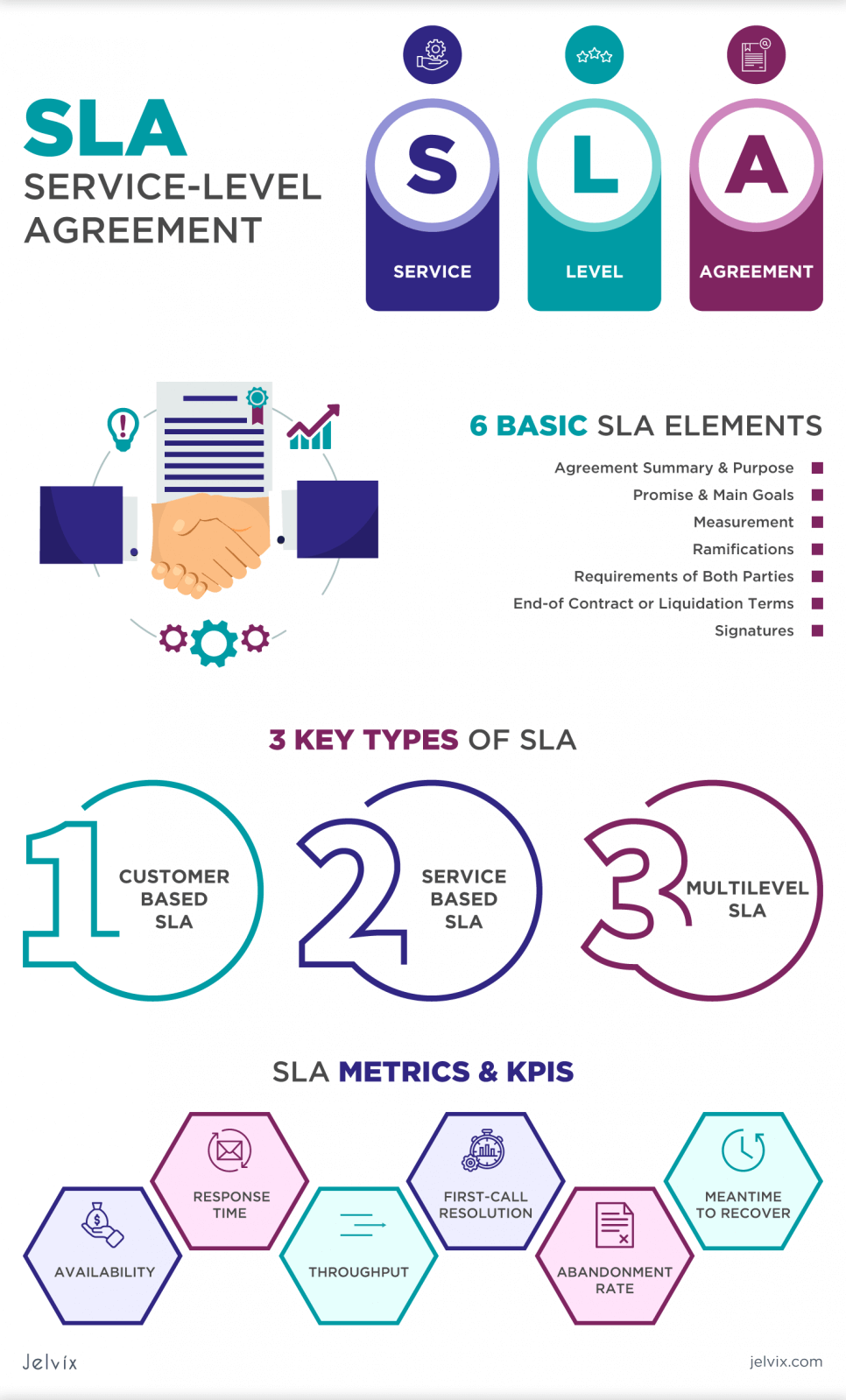 Frequently Asked Questions
Jelvix experts provide comprehensive answers to the common questions about service level agreements.
What Does SLA Mean in Work?
SLA stands for Service Level Agreement and represents the part of a contract that clearly defines what services a vendor will provide and the required level or standard for those services delivered.
What Are the 3 Types of SLA?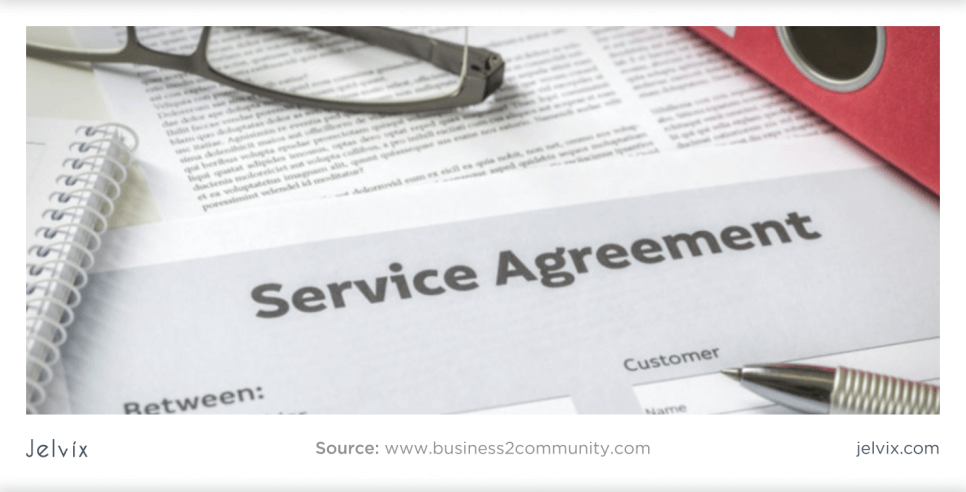 Overall, the 3 types of SLA include:
Customer-based agreement

– concluded between a service provider and its individual customers

Service-based (internal) agreement

– for all customers using the services being delivered by the provider

Multilevel agreement

– the one split into the different levels and that addresses different types of consumers for the same services within the same SLA.
What Is an SLA
Time?
SLA time refers to the time-based deadlines agreed upon by the customer and outlined in contracts or the terms of service. Traditionally, they define the specific amount of time for a service provider to tackle inquiries from customers.
What Does SLA Mean in Customer Service?
In the customer service industry, an SLA is a document agreement between a service provider and a customer that identifies both the services required and the expected level of service provision. Usually, it includes metrics like response time, customer satisfaction, and resolved replies. All the SLA metrics in this scope are customer-centric: they help set a standard for measuring customer happiness and team productivity.