In the e-commerce business, inventory management is one of the most essential yet challenging factors influencing the success of a company. With the growth of your business and the expansion of sales channels, manual tracking, and managing inventory becomes even more overwhelming. Until one day, when you reach the point of it turning into an overcomplicated task demanding Herculean efforts.
Just think about it.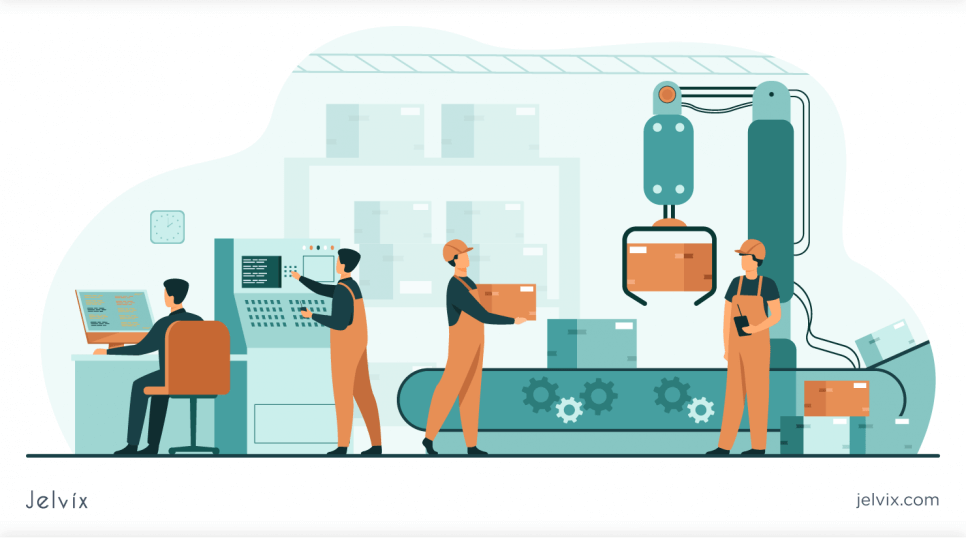 How often do you have to juggle various platforms to create a list of products to process the sales order? Are you used to manually changing your stock levels after each sale? When was the last time when you sold an unavailable product? How difficult is it for you to forecast the inventory needs properly? Have you ever felt that you're wasting your time on a process that could be automated?
If you can relate to at least two of the cases mentioned above, then your inventory management strategy is in dire need of improvement. Human errors, lack of real-time stock counts, and overselling are the things hampering the company's growth and seriously damaging its reputation.
However, you're not alone in this situation. The fact is that more than 40% of small businesses either manage inventory manually or ignore this aspect of business at all.
Imagine that you could prevent all of these things from happening to your business just by implementing automated inventory management. It can smoothen and centralize the inventory counting and save you from manual inventory tracking.
In this article, we'll look at an automated inventory system, why your business needs one, and how to implement it.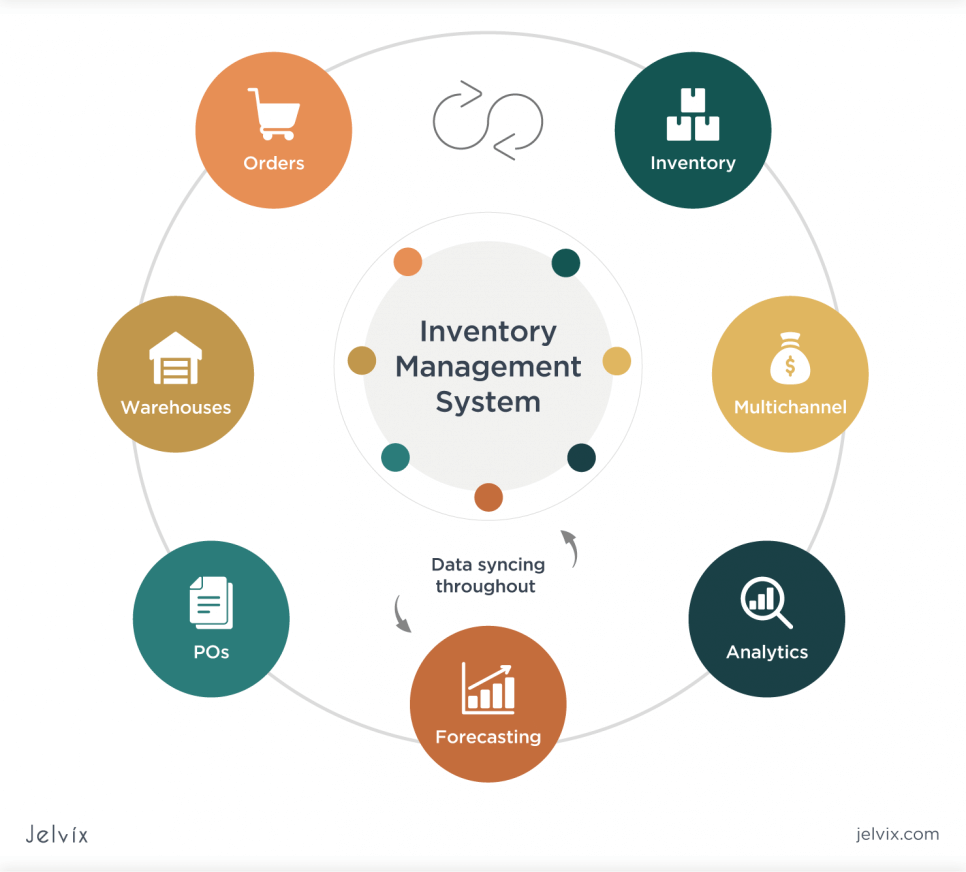 What is an Automated Inventory Management System?
An automated inventory management system is a special business application used to monitor and manage every stock item in the supply chain of your business.
These platforms are also often called inventory control systems or stock management systems. In fact, they represent software that guides your product items from purchasing and receiving them from your supply vendor to managing them in your warehouse locations and, of course, selling and shipping to your customers.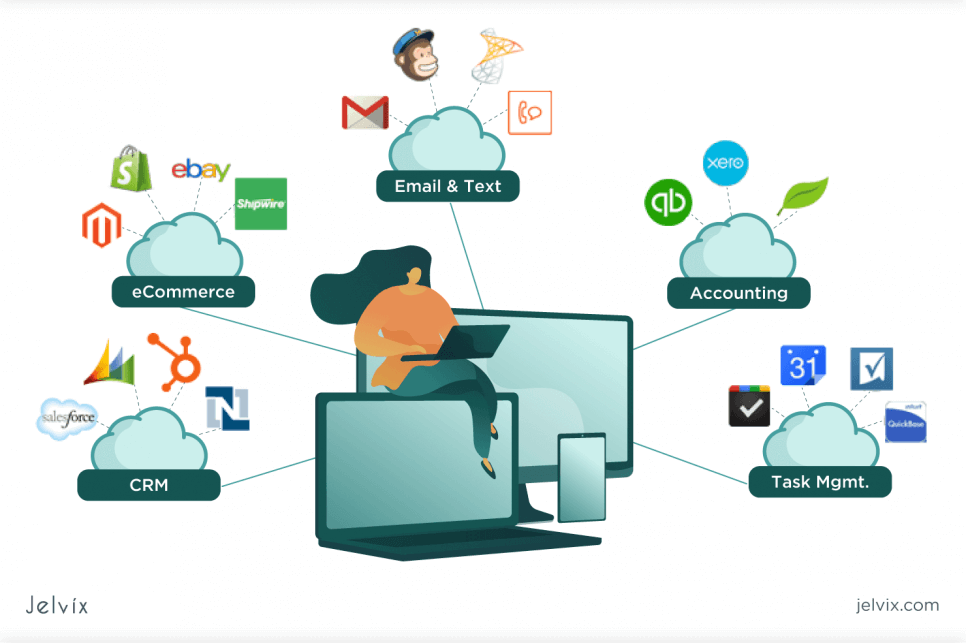 Implementing an automated inventory system has a positive effect not only on the work of your stock control team. It streamlines the workflows in the whole company.
With real-time inventory management, your sales team has the information about products and their quantity available in-store. At the same time, the marketing department knows which stock items are popular and can use this information for creating promo campaigns to advertise your business. And your customer support gains the data necessary to handle the inventory discrepancies.
However, the concept of an inventory management system differs from company to company. Some businesses just settle for a simple excel spreadsheet or, at best, have some simple desktop computer-based database.
Others prefer to invest in more sophisticated inventory management technology. Such programs can usually be subdivided into two types. The first type encompasses custom, on-premise solutions that run on the company's own hardware. The second one includes cloud-based SaaS platforms that allow businesses to avoid the need to support and upgrade them.
No matter what type of solution you choose, computerized inventory software will definitely provide a high level of transparency for your business operations. By accurately monitoring the flow of goods, the company gains the opportunity to reduce waste, analyze trends and inventory KPIs, and make balanced investment decisions in stock.
In this respect, facts speak for themselves. In 2020, the economic reality and challenges faced by businesses made inventory management technologies a booming trend.
The perks of reducing the manual operation and saving billable hours during inventory tracking convinced 45% of the leading industry chains to invest in stock management automation. With the current worldwide situation, the number of investments into the inventory management market is only supposed to double by 2025.
At the same time, the increasing popularity of custom, easily integrated computerized inventory solutions has influenced the software market as well. The software market segment dealing with inventory management is expected to grow from $3B in 2019 to $5B in 2026.
Major Benefits of Inventory Management Systems for Your Business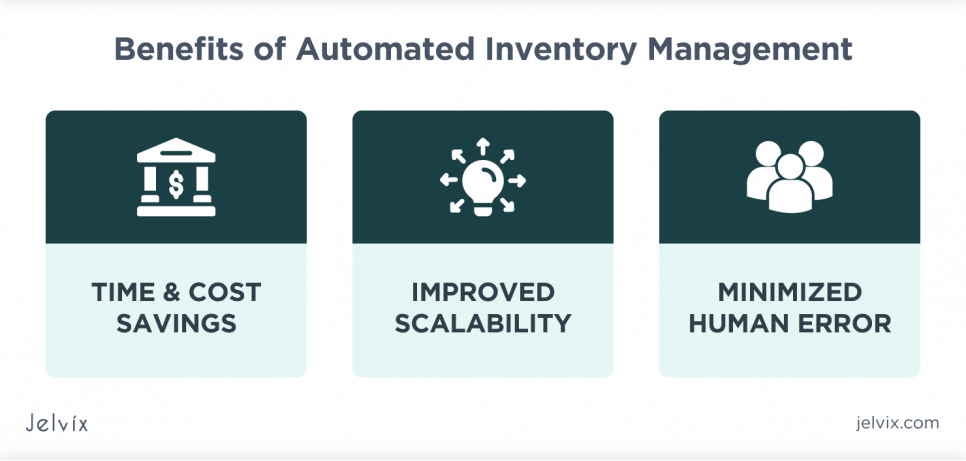 Apart from maximizing the efficiency of your business operations, automated inventory systems bring a lot of other benefits to the table. Here are a few reasons to start using computerized inventory software to track your stock procedures:
Time & Cost Savings
Saving time and minimizing expenses – these two things have become a mantra for any business owner. When it comes to inventory management, manual labor is expensive. In general, approximately 65% of the budget of an average US warehouse is spent on manual work, and this number is increasing by 3% every year.
Adopting automated inventory management software, however, can improve the situation. ABI Research calculated that by implementing only RFID (Radio Frequency Identification) technology, the companies could save from $6000 to $72000 and reach 44% ROI in the first year.
Aside from that, automated inventory systems eliminate the amount of time spent on stock control processes. There is no need to manually pull information from several separate systems and various locations, count stock levels, or create and analyze reporting.
The real-time inventory management with barcode scanning allows to automatically update the stock levels after each sale across all integrated third-party applications. The software also streamlines the demand forecasting and reporting processes. As a result, your company will save time on data sharing and increase the speed of preparing orders for shipment.
Improved Scalability
The scalability of your business highly depends on the software you have implemented. If your company deals with an outdated, obsolete inventory management system, it substantially restricts its expansion and growth.
Without a centralized inventory control, it becomes almost impossible to supervise multiple warehouse locations.
Just imagine having several warehouses in distant locations. In such a situation, each warehouse needs employees. They will track stock levels, share inventory data with other warehouses, pack and send sales orders, etc. Obviously, all these processes will require an enormous amount of staff, time, and investments to keep it working properly and smoothly.
Automated inventory systems optimize routine stock management by reducing the allotted time and need for employee interventions in stock procedures. Having real-time access to inventory data, a business owner can thoroughly analyze the market trends. It may help to make data-driven, balanced decisions for business expansion.
In addition, the system helps to adapt your stock if your company belongs to a highly changeable industry. With built-in accurate demand forecasting, it allows tracing even the newest stock trends and seasonal trend changes. Thus, you can preorder new products meeting the anticipated demand. This way, your business will attract new clients, and you will stay way ahead of your competitors.
Minimized Human Error
Let us call a spade a spade. Mismanaged inventory causes a $1.75 trillion loss in the retail industry worldwide. In other words, companies using classical, manual inventory tracking methods are severely prone to errors.
While filling in paper documents or excel sheets, employees can make wrong calculations, miscount stock levels, and forget to update them duly. In the long run, such seemingly silly errors may provoke over- or understocking of products. As a result, this can damage sales rates and the brand's reputation.
Computerized inventory software is capable of minimizing employee intervention in standard inventory management procedures. The platform completely reduces the need to enter, count, and update item stock manually. According to research, embedded barcoding alone can eliminate the number of human errors by 41,4% in a typical medical center.
What is more, automated inventory management systems are also indispensable for monitoring inventory location. Employees can track the product movement from suppliers and between warehouses. The real-time data provided by the inventory system will prevent the occurrence of discrepancies and make the logistical processes smooth.
Another thing that automated inventory software reduces is the risks of overselling. As reported by RepriсerExpress, more than 70% of online buyers will not wait for the product to appear in stock. Instead, they will find and purchase it elsewhere. And you know the rules: lost customer equals lost income.

Must-have Features in an Automated Inventory Management System
They say tastes differ. When it comes to business software, it's better to say that needs differ. The functionality provided by automated inventory management also depends on the software type, vendor, and sometimes even plan.
However, some must-have features should be present in any inventory management software. Here is a list of basic functionalities to look for:
Stock Control Optimization
The right solution will allow tracking or transferring inventory across multiple locations and automating real-time updates of inventory levels. These functions can be achieved with the help of built-in barcode and RFID scanning features. This way, you will have a complete picture of all products in stock.
Stock Item Management
Automated inventory systems should list all your products in a unified product catalog. It will give you the ability to group products by different categories, sell kitted (bundled) items. You will also be able to use advanced search filters to find / sort items by using a name, SKU numbers, availability, descriptions, suppliers, etc.
Supplier and Inventory Purchase Automation
The automated inventory system should track item purchases, transactions, and delivery history. Ideally, the platform has to provide tools for creating and approving purchase orders for your suppliers.
The software should also be capable of automatically reordering product items from your suppliers to restock the amount. Even if this kind of automation is not preferable for you right now, you will still receive inventory alerts when the products reach the reorder point. This will help prevent overselling and understocking of items.
Management of Client Orders
The automated inventory platform is directly connected to the sales processes in the company. Therefore, it should provide the tools for creating sales orders, tracking their status, and generating invoices when the purchase is approved. Along with that, the feature for package slip auto-generation will not be redundant as well.
Advanced Reporting & Analytics
Computerized inventory software can provide you with powerful insights into your stock management strategies. The data stored in software can be analyzed to determine the products that are trendy now and the ones that are just languishing on the shelves. The reporting process that once took hours can be reduced to just a few clicks.
In addition, the automated inventory software should provide the ability to display the most important analytical data and KPIs on a unified dashboard. With real-time reporting on your homepage, you will be on top of all the things concerning inventory and sales in your company.
Aside from this, you should look for a system that embeds accurate inventory forecasting. This feature will allow you to determine early product trends and make balanced inventory purchase orders.
Inventory Database Security
Of course, automated inventory management systems store a lot of important and sensitive information about your business. Therefore, security features are of paramount concern for nearly every company. The ideal software should have the tools to configure user access to different information within the software.
The platform should also contain features for smooth data backup and migration (export/import) and monitoring user activity within the system (user logs).
Integration Capabilities
In case you are using other applications for running your business, integrating the inventory management system with them is a must. Integrations ensure that data across all the platforms is in sync. It helps avoid errors, creating duplicates, and prevents the emergence of data silos.
By integrating your automated inventory management software with ERP, CRM, Accounting Platform & Supplier Portal, you create a perfect ecosystem for your business growth and improve the effectiveness of all business operations.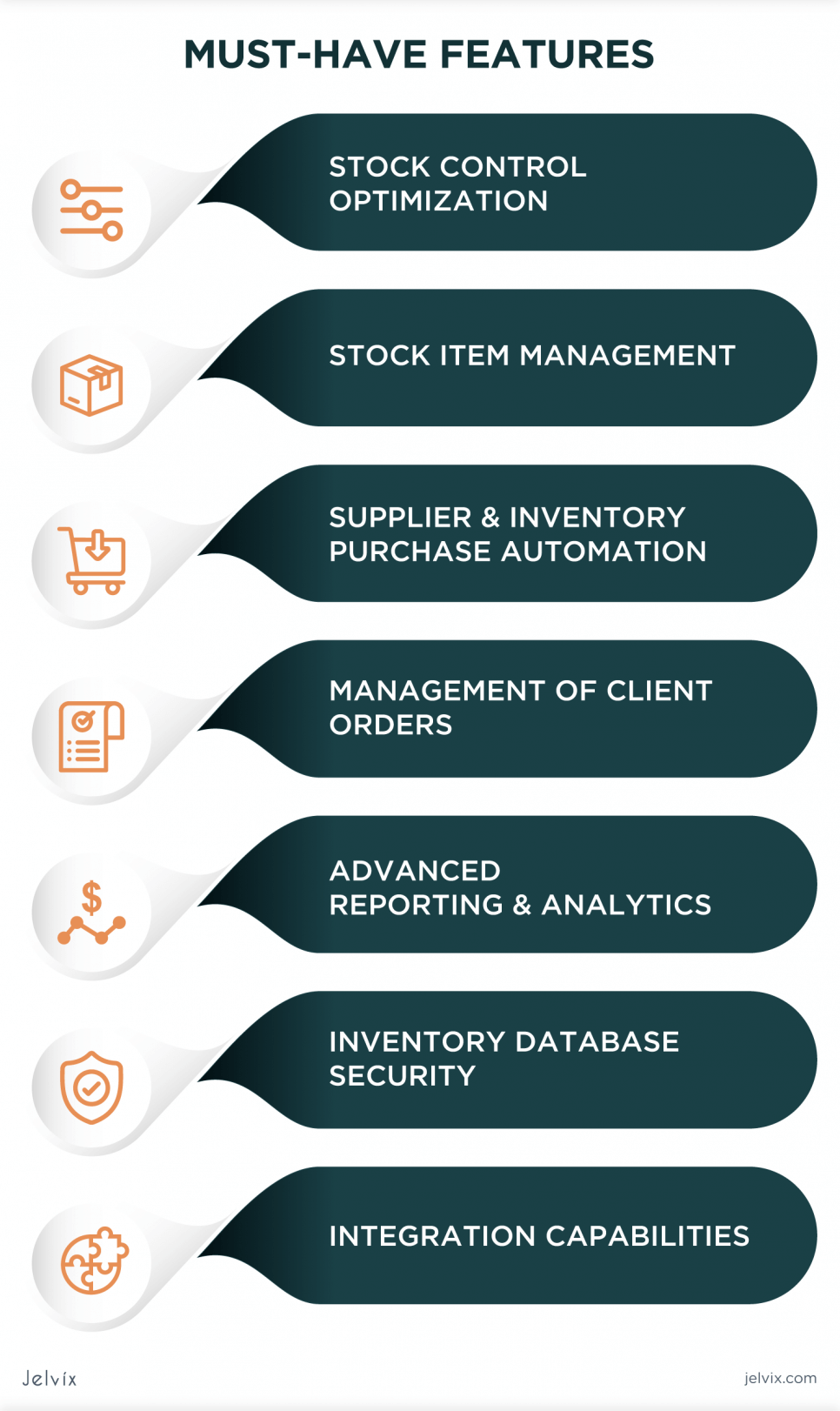 How to Successfully Implement an Inventory Management System in 2023?
The shift from pen-and-paper methods of stock control to an automated inventory system is a quantum leap towards business growth.
However, with a great variety of existing ways to implement automated inventory control systems, it becomes difficult to choose the one that will work perfectly for your company.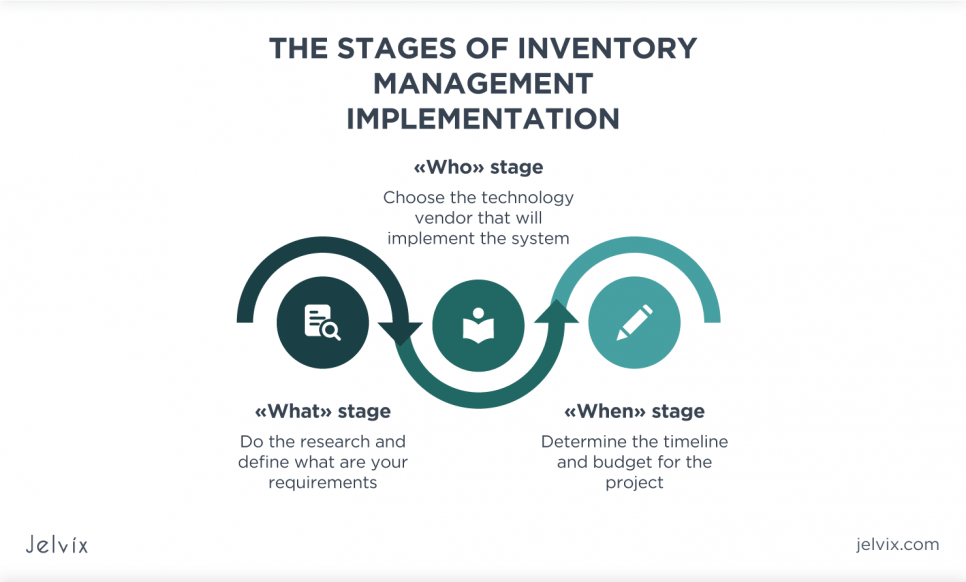 At Jelvix, we understand how perplexed and confused business owners are selecting the inventory management software for their business. Therefore, here we introduce the list of basic stages that show how to create an inventory system:
"What" Stage: Do the Research and Define What Your Requirements Are
Before selecting any software, you need to thoroughly analyze your inventory management problems. Think carefully and try to answer the following questions:
What are the pros and cons of current stock control processes in your company?

How can

creating an inventory system

help improve the pain points?

Who will use the platform? What features do they need?

What business goals will you reach with

automated inventory management software

?
When you gain a clear vision of what functionality your business requires, you are ready to do the research. The modern software market abounds in the variety of computerized inventory management solutions. The vendors offer a diverse set of features, come with different levels of customization or automation, and of course, vary in terms of pricing plans.
Yet, if none of the existing platforms fully meets your business needs, you may seek an outsourcing development company. The development partners can either build a bespoke solution or customize the chosen software by adding additional features and integrations.
"Who" Stage: Choose the Technology Vendor that Will Implement the System
After choosing between off-the-shelf and custom solutions, it's important to define who will implement the automated inventory system for your business. For large enterprises with an in-house team of seasoned developers, this stage is obviously not a problem.
However, if you're a small business owner, you may need the professional help of development vendors. Outsourcing companies usually have extensive, hands-on experience in implementing business solutions. They know how to create inventory systems that will be working like a charm throughout the years.


"When" Stage: Determine the Timeline and Budget for the Project
No matter whether you're relying on in-house developers or outsourcing vendors, you need to determine the budget and deadlines for the project. It will make the implementation process transparent, and you will be in control of the development processes.
Apart from planning the roadmap of implementation, be sure to take into account hidden expenses. Consider the need for extra features and support in the future, the cost of software licenses, cloud fees, etc. And, of course, don't forget to include costs on staff training.

Conclusion
Automated inventory management software allows controlling and improving stock practices in your companies. It keeps your employees productive by saving their time and effort. Your customers are satisfied by having the wanted goods always available. And your company flourishes and grows, being several steps ahead of your rivals without advanced inventory tools.
Having all the previously mentioned information in mind, you already understand how a perfect solution should look like, what advantages it will bring for your business, and how to create an inventory system that will actually work.
In case you are interested in adopting automated inventory management for your company, our Jelvix team of professional developers is ready to help. Do not hesitate to contact us if you have some questions concerning the creation and implementation of a perfect inventory management solution for your needs. Let's discuss any questions during a free consultation with our experts.
Need a qualified team of developers?
Jelvix's team is ready to develop custom inventory software that helps automate and optimize daily inventory operations.
Get in touch
Get in touch