Chronic diseases are one of the most notable factors that can significantly limit a person's usual activities and overall well-being. Only in the US, an estimated 133 million people – nearly half of its population – suffer from at least one chronic illness, such as heart disease, hypertension, or arthritis, according to recent research by American Hospital Association.
The percentage of the population suffering from chronic medical conditions is rising, so more and more healthcare providers and medical companies have started investing in solutions that can assist in managing these permanent diseases and helping people to get back to their normal lives. As of 2022, the Chronic Care Management Software Market size was valued at $10.43 billion, and according to different projections will reach $14.88 billion by 2031.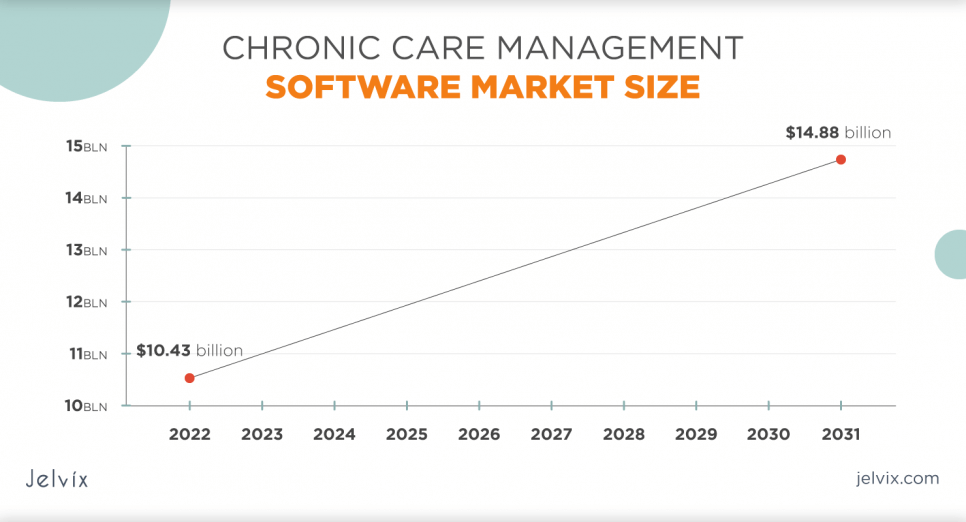 Rising levels of chronic diseases require continuous medical care, and that's where chronic disease management software can help greatly. In this article, we'll make a deep overview of chronic care software solutions, covering their use cases and major advantages, challenges, and perspectives so that business owners can learn the full potential of these systems before any initial investments.
What Is Chronic Disease Management
System & How Does It Work?
Chronic disease management software, also known as CDMS, is a system aimed at maintaining systematic patient self-care routines and helping patients avoid complications and exacerbations related to chronic illness. The CDMS is usually connected to the patient's electronic health records (EHR) and a mobile application installed on a patient's device.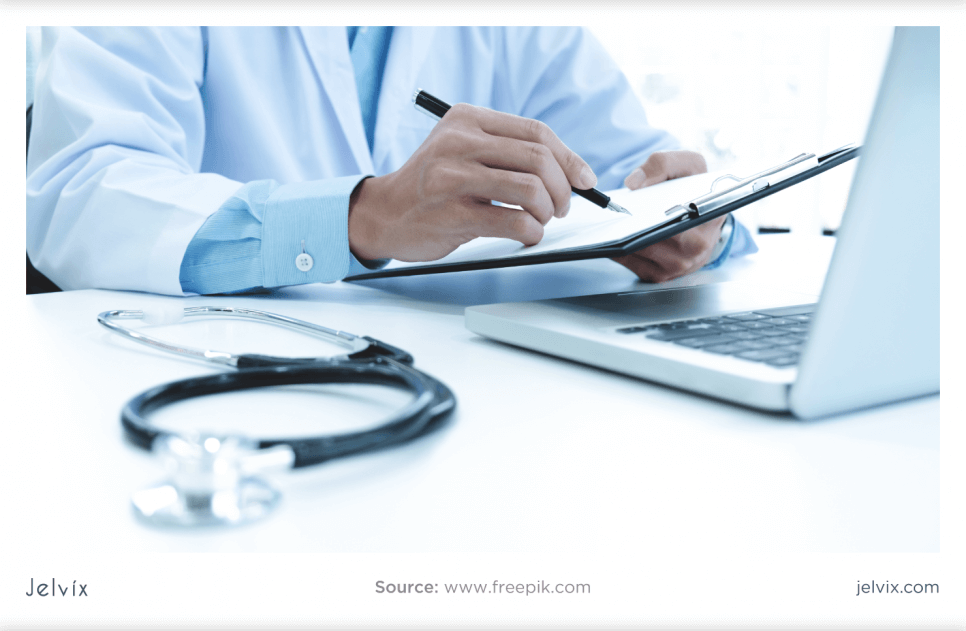 The disease management software provides advanced analytics of the healthcare data, sends important notifications to patients, receives their messages, and enables some add-on processes such as tracking the treatment intake, scheduling doctor's appointments, and many other functions related to the specifics of each separate disease.
A variety of studies have confirmed significant, measurable improvements in the health and quality of life of patients with chronic illnesses. Apart from the positive impact on the patient's well-being, such software appears to reduce the expenses of the healthcare providers, which can be noticed in a few months after the implementation.
Types of
Chronic Care Management Solutions
Before you start investing in the disease management program, it's essential to understand the approaches utilized for this project development. Overall, there are two options that are usually leveraged for CDMS creation:
CRM-based CDMS. This approach implies using ready-made CRM frameworks such as Salesforce or Microsoft Dynamics to create chronic care management software. Its major benefits for providers are rapid app development, which allows releasing the CDMS in just a few weeks, and cost-efficiency, which ideally fits projects with limited budgets.
Custom chronic disease management solution.

Such an approach implies launching a feature-rich CDMS based on specific business needs and goals, covering even the slightest details for a healthcare vendor. Therefore, it can provide higher returns in the long-term perspective, allowing better control over the app's functionality and its convenient optimization.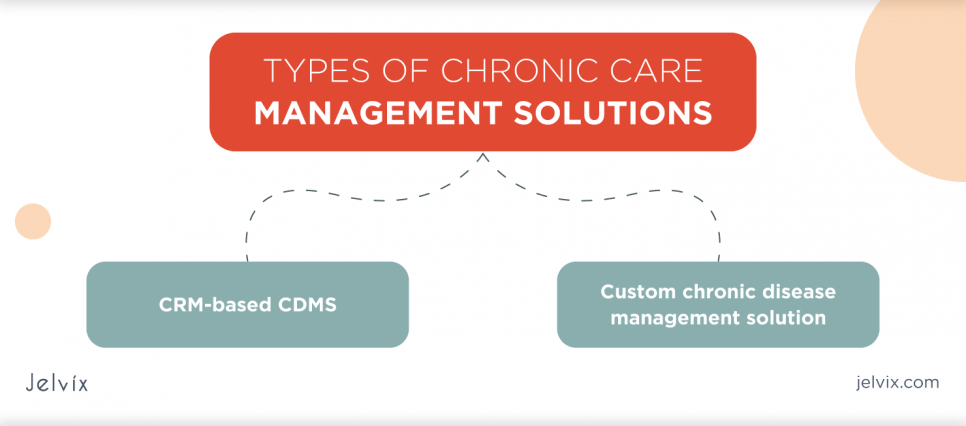 Based on Jelvix's expertise in chronic care software development, as well as the case studies of reputable chronic care management vendors, we strongly suggest creating a custom CDMS for your healthcare business. Such software features better versatility and adjustment and is easy to maintain, which is extremely important for providers who need a long-term and profitable solution.
For caregivers and healthcare providers with pretty narrow specialization in disease management, we also recommend developing separate applications for certain chronic illnesses. With each disease having its management specifics, launching an individual app solution will help to ensure the best service efficiency and provide much better patient support certain condition treatments.
To ensure that your disease management program covers the largest audience segment, it's recommended to invest in a cross-platform CDMS, which is available for iOS and Android devices. Additionally, business owners can also consider connecting with wearables and disease-specific devices to improve patients' data collection and management for more efficient health status support.
Basic Components of Chronic Care Software
Having uncovered what is chronic disease management and the ways it can be developed, the next thing to consider is the must-have components for your CDMS solution.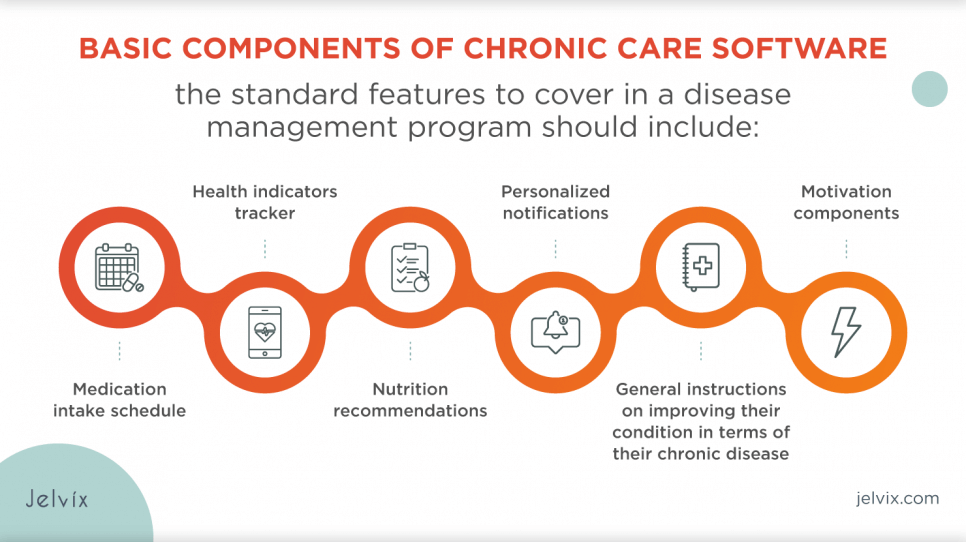 No matter if you decide to leverage a ready-made framework or create chronic disease management software from scratch, it's essential to ensure it has basic functionality to provide value for both your clients and medical staff. So, some of the standard features to cover in a disease management program should include:
Medication intake schedule

. This feature enables the management of drug dosage according to updated health parameters and symptoms reminders about the upcoming intake and tracking of the patient's progress.

Health indicators tracker.

The must-have option allows you to get updated subjective (discomfort, pain, aches, etc.) and objective (temperature, blood pressure, glucose level, etc.) parameters remotely while timely reacting to sudden changes.

Nutrition recommendations.

This feature helps to control the foods that can improve or worsen chronic conditions, so that patients can maintain their proper diet (i.e., diabetes, ADD and ADHD, asthma, etc.).

Personalized notifications.

This option enables patients to stay informed about lab results, planned medical checkups and scheduled appointments, and many other options that help in maintaining their chronic diseases.

General instructions on improving their condition in terms of their chronic disease.

Here, you can include physical activity recommendations, health checkup schedules, medication intake instructions, self-injection guidelines, and more.

Motivation components.

This parameter helps to keep the patients always engaged in tracking their chronic conditions and helps them keep on track with maintaining healthy habits that can ease the symptoms caused by specific chronic diseases and maintain their well-being.
Some of the add-on functionality that can also be implemented into the chronic disease management apps include mood trackers, weekly health condition reports, carb, macro, and calorie intake trackers, simple exercise suggestions, environmental parameters (humidity, temperature, air quality, etc.), heart performance and many more.
Keep in mind there's no need to cover all these functions at a time to make a great CDMS solution that generates high profits. Instead, it's better to pick the parameters that target the specific chronic illness you're focusing on. This will help you significantly reduce the delivery time, fit the set budget, and deliver a functional, user-friendly product that works.
Advantages of Chronic
Disease Management Software
In the planning stage of launching a custom chronic care management platform, business owners should also discuss the benefits of such a solution. In fact, getting a personalized CDMS can bring a variety of benefits for caregivers, healthcare institutions, and their patients.
Improved Access to Healthcare Services & Higher Satisfaction Rates
Patients who utilize chronic disease management solutions can easily access the required support to better navigate their chronic diseases and interact with healthcare institutions overall. These benefits result in better engagement and way higher satisfaction rates, which, in turn, impacts patient acquisition and business revenues.
More Effective and Efficient Care
In chronic care software, the interaction between the healthcare provider and its patients is fully remote, which adds more to the service convenience on both clients' and vendors' sides. The technology-based tools like smartphones, email, websites, and electronic health records (EHRs) make the connection smooth and efficient, and in some aspects, even better than traditional appointments.
Moreover, with the EHRs, patients, and providers have full-time access to the required information, which can be easily updated and provides a variety of personalized features, thus ensuring an efficient and effective treatment of chronic illnesses.
Better Control over the Disease & Recurring Revenue for Providers
The patients who use CDMS tend to get better control over their chronic disease with fewer exacerbations, mainly because of getting comprehensive support from healthcare professionals in a timely manner. Additionally, they're less likely to get into the emergency room and have reduced chances of requiring hospitalization in the nearest future.
Such an investment seems to be inefficient for providers, but only at first. In fact, setting up custom disease management software is an excellent chance to get recurring revenue through the monetization of numerous online care services. At the same time, it allows for reducing the workload on offline visits and optimizing the overall workflow within the healthcare institution.
Personalized Patient Engagement
One of the major benefits of chronic disease management software is improved care coordination, based on which caregivers and healthcare institutions can provide personalized services, individualized support, and efficient approaches to managing different types of chronic illnesses.
Based on these benefits, patients can easily access and navigate the services they need, find required medications, review care plans, or get any other related assistance that helps them control their chronic diseases better.
Optimized Care Management Model
The final great win of implementing chronic care software is the optimized workflow that benefits both caregivers and their patients. Healthcare providers can ensure that patients are always connected to the relevant specialists and resources, which improves the quality of the treatment process.
On the contrary, patients can stay sure that their health information is always kept on track, as well as get the timely support they need to manage their chronic illnesses and achieve healthy outcomes.
Another good point for healthcare providers is that the CDMs allow them to develop a program structure for each specific disease, standardize the workflow, and set up detailed protocols. As a result, caregivers can notice a reduced load, enhanced improvement in the workflow, and a way better control of the productivity of the staff, which will lead to a positive impact on the company's performance and revenues.
Main Challenges of Disease Management Software
Regardless of the type of chronic disease management apps, caregivers and healthcare providers face a variety of challenges across the entire application development and maintenance life cycle.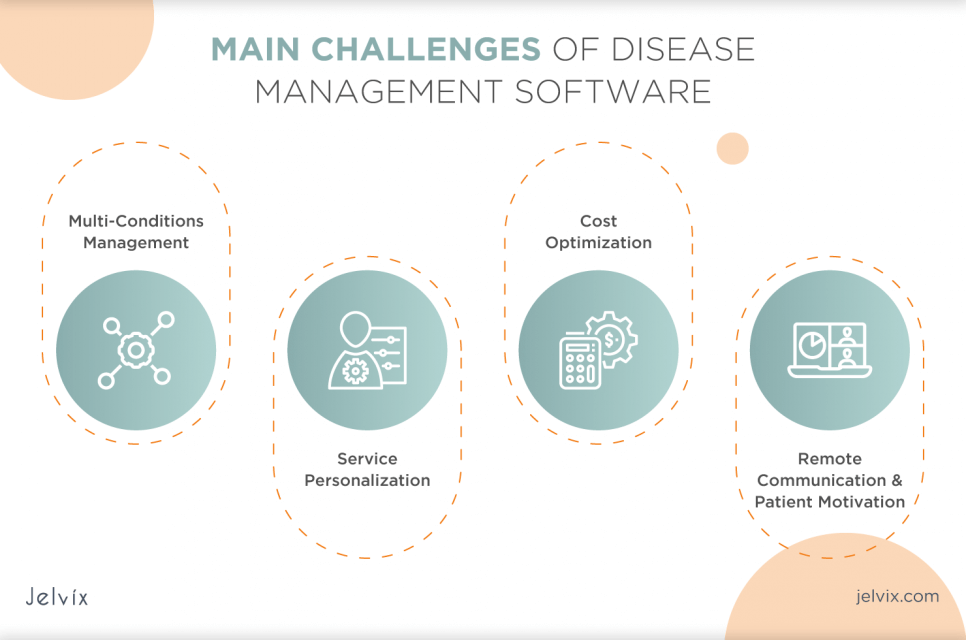 Multi-Conditions Management
The rising number of chronic conditions pushes companies to create universal CDMS solutions which address multiple chronic illnesses within a single app. Though this approach allows for enlarging the target audiences, it also uncovers the problem of efficient integration of diseases.
Developers need to think big to implement the required functionality and maintain the smooth performance of their CDMS applications. At the same time, it's essential to keep the app simple and user-friendly to ensure that it can meet the requirements and needs of each patient.
Service Personalization
When planning their CDMS project, business owners should also consider the personalization features of their upcoming applications. This is important not just to remain competitive in the healthcare software market but also to add more value to the product from the customer's perspective.
By consistently improving the personalization of your app, healthcare providers can build a large audience of loyal patients, which, in turn, is a great source of recurring revenue.
Cost Optimization
Another important aspect that shouldn't be missed out in chronic disease management apps is keeping the project within the budget. According to the experience of many healthcare vendors, increased requirements towards functionality results in increased development costs.
To keep the project within a fixed budget, it's recommended to start with developing an MVP with basic functions required for a specific disease. To optimize the project's cost, business owners can hire developers at a certain model based on the cost-per-project or hourly rates. Also, professional developers can help to find the most relevant and cost-effective development tools, which can significantly reduce the project's cost.
Remote Communication & Patient Motivation
The next challenge that has a huge impact on chronic disease management is setting up productive communication between healthcare specialists and their patients. Usually, patients are extremely active in the first months of chronic condition management but still lack consistency in tracking health parameters and doing timely checkups.
Additionally, once the patients hear their diagnosis, they are really motivated to improve their well-being, but this motivation diminishes over time. This problem leads to worsening the symptoms of their diseases and affects the efficiency of chronic condition management.
With that in mind, developers need to build a system that is engaging and helps in motivating patients to keep on going on their continuous treatment process. Typically, this includes gamification, social media sharing, goal-setting, progress-tracking reminders, and many more.
Future Perspectives of Chronic Disease Management
As per estimates, in the upcoming decade, a majority of healthcare institutions will either consider implementing the CDMS solution or will already have one incorporated into the chronic state management methodology. This will help providers remain more customer-focused and competitive yet allow them to optimize and improve the quality of their care services.
Nevertheless, chronic illnesses evolve and so do the patient's needs. For this reason, healthcare providers not only have to create a powerful CDMS system but also remain proactive in software maintenance and continuous improvement. Chronic illness apps will require continual customization so that the frequency of protocol reminders does not become overwhelming or frustrating.
Finally, the providers should keep on collaborating with the development team to get new features rolled out quickly to attract more potential users and healthcare specialists and develop the CDMS value. This way, providers can ensure the product's relevance and growing revenues for the further elaboration of chronic illness software solutions.

Conclusion
CDMS is a completely new approach that can address the patients suffering from the symptoms of chronic conditions or/and the ones who need an efficient method of managing their diseases. Chronic care management solutions are aim to maximize the patient's adherence to prescribed treatment and motivate them to improve their self-care regarding chronic disease limitations.
A custom CDMS with feature-rich functionality can greatly benefit by enhancing the communication between the providers and their patients, helping them to consolidate the effort in improving the patient's health parameters and maintaining a healthy state through a variety of methods. Additionally, this solution can improve the workflow of a provider and greatly increase profits.
So, investing in a professional team of developers that can help you launch the best chronic condition management solution will put your business on a new level of development.
At Jelvix, we've accumulated years of experience working with advanced technologies and innovative solutions in healthcare software engineering. Our team of dedicated experts is always ready to assist with any challenges in healthcare software development to deliver cost-effective, profitable solutions in the most reasonable time.
Contact Jelvix to get a personal consultation on chronic conditions software development and how to get your project started today!
People Also Ask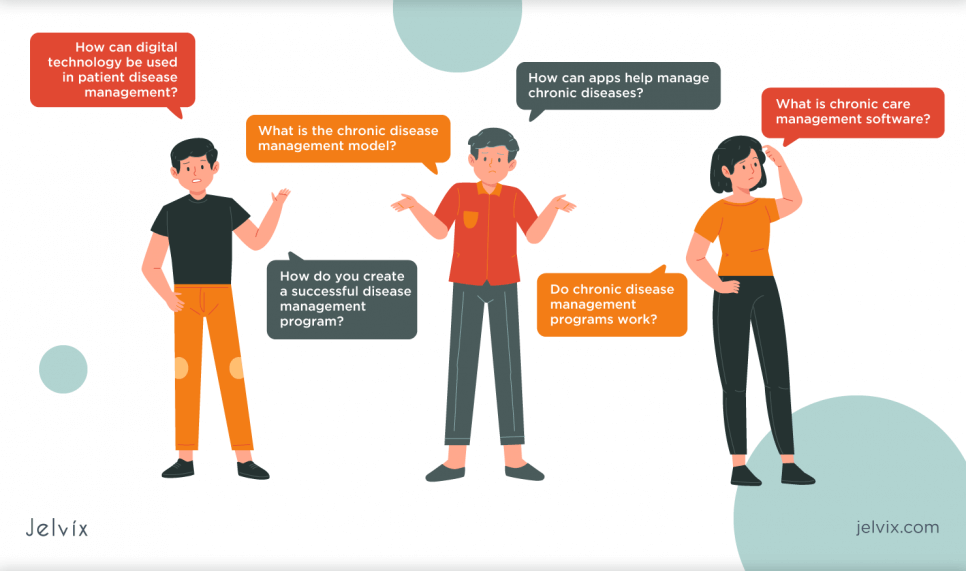 What is the
chronic disease management
model?
According to HealthCare.gov, chronic disease management stands for an integrated approach to comprehensively managing the illness of a permanent character that requires regular health screenings and check-ups, monitoring and coordinating treatment, as well as patient education.
Such a model is aimed at improving the quality of a patient's life while reducing the time and resources for the healthcare routines by preventing or minimizing the effects of such on usual daily activities.
What is chronic care management software?
Chronic care management software is the solution for chronic disease management of different types and complexity for patients of all ages. It is aimed at facilitating the patient's healthcare routine through creating personalized treatment plans, tracking the treatment intake, and coordinating the care services between caregivers, physicians, and patients.
Do chronic disease management programs work?
Disease management solutions have shown a successful performance in improving the patient's self-care practices and reducing the workload of various healthcare providers, such as hospital admissions and emergency room visits.
In most cases, such programs are designed to improve the patient's well-being and reduce the associated costs from avoidable complications of chronic illness. Timely identification and treatment of chronic conditions enable their efficient treatment and symptom relief, which, in turn, slows the progression of these diseases.
How can apps help manage chronic diseases?
Mobile chronic care software is a proven solution for remote patient monitoring that ensures a permanent connection with the relevant medical specialist depending on the type of chronic illness.
These apps provide evidence-based information and tools for tracing the patient health indicators, adjusting the treatment strategy, tracking the medication intakes, and sending important reminders to ensure smooth health monitoring and immediate contact in case of emergency. So, patients can facilitate their self-care routines while ensuring timely, efficient treatment of specific diseases.
How can digital technology be used in patient disease management?
At present, a large number of different digital solutions can be applied to combat the symptoms of chronic diseases in patients. The key technologies that are widely implemented today include predictive analytics applied to patient medical records, medical payment information, symptom tracking systems, treatment guidelines, and advanced healthcare data management solutions.
All these technologies allow us to efficiently and timely address the symptoms of specific illnesses and get immediate help in improving the patient's well-being.
How do you create a successful
disease management program?
To create a powerful disease management software, it's essential to learn your audience and their needs, as well as the specifics of chronic illnesses you're going to target. Additionally, business owners should consider a variety of development-related project details, such as the functionality of the CDMS app, the estimated budget, and the professional development team that will help you with its release.
Need a qualified team of developers?
Own the dedicated development team of professionals exclusively for your project.
Get in touch
Get in touch