According to the statistics of clinical trial Design, 50% of clinical trials fail to complete their final phase. In addition, a third of them fail in determining the cost of drugs or practices, and others experience organizational difficulties. Sometimes, failures stem from the poor knowledge of biological and chemical challenges, but usually, the culprit is a lack of planning and proper control.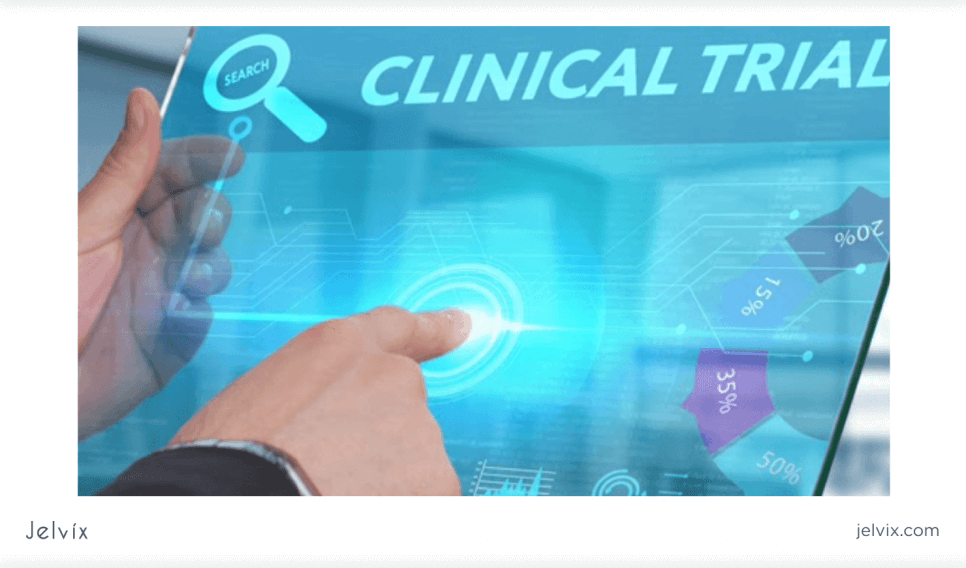 To avoid falling victim to a poor organization of clinical trials, institutions automate planning and management of the clinical trial. Clinical trial software helps collect and organize data, detect inconsistencies, and distribute resources necessary for their researches. In this article, we'll take a look at the most common types of clinical trial management software and examine the offers from the best-known clinical trial management system vendors.
What is CTMS (Clinical Trial Management Software)?
Clinical Trial Management Software is a digital system used by hospital institutions, pharmaceutical companies, and biotech laboratories to organize and oversee clinical trials. The software helps with planning, reporting, team and time management, risk evaluation, etc.
Who Uses Clinical Management Systems?
CTMS provides data to trial managers and stakeholders. The information from the system is typically transferred to the business intelligence system. Integrating CTMS into the overall information infrastructure of the institution helps managers keep track of all expenses and detect trials that perform poorly.
The Functionality of a Clinical Trial Management Software
Clinical Trial Management Software is a particular type of enterprise software — it's carefully regulated by the US Food and Drug Administration. To be considered effective, the system should correspond with FDA requirements regarding the systems used in clinical investigations. EU, the UK, and Australia have similar regulations.
A summary of official criteria for CMTS:
Security features for access control and monitoring

: only authorized individuals should be able to access confidential data. Multi-level access is necessary for creating versatile permissions;

Audit trail

: all participants have access to the main documentation;

Correct use of terminology

: the CMTS should use medical terms accurately and notify users about the inappropriate use of vocabulary in real-time;

Correspondence of data to the subject

: each data entry must be attributed to a subject — in other words, the system stores no unrelated information;

Error-free backup

: the system should automatically copy the trial information to avoid data loss in case of an outage;

Support multi-format fields

: participants should be able to enter text, numeric values, upload images (graphs, X-ray images, documentation copies);

Data export:

the software should generate reports and graphs and upload them on local and Cloud storage;

Minimal maintenance efforts

: the system should be designed with a scalable architecture in mind. To achieve that, the development team has to prioritize early-on refactoring and tech debt management;

Adhering to development and data processing regulations: the system should be HIPAA compliant and adhere to the Clinical Data Intercharge Standards.
The functionality of a simple CTMS
The complexity of the system's functionality depends on the size of the trial team size, the nature of the investigation, the number of criteria, etc. In general, though, all CTMS functionality can be grouped into four categories.
Research management: task allocation, time tracking, productivity measurement, data tracking, access management;

Billing: features that control financial documentation, create invoices, change the team automatically;

Interfaces: different team members should access different view templates depending on permission, data type, the stage of a clinical trial, procedure, etc.;

Analytics: the results, expenses, and operations of the team should be automatically gathered, organized, and compiled in the report — the document can later be distributed to the stakeholders.
For higher-level operations, institutions integrate specialized systems — each is focused on a particular aspect of clinical trial management. Let's take a look at those.
Electronic Data Capture (EDC) System
An EDC (short for electronic data capture) system is an umbrella term for a web-based platform that stores the data of clinical trial participants.
Such platforms have two poster features — they are web-based (improved data-accessibility) and use a thin client (can be accessed via a mainstream web browser).
An EDC can capture digital data from an e-source or store transcribed paper records.
Electronic data capture tools support both clinical trial participants and stakeholders — the main user categories are:
Treatment centers — hospitals and clinics invest in EDC to securely gather patient data.

Sponsors deploy electronic data capture tools to oversee the clinical trial and ensure transparency.

Contract research organizations (CROs) are the entity responsible for planning the clinical trial. These institutions use EDC to manage workflows and share progress reports with sponsors.
Functionality of EDC
Depending on the vendor and scale, some EDC software comes with platform-specific features. To get a full rundown on built-in tools, clinical trial managers should negotiate with vendors. As a rule of thumb, most electronic data capture platforms have the following underlying features:
Cloud hosting

. By storing patient data on a web server, EDC providers improve accessibility and scalability. Security, however, is a consideration to make when choosing an EDC vendor. For the sake of legal compliance and patient safety, it's better to run due diligence before committing to a hosting provider.

Real-time data synchronization

. Having access to the latest patient updates is crucial when mapping out the flow and timeline of a clinical trial. To that end, most EDC platforms come with real-time patient data updates, accessible to everyone involved.

Granular user permissions

. Since

clinical research management

systems store sensitive data, access control is a priority for physicians, institutions, and local governments. To meet high privacy standards, EDC platform vendors deploy a system of role-based permission. A physician or a manager can access the system under a unique user name and has a designated set of permissions. This way, healthcare institutions adhere to the least privilege principle.

eCRF tracking

. Keeping an audit trail is a standard for EDC system vendors set by 21 CRF Part 11. Specifically, the platform should store data on who accessed the system, users' latest activity, and the reason for modifying the record.

Record export

. Standard EDC tools support generating and sharing reports as spreadsheets, CSVs, or other file types. This way, clinical trial managers can share findings with the medical community without letting outsiders into the system.
Examples of Top EDC Platforms
Integrating EDC tools into clinical trial managers is a disruptive change since it improves operational efficiency, trial security, and data accessibility within the research team.
Top-tier EDC tools are designed to bridge the gap between institution managers, physicians, and clinical trial sponsors. Let's see what features and technologies they deploy to streamline clinical trials.
Castor EDC is a cloud-based platform designed to improve biotech and pharma research efficiency, streamline clinical trials, and provide a big-picture view on data to fuel academic studies.

Key features:
Continuous cross-platform data capture;

Remote engagement with patients via video calls, diaries, and

ePRO

;

A single hub for multicenter clinical trial management;

Real-time reporting and data export.
Backed by a large group of CROs and sponsors, MainEDC provides treatment centers with an FDA-compliant platform for full-cycle clinical trial management. The solution enforces security by storing data in a private cloud and keeping an immutable blockchain-based audit trail.

Key features:
Intuitive drag-and-drop interface;

AI-based automated coding;

Central and local lab databases;

Robust analytical tools for clinical trial data analysis.
MarvinEDC is another renowned clinical trial data management tool that provides a backbone for over 1,300 ongoing large-scale studies. An intuitive user interface coupled with a wide range of integrations gives the platform a competitive edge. In addition, MarvinEDC has a module-based architecture — users can customize these blocks to tailor the solution to the needs of the research team.


Key features:
Easy mid-trial change-making and a full audit trail;

E-signatures;

Flexibility and customizable interface;

Real-time notifications;

Robust query management.
Clinical Trial Management System
The growing number of patient data puts clinical trial managers in front of process streamlining and security challenges. To counter the struggle of managing high information loads without breaching compliance, institutions had to accept the need for building a 'hub and spoke' infrastructure for handling clinical data.
Clinical Trial Management Systems have become a tool capable of providing researchers and data managers with a unified view of clinical trial workflows. Automating data entry and export and creating a single source of truth for research insight became the centerpiece of CTMS solutions.
Functionality of Clinical Trial Management Systems:
Scalability and flexibility are the prerequisites of a high-performing clinical trial management system. Here's how CTMS vendors help physicians, treatment center managers, and sponsors achieve peak efficiency:
Contact management

— a clinical trial management system should provide unified storage for patient and sponsor data. CTMS vendors improve cross-team engagement by adding contact search, address management, and batch data import.

Research dashboard and analytics

.

CTMS

platforms give a visually rich representation of a study's progress. Through customizable reports and real-time alerts, researchers can keep track of key events and harness insights that will improve the efficiency of future trials.

User activity reporting. Keeping an audit trail is vital for legal compliance — that's why all top-notch CTMS vendors support research institutions with immutable change backlogs.
Integration

with big data and analytics platforms, as well as

EDC vendors

.
Examples of Top-Notch CTMS Vendors
Enveloping a wide range of security and compliance features in a high-usability interface is a technical challenge for CTMS development teams. Building a scalable and accessible clinical trial management system calls for an in-depth understanding of clinical trial workflows.
Here's how top vendors mitigate the architecture challenges around developing CTMS platforms.
OpenClinica is an all-scale clinical trial management system. The platform does an excellent job in engaging study participants in research with ePro support. OpenClinica is HIPAA compliant — it keeps an audit track of patient history updates and ensures security with user-role-centered permission control.

Key features:
Easy generation of randomized lists;

Real-time email notifications;

Streamlined patient outcome reporting;

Visually rich dashboard;

Wide range of supported formats for file export.
SmartSheets supports clinical trial teams with customizable spreadsheet templates for tracking and manipulating research data. In addition, the platform combines task management features (an organized view of to-do lists through Kanban boards and Gantt charts) with industry-specific functionality like eSignatures and change-tracking.

Key features:
Drag-and-drop UI;

One-click file-sharing;

Batch data import and a robust range of export formats;

Customizable milestone tracker;

Mobile-friendliness.
Randomization and Trial Supply Management Platforms (RTSM)
As clinical trials scale and become operation-wise complex, research teams face challenges in keeping studies blind. To ensure that patients have no ways to rig their way into the research, managers started deploying Randomization and Trial Supply Management (RTSM) solutions.
The core objectives of these platforms are patient tracking, drug dispensation, inventory, supply, and cohort management.
Functionality of RTSM
While some RTSM platforms stick to a conservative feature set like creating randomized lists and permutations, others choose an innovative approach, implementing GPS tracking, and cross-platform availability into randomization and trial supply management solutions.
Generally, the list of basic RTSM platform features is as follows:
Integrations with other clinical trial management platforms: e.g., EDC,

eCOA

, and ePRO tools.

Easy access to product history — an RTSM solution should feature a full description of each drug stored in the system.

Flexible randomization — an RTSM system should be customizable for different scenarios.

Consistency control — RTSM software should help teams track patient and research status by enabling real-time alerts.
Examples of RTSM
To understand how the market meets the needs of research teams, it's important to analyze the technology behind the highest-performing platforms. Here are the features the leaders of the RTSM software field offer clinicians.
Cenduit streamlines randomization with a wide built-in range of methods and real-time cohort management. The platform empowers researchers with an array of methods — clinical trial managers can run simple, stratified, blocked, and unequal randomization.
The platform is deeply integrated with other biostatistics software — simulation tools, EDC systems, etc. This way, clinical trial managers get a unified view of all workflows the team is involved in.

Key features:
Dynamic randomization;

Cohort management;

Imbalance minimization;

Treatment strategy generator customized to patient needs;

Randomization control and forecasting tools.
Parexel is an all-in-one platform that combines RTSM functionality with EDC, ePRO, and other solutions for clinical trial data management. Centralization is the development team's key priority. Parexel's functional objective is to provide users with one-click access to all clinical data and enable progress tracking using standard industry metrics.
Parexel has a customizable user interface that helps align and connect multiple features on easy-to-manage tabs.

Key features:
Randomization is built into eCRF, so users don't have to access RTSM;

Clinical trial supply management tracking;

Accountability control;

Wide range of randomization methods;

Deep integration with the EDC platform (RTSM-EDC convergence).
Interactive Response Technology (IRT)
IRT platforms are large-scale platforms designed to bridge the gap between treatment centers, researchers, and sponsors. These solutions help streamline patient management, assist in drug randomization and supply control. Clinical trial teams use IRTs for inventory management, reliable reporting, and ensuring drug reconciliation.
Interactive Response Technology is an umbrella concept connecting two narrower tools — IVR (interactive voice response) and IWR (interactive web response).
Functionality of IRT
Biostatistical data management and efficient study reporting are at the core of IRT platforms. Other than that, vendors typically integrate extra features like forecasting and drug pooling.
The basic features of a functional IRT platform are:
Integrations with IVR and IWR tools.

Cross-platform and cross-browser availability -an IRT should be accessible on desktop and mobile, via Google Chrome, Safari, and Microsoft Edge.

Support for different types of studies — via an IRT, clinical trial managers should be able to design extension, sequencing, sub-, and crossover studies.

A fleshed-out range of user roles and permissions for granular security control and legal compliance.

Real-time backups and data restoration platforms that enable efficient disaster recovery.
Examples of IRT
Reliable IRT vendors should support clinical trials with both scalable infrastructure and 24/7 assistance. Top-tier platforms put security first by storing an immutable audit trail and end-to-end encrypting patient data.
Through a brief review of high-tier IRT platforms, you'll discover which instruments and features scalable and flexible interactive response technology tools should integrate.
Medpace has a large user community spanning across 55 countries and encompassing over 700,000 studies. The platform streamlines research tracking and supplies teams with real-time status updates and statistical insight.

Key features:
Full-cycle enrollment tracking;

Supply and re-supply automation;

User management and patient tracking;

Team-focused dashboard and collaboration-friendliness;

Two types of infrastructure: centralized and block-based.
Eclipse's IRT is a part of an integrated web-based service. The platform is a single source of truth for clinical trial management, drug randomization, and patient data administration. Eclipse supports physicians with a reliable infrastructure and 24/7 uptime.

Key features:
Automated patient randomization achieved by the implementation of statistical methods;

Supply chain and inventory management;

Integrations with a broad array of clinical trial management platforms;

Continuous reconciliation support;

High accessibility.
How to Choose Clinical Data Management Tools
The limitations of paper-based clinical trial management inevitably encourage teams to consider migrating to web-based platforms. And since there are so many vendors on the market, confusion when screening alternatives is inevitable.
To speed up the process of vendor selection and choose a system that meets the needs of the research teams, clinical trial managers should have a predefined list of selection criteria. Here are 5 factors that largely determine the efficiency and cost reduction potential of clinical data management tools.
1. Use Cases
Flexibility and adaptability are crucial for high-functioning clinical data management platforms. The platform should support a wide range of clinical data types and enable running various types of studies.
To choose a high-performing CDMS, make sure it is designed with your team's activities in mind. On the market, there are plenty of niche-specific solutions deployed in:
EDC management;

Neurophysiological imaging;

Electrophysiological imaging;

Drug supply management;

Patient tracking and cohort engagement.
2. Learning Curve
Vendors should assist teams in onboarding researchers, patients, and physicians into the platform. CDMS tools with a steep learning curve take a lot of time to deploy and struggle to seamlessly support researchers and project stakeholders with varying tech-savviness.
Here's how top-notch vendors flatten the learning curve for CDMS users:
24/7 support;

Help center and community forum for answering questions;

Product tutorials on Youtube;

Robust documentation;

Intuitive user flow, powered by the use of icons and graphics.
3. FDA Compliance
FDA is specific about security and data administration conventions — these are stated explicitly in "Electronic Source Data in Clinical Investigations and Regulatory Expectations." Namely, when choosing a vendor, clinical trial managers need to make sure that the platform meets these conditions:
Allows high data legibility, integrity, and accuracy;

Supports e-signatures;

Robust access control;

Immutable audit trail;

Record linking.
4. Timeline for Setup and Implementation
Before committing to a clinical data management system, define a timeline for integrating the platform into research workflows. Depending on deadline constraints, clinical trial managers might want to choose straightforward platforms with no redundant features.
On the other hand, if a research team has enough time to onboard study participants into the platform, the range of available tools can take precedence over the steep learning curve.
When outlining the implementation strategy, consider the following:
Types of tech professionals required to assist onboarding;

Tech-savviness of the research team;

Availability of hardware required for setup;

Degree of assistance from the vendor
5. User Training Tools
To improve the efficiency of platform onboarding, vendors should go the extra mile in tools like mock study systems. When negotiating with CDMS vendors, be sure to request Work Instructions (WIs) and a list of Standard Operating Procedures (SOP).
These guidelines will provide the team with a guided walkthrough on building, managing, and validating clinical trials using EDC, RTSM, and IRT technologies.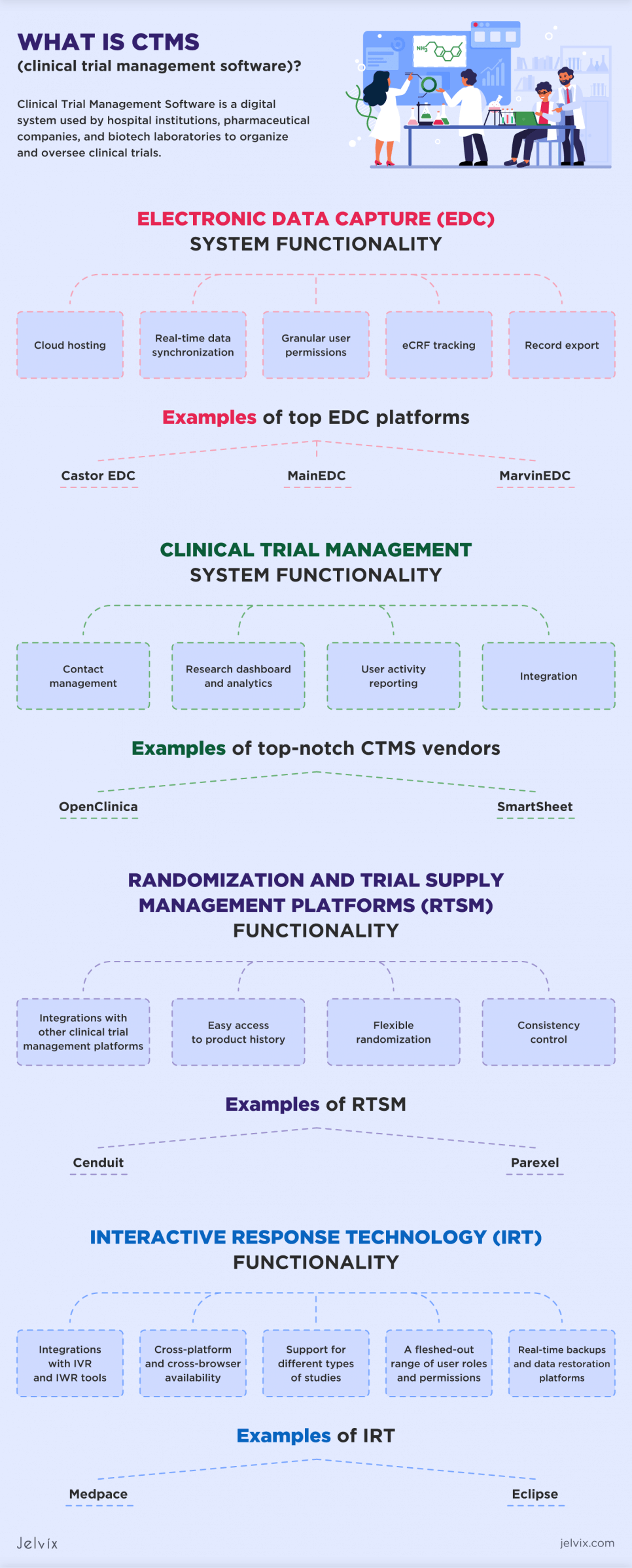 Conclusion
Clinical trial systems help ensure the transparency and security of medical studies. Tools like EDC, IRT, RTSM and other platforms seamlessly connect patients, researchers, and study sponsors.
The key features of an efficient clinical data management platform are security, accessibility, information processing, and visualization. When combined with an intuitive interface, these tools cut operating costs, increase the pace of progress and seamlessly assist teams in pushing the frontier of medical innovation.
If you want to develop a flexible and scalable clinical data management system, reach out to Jelvix. Our developers are skilled in designing custom HIPAA-compliant solutions for data capturing, patient engagement, and progress tracking. To see the healthcare projects built by the team, take a look at our case studies. And if you would like to discuss the needs of your research team or institution, drop us a line!
Need a qualified team of developers?
Extend your development capacity with the dedicated team of professionals.
Contact us
Contact us