Software development services in the U.S. are quite expensive compared to the rates offered by international teams. Tech companies are always looking for new hires, so recruiting talents to in-house teams is a challenging task. These factors drive the IT outsourcing market to its success, encouraging American businesses to cooperate with offshore developers.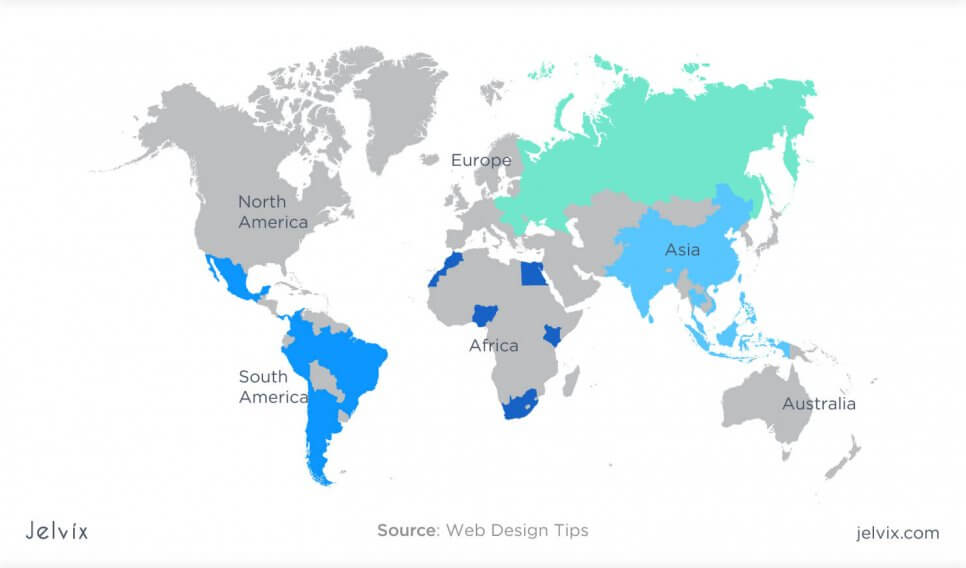 Benefits of working with an offshore team
Services performed by outsourcing teams are highly universal, from refactoring to working as reliable partners, often being responsible for conceptualizing the product, refining business models, and assisting in defining strategic goals. Engineers develop a product in its entirety, from ideation to post-release maintenance. Why do business owners prefer offshore developers to complete such a wide scope of work rather than trusting in in-house teams? Let's see.
Affordability

: the

hourly developer rate

of an

overseas programmer

depends on the local market and currency. Developers from countries with lower GDP and unstable currencies, charge comparatively less, than their American colleagues.

Rich skill sets

: in outsourcing teams, business owners can easily work with middle- and senior developers, whereas scouting such talents for in-house work in the U.S. would be difficult, especially for young companies;

An additional perspective

: business owners get an impartial partner who can identify issues with the product, business model, development strategy, and so on;

24-hour development cycles

: time differences allow companies to be always present: when the in-house team's schedule is done, the outsourcing partner steps in — the company performs continuous work;

Focusing on strategic goals

: business owners can redirect the efforts of their in-house employees to other priorities.
Hiring an offshore team became much easier with real-time productivity managers, like Jira or Hubstaff, and free messaging tools (Skype, Slack) allow business owners to be in touch with service providers at any given moment.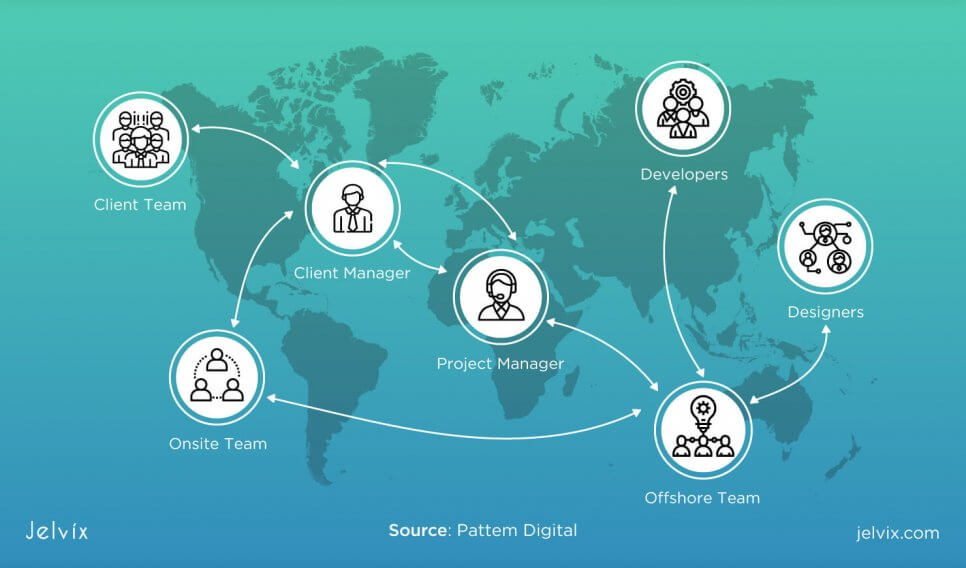 Of course, cooperation with an outsourcing provider has its drawbacks. Language and culture barriers can lead to miscommunication, and time differences complicate the organization of group meetings. However, these issues can be solved with an experienced provider and real-time trackers — business owners can implement best practices that provide a transparent view of the project.
Factors that influence software development rates
IT outsourcing is common in many world regions and countries, and there are considerable rate variations from market to market and from one team to another. Business owners often get confused, trying to determine the logic of costs estimate. Here's the insider view, based on our experience and industry statistics of factors that influence offshore software development rates by country.
Location

: the most expensive regions for software outsourcing are America and Western Europe;

Tech stack

: the price depends on skills, portfolio, the status of the clients, and the availability of the technology. The rarer is the tech stack for the project, the more expensive will human resources be.

Experience

: an established and certified outsourcing provider will charge more than a small young team;

Team size

: the more people participate in the project, the higher its budget will be;

Agreement details

: price may range depending on the details of cooperation models;

Cooperation models: companies hire dedicated teams that work on the project remotely. Some developers prefer to work only with Time and Materials (on an hourly basis), while others choose to put up a Fixed Price for the project.
The final software developer hourly rate depends on the developers' competences, market, tech stacks. In this article, we'll examine average hourly rates, according to PayScale and local markets' statistics.
Choosing between onshore, nearshore, and offshore teams
Before considering different local markets and companies, it's important to make a distinction between various kinds of software outsourcing. Based on the proximity of the providers, there are three types of offshore developers.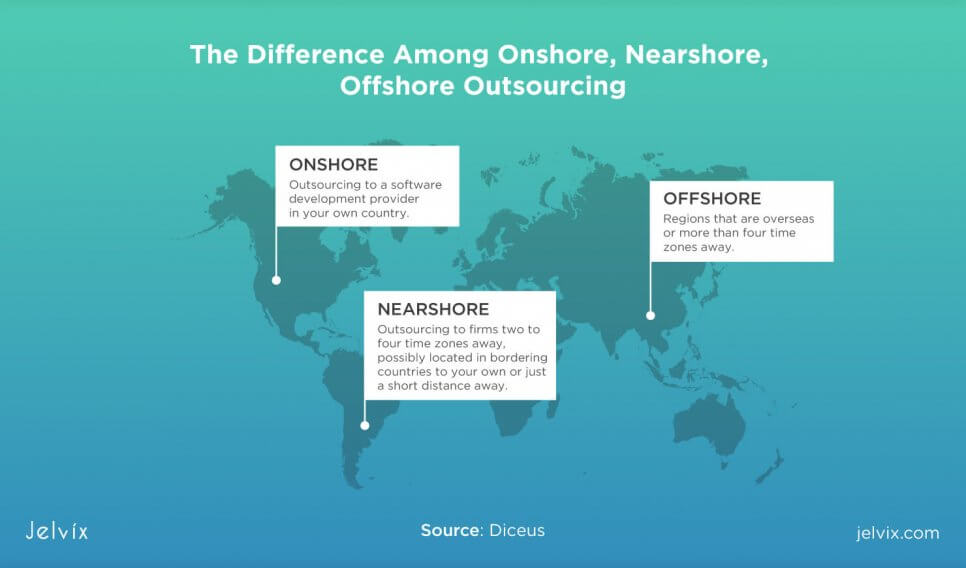 Onshore outsourcing
Onshore outsourcing — outsourcing practice where the work is outsourced to developers who are located in the same country. Such practice allows business owners to save time and resources that would be otherwise spent on in-house specialists, or hire professionals with rare skillsets for one-time projects.
Advantages: no language and time barrier, business owners, and providers can meet personally.
Disadvantages: no tangible reduction in software development hourly rates.
Nearshore outsourcing
It's an outsourcing practice where a service provider is located two or three time zones away from the business owner in a neighboring country. For instance, if a German business owner decides to choose a Ukrainian outsourcing provider, it would qualify as nearshore development, because even though the developers are located in a different country, they are relatively close to the client.
Advantages: no communication issues, time zone differences are unnoticeable.
Disadvantages: it's not common to have a neighboring country with much lower development rates, although not impossible.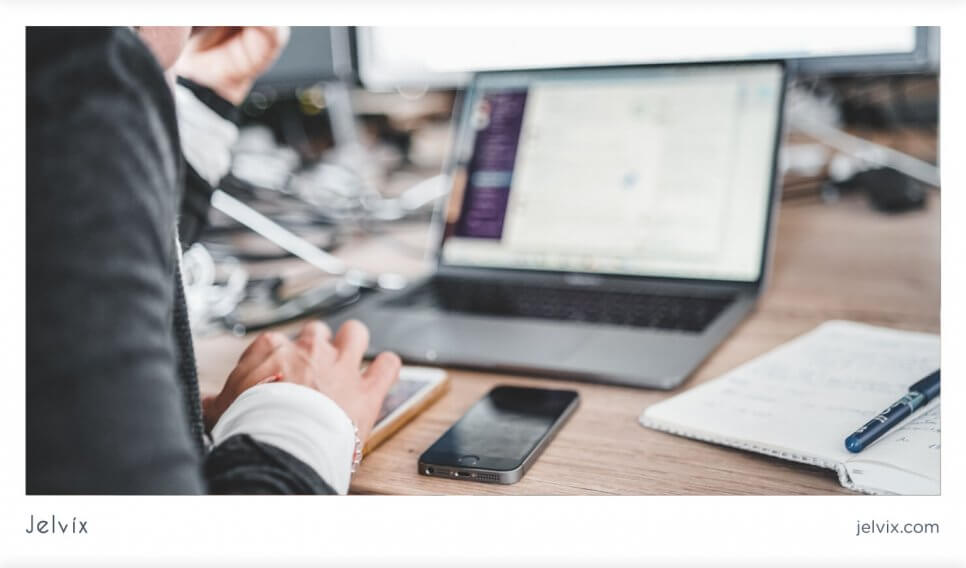 Offshore outsourcing
This term usually refers to overseas countries or the ones that are at least 4-5 time zones away. Typically, markets are different from the one where the client operates, so rates can be considerably lower. Also, the client can get a culturally different perspective, which is valuable for projects that are oriented to global audiences.
Advantages: clients can find much lower rates
Disadvantages: timezone differences complicate communication.
To choose between onshore, nearshore, and offshore, a business owner should consider priorities for the project. If having constant personal contact with a development team is necessary, then onshore and nearshore providers will fit better. If costs and international expertise are a priority, then offshore development is your top choice.
Top software outsourcing markets
Let's take a look at top outsourcing destinations and examine offshore developer rates by country, time differences, skills, and possible challenges. We analyzed PayScale statistics on rates as well as Clutch listings to see what countries stand out the most in the list of best outsourcing providers.
Eastern Europe
Countries: Ukraine, Poland
Eastern Europe, especially Ukraine, has been a leading outsourcing destination for several years now. The market is strongly influenced by Western European and American technology trends, and many local companies manage to break to international audiences.
Ukraine
Ukraine is a top choice for the software outsourcing of many experts, and our analysis proves the trend. The country has one of the most developed IT markets in the world, with more than 3,6 k ICT providers, more than 1000 IT firms. The talent pool in Ukraine consists of more than 250,000+ software developers. Many of them are sought out by big international technology companies like Google, Amazon, Apple, and others.
Ukraine was home to many global tech companies, like PayPal and WhatsApp. The recent success of Grammarly, a multi-million startup, founded by Ukrainians, is just another example of what local developers are capable of. Global companies, like Samsung, Magento, Siemens, understand the potential of the market and move their R&D centers to Kyiv and Kharkiv. Ukrainian developers actively participate in international IT events – just recently, our team came back from Toronto, where we represented Ukrainian Innovation Corner.
Poland
Just like Ukraine, Poland has one of the most developed IT industries in the world. IT market here is worth more than 9 billion dollars, with more than 60,700 active software development companies.
Poland developers charge more for an hour than their Ukrainian colleagues, around $30-55 per hour.
Time difference
The average difference between the United States and Eastern European countries is around 7-12 hours. On the one hand, this could be a complication for a client who wants to receive prompt replies on their requests — although it's common for offshore developers to work at night. On the other hand, when American workday is over, Ukrainians would only be starting — which enables continuous work on the project and tech support.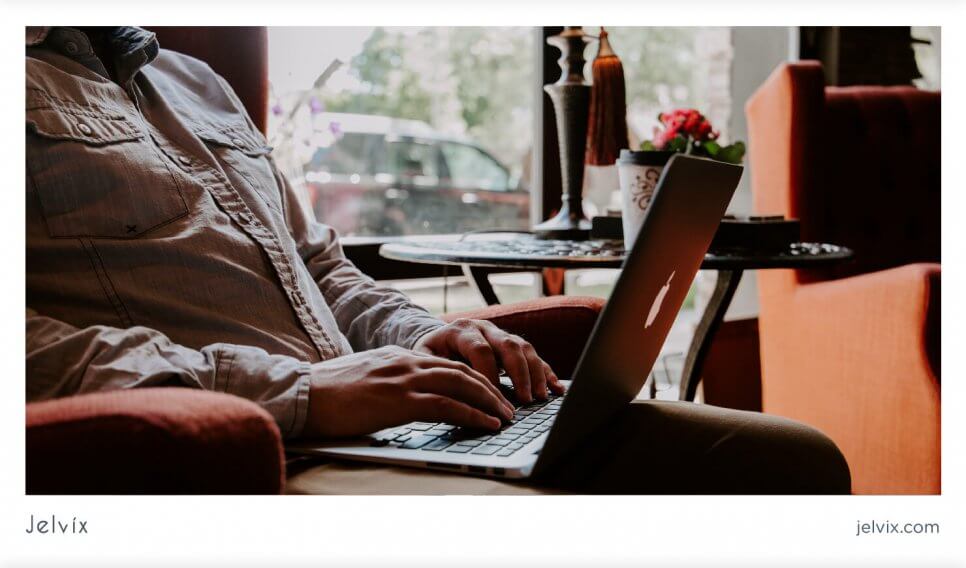 Eastern European hourly rates
Junior developer: 25-42 dollars
Mid-level developer: 35-56 dollars
Senior developer: 45-70 dollars
Ukrainian developers charge less than Polish software engineers while offering similar or even higher service quality. The price levels create these differences in both countries. Polish prices are generally higher than the Ukrainian ones, hence, higher the salary requirements.
Asia
Countries: China, Japan
Asian top talents prefer to work in local top-tier technology hubs rather than focusing on outsourcing. To find an experienced developer, especially for a rare tech stack, the business owner should contact local experts. Asian countries have developed technology companies, and developers are mostly encouraged to build their careers in corporations in a linear way.
Costs
In China, the average hourly rate for a software developer is 5-20 dollars, according to PayScale. Juniors receive around $12-15 000 per year. A typical Chinese developer has great skills in modern technologies, especially AI and blockchain, but he might be more willing to work with local clients due to cultural traditions.
Japanese developers have wide-range expertise and work with innovative startups — so American companies could benefit from local experience. However, many prominent developers prefer to move to the United States, recruited by American tech hubs, or go to local organizations. Here, outsourcing business isn't a top destination for local talents — so you'll likely work with mediocre-level teams.
Software engineer contractor's hourly rate in Asia
Junior Developer: 18-24 dollars
Mid-level Developer: 24-35 dollars
Senior Developer: 35-42 dollars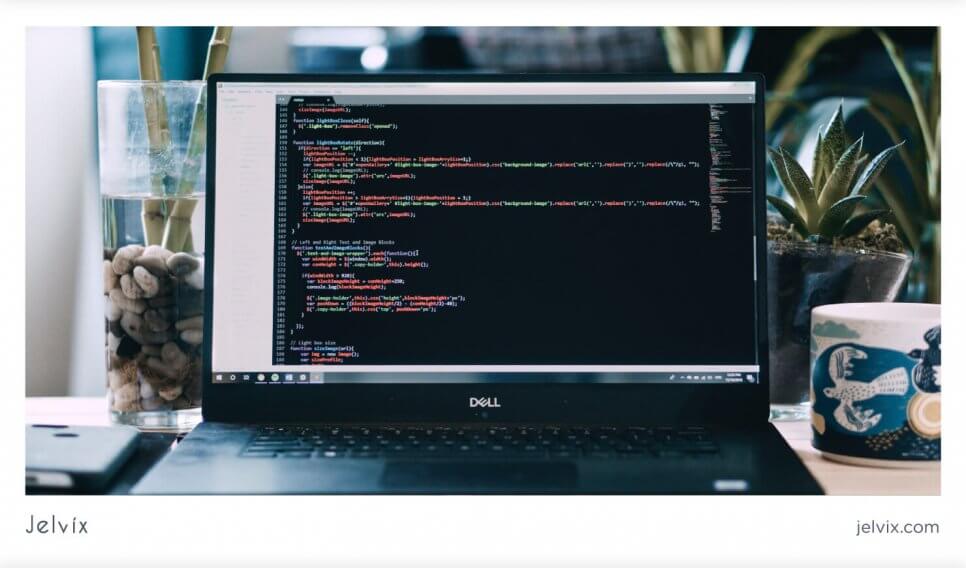 Latin America
Countries: Brazil, Argentina, Colombia, Costa Rica
The majority of Latin America IT market consists of small and medium businesses, about 90% of tech firms are located in Colombia and Mexico. Because of the market's proximity to the United States, Latin American providers have recently entered the competitions between other established outsourcing locations — India, Ukraine, China, and others.
Let's examine the market country by country, with average software contractor rates and skills evaluation.
Argentina
European trends influence Argentina's IT market — the country has always been economically and culturally connected to Europe. It's the most expensive IT development market in the region because of its developers' rich experience of working on Western markets.
Colombia
Colombia has more than 13,000 software development graduates every year, and the majority of top talents go to outsourcing firms. The companies are in touch with CMMI-certified development practices, benefiting from the American influence. HP, IBM, and Unisys are among major U.S. firms that outsource their work to Colombia.
Peru
According to Peru Service Summit, software development and digital market are prominent industries of the country with global revenue of more than $85 million. Local developers are fluent in English, and they typically specialize in mobile development.
Brazil
Brazil is the leading software development outsourcing destination in Latin America. Rio de Janeiro is a global IT center, known as a tech hub not just in Brazil, but in the entire Latin American region. The city has 8 out of 10 country's top technology universities that produce more than 14 thousand alumni each year. US Development Companies actively recruit Brazilian talents, but a lot of engineers also choose the outsourcing route.
Costs of outsourcing development in Latin America
Junior Developer: 25-34 dollars
Mid-level Developer: 30-52 dollars
Senior Developer: 45-55 dollars
Software development outsourcing in Africa
Perhaps, you don't hear much about software outsourcing in Africa, because it's a relatively new tech market. However, global technology companies recognize the region's potential — Microsoft invested more than $100 million into opening development centers on the continent. GitHub's statistics prove the trend of the rapid growth of the African development market — Morocco, Kenya, Nigeria, Egypt, and South Africa top the list of the fastest-growing software development communities — let's examine trends and hourly developer rate by country.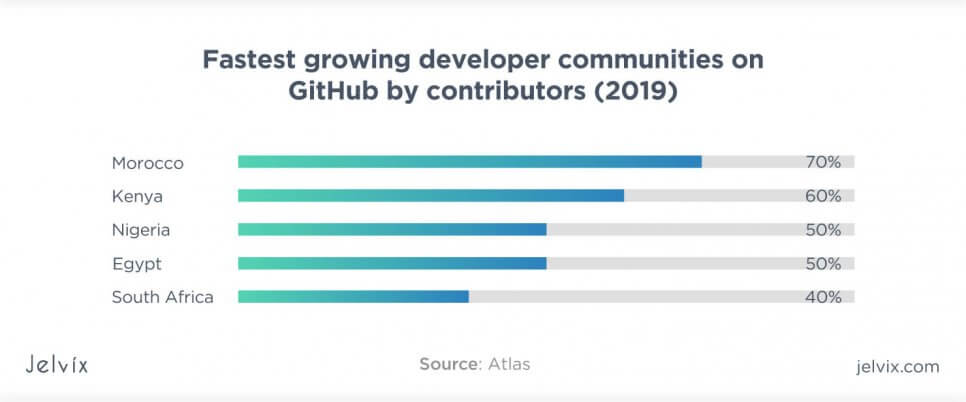 North Africa
North Africa has the potential to become the leading outsourcing destination and even possibly replace India from its leadership position. The reason for these shifts is its convenient location — North African providers are time-compatible with European countries. Among companies that have their development centers in Egypt, you can find such global providers as Orange, Vodafone, Intel, and others.
Morocco and Tunisia are attractive to French-speaking countries — there are no language barriers in cooperation with local developers. Morocco has been a strategic location for French companies for a decade now, and it also has been receiving active government support.
South Africa
A relatively new player in the outsourcing market, South Africa is a leader in African software development. The country shares time zones with many European countries and its difference with New York is only six hours. Johannesburg, the country's capital, has been ranked among one of 30 top destinations for software outsourcing.
East Africa
Among East African countries, Kenya stands out particularly — its capital, Nairobi, is often called Silicon Savannah. English is one of Kenya's official languages, which simplifies the cooperation with businesses overseas.
West Africa
In West Africa, Nigeria is the leading destination for IT outsourcing. It's the most populated country of the continent with huge potential or scouting top talent. The government has been actively investing in promoting IT education, and it recently created a lot of jobs and education initiatives for young local developers.
An average programmer hourly rate in Africa
Junior Developer: 15-22 dollars
Mid-level Developer: 22-30 dollars
Senior Developer: 30-45 dollars
How to make a final choice of a software outsourcing team
You can probably tell that average contractor rates vary from one region to another. To make the right choice in picking reasonable offshore billing rates and reliable partners, you can rely on several ground rules.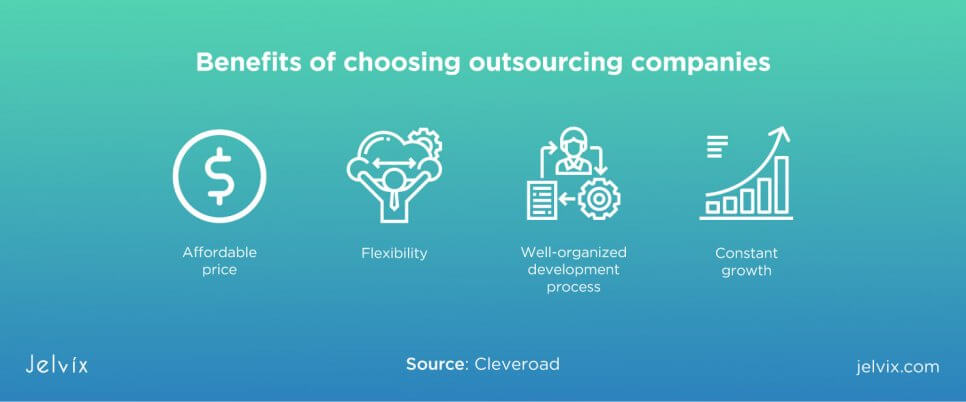 Costs
The average developer hourly rate depends on the experience of the development team and the level of market development. Countries with powerful tech hubs will likely have higher rates but offer more in-depth expertise. The software engineer hourly rate is summarized in the following table.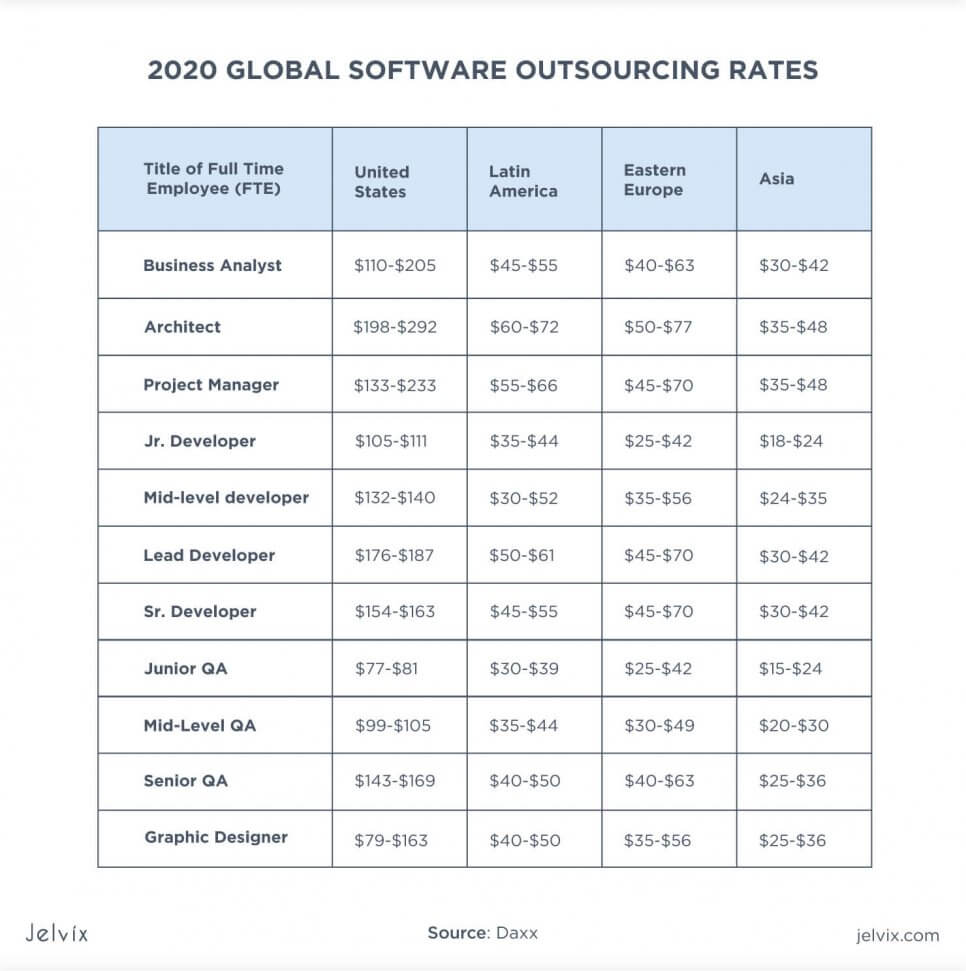 Locations
You can cooperate with companies in more expensive markets if you avoid capital cities and big tech hubs. Rio De Janeiro's prices for software development are much higher than in other Brazilian cities, a similar tendency holds for Eastern European countries. Kyiv, the capital of Ukraine, is one of the biggest tech hubs in Eastern Europe with worldwide-class specialists, but offshore hourly rates are considerably higher.
Project specifics
You need to talk to the team about the duration, scope, and complexity of the project. The more widespread is the required tech stack, the easier it will be to find affordable development services. Whenever you are restricted in time, you add additional numbers to the software engineer hourly rate.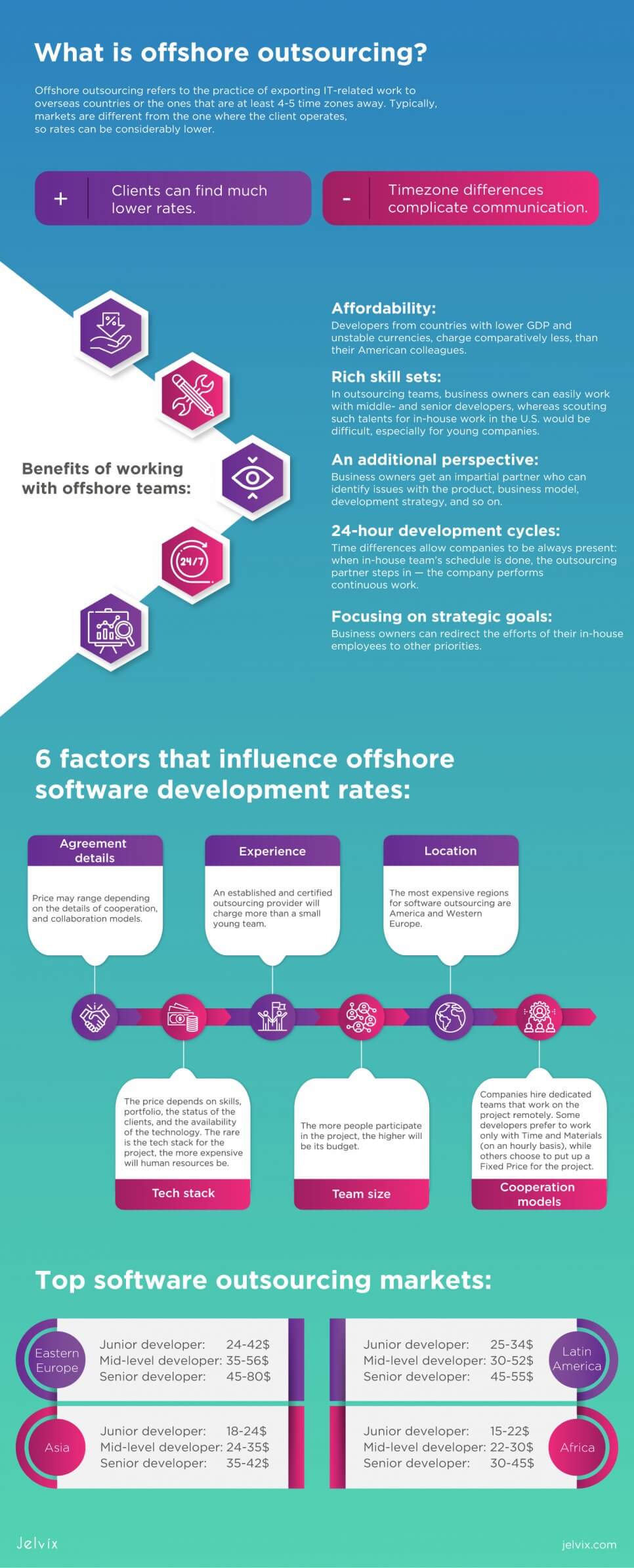 Conclusion
Choosing an outsourcing destination, business owners need to pay attention to the size and quality of its talent pool, which derives from education. Also, consider countries with low corporate expenses, like Ukraine, because it significantly lowers the hourly rates. Additionally, you want a country with an established technological community and innovative startup hubs. If these conditions are met, it's likely that even junior developers will possess a high level of tech expertise.
Few destinations manage to meet all these expectations and yet provide a cost-efficient rate. Ukraine is, perhaps, currently the only tech market that matches all the criteria, which is why it has been repeatedly considered the new Silicon Valley. The market is highly saturated with professional outsourcing companies, and business owners can easily find a team of experts even for demanding tech stacks.
After deciding on the market, the next step is finding a reliable provider that fits your project scope, deadlines, tech stack and budget. Contact our team if you'd like to discuss the details of our outsourcing cooperation. Our experts will analyze your idea, existing solutions, and complete a project that fulfills your business needs.
Need a certain developer?
Fill the expertise gap in your software development and get full control over the process.
Get in touch
Get in touch