Node.js and Ruby on Rails are two prominent solutions used for the web development. Note that the first one is not a framework. It is a web-server technology, which is used together with JS-frameworks, like Express, Meteor or Sails, and with databases, like MongoDB. As for Ruby on Rails, it is a Ruby programming language extension, which was released in 2004 as a developmental environment with a fairly low learning curve. This framework was originally used as a base for such world-famous websites as Twitter, Airbnb, Github, Groupon, etc. On the other hand, such giants as LinkedIn, Hapi, and PayPal had gradually decided to migrate from RoR to Node.js.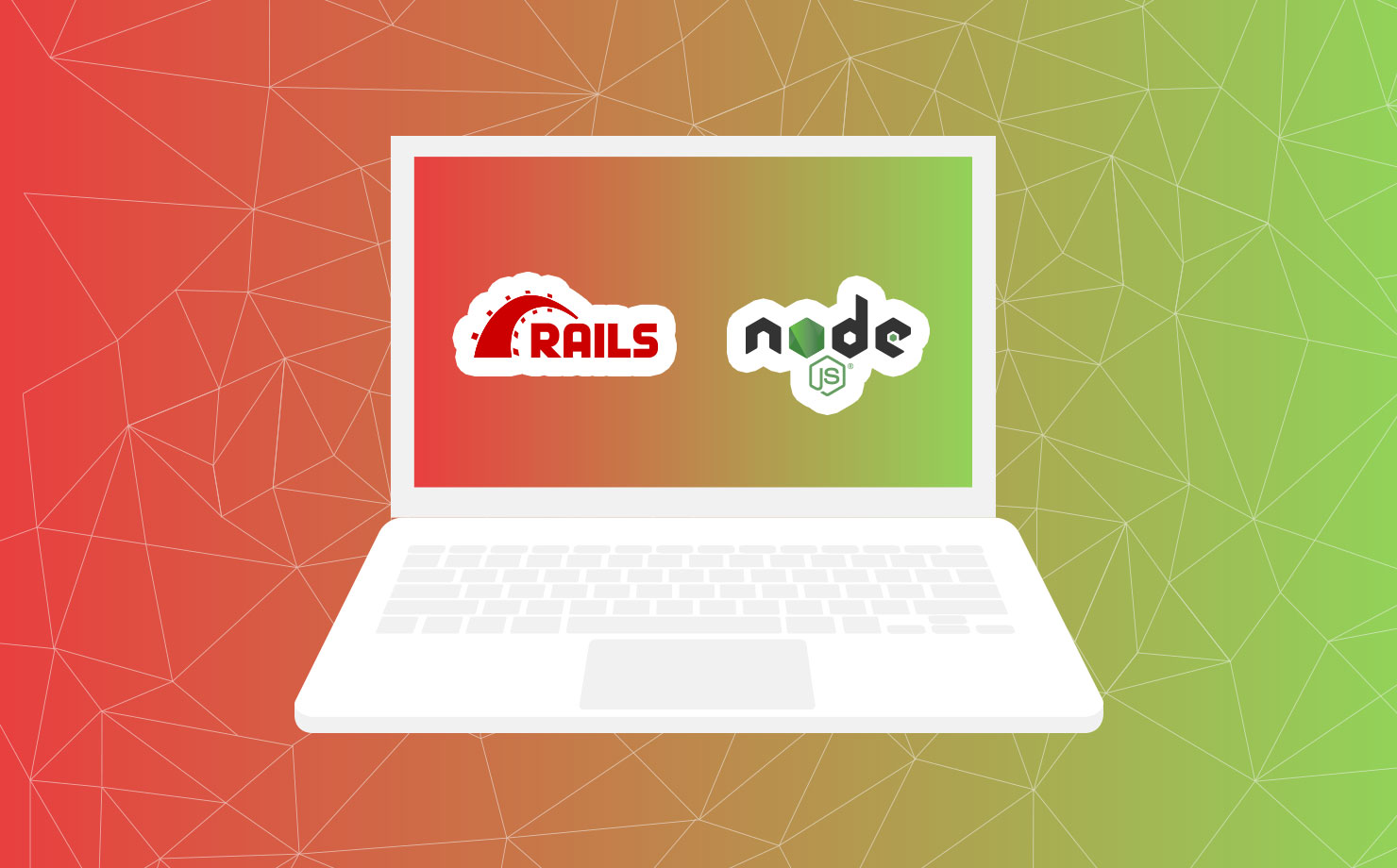 So why the Ruby on Rails vs Nodejs confrontation is one of the most popular topics in web-development, if at the first sight, these technologies are so different? Why are they compared? And which one is the best? Let's try to figure this out.
Is The Ruby On Rails Vs Nodejs Comparison Reasonable?
So why compare RoR and Node.js? The answer is simple: in the last few years, these two server technologies have been constantly occupying the top positions in one of the main IT branches – web development, according to the statistics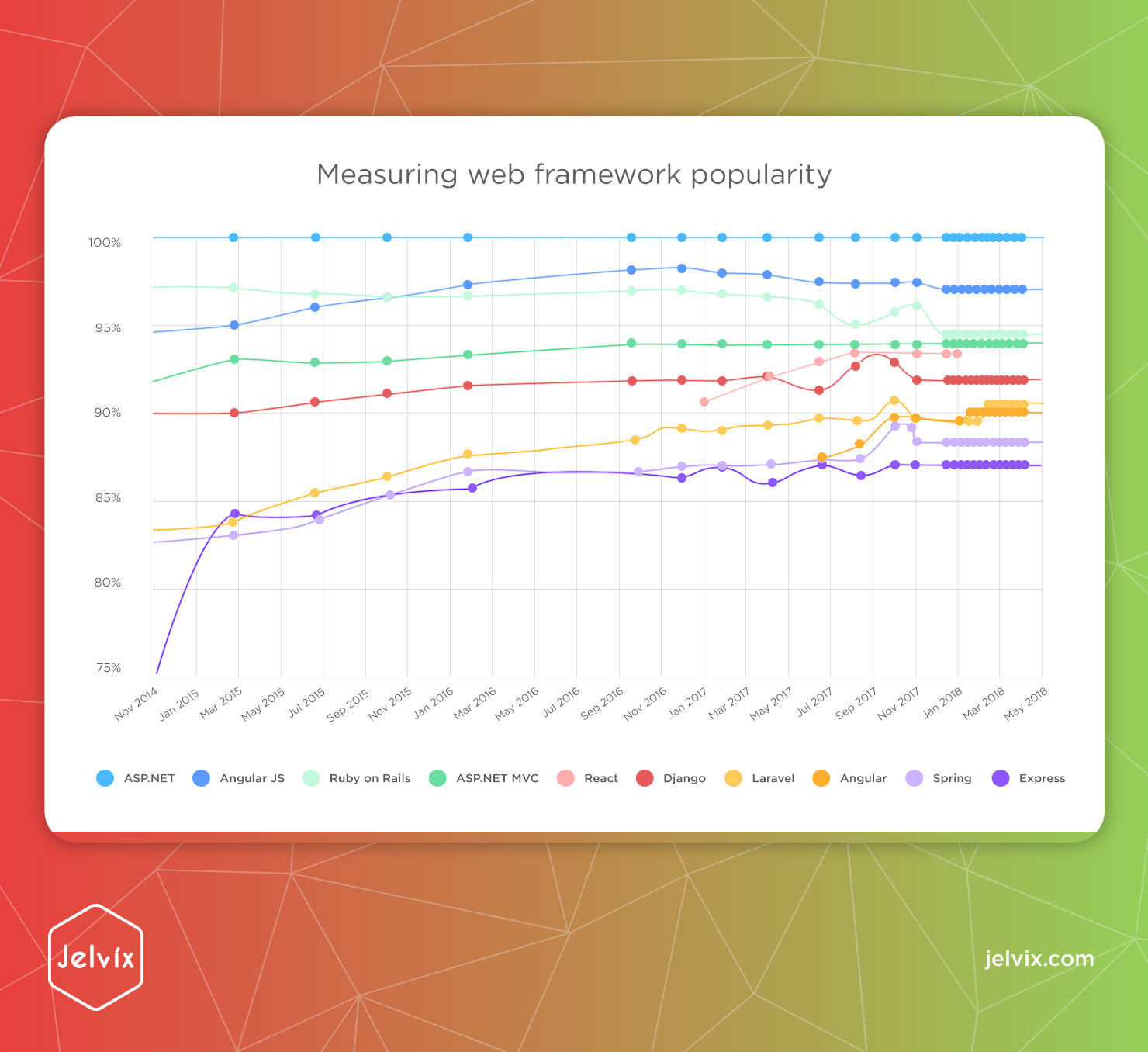 If you are a novice web developer or a starting IT company owner, the question of choosing the most convenient and flexible solution is very important to you. Now, we will take a look at the Nodejs vs RoR stand regarding the key parameters, so that it would be easier for you to make a right choice.
Nodejs vs RoR. Fight! Who wins?
Let's look at the main criteria that web developers should keep in mind when they choose a particular solution from this pair.
Ease of learning.
Ruby on Rails is a well-known "schoolkids' framework". If you go on the Internet, you will find a lot of stories, in which people tell that they just "woke up in the morning, decided to make their own website/web app, then tried to learn RoR and they got it right." That is why RoR is a frequent choice of freelancers. And even if you still have not figured out how and what you need to do within this framework, you will certainly be assisted by RoR developers community. But, as practice shows, you can solve this problem on your own, because there are a lot of branches with both typical and quite specific questions, which can arise during the Ruby on Rails usage. Whichever project you are considering, if it is built on RoR, it always has a standard structure and syntax.
Thus, this does not allow novices to make significant mistakes. And what about Node.js? You should realize that it is not simple. So, when you decide to work with it and plan to learn only JavaScript, you will be disappointed. In addition to that, a Node.js developer needs to master the work with JS frameworks and also to understand how to make queries in databases. On the other hand, this web technology is a really great start to become a full-stack developer. Therefore, only you can decide – which one – Nodejs or Ruby on Rails you should choose.
Performance.
Node.js is based on one of the fastest engines – Google's V8. This one and the ability to write high-speed asynchronous code are considered as truly killer-features by the majority of web developers. As for RoR, it supports dynamic AJAX interface; additionally, something similar to the asynchronous code also can be implemented in this way. But, unfortunately, even these features are not able to ensure the Node.js speed.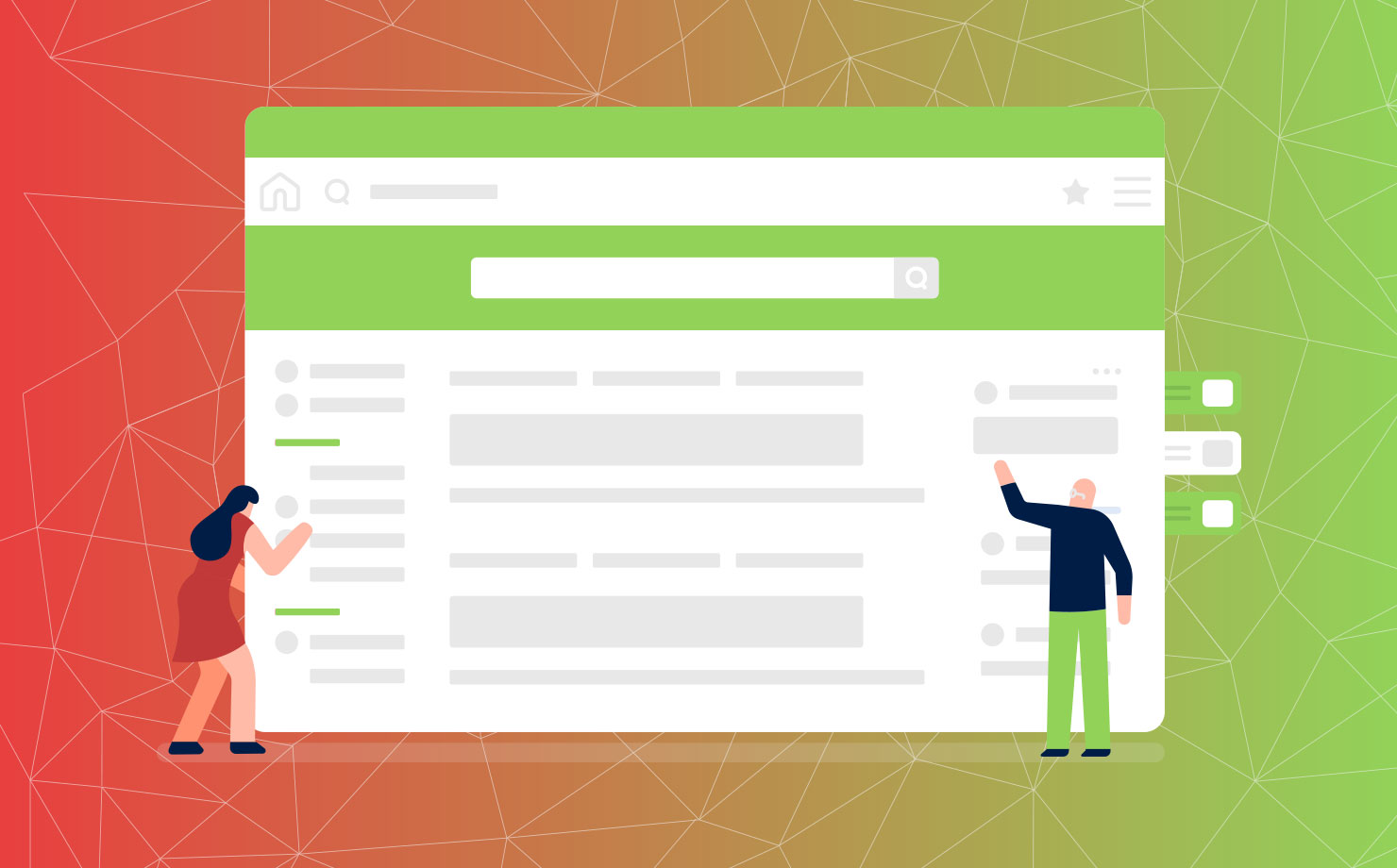 Furthermore, according to some programmers' experience, Node.js demonstrates the performance up to 20 times greater than the one, which is provided by the "old man" RoR. Thus, in the Nodejs vs Ruby performance battle, the first one takes victory.
Security.
Ruby on Rails is an excellent choice for novice web developers who want to get a truly secured solution and do not want to participate in the self-provision of its security mechanisms. For example, RoR uses XSS filters by default; also, there is a built-in authenticity_token tool, which is used against CSRF attacks, as well as different methods for preventing SQL injections and many other useful things. If we talk about Node.js, you have to rely only on the security of the chosen framework.
Capabilities.
Probably, only the lazy one does not know about the Ruby gems existence. In fact, Ruby gems are free plugins, the code of which is placed on Github. The only disadvantage of gems is the inability to filter them according to their mission. Of course, you will be able to figure out on your own, which of them you should choose in the particular situation (it's good that the gems' names kind of "speak for themselves"). But the searching procedure will be quite tiring for you.
With Node.js, web developers get much better capabilities. This web technology has an incredibly advanced tool –NPM – a package manager, which includes different modules that can solve hundreds of tasks – from the most trivial to the extremely specific ones. These modules were created by ordinary developers and optimized for the format which could be easily integrated with third-party solutions (in particular, with your project). Thus, once having learned this tool, you will get an ability to create only a skeleton and absolutely unique functions in all your web apps or websites, while other possibilities can be implemented using NPM in no time.
Flexibility.
Despite the fact that in this article we positioned Node.js solely as a technology for creating web applications opened in a web browser, it also can be used in both mobile and desktop development (with RoR you don't get such multipurposeness). In addition, Node.js provides easy-to-use and flexible tools for APIs creating. From our point of view, the trio from Express.js, MongoDB and, of course, Node.js, perfectly suits such purposes (for the frontend development you can additionally use Angular.js). Thus, the efforts you made to create the new application interface, in most cases, will have a positive result after just a few hours. Ruby on Rails does not give you such flexibility, and, generally speaking, RoR-based projects are much more slower. In the end, we should warn you that this framework is not too good for creating software with complex business logic or interactive functionality.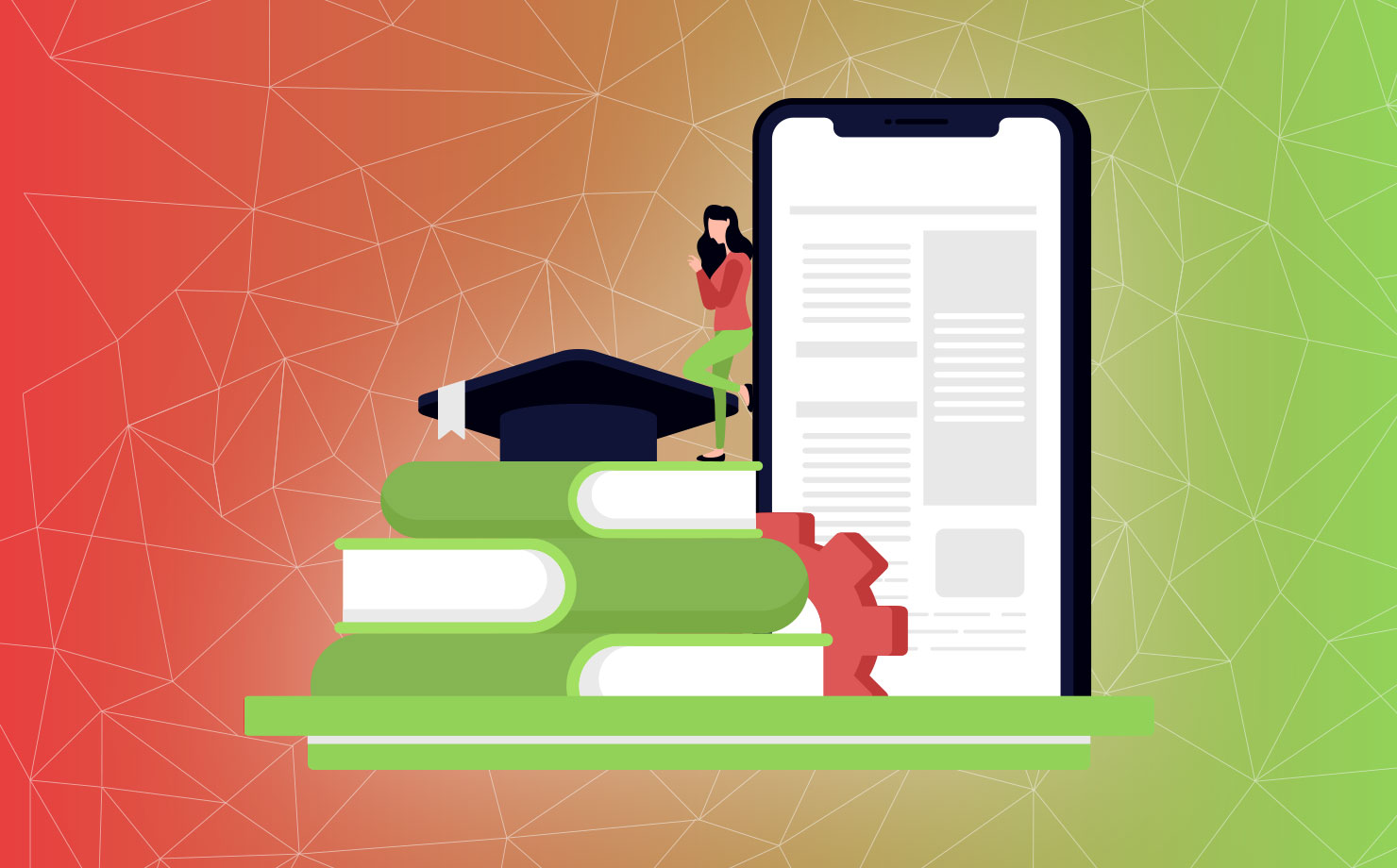 Node vs Ruby On Rails: Conclusion Let's sum it up. Who won - Ruby on Rails or Node.js? Based on the feedback from developers, Node.js is an incredibly progressive technology that is being constantly improved and updated with new tools and approaches. For the basic knowledge of it, you need to learn only JavaScript. If you want work with commercial projects, be ready to master much more material. But, the result is worth it because nowadays this technology is often chosen for scalable projects development. In addition, being an experienced and qualified developer with Node.js experience means always having a possibility to get a high-paying job (today, the demand for Ruby on Rails specialists is much lower, as opposed). On the other hand, Ruby on Rails is an easy-to-learn framework that is a perfect choice for small IT companies and suits both frontend and backend development. If you are just at the start of your web-developer career, but you are already burning with a desire to launch your own project, it is better to entrust its implementation to professionals. In particular, our guys are always ready for a new collaboration and will be happy to discuss the details of your website or web-based app. We are waiting for you!