Why do we need the prototypes? What is the purpose of rapid prototyping? Prototyping is the stage that needs to take place before the start of the product development. There lie 3 highly important factors in the core of this process:
Validation of the created concept;
Verification of the theory;
Prevention of potential errors.
Prototyping can save your time, give the opportunity to test the interface before it goes to the development stage which can eliminate a number of mistakes.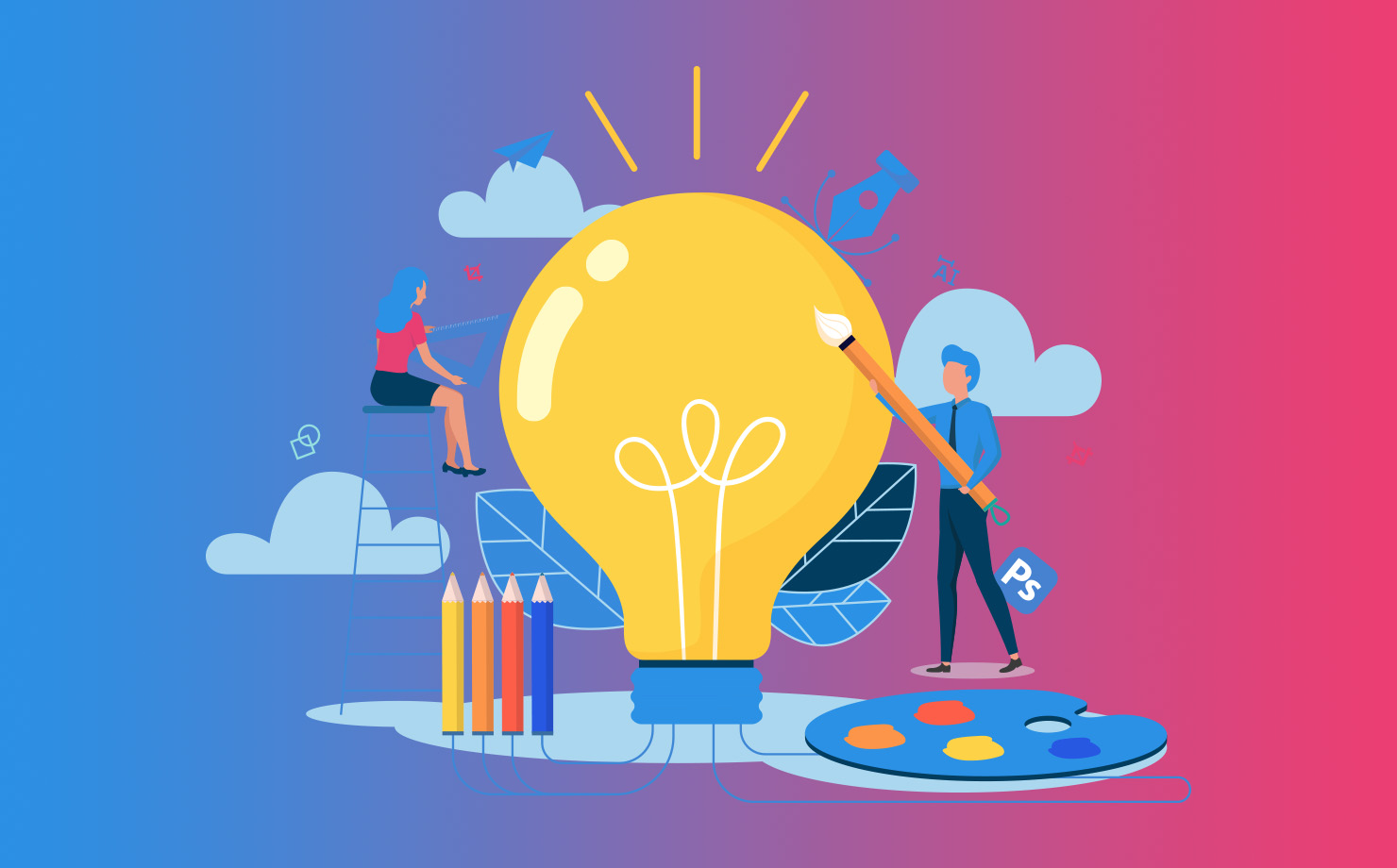 What is the most important moment when dealing with prototypes? The best and most convenient tools must be selected in order to make the process easy, optimized, and quick. Software development industry grows every day, so the number of prototyping tools increases as well. And it is rather challenging to find the instrument that would cater to your project's needs in every way. Different tools have their own pros and cons, and it takes time to review all of them properly. But, for now, let's start with 2 of them.
Lately, the Marvel App vs InVision App battle has become a point of interest for many stakeholders. These solutions are great for a realization of rapid prototyping strategy. That is why we decided to dedicate the article to the comparison of these prototyping tools. So, InVision or MarvelApp? In this article, we will lead you through the main differences between these instruments and simplify your choice.
InVision vs Marvel: Introduction to the Subject
The features claimed by any software tool not only must be brilliantly described by the developers but also proven in action by real users. This is why we included real opinions and thoughts into this InVision or Marvel comparison.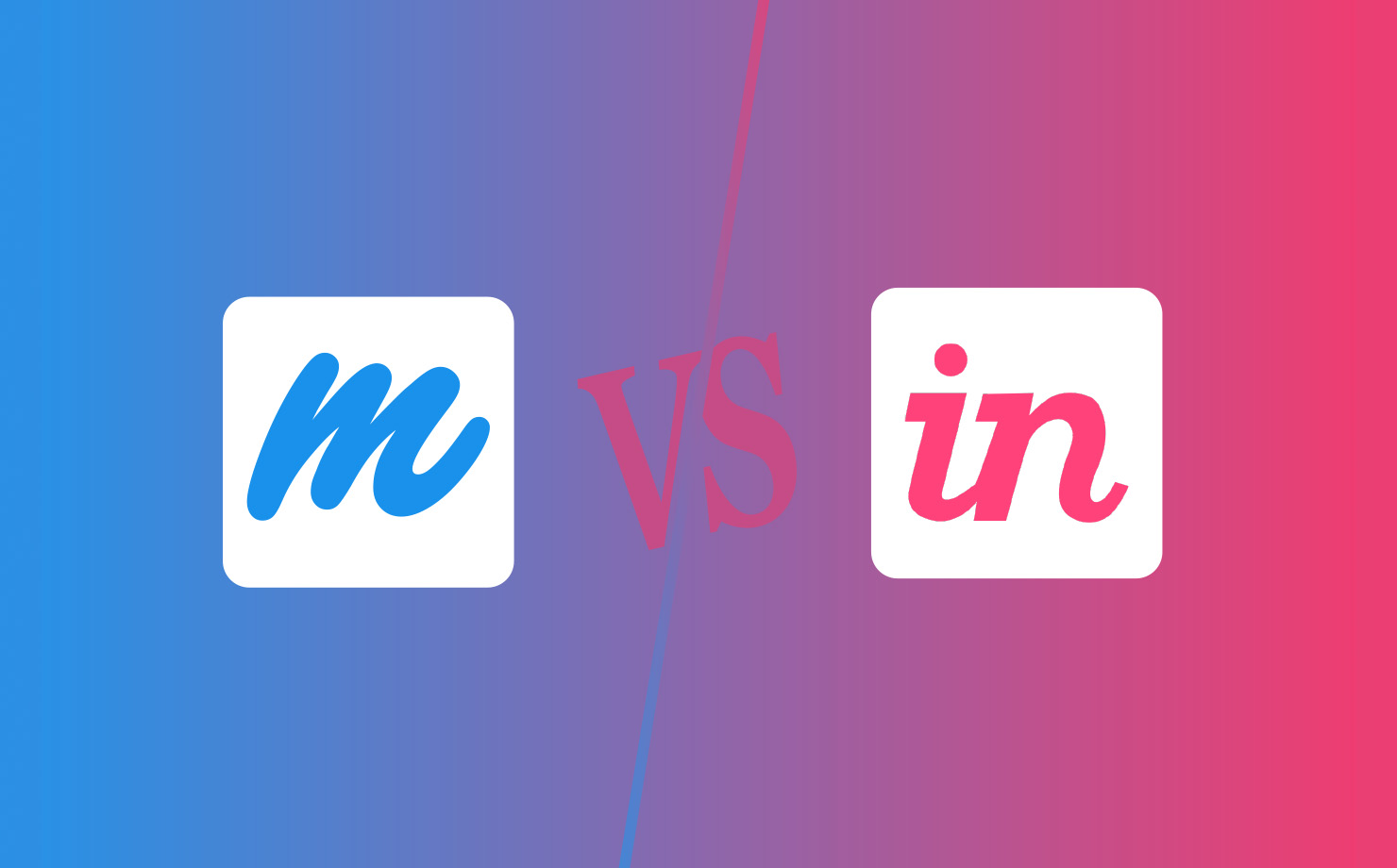 In general, the functionality of these tools is nearly the same in extent. The process of creating a prototype consists of the usual steps: the uploading of screens and linking them together via hotspots. They both are great for the fulfillment of prototyping tasks but demonstrate only the basic animation features. Synchronization with Sketch and Slack is simple and seamless in both cases, too. Additionally, Marvel integrates with Google Drive, Box, and Asana. InVision has the integration with PS, Basecamp, Jira, Trello, Teamwork, Hipchat, etc.
On the other hand, InVisionapp is more powerful. More than 3 million designers that use it prove its reliability. With $35 million of investments, it has much more capabilities than Marvel. But Marvel keeps growing and improving, so prototyping tools choice has not got any easier yet.
InVision vs Marvel: 4 Points of Discussion
To understand the question more deeply, a detailed research has to take place. And main factors of difference need to be taken into account: UX characteristics, collaboration specifics, basic features, as well as the price of a minimum plan, and extra features.
User Experience
Experimental comparison of Marvel App vs InVision App shows that Marvel is faster. After preparation of mockups and links, it takes only 40 seconds for Marvel to build a prototype. Meanwhile, under the same conditions, InVision needs 65 seconds. What is the reason for that? Marvel demonstrates overall better UX.
The process of setting up and managing hotspots is fast and seamless;
The app asks only the necessary questions;
Any interruptions of the task flow are excluded;
Transitions in a desktop mode are available.
InVision prototyping tool has its own strengths:
It offers you a choice of templates for the creation of hotspots;
Edit view and a prototype mode can be translated on the same screen.
Collaborative Features
Collaboration is another important factor that indicates which kind of team a solution would be suitable for. After the installation of the free plan of both prototyping tools, one gets the ability to leave comments and send invitations. In case of Marvel, those are the only collaborative features.
InVision is more progressive in this aspect:
Leaving a comment is convenient and easy: a field for a comment appears if you click on a selected area;
Liveshare is one of the best InVision's collaborative features: it allows creating notes, drawing, voice calls, etc.
Prices and Plans
Marvel and InVision both have free trial periods. So every stakeholder can have a temporary experience with both tools to understand what is a better fit for their business. Further use of the Marvel app costs $0-48. What do you get with a free Marvel plan?
Unlimited number of projects;
Collaborative features access for the 3 projects.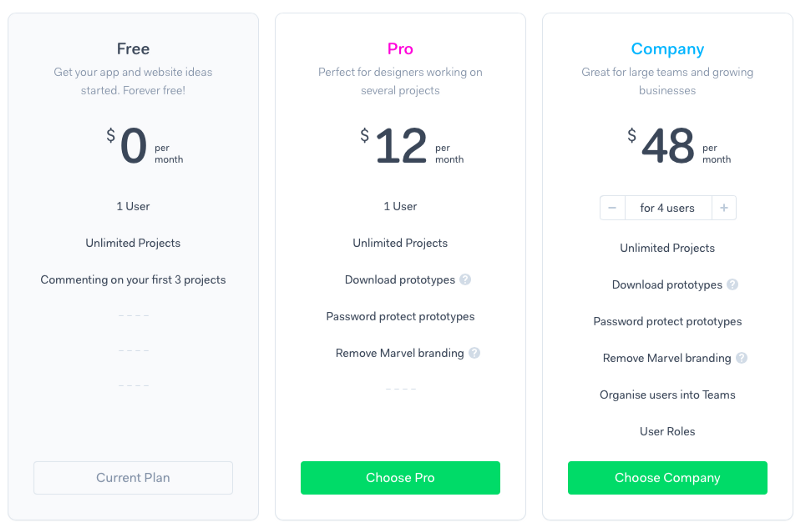 InVision pricing starts from 13$ per month and includes:
Possibility to create 3 prototypes;
Collaborative features;
InVision Inspect and Boards.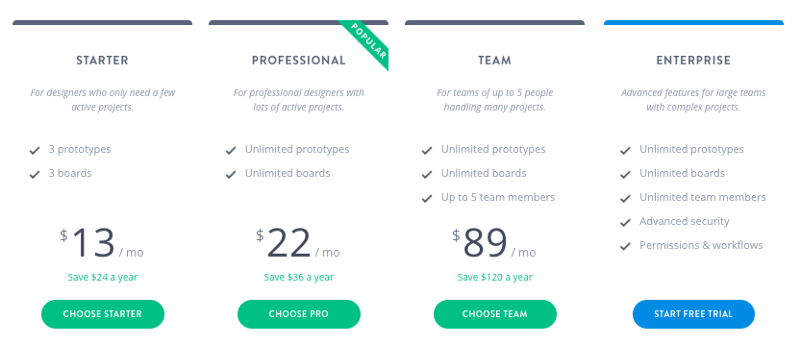 Additional features
Marvel offers the access to shared prototypes, so every user can find some ideas and inspiration in the already created examples. Marvel iOS app allows using this tool on mobile devices. Its simple and clear interface allows taking sketch pictures, applying hotspots, and building simple prototypes.
InVision suggests more advanced features for prototyping.
InVision Inspect simplifies the question of dimensions measurement and storing the @2x kind of files;
InVision Board provides a great help in storing and organizing the content. Here, you can store the .png files, colors, and samples you need to create a prototype. Synchronization with Dropbox and Google Drive makes this feature even more useful.
Briefly, Marvel with its simplicity is a great choice for a single designer or a small group of experts. InVision's functionality would be better for big teams that need a hassle-free collaboration.
Summing up the discussion We believe that this short prototyping tools review has fulfilled its mission and answered the question you are interested in. Marvel App vs InVision App: this battle is not finished. Only the specifics of the team, project management and performance can decide what tool is the best.