Even if you don't know the specifics of SaaS as a software development model, you are definitely working with such services every day. Dropbox, Google G Suite, Windows Azure, Salesforce – these tools are among the most famous examples of software as a service. Smaller software, like Buffer and Hubspot, also fall under this category.
SaaS market has been growing non-stop – and the development is predicted to continue. According to Technavio, in 2023, the market will be worth 60 billion dollars. With a growth rate of 9%, it's one of the fastest emerging fields of technology.
What is SaaS business model?
Software as a service is a platform that is used via the web browser and stored on the Cloud storage. Users don't have to install the tool to local devices; instead, they need to create personal accounts and pay for monthly subscriptions.
Because SaaS is computed in the Cloud, it's device-independent. Users can access your solution from any laptop or smartphone as long as they have an Internet connection. With growing trends of remote work and multitasking, the SaaS business model fits right in.
How does the SaaS business model work?
SaaS companies rely on third-party Cloud vendors to provide storage space and computing power. Services like Google Cloud and AWS are used to deploy a SaaS web application to the server. Companies don't have to buy their own servers or host the application on users' local networks – instead, they rely on multiple international servers.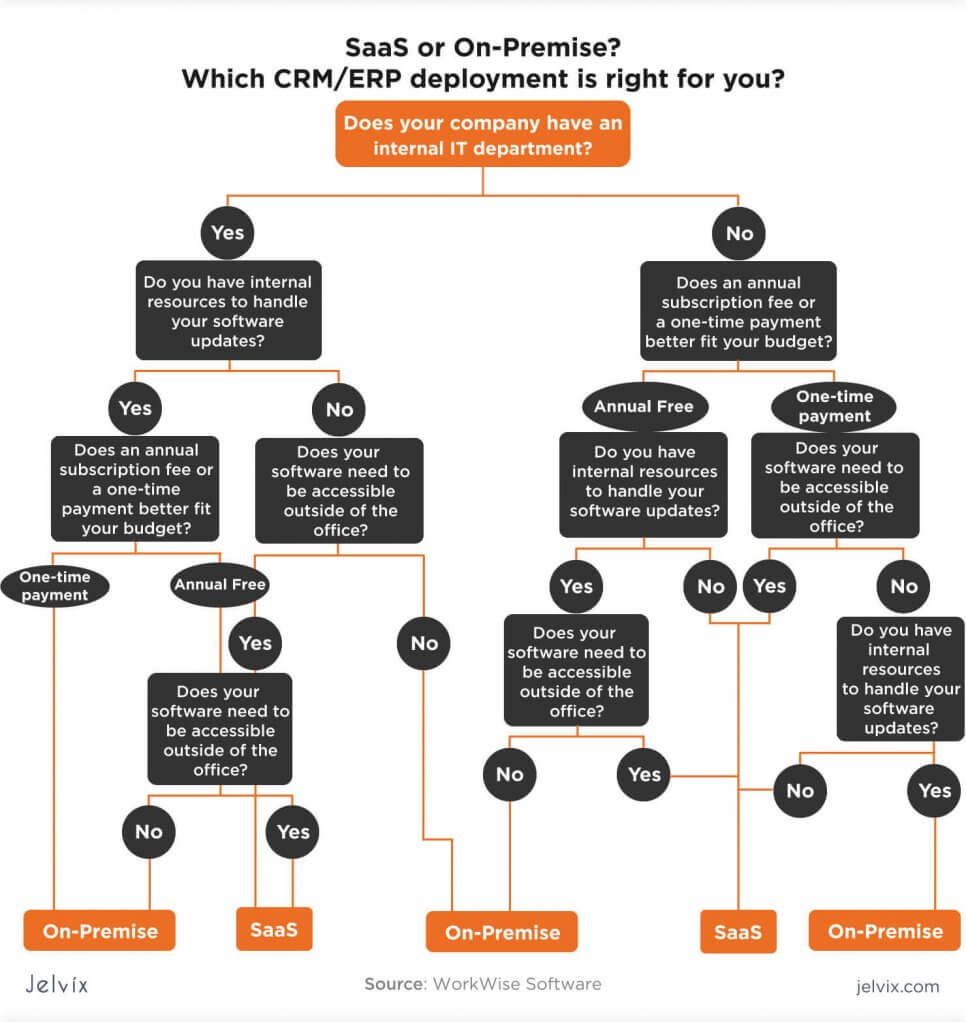 An important thing to remember about SaaS is that this dispersed approach to computing contributes to higher speed and safety. There's no single storage that could be target by cybercriminals. Even if one server experiences a power outage or latency issues, servers on the other side of the planet are likely fine.
All that's left now is reviewing how users interact with SaaS – let's take a look at the primary process and monetization.
Users access SaaS from their browser

. If the site has a mobile version, it can also use smartphones.

A user creates an account that will connect to software services

, store progress, and personal information. As long as visitors remember logins and passwords, they can enter the website from any device.

Users upgrade their plan to premium or full one

. Many

SaaS tools

offer a free program or a trial version, giving visitors a chance to try out the functionality. After the trial period ended, users decide if they want to upgrade.

The subscription fee is paid every month. Think about Netflix – users don't pay for each piece of content. The service withdraws a monthly payment on a regular basis.
Advantages of SaaS
The reason why the SaaS model is so successful is that they offer many compelling benefits to business owners and users alike. For customers, SaaS provides a much higher convenience and independence than an on-premise app. On top of that, buying a subscription for several dozens of dollars is cheaper than paying hundreds for software.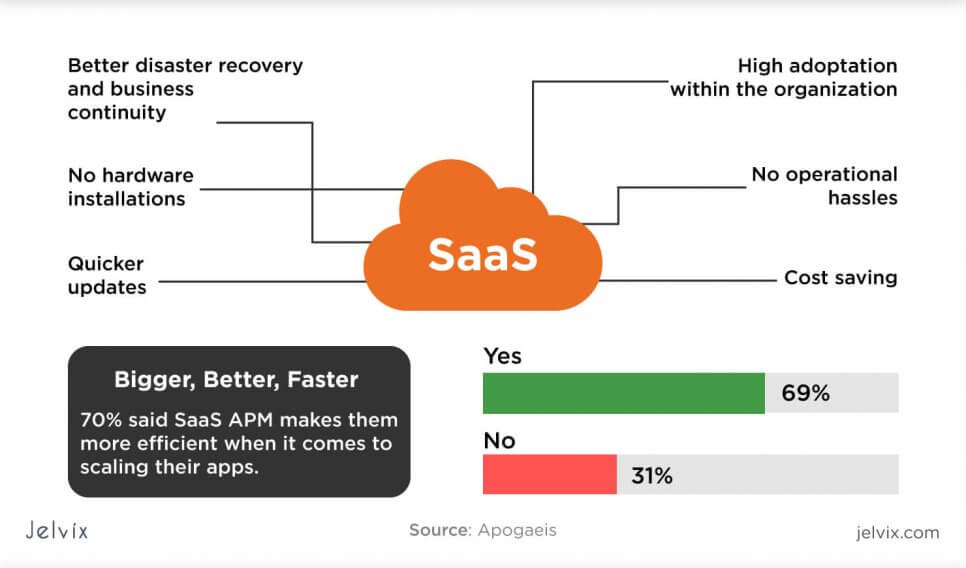 Business owners have their reasons to prefer SaaS over traditional on-premise apps.
Stable revenue
The main advantage of building a software as a service is that you get a shot at making long-term revenue. With SaaS, having even thousands of regularly-paying users can already be enough to sustain a pretty big team, and ensure stable profits. With on-premise software, 1000 purchases will only get you by the short-term.
SaaS is a definition of long-term investment. If the company attracts dedicated users, they will be paying for a subscription for months, possibly years.
High customer retention
SaaS encourages users and business owners to build a long-term relationship. The team wants to increase visitors' loyalty and keep them from canceling a subscription. Users also aren't "done" with their evaluation process. Each visitor is continuously checking if the platform is still worth the money.
Buying on-premise software is a done deal, whereas signing up for SaaS continues an ongoing conversation. If you know how to answer users' expectations and promptly release new updates, you create a dedicated community. Many of them can become your product advocates and spread the words.
Consistent business processes
SaaS allows you to create and publish new updates all the time. You can deploy multiple product iterations over a short time, and most users won't have issues with it. Upgrading on-premises, on the other hand, is a pain in the neck – the update could be too big, and users are often skeptical. Often, you can't improve your own tool because users refuse to install new versions.
SaaS gives you freedom over your product's quality and positioning. You can upgrade functionality, change the interface, introduce new features and niches, and pivot any time. Delivering a better product to your users is a lot easier when you have control over the network – and with Cloud computing, you do.
Different types of SaaS business models
You might've not picked up on that, but during your experience with SaaS, it's likely that you've used different types of SaaS without noticing their distinctions. Even though all SaaS follow the same basic principles, they also often have a fundamentally different vision on lead conversion and pricing. We reviewed the main types of SaaS based on their client acquisition strategies and monetization algorithms.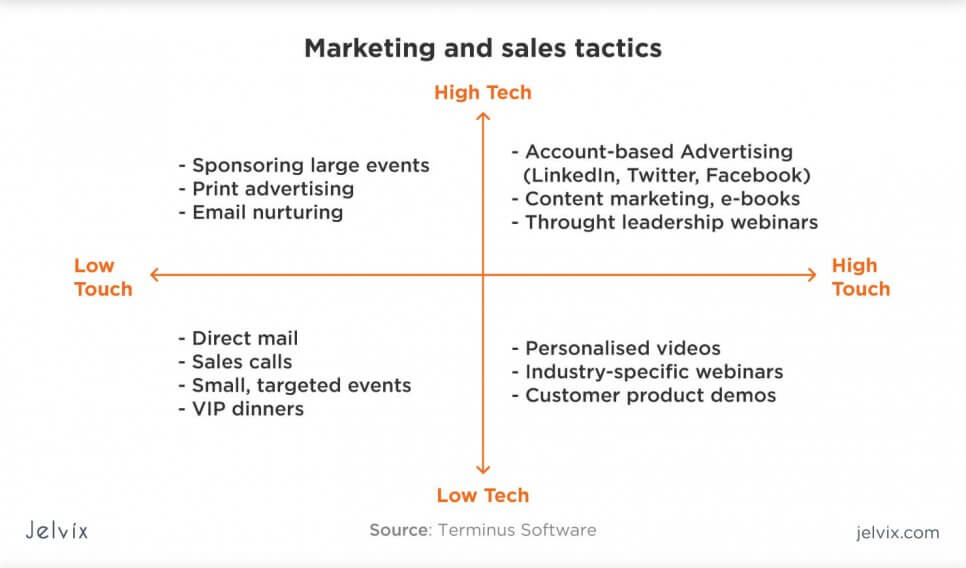 Two main types: low-touch and high-touch SaaS
If you pay attention to all software as a service, you'll notice that they target different kinds of customers. Some SaaS like AWS target entire enterprises and companies, whereas others focus on attracting a user individually. For instance, Netflix doesn't see you as a company owner with a business but as an individual who wants to see fresh content.
These distinctions led to the formation of two main types of SaaS:
High-touch SaaS

– enterprise-level software as a service that aims to communicate its benefits to other companies and corporations. Such SaaS operates in B2B and usually have higher subscription prices while offering rich functionality and high computing power.

Low-touch SaaS

– person-oriented businesses that see users as individuals with personal needs. Such SaaS has narrower functions and occupies smaller niches. They don't aim to deliver a set of instruments for running a company or creating a product, but rather, for a precise result.
High-touch SaaS focus on delivering "fishing rods," getting businesses all the necessary instruments to create the result. Low-touch SaaS supply users with "fish" – tangible and clear results.
Marketing methods
Low-touch SaaS relies on advertising, social media marketing, and clear communication. A good example is Grammarly. Its Youtube advertising targets users' personal issues and concerns – an employee who's writing an email to the boss, a student who's working on an essay, or a small business owner. All these people will use Grammarly for personal purposes, not to enable enterprise-level operations.
High-touch SaaS prioritizes the quality of a deal over the number of users. One deal here can span thousands of dollars, and the team is very invested in pursuing every client. Usually, the priority for high-touch SaaS is preparing a comprehensive knowledge center, investing in a professional and 24/7-available support team, and initiating personal contacts on conferences and workshops. These platforms striving to be known in their target fields, often need a recommendation of experts for endorsements.
Monetization strategies for SaaS
Pricing models for software-as-a-service depend a lot on the target audience, user needs, and the company's priorities. They are often combined, which makes it hard to single out a particular strategy. After analyzing dozens of big and small SaaS, we distinguished the following types of business models.
Per-user model
This is a standard model for high-touch SaaS that tailor their solutions to teams and companies. The more users can utilize their tool, the higher is the price of the subscription. Such a system is used by Shopify. The team subscription is a premium plan that costs several times more than the original version. The more users use the program, the more expensive it is.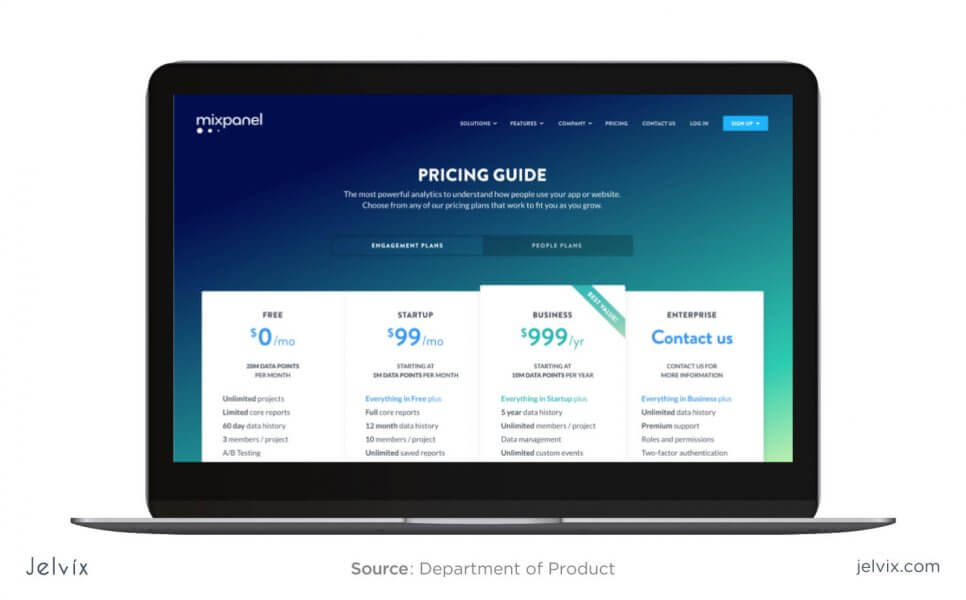 Pricing for features
This is the most common monetization strategy in SaaS. For premium subscriptions, users get access to a particular service. Each plan gives access to a given number of features. The more possibilities, the higher the plan's cost.
This pricing system is used by InVision, UI/UX design tool. The free plan allows working with one prototype. The starter pack pushes the limit up to three projects, whereas the ultimate Team trial gives a possibility to work an unlimited number of prototypes.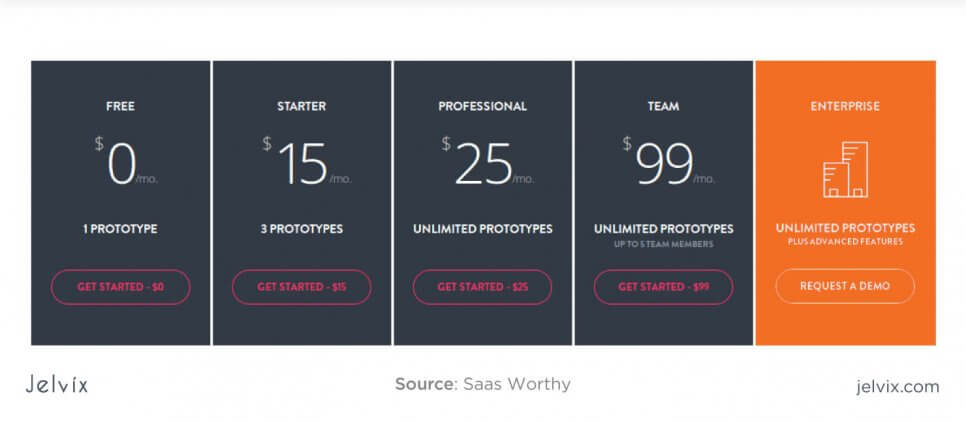 Freemium model
The Freemium model is usually combined with other pricing models, like per-user or per-feature. Users can try the free version of the product first and upgrade the product to the premium version if they want to. Sometimes, the trial period has time constraints, but often, the free plan can be used interchangeably.
This is the strategy that Grammarly, an English spelling-checker, went with. The free version can be used for any amount of time and deliver its primary purpose to users. The premium version offers additional features like checking writing quality, clarity, tone of voice, and others.
Pay-per-use
This is a classical model for high-level SaaS and infrastructure as a service. AWS, Google Cloud, IBM charge users only for server space that they used. The pricing plans are calculated on the basis of used computing power and the number of requests per second.
Such a business model lowers the entry barrier for users. They are reassured that the company won't charge them for more than their services are worth. This way, users are independent – they can take a break from using the software and return to the service anytime. So, pay-per-use pricing models convey higher user retention.
Pricing on the active-user basis
When a SaaS targets entire teams, the logical question arises: should business owners pay for users who log in to the software rarely? To answer these concerns, some companies use the mix of pay-per-use and pay-per-user model. Business owners only need to pay for members who are actively using the software. If a team member stops utilizing the tool, the account will not be billed.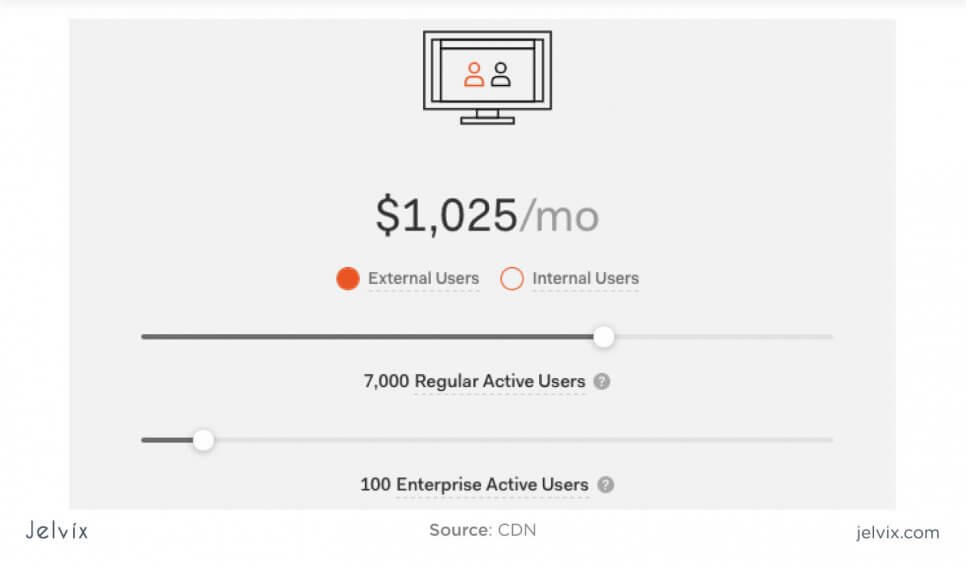 The downside of this model is that it's harder to measure and forecast. Deciding if the user is active, establishing the metrics of activity requires in-depth analysis and direct conversations with software users. The error margin of this model is potentially incredibly high.
Stages of SaaS business model maturity
We already discussed the main business aspects of implementing SaaS as a business model, which boils down to establishing your niche, target audience, and pricing model. The next step is analyzing the technical aspects of the project.
Let's map out the journey of SaaS development and support to set expectations for each stage.
Level 1 – Generalized
The application is highly similar to on-premise software. The service offers standard functionality, which is usually the same for every use. The user experience isn't different from the one provided by social tools. Providers don't benefit from the capacity to release real-time updates and personalize functionality.

The goal of the first stage of SaaS development is building a simple tool with essential functionality, keeping the SaaS business model in mind. However, users still can't experience all the main advantages of using the software as a service.
Level 2: Configuration
At this stage, the vendor hosts a unique version of the SaaS for each user. Each instant is configured for a specific user. The vendor offers in-depth personalization settings that allow customers to add new functionality (download integrations), define preferences, or receive real-time updates. At this stage, vendors and users already hugely benefit from online updates and real-time improvements. SaaS tools grow more complex than on-premise services.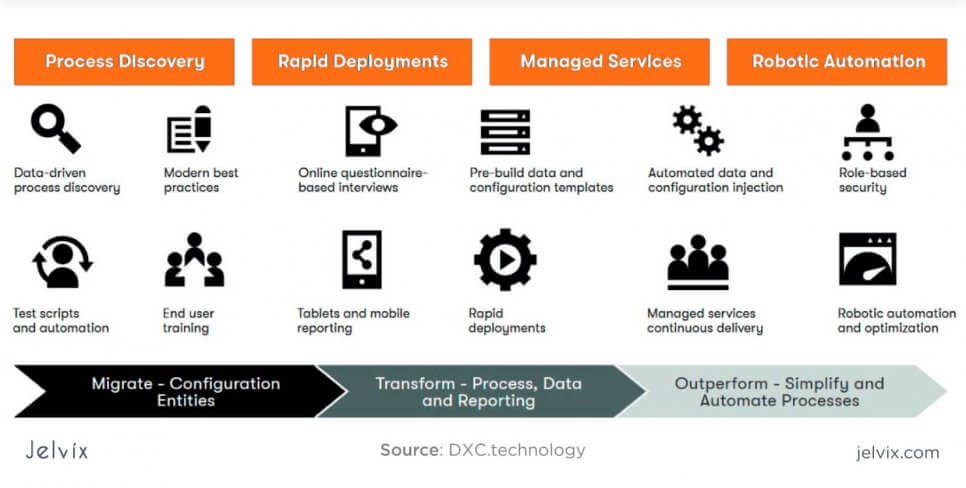 If you are turning an on-premise tool into a SaaS, consider working on personalization and customization features. Usually, developers re-architect the functionality and interface and make sure it accommodates different instances for every user. Personalization is a huge advantage of SaaS, and you need to make the most out of it.
Level 3: Lowering the cost
SaaS vendors can handle instances better by assigning metadata for each personalized feature set. Each user's data is protected with security policies and algorithms that make sure that the information doesn't mix up. Meta-tags allow identifying needed instances quickly and reduce server spending costs.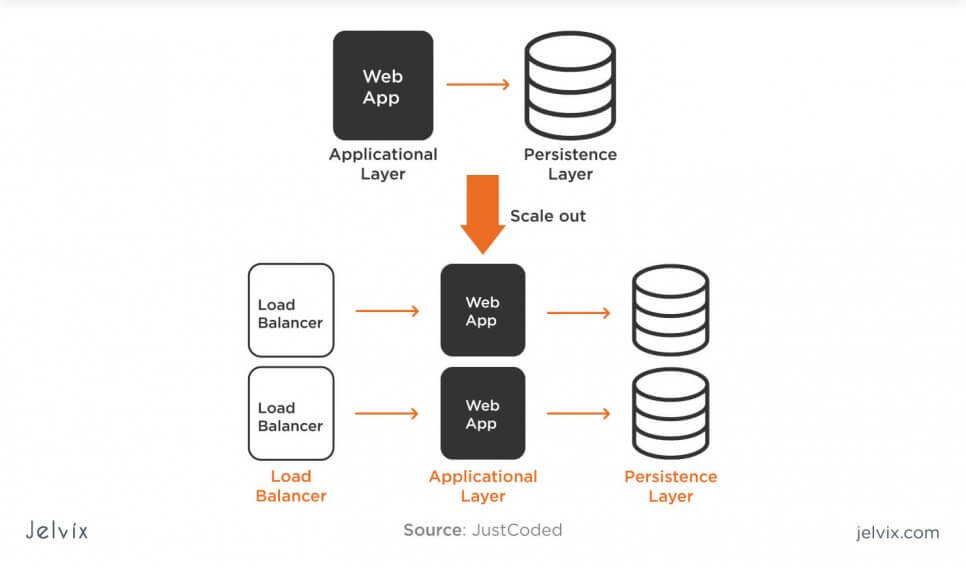 Level 4 – Scalability
If, in previous stages, software as a service needed to process all instances independently, slowing down the performance, at this level vendor is coming back to storing cases together. This is, however, not a return to stage one – by this point, information is already defined with personalized meta-tags which are responsible for delivering specific features to specific users.
This way, a SaaS can easily handle thousands, if not millions of users, while the business owner can reduce the number of used services and quickly roll out new product integrations. Storing data in load-balance groups improves performance, whereas meta-tags ensure that user experience doesn't get worse.
Which level of maturity is the best?
Choosing the balance between sharing and securing data is tricky. Before you start development, determine what features you want to personalize and what information you need for this. It will help you decide which instances should be processed individually and where a group load will suffice.
The idea goal is level 4, but some SaaS don't require the same high level of personalization. However, you can vary the amount of shared and individual data depending on your functionality and resources.
4 examples of SaaS business models
Understanding SaaS isn't difficult once you see the main principles in real-life examples. We reviewed the most popular software-as-a-service solutions – just so you can see which niches they work in, what types they fall under, and which development and monetization strategies the teams chose to go with.
Shopify
Shopify is an example of how a software-as-a-service business model can be combined with other types. Shopify allows its clients to create a Subscription solution, which is a SaaS, as well as Merchant solutions, typical for e-commerce business. Right now, let's stop on the SaaS element of the Shopify because that's what interests us the most.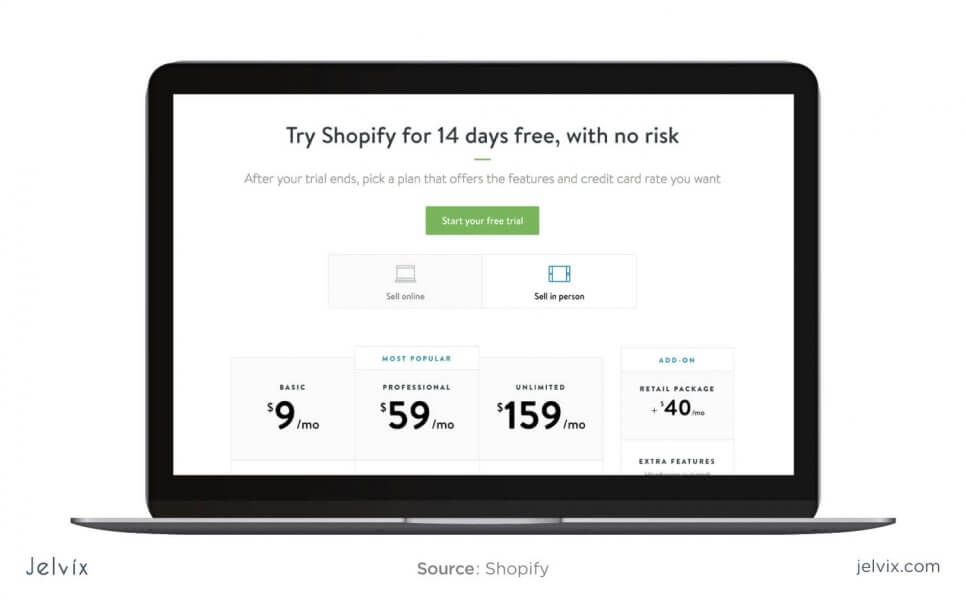 Shopify offers five subscription plans, starting from a low-priced plan for $9 per month. The highest tier goes up to $2000 per month, which is an enterprise-based plan. So, Shopify combines low-touch and high-touch models, reaching both to individuals and enterprises.

Additional features: Shopify allows developers to get access to website hosting, analytics, reports, file storage.

Integration: Shopify as a service appeals to users by its flexibility. The solution can be integrated into ready e-commerce websites.
HubSpot
HubSpot is a marketing company that produces complex software for web analytics, social media marketing, content management, customer support, and SEO. The software can be used standalone as well as integrated with other tools – NetSuite, Salesforce, Microsoft Dynamics, and others.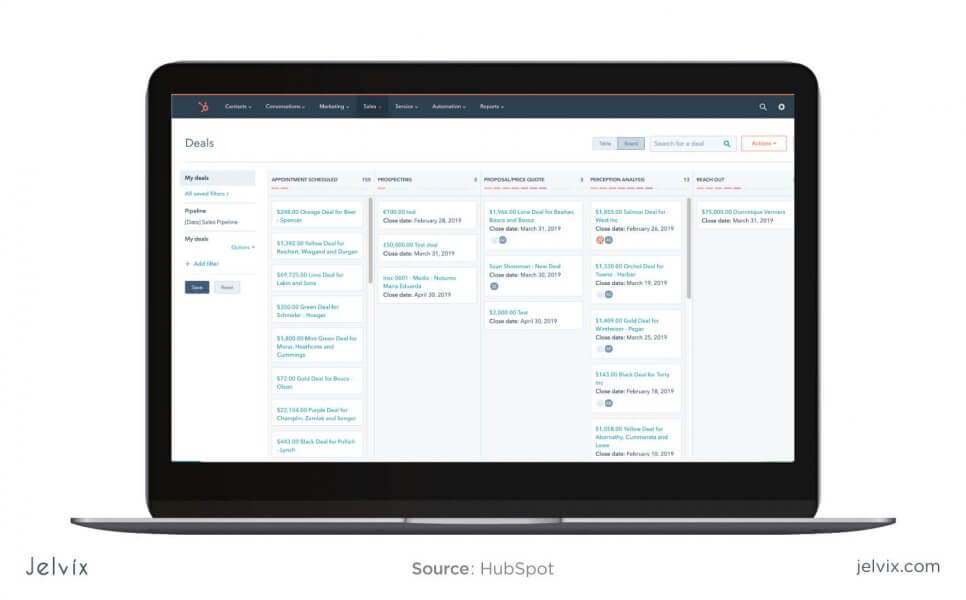 HubSpot branched out as an educational resource for marketing and content management. Their blog is among leading resources in the niche – a common strategy for high-touch SaaS companies. Also, it's important to note that HubSpot, just like many SaaS tools, has many microservices that can be used independently or integrated.
HubSpot is an excellent example of a universal SaaS company that prioritized multiple developing products over investing all resources into a single platform. This way, the company reaches various niches, such as marketing, management, content creation, SEO, and others.
MailChimp
MailChimp is an email automation company that allows writing emails and preparing marketing campaigns. The software uses the freemium pricing models – the free version allows creating 12 000 emails and managing newsletters of 2,000 subscribers.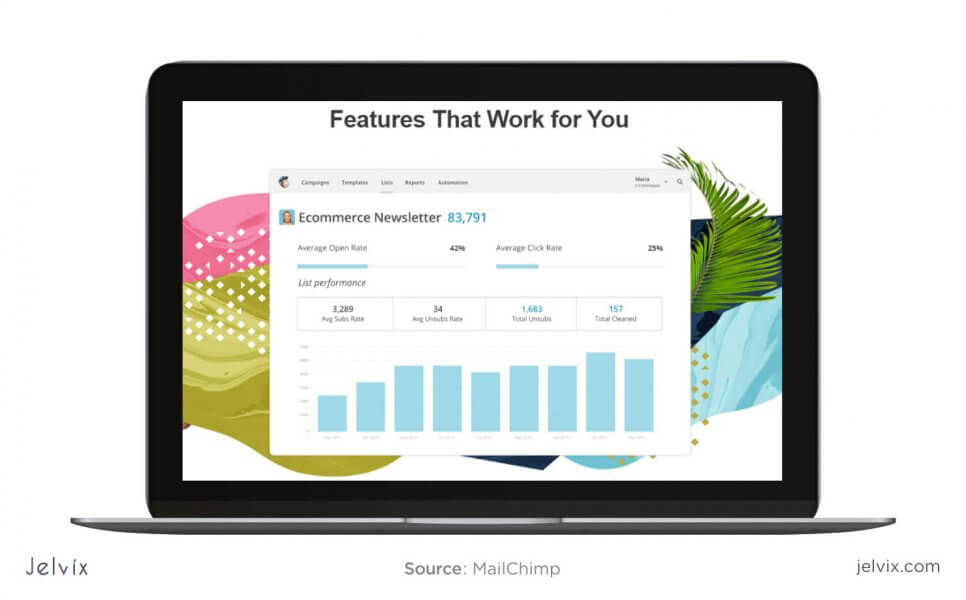 The service is available on the web browser and on the mobile app. Both a web and mobile app allows managing subscribers, creating email campaigns, and tracking your activity. Similarly to Shopify, MailChimp focused on creating additional features via integrations. The core functionality is simple, but users can access new features by installing add-ons.
Slack
Slack is often called the fastest-growing SaaS company in the world. In just a few years, the company's market value reached 1 billion dollars. The success of the software as a service depends on researching market space and identifying the target audience. Slack focused on a narrow niche – they defined developers, designers, and freelancers as their primary target audience.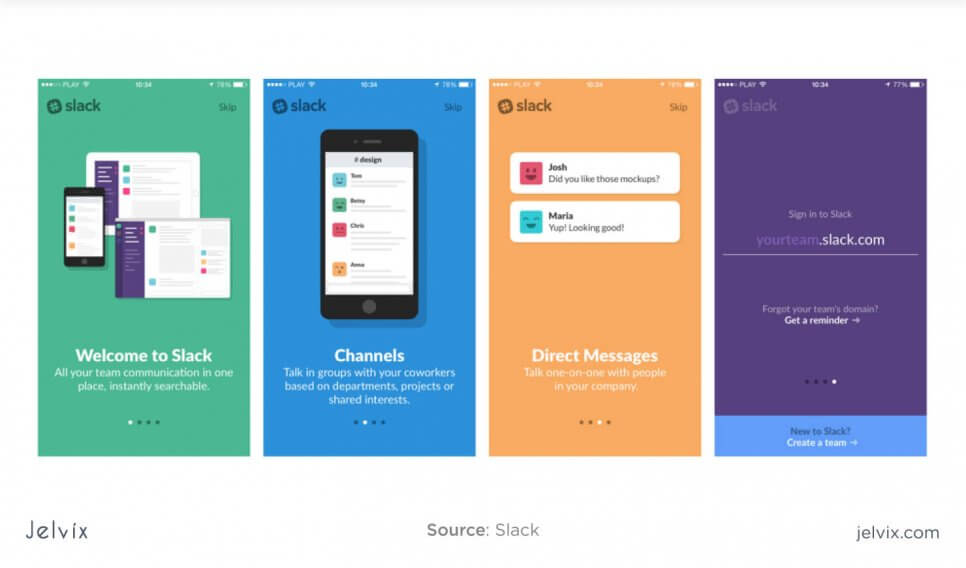 Another factor of Slack's success is fueled by its pricing model. Slack uses a freemium approach, letting users experience the software before deciding on the upgrade. Personal plans are free, but team plans are available on a paid basis (a pay-per-user approach).
How to develop a SaaS?
Here's a checklist for SaaS development, from the research stage to the final execution. Let's go over each step and underline the critical requirements for each of them.
Find a niche
The first step of SaaS development is to define your SaaS niche. The most common fields for software as a service are CRM, project management, software infrastructure, development, testing, communication, and digital marketing. However, other areas can also be turned into SaaS – although the majority of them are connected to marketing and technology.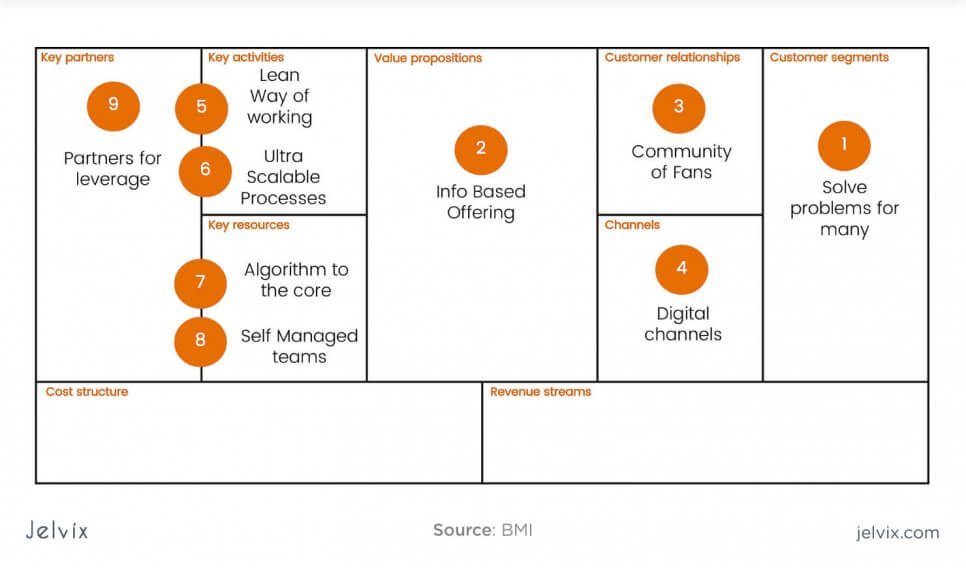 Define your positioning, market, competitors
After you've identified the field where you'd like to work, analyze existing SaaS, and explain them similarly as how we looked at Shopify, HubSpot, Slack, and others. Pay attention to their branding, pricing model, functionality, and marketing strategy.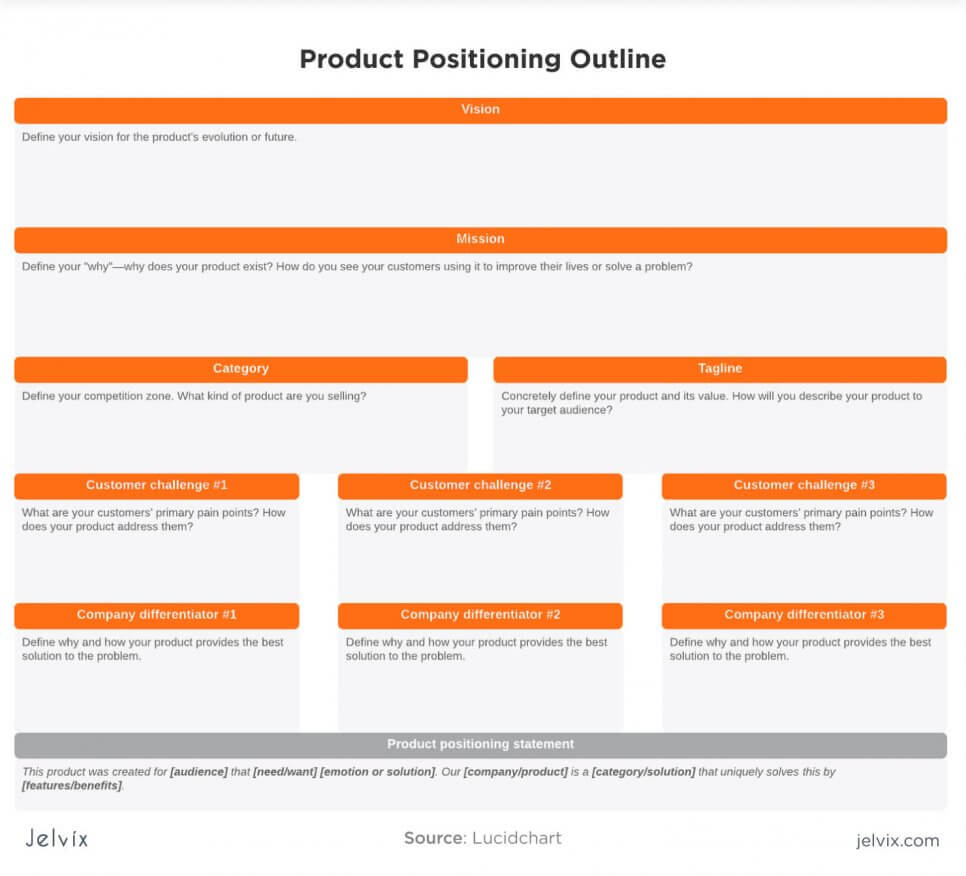 Identify tech stack
Most SaaS use web tech stack because the functionality and interface are accessed via web browsers. Usually, this includes JavaScript for front end and Java, Python, Go, or PHP for backend. Some teams prefer using Ruby on Rails due to its high speed and efficiency.
However, some SaaS are primarily available as desktop tools, and some of them can even be installed directly to the device. The most common examples are Adobe, Microsoft Office, and Slack. If your product is often installed on a desktop, you can consider using a desktop tech stack: C#, C++, etc.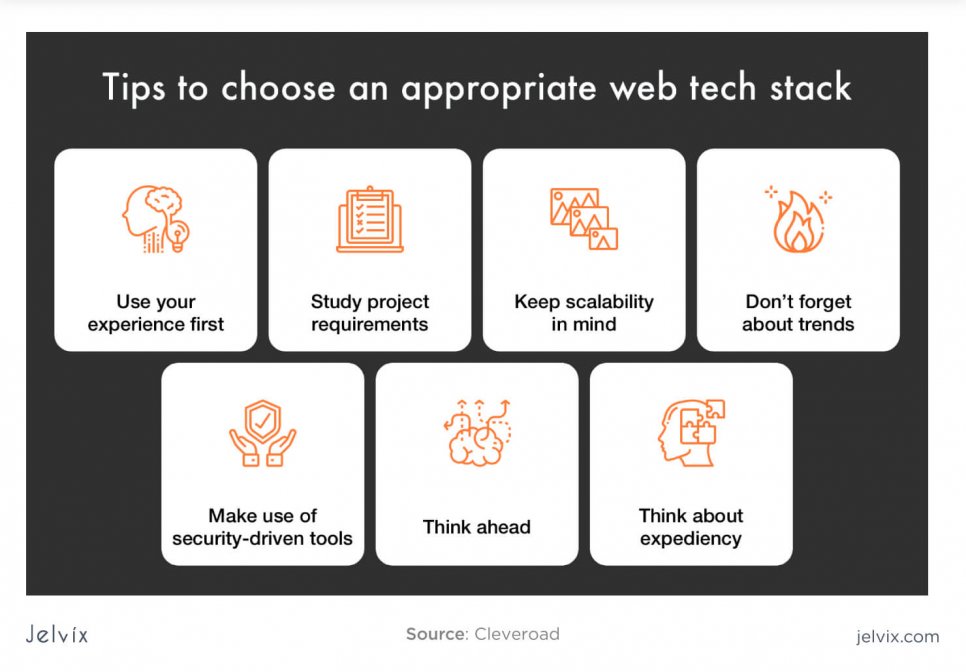 If your SaaS requires heavy data processing, consider using Python – a go-to language for machine learning and big data.
Choose a pricing strategy
You need to define your monetization model – you can choose one of the described ones or opt for a mixed version. Also, think about what payment systems and integrations to implement (you can explore ready solutions like Paypal, Stripe, and others).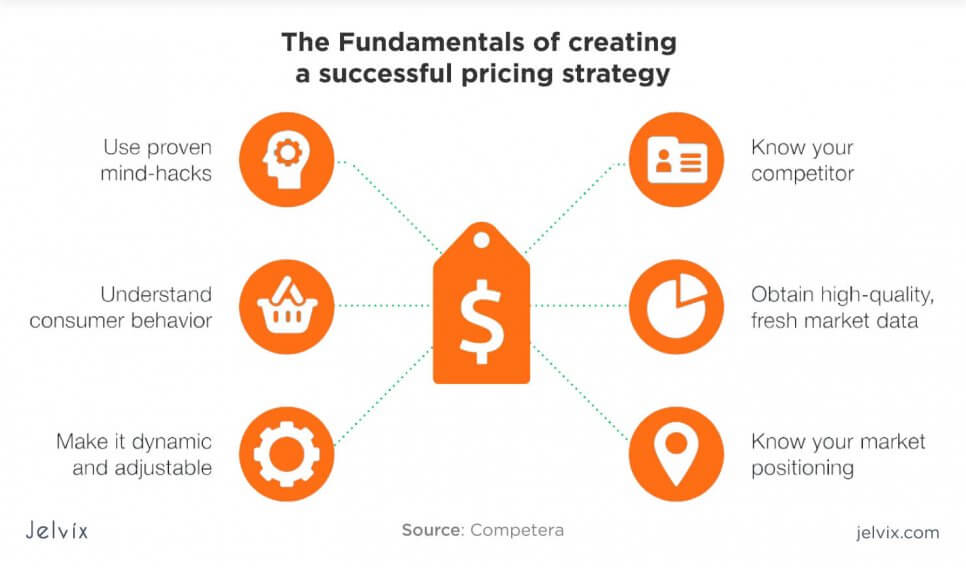 Assemble a SaaS development team
SaaS is a long-term project that requires your technical team to have experience in building, testing, and maintaining software-as-a-service. SaaS architecture requires strict security, and deployment practices, active data processing. The team has to be proficient in integrating additional tools connecting tools to third-party APIs and adapting a product to different platforms (web, desktop, mobile).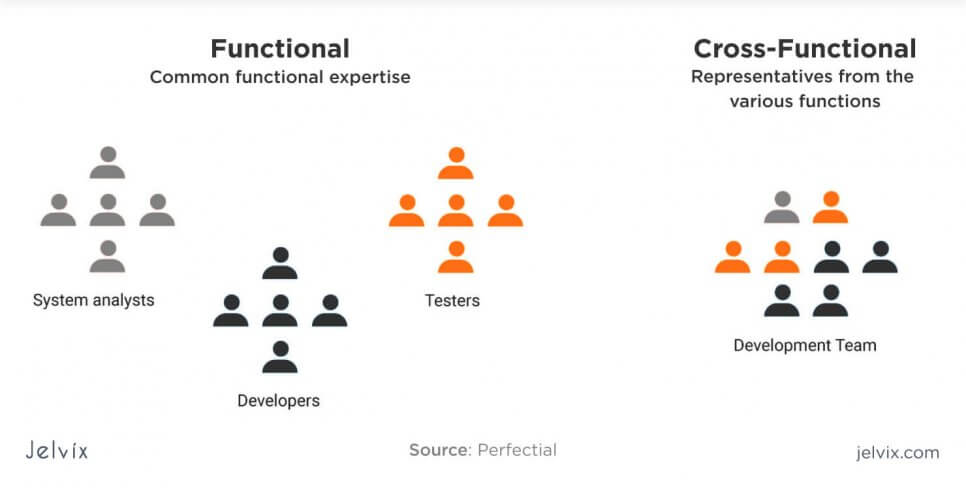 So, the list of must-have skills includes:
Cross-platform development: mobile, desktop, web, cross-browser development;

Data security (encryption and understanding regulations);

Data processing and storage: SaaS should quickly process user request and provide fast performance;

Software testing and maintenance: developers need to cooperate with QA and maintenance teams because SaaS is changing, and the risk of introducing new functionality issues is constant.

Documentation. Make sure that the team knows how to communicate their development and testing practices – comprehensive documentation helps avoid tech debt and remove bugs quickly.
Release a product
To bring a ready product to the market, you need to create a release strategy. Software as a Service business model is based on personalization and engages many teams of customer support, success management, and services. To deliver personalized services, you need to have a plan of assisting users in time and providing them with ready content.
Here's a checklist of activities that you should take into account before bringing your SaaS to the market.
Figure out how many times you want to release a new version of the product

. If your changes are too frequent, your stakeholders will interpret this as the lack of product stability, and users will likely be unable to get used to the product's interface and functionality. On the other hand, too rare updates leave you vulnerable to security issues and behind market trends.

Assign a particular date

: when the team knows that you release every week, every two weeks, or each month, they can plan their workload.

Make previews

: your team and beta-testing users should be the first ones to test out the new release before the entire audience sees it.

Plan release with all involved teams

. Your designers, testers, and developers should communicate and voice their opinions on dates and frequencies of releases.
Bringing a SaaS to the market is built on teamwork – you need to listen to your stakeholders, users, developers, testers, and designers. Be sure that you prepared all the marketing materials and teaching content before releasing the product. You need to have a marketing and content – marketing strategy that will help your SaaS reach its users.

Conclusion
Building a SaaS is among the cheapest ways of launching a startup. You need a professional development and testing team, a powerful concept, and a good marketing strategy. If you can ideate the right product, execute its functionality and interface, and make sure that it reaches the potential user, you can create a successful company in several months.
It all starts with the service. If your offer is well-done, covers user needs, and works with no technical issues, you'll be able to find your niche. So, if you have an idea for a SaaS in mind, you can outline it to us – our development team will evaluate the concept, suggest the best tech stack, and estimate the cost of the project. After we helped you to sketch out an idea, development is our responsibility – product owners can focus on overseeing the process and running their business.