On February 24, 2022, Russia launched a full-scale invasion of Ukraine to destroy its statehood and stop its movement towards democratic values and unification with Europe.
Ukrainians are a strong nation, and these acts of vandalism and genocide are not capable of breaking them. Therefore, Ukrainian business and society continue to demonstrate amazing resilience in the face of ongoing Russian aggression. The same also applies to IT, which turned out to be the only unaffected economic sector. And although we live and work in conditions of war, we are united as never before. Despite all the obstacles, we continue to make every effort because the future of our country depends on it.
Jelvix Stands with Ukraine!
While the Armed Forces defend our country on the battlefield, we must protect our economy, business, and reputation as reliable partners. So Jelvix will continue to do what we do best: deliver world-class software against all odds. To make things work, we: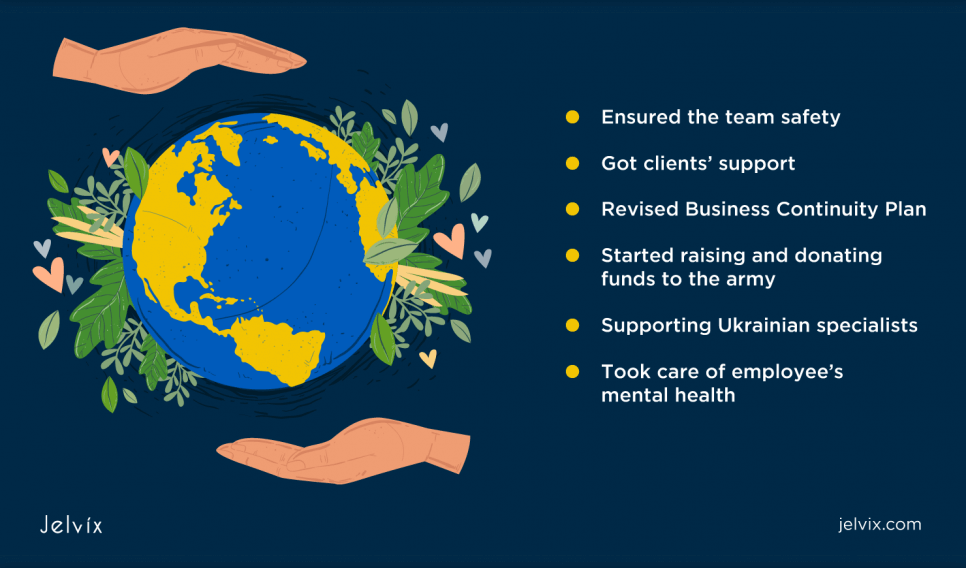 Ensured the team safety
Our Ukrainian spirit united us even more than ever before. We continue to support our colleagues in finding transportation and relocation processes, accommodation sourcing, and general safety issues. We are doing our best to keep our people in safe places.
Jelvix didn't stop working. The culture of support within our company helps us go through these hard times and continue fulfilling our obligations to Jelvix' clients. We have employees in cities such as Stuttgart, London, Krakow, Vancouver, San Francisco, etc. The presence of international groups is an opportunity to diversify risks and maintain Jelvix's business continuity, no matter the Ukraine situation.
Got clients' support
To keep our clients updated on our business continuity planning and the overall situation in Ukraine, we have daily and weekly meetings. We show them that our services are not affected, and we continue to deliver top-quality solutions. Our partners and clients have expressed their understanding and support, for which we are extremely grateful.
Revised Business Continuity Plan
War is not included in business plans; it comes unexpectedly, and you can never fully prepare for it. So we have re-examined our business continuity plan details to identify weaknesses. We have also considered all potential risks and now have strategies for responding to abnormal situations, both for individual departments and the company. We will continue to monitor developments closely and make adjustments as necessary.
Started raising and donating funds to the army
Jelvix did not remain passive in the days when the army and citizens of our country needed help. Therefore, our company immediately transferred funds to the needs of the Ukrainian Army and will donate a percentage of the company's net profit every month. In addition, we are all active in volunteering and supporting civic initiatives during non-working hours.
Supporting Ukrainian specialists
We know that a lot of people have lost their jobs because of the war. We still have open opportunities at Jelvix and invite everyone who is ready and willing to join us. The list of our open vacancies is on the careers page: https://jelvix.com/company/careers
Therefore, we are keeping jobs and salaries for those employees who are now fighting in the Armed Forces and providing paid leave to those who temporarily are not able to work because of relocation.
Took care of employee's mental health
The PMs are in touch with each employee and are monitoring our projects. It helps to understand who on the team needs to be replaced urgently and who needs time to return to full-fledged work. Our corporate psychologist who consults daily on dealing with stress and anxiety is now of great help too. Today, 90% of our employees work full time.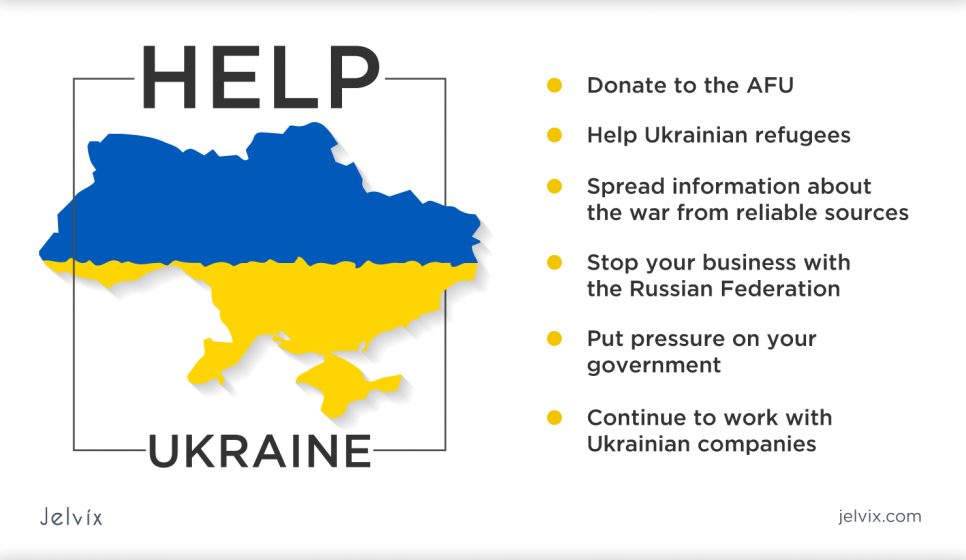 How you can help Ukrainian people
Now is not the time to stand aside for "world peace." Whoever you are, an ordinary person or the head of a large corporation, you can perform many actions to stop the war in Europe.
Donate to the AFU
It is the fastest help that provides everything necessary for the country's defenders on the ground. You can send money to an official bank account or donate to cryptocurrencies. Here is the list of verified donation organizations:
Help Ukrainian refugees
About 4 million people have already left the war zones and the number is growing, unfortunately. They had to leave quickly, without savings and personal belongings. You can help by hosting them and assisting with food, medicine, and basic necessities.
Spread information about the war from reliable sources
Due to the flow of disinformation on their part, many sources are unreliable and show false news. Therefore, we recommend that you use only reliable sources, which are:
Official Authorities
Ukraine's leading English-language media
Informational accounts on social media
Stop your business with the Russian Federation
It is necessary to cut off financial flows and investments into Russia so that they do not receive funds to wage a protracted war. According to the Yale School of Management, more than 340 companies have announced their withdrawal from Russia's economy in protest against Putin's invasion of Ukraine.
Put pressure on your government
You have more influence than you think! Join peaceful rallies in your city and publicly call on your governments to support Ukraine with military, economic, and humanitarian aid. Call on them to close the sky of Ukraine and save civilians from bombing.
Continue to work with Ukrainian companies
If you have colleagues or partners from Ukraine, note that it is extremely important for them to continue working. It helps them pay taxes, support their families, and donate to the Ukrainian army.
Final Words
We did not choose war, but we can pass this horrible test with dignity and become more cohesive, resilient, and confident. Therefore, we will continue to implement our projects and work closely with our clients to create solutions that will contribute to the development of industries worldwide. By continuing our work, we not only show our unbending spirit but also bring the day of our victory closer.
You can make our efforts even more significant by choosing us as your trusted partner. Contact us if you want to discuss your project or terms of cooperation.

Need a reliable partner?
Jelvix is a global IT company that was started in Ukraine more than 10 years ago, and we continue to work – now, this is critical for supporting the Ukrainian IT industry and economy.
Contact us
Contact us