The last decade has brought a lot of changes to the retail industry. The introduction of digitalization and technology advancements has started to disrupt and transform conventional retail strategies.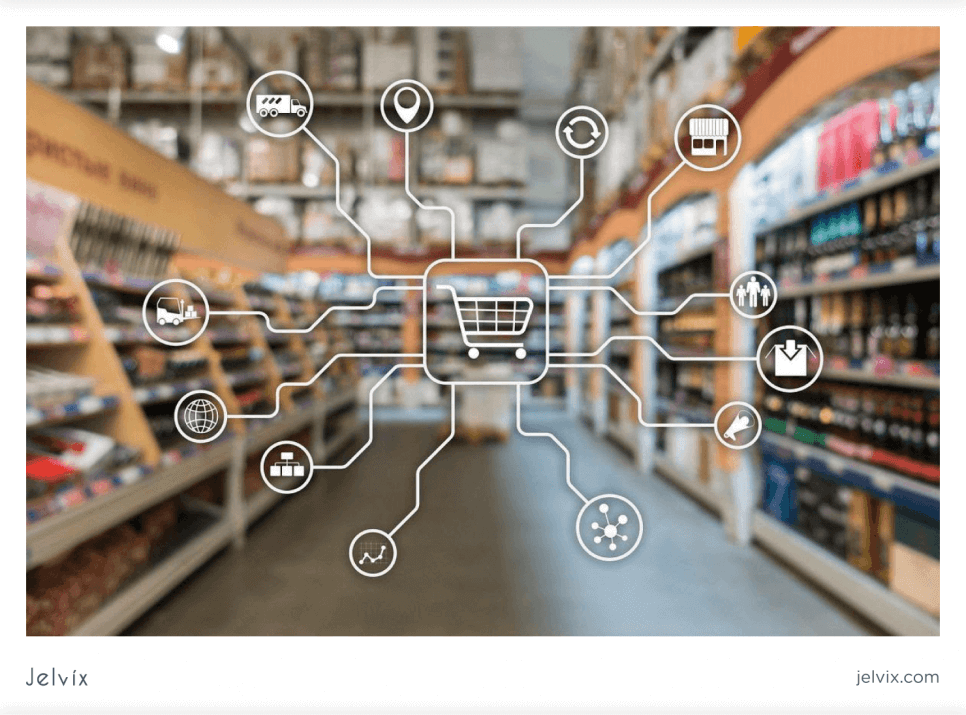 However, all these changes were gradual and slow when compared to the last two years. The pandemic has reshaped the way we live, think, work and buy things overnight.
There can be little doubt that such drastic and sudden changes forced the retail industry to overcome existential crises. While some companies found a way to quickly adapt to the new normal, others have been struggling to stay afloat and survive the storm.
According to the research, 2019 became the year that caused some of the largest bankruptcies in retailing history, with more than 9000 store closures in the USA only.
Now, as the dust is settling down and the rays of normality are visible on the horizon, retailers are starting to assess the situation and look into the future of retail.
Although it's impossible to accurately tell what the shopping will look like, let's explore predictions and major retail trends that will shape the industry this year.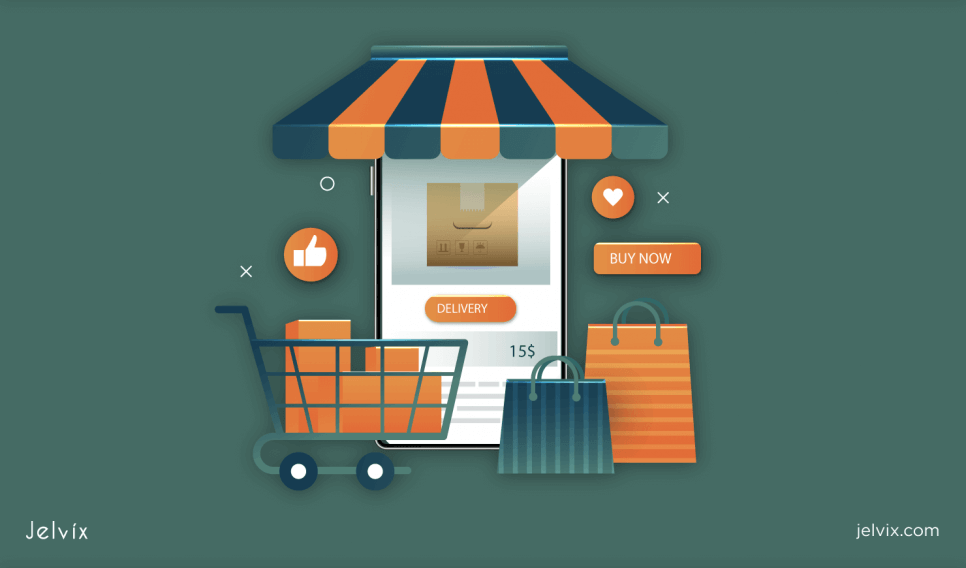 Top Retail Trends That Will Shape 2023
Trend #1. Omnichannel Retail Strategies Will Thrive
The online vs in-store shopping battle is over, and the industry is entering the era of omnichannel retail. Relying only on single-channel sales and making a physical store the final destination for your customer is not an option anymore. CX Today's study shows that 9 out of 10 consumers expect omnichannel service from the companies as it provides the desired convenience.
An average digital consumer has more than 10 connected devices at home. Being so exposed to Internet-connected gadgets, present-day customers are more and more likely to consult their devices before buying a product or ordering a service.
Usual purchases may start with searching and comparing characteristics of the items and their prices on the Internet via any device that is close at hand. Then, consumers may purchase a product online at once, decide to buy it in a physical shop later, or order an in-store pick-up. Moreover, many customers may start adding desired items to the shopping cart via mobile phone, get interrupted, and continue purchasing products after a certain period of time using another device.
Such buying behavior has made omnichannel strategies one of the main trends in the retail industry. Omnichannel retail allows to obtain a larger number of customer touchpoints and create more seamless customer experiences.
This strategy can be achieved by adopting a unifying platform that integrates all the existing sales channels, inventory management, and marketing platforms of a company. As a result, all the data will be synced, and customers can start the shopping process at one channel and continue it from the point they left it using another one.
This way, the company will get a holistic view of its customers and can provide personalized promo offers across all channels. Meanwhile, customers will get the ability to start and finish purchases, search for items, engage with brands, discover promo offers, get support, or leave feedback using any channel they want – be it marketplace, website, social media, brick-and-mortar, etc.
Let's see what the numbers will say in favor of omnichannel retail effectiveness. Invesp statistics clearly shows that 82% of customers want to be able to check the availability of the items before visiting a physical store. In comparison, 57% wish to reserve products via smartphone and pick-up in-store.
At the same time, the recent report presented by eMarketer states that smooth digital customer experiences, touchless checkouts, and curbside pickups are among the core factors directly increasing buying frequency. It all means that an omnichannel retail strategy can significantly increase sales rates and boost revenue in the long run.
Trend #2. Digitalization and Technology Will Enhance Customer Experience
Embracing digitalization and technology has been one of the predominant retail industry trends during the last years. The studies show that 89% of retailers are planning or already implementing technologies to improve customer experience, while 94% believe that digitalization helped improve business analytics.
With the growing need for creating a connected, omnichannel customer experience and delivering virtual, touchless experiences, the implementation of technologies and retail digital transformation will continue to pave the way for retailers not only in 2023 but in the years to come.
Based on our software development experience and analyzed customer inquiries, our team of seasoned experts identified several critical tech must-haves that can influence the future of your retail business.
Utilizing Machine Learning for Intelligent demand prediction
Understanding the retail market trends and accurately predicting consumer demand is vital for the company to stay ahead of its competitors and grow the business.
By implementing machine learning technology into inventory management processes, you will get the chance to automate demand forecasting, prevent over- and under-stocking and reduce logistics costs.
The technology also allows adopting and promoting the culture of greener production and consumption. It may help to boost the reputation of your brand and attract more eco-aware customers.
Touch-free shopping with AR, VR & AI
Augmented and virtual reality (A/VR) and artificial intelligence (AI) are among the hottest trends in the retail industry. According to Jupiter Research, online retailers spent more than $7 billion on AI in 2022. In the meantime, 40% of customers say that they are ready to pay more for an item if they can experience it through AR, and 72% confessed to making unplanned purchases because of augmented reality.
AR, VR, and AI will help retailers fill the gap between online and physical shopping experiences. The augmented and virtual reality technologies allow the creation of virtual fitting rooms where customers can try on items online. There's no need to visit the shop and wait in lines to try on clothes or cosmetics or choose the sofa that will fit into your living room.
Figure out the meanings of VR vs. AR vs. MR vs. XR and see what threats and opportunities digital reality provides to our actual lives.
On the other hand, a lot of brands utilize artificial intelligence algorithms to analyze consumer behavior. The technology helps to get to know who your customers are and how they make purchase decisions. Based on these data, you will get the chance to provide a better shopping experience with personalized offers.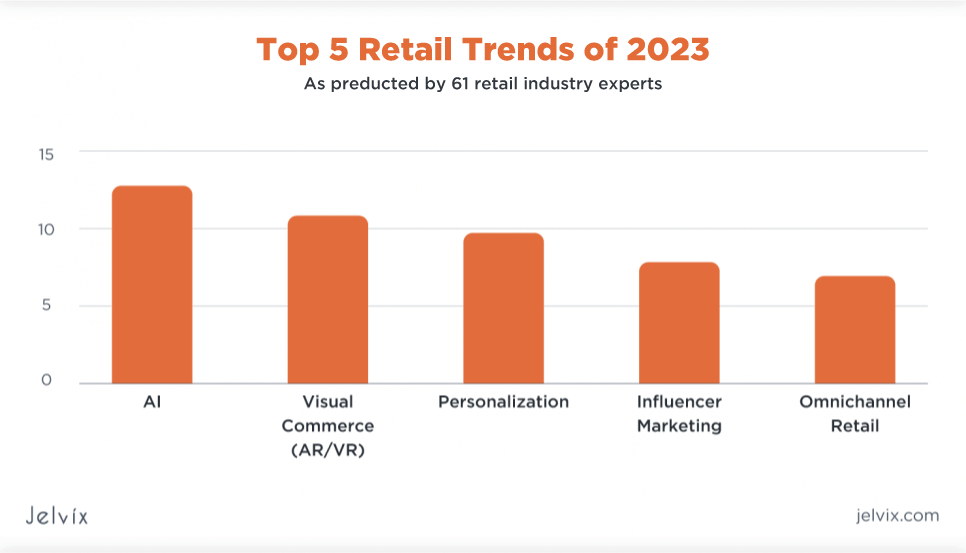 Mobile apps can help to boost sales
Thanks to the faster Internet connection and affordability of smartphones, mobile shopping is gaining more popularity and gets its place among top retail trends. According to MerchantSavvy, mobile commerce has become the starting and finishing point for more sales than desktops or tablets.
With that in mind, providing a consistent and smooth mobile shopping experience is supposed to be a priority for online sellers. Since low tolerance for web page loads is increasing year by year, the best alternative for businesses is either offering mobile-friendly, responsive web pages or developing mobile applications for their stores.
A feature-rich mobile application will help businesses run customer loyalty programs, maintain real-time communication with their customers, provide support during sales and create personalized experiences.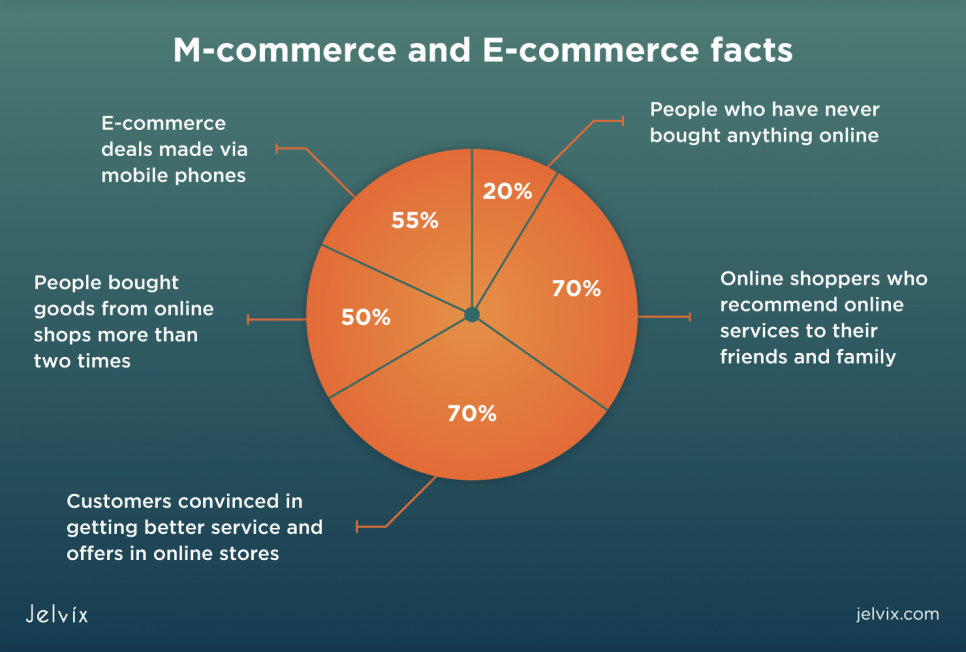 Data- and NLP-driven chatbots
Limited in-person interactions and face-to-face customer service have turned chatbots and personal assistants into one of the raging trends in retailing. Moreover, the businesses that will adopt chatbots are estimated to save 2.5 hours spent on customer services and up to $11 billion annually by 2023.
Powered by data science, machine learning, and NLP techniques, chatbots allow increasing sales and customer satisfaction. The technology reduces wait times and is available 24/7. Therefore, if customers are lost on your website and need help, they will receive immediate answers to their questions and be directed to the place on the website where they can complete their purchases.
In addition, data-driven chatbots and personal assistants have proved to work perfectly in providing personalized recommendations to customers based on their answers or the history of previously viewed products.
Voice Commerce is growing steadily
Voice search has definitely made people's lives easier. With constantly improved digital voice assistants such as Google Assistant, Alexa, Cortana, or Siri, voice searches have evolved from basic, everyday inquiries about the weather to online shopping.
The research shows that nearly 90 million US adults own a smart speaker, which constitutes 1/3 of consumers. Moreover, the smart speaker market is expected to grow to over $35.5 billion by 2025.
Approximately 20% of smart speaker owners use them to research products, create grocery shopping lists, track delivery, make purchases of movies, music, or household, and compare prices.
One way to implement a voice commerce trend in retailing is by optimizing your website in terms of keywords and content for voice-based search. It will also boost your website traffic.
Another way is to use voice ordering technology which can be a game-changer retail innovation for your business. The tool can assist customers with adding or removing products from the cart, checking prices, delivery status, availability in stock, etc.
Autonomous robots & vehicles will transform retail
Autonomous robots and automated delivery vehicles are becoming a new normal rather than ideas from sci-fi stories. Big-league retailers such Amazon.com, Walmart & Hyundai have already deployed AI-powered robotic solutions and driverless vehicles.
Retailers can use autonomous robots and vehicles to address a wide range of issues from managing inventory and warehouses to providing delivery services and enhancing customer experience.
Implementing retail robots into your business creates a smart store experience for your customers. In smart stores, one will never find the shelf that is missing products, misplaced items, wrong price tags, or lost customers that cannot find the goods they are looking for. Retail robots will take care of all these things, automate routine operations, increase efficiency, and save time.
Flexible payment options are a must
Flexible payment options are among the dominant retail market trends in 2023, especially mobile payments and digital wallet usage. The Payments Journal's report states that 22% of the global point of sale transactions in 2019 were done by mobile payments and this number will grow exponentially in the next few years.
Therefore, to stay on top in the industry, retailers must provide customers the ability to use flexible payment options. It can be achieved by adopting APIs to integrate digital wallets, QR codes, and MST transactions for mobile payments.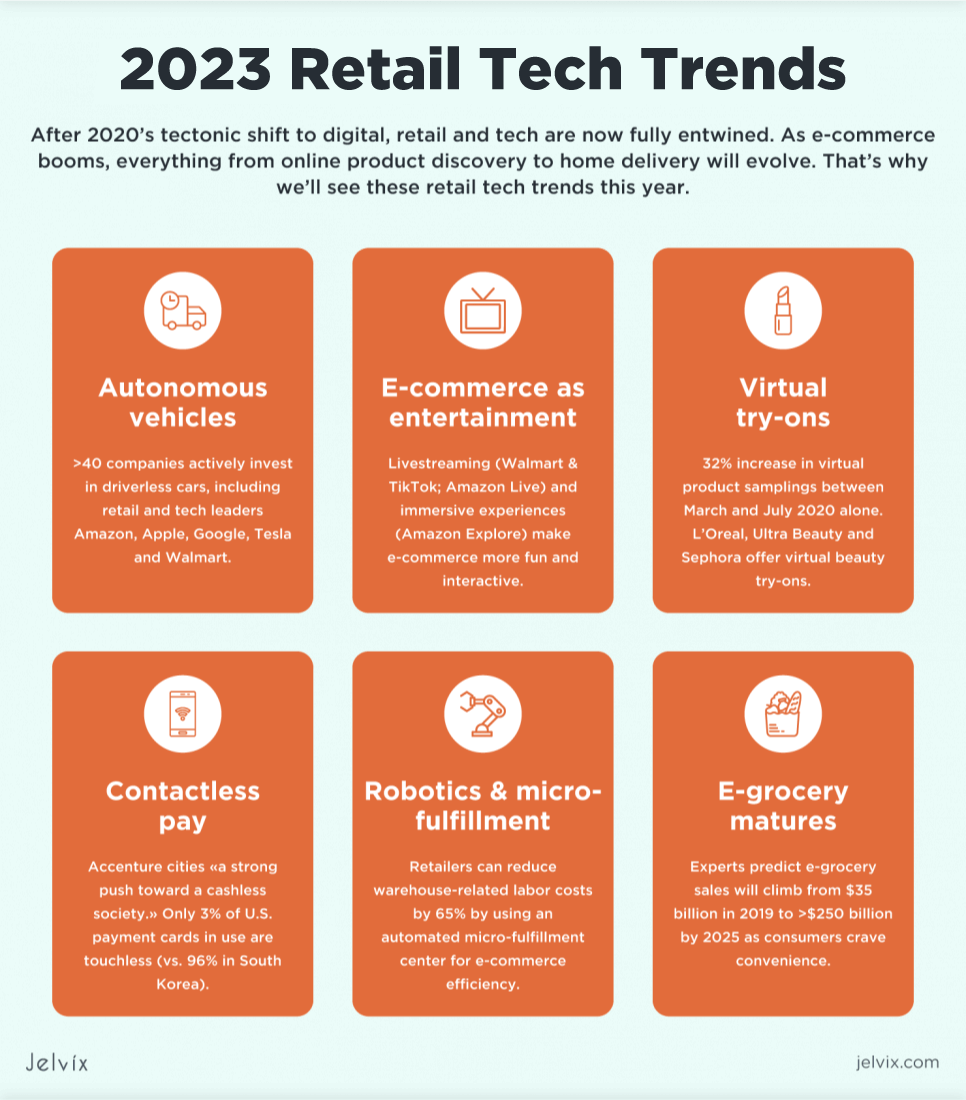 Trend #3. Increased Focus on Personalized Offers
Modern customers have a thirst for personalized and unique experiences. And shopping is not an exception. Transition to omnichannel strategies and embracing technology in retail processes have made the personalization of the shopping experience a vital factor influencing customer loyalty, retention, and even revenue.
The studies show that 77% of companies with full or partial personalization strategies reported revenue growth, while only 1.5% have experienced revenue loss.
In view of this, implementing recommendation engines for websites and physical stores provides competitive benefits to retailers. Individualized consumer suggestions based on the age, taste, location, history of purchases, and viewed items will guide your customer till the end of the purchase and significantly boost your online sales.
The AI-driven recommendations can arm your sales staff in physical stores as well. With such data at hand, the assistants will know who their customers are, what goods they prefer or might like, and will be able to provide sound consumer recommendations.
Furthermore, retail trends indicate that adopting Radio Frequency Identification (RFID) tags or smart-shelves may boost the level of shopping personalization in your store as well.
The RFID tags on clothes can help the staff determine the items that the customer is trying on in the fitting room and assist with finding an alternative size or model. Apart from that, RFID technology can be used along with smart mirrors in interactive fitting rooms. These mirrors can scan tags and create automatic suggestions for clothes or accessories that will fit the product that the customer tries on.
Meanwhile, smart shelves with the same technology can gather information about the most popular products, provide restocking alerts and create discount offers based on this data.
Trend #4. Ethical and Sustainable Brands Take Center Stage
The increasing amount of information about businesses on the Internet has also drastically influenced buyers' behavior. Modern consumers decide which businesses to buy from and what products to choose more consciously and critically than ever before.
The studies show that today consumers pay great attention not only to the personal or functional benefits of the product and brand but also to the collective benefits – what the company brings for society.
Furthermore, 65% of consumers said that they would prefer to buy from purpose-driven and sustainable brands. The customer focus on sustainability and eco-friendliness only confirms that this retail market trend is going to dominate in the years to come.
To win customer loyalty and be sure that your brand is transparent and interesting for conscious consumers, you can take the following steps:
Switch to recycled or eco-friendly packaging;

Use e-receipts instead of paper ones;

Ensure that your supply chain is devoid of slave labor;

Analyze your workflows and try to reduce energy consumption;

Be transparent and honest about your business with customers – tell about your practices on your website.
Trend #5. Fostering Convenience and Fast Delivery is the Key
The age of technology has led to the emergence of instant gratification culture and convenience. With a broader choice of products to choose from and brands to buy from, buyers don't want to wait for their orders for a long time. They want to have the orders delivered if not the same day, then as soon as possible.
The data indicates that 44% out of 1188 US online shoppers will not make a purchase because of not satisfying delivery time, while 28% are ready to pay more for faster shipping.
It seems that shopper's expectations for faster delivery will only continue to grow. That being said, fast and even same-day delivery is predicted to be one of the lasting retail trends.
To respond to the needs of the customers and speed up shipping processes, retailers might need to improve their inventory management processes and delivery services. This can be achieved by implementing automated inventory management software, providing real-time stock visibility, offering scheduled delivery services, and automating restocking processes.
Trend #6. Social Media & Influencer Marketing Boom Will Continue
As we head through 2023, social media and influencer content will stay the dominant retail marketing trends. It is hardly surprising as according to the research, 87% of e-commerce buyers believe that social media helped them to make the purchase decision. At the same time, 40% of sellers generate sales through social media platforms.
Therefore, leading social platforms such as Instagram, Facebook, Pinterest, and YouTube are proactively aligning commercial strategies in order to endorse users' impulsive purchase behavior.
Another characteristic of today's consumers is that they are highly trusting both user- and influencer-generated product recommendations and reviews.
Taking all these things into account, retailers have started to create an authentic brand presence on social media platforms. They partner with influencers and bloggers to create video/photo content for their social accounts and share genuine reviews for goods on their websites and apps to boost sales.
These strategies help companies build social media communities around their brands, engage and communicate with their customers, and increase your website traffic by adding links to the account. Moreover, social media is a great place to share your brand's story and mission. This way, a company can build a strong public brand image and develop it over time.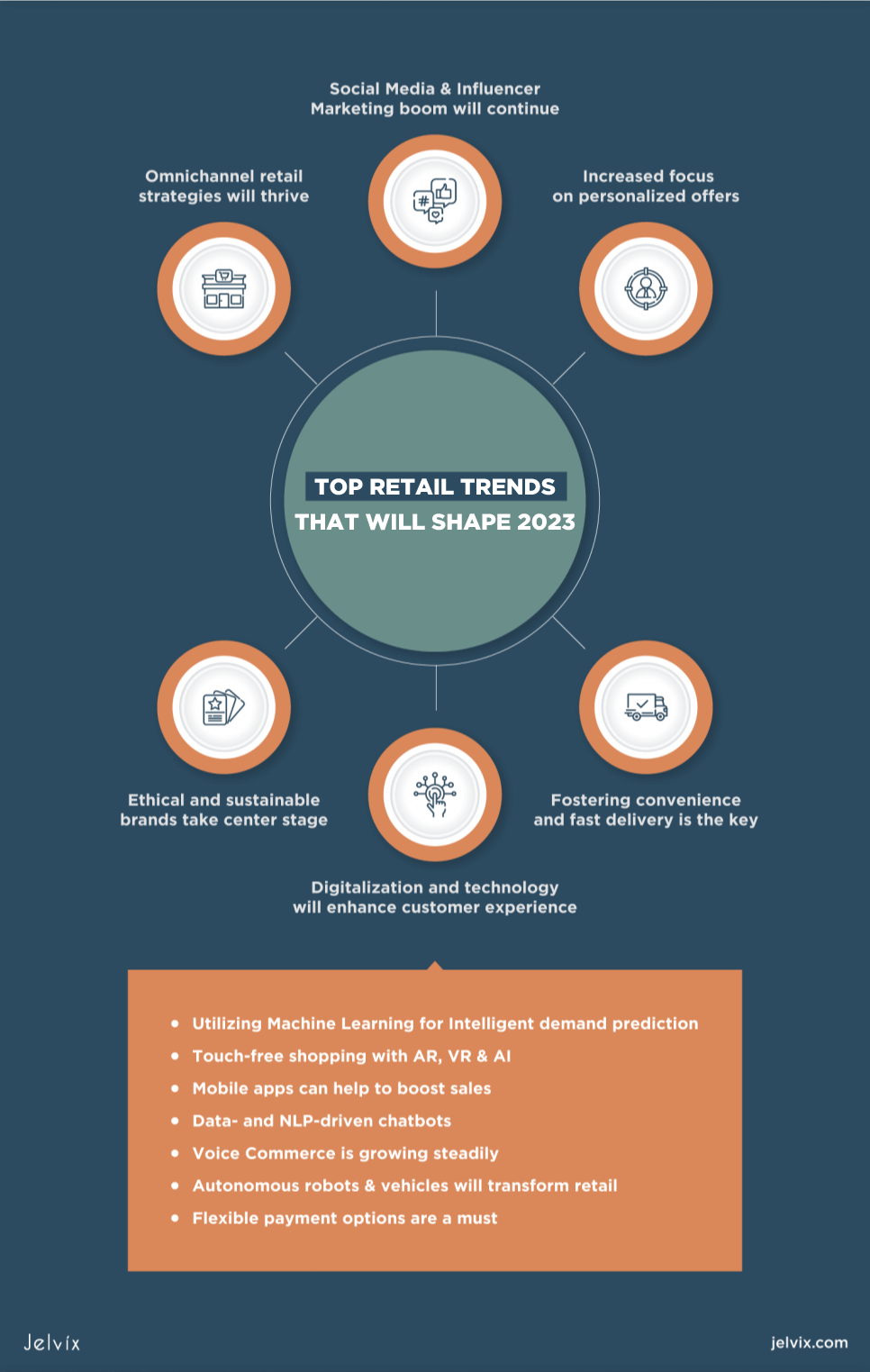 Final Thoughts
Retail is one of the most fast-changing industries, and the rapid adoption of technological advancements is only making it more so. Present-day shopping is more than just choosing a product and paying for it. Modern consumers look for exclusive, personalized, and seamless experiences. They want convenience, exceptional customer service, and consistent communication across all the channels.
Obviously, most of the above-mentioned trends in retailing require businesses to rethink their selling strategies. Retailers have to embrace new technologies that will create an ecosystem of integrated applications and systems. Only this way, it's possible to implement an omnichannel strategy and provide consumer personalization that is so in demand for present-day and future retail.
At Jelvix, we understand that not every retail trend is worth tapping into. While some of them may bring astronomical value to your company, others may be ineffective in the best-case scenario and even damaging in the worst.
Therefore, if you're not sure about what trend to choose or what technology will work for your company, feel free to get in touch with us. Our professional experts have a great deal of experience in retail software development services. They can give you sound advice during a free consultation and help to embark on the innovation journey for the future success of your retail business.