The automotive industry has experienced some revolutionary changes over the past few decades, with cars getting more sophisticated by the year. The advent of new technologies and increased demand for comfort and luxury have influenced the automotive industry and birthed connected cars.
In 2019 alone, global sales of connected cars hit 28.3 million units and were valued at $63.03 billion; this value is estimated to reach $225.16 billion by 2027. Integrating connectivity solutions and making cars smarter — with a plethora of advanced safety technologies — has become a primary goal for automakers.
This trend is just getting started, and here we review the best automotive industry trends of 2023 to bring you up to speed with the latest technology in cars expected in the near future.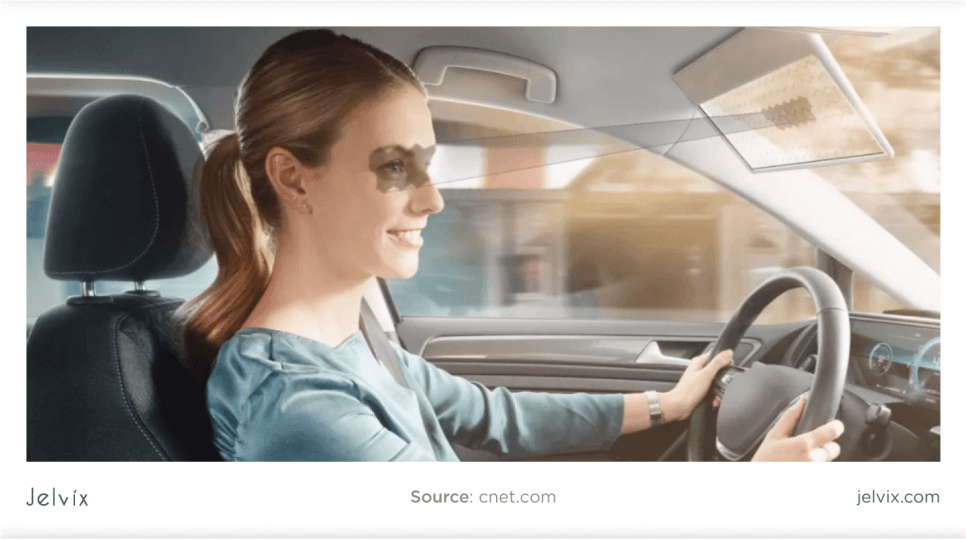 Smart Visors (Bosch Virtual Visor)
Despite tremendous improvements and innovative technologies that the automotive industry has seen in the past few decades, the sun visor for blocking piercing sun rays and blinding lights has remained as primitive as ever with the board-on-a-hinge basic design. Finally, this is about to change.
Recently, automotive supplier Bosch debuted a new car technology, the Bosch Virtual Visor, a transparent LCD screen with an in-car RGB camera for tracking and blocking sun rays from hitting the driver's eyes.
This smart visor employs a series of AI algorithms to monitor the facial features of the driver, including eye movement. It efficiently blocks off blinding sun rays directed at the driver's eyes, and at the same time, maintains up to 90% visibility due to its transparent screen. By efficiently preventing temporary blindness, smart visors will dramatically increase vehicle safety, and we expect to see this feature integrated into new automobile models.
Smart Mobility Ecosystem
With many successful ride-hailing companies springing up around the world, many people have come to appreciate the mobility that cars provide more than the proud feeling of owning a car. Mobility as a Service (MaaS) is changing the way most people view cars and the convenience of mobility.
Using your smartphone, you can effortlessly have a car with a driver show up at your doorstep and take you to the destination required. This easy secure-a-ride business model has been instrumental in nudging more people towards embracing the car subscription model instead of traditional car ownership.
Subscription-based car user-ship comes with many advantages, but the one that stands out is the elimination of outright car payment or car mortgage debt plus the rigidity of being stuck with one car for years; this is something we find exciting.
And with car subscriptions backed by manufacturers, consumers will have a wide range of new car models to choose from, with options for extra perks such as concierge services and reasonable insurance packages. Actually, many automakers, including Mercedes-Benz, Cadillac, Porsche, Audi, Lexus, and Volvo, have embraced the car subscription model with a range of exciting offerings. However, we strongly believe this trend in the automotive industry is undoubtedly only getting started.
Digital Cockpit Solutions
With the influx of digital dashboards in newer car models, car dashboards with primitive analog fuel gauges, speedometers, and odometers are being phased out.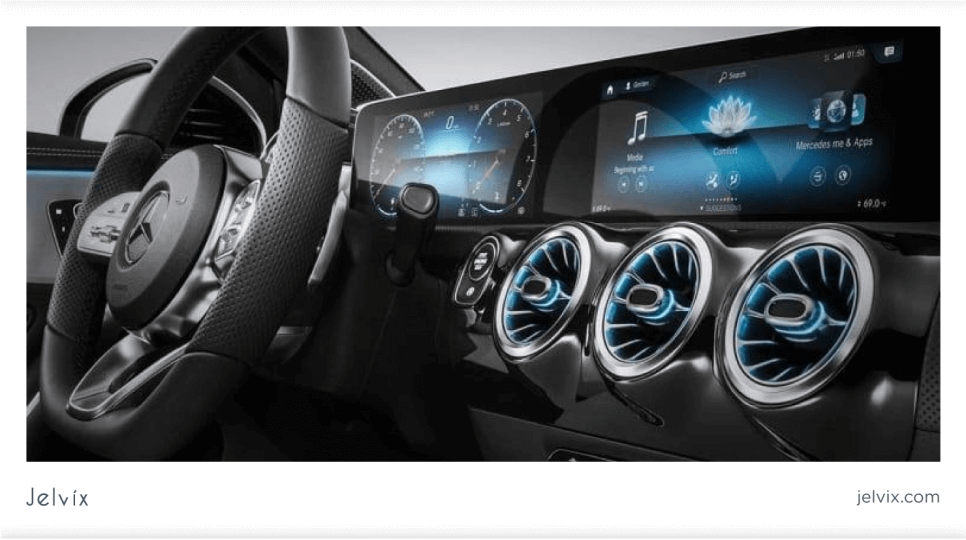 Analog car dashboards are now being transformed to sleek multi-screen digital dashboards, which is right on cue since we have fully embraced digital UI in many other areas, from smartphones to laptops, TV, and various computing devices. Therefore, it's only natural for cars to adapt, and with digital-based dashboards, there will certainly be better visibility and improved user experience.
Digital cockpit solutions for automobiles may still be in the development stages. However, ABI Research, a global tech market advisory firm, predicts that between 2020 and 2030, digital dashboards will become mainstream, and about 115 million vehicles will be manufactured having digital cockpit architecture with displays ranging from 10 to 12 inches.
Automatic Emergency Braking (AEB)
It's amazing to see the number of technologies being developed to reduce auto crashes and make cars safer generally. Statistics have shown that a rear-end collision with another vehicle is usually the initial damaging event in the crash in many road accidents. This implies that advanced crash avoidance technologies that prevent rear-end collisions can be instrumental in mitigating an auto crash, and one such feature is the AEB.
The automatic emergency braking system uses sensors and radar to detect and monitor the distance between your vehicle and the car (or other obstacles) directly in front of you. If the distance is insufficient, the AEB will alert the driver of an impending collision. If the driver doesn't react fast enough and a collision is imminent, the system will kick in and automatically apply the car's brakes to prevent a rear-end collision.
This technology will undoubtedly make our roads safer and prevent an enormous number of road accidents. What's even better is that many prominent automakers have signed on to integrate this technology in all light-duty cars by 2022. However, 8 out of 10 new cars already have the AEB system, so automakers are hitting their target ahead of time.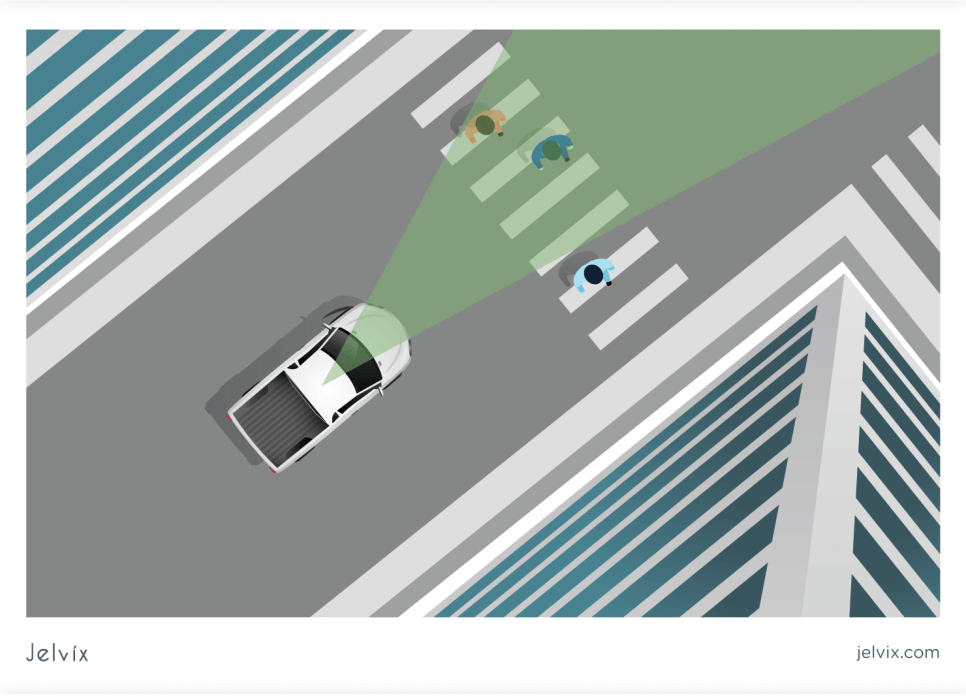 Connected Mobile Apps/Digital Key
The convenience that smartphones provide is developing much more than we could ever imagine, from seamless mobile banking to digital-only banks. Now we have digital keys for cars that use a smartphone app to unlock the car doors and start the engine.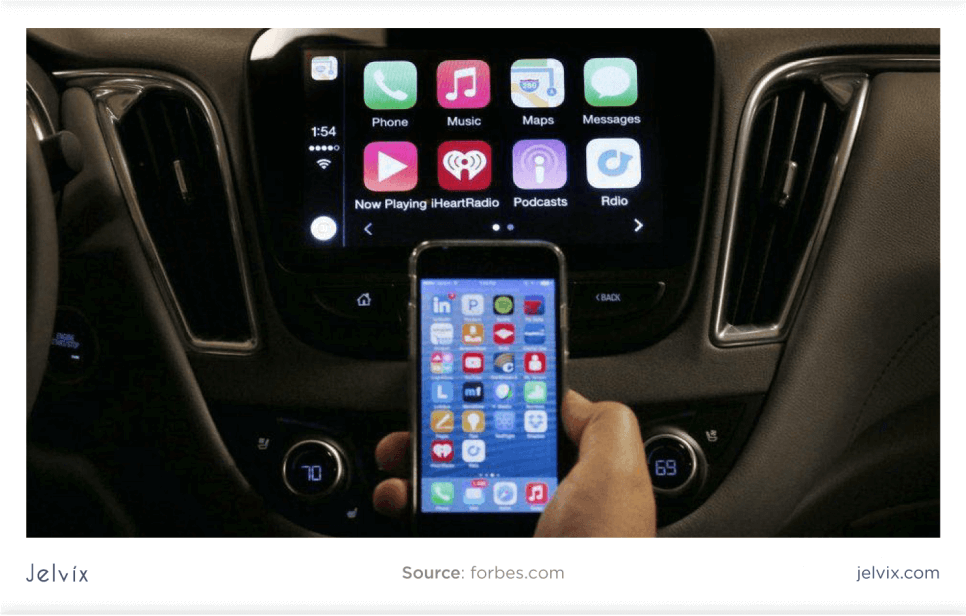 This is a cool feature for many tech-lovers, and since we carry our smartphones virtually everywhere, the digital key will become even better than the infamous key fob. And as you'd expect, some automakers have embraced this technology, and some new car models can be unlocked just by holding a smartphone next to the car door handle.
With the digital key trend on the rise, we also expect to see more connected cars with smartphone operating systems and internet connectivity built into the display on the dashboard. The connected car model will take car infotainment to another level with a variety of apps to play with, including AT&T, Netflix, and other in-car streaming services.
This has certainly raised many safety concerns; however, connected cars are equipped with sensor technology to detect distracted drivers, pedestrians, and other vehicles to prevent accidents.
Teen Driver Technology
Teen drivers (aged 16-19) are more likely to use their smartphones while driving and therefore are at a higher risk for collisions. This comes as no surprise since the younger generation is apparently more glued to their smart device than millennials.
While many tech giants are incorporating features in smartphones to curb distracted driving and improve vehicular safety, such as the "Do Not Disturb While Driving" feature, automakers are also taking the initiative to offer technologies that improve the safety of teen drivers. The teen driver technology permits parents and guardians to customize certain car features to help monitor their teens remotely when they are behind the wheels.
For instance, parents can set alerts for their teens to remember to use the seatbelt, set speed limits, or schedule times when their teen can use the car and places they can go. There are also options for tracking the driving skill of your teen in real-time or view reports on how well they drove. For concerned parents, this is an invaluable tool for instilling some driving discipline and protecting their teens from unsafe habits on the road.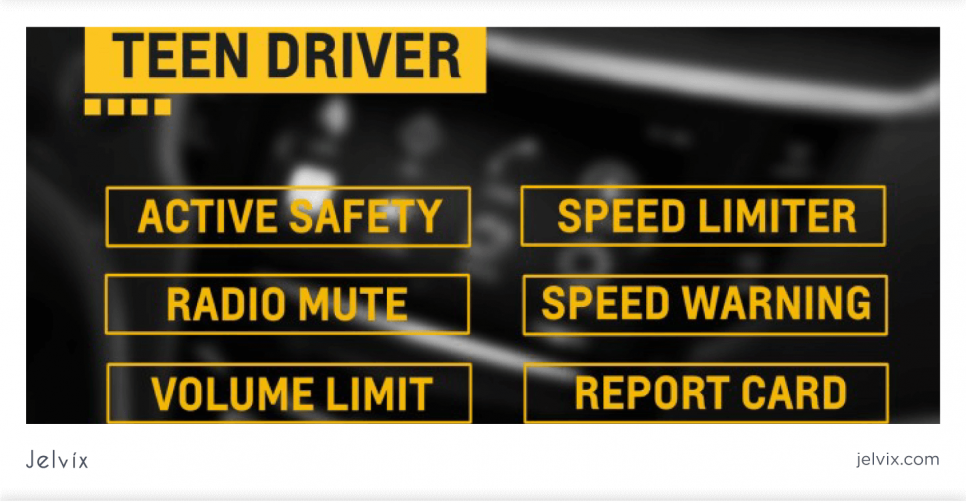 Exit Warning to Protect Cyclists
Have you ever witnessed a terrible incident of a cyclist getting hit by a car door that opened just as they approached a car? This unpleasant incident is easily avoidable; if the driver knew the cyclist was approaching, they wouldn't have opened the door. Or maybe if the cyclist knew the car door was about to spring open, they would have slowed down, wouldn't they? Cyclists getting knocked down by car doors accounted for 3,500 accidents in Germany in the year 2018 alone.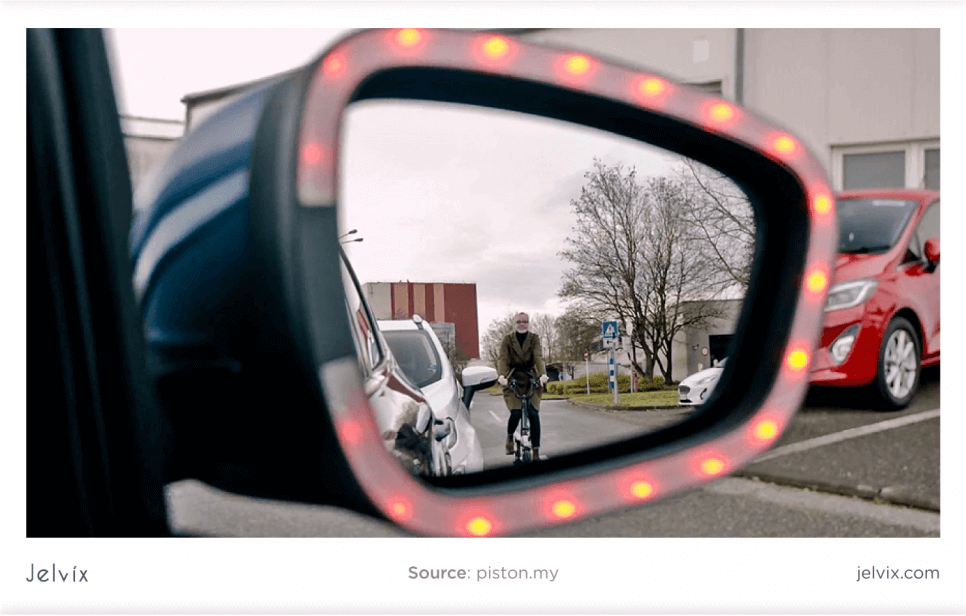 This is an insanely large number for an innocent action that can easily be avoided. To keep cyclists safe on the road, Ford developed one of the newest technology in cars called Exit Warning, which is a system that detects an approaching cyclist when a driver is about to open the car door. It prevents a collision by warning the driver about the approaching cyclist, and at the same time, it alerts the cyclist that the car door is about to open.
The warning signal is flashes of red LED lights along the edges of the side mirror and a sound to ensure the driver is fully conscious of the situation. Some cars like Audi A4 and Q7 already have this safety feature.
Firmware Over the Air (FOTA) Update
With the continuous and rapid birth of new auto technologies, there is a pressing need for an efficient software management system. This has been made possible with the FOTA update. Firmware Over-the-Air refers to the system for remote update of the software/firmware within a car's engine control unit.
As a remote software management system, FOTA updates can fix bugs and software-related issues without the need of physical intervention into the device. Besides bug fixing and adding new functionalities, over-the-air software updates can also be used to improve cars' performance by updating the firmware to the latest versions, which can be continuously done throughout the lifecycle of the car.
The FOTA update process is efficient and cost-effective, and it was estimated to save automakers up to $35 billion by 2022.
Velabit
The future of the car industry is leaning towards self-driving, and thanks to cheap LiDAR (Light Detection and Ranging), we can expect autonomous cars to become commonplace sooner than later. Not long ago, LiDAR for making self-driving cars cost no less than $75,000; this price tag was certainly not feasible for mass-production. However, Velodyne Lidar company recently unveiled the VelaBit, which is a new model low-cost LiDAR with a more affordable price tag of $100.
VelaBit is not nearly as powerful as the more expensive option, but it does meet the desired requirement for LiDAR sensors used in autonomous cars and the Advanced Driver Assistance System (ADAS) in manually driven cars. With this cheap LiDAR, the technology is poised to explode and become mainstream much sooner. The LiDAR is estimated to be worth about $1.8 billions in the next 5 years.
Solar-Powered Cars
Electrification is one of the future trends in the automobile industry and so is solar energy for cars. With more focus on utilizing clean renewable energy sources for cars, automakers are working to find the perfect replacement for fossil fuels to help mitigate the impact of carbon emissions; hence, the pursuit for mainstream solar-powered cars. Solar cars are electric cars that convert the sun's energy to electricity using photovoltaic cells.
These cars are also equipped with batteries for storing electric energy generated from sunlight for use when at night or in the absence of direct sunlight. Many automakers are currently testing designs for hybrid solar cars, and one example is the Sonata hybrid model with a new solar roof. Unlike EVs, solar-powered cars will trap energy directly from the sun and will not need charging; thus eliminating the need for charging docks.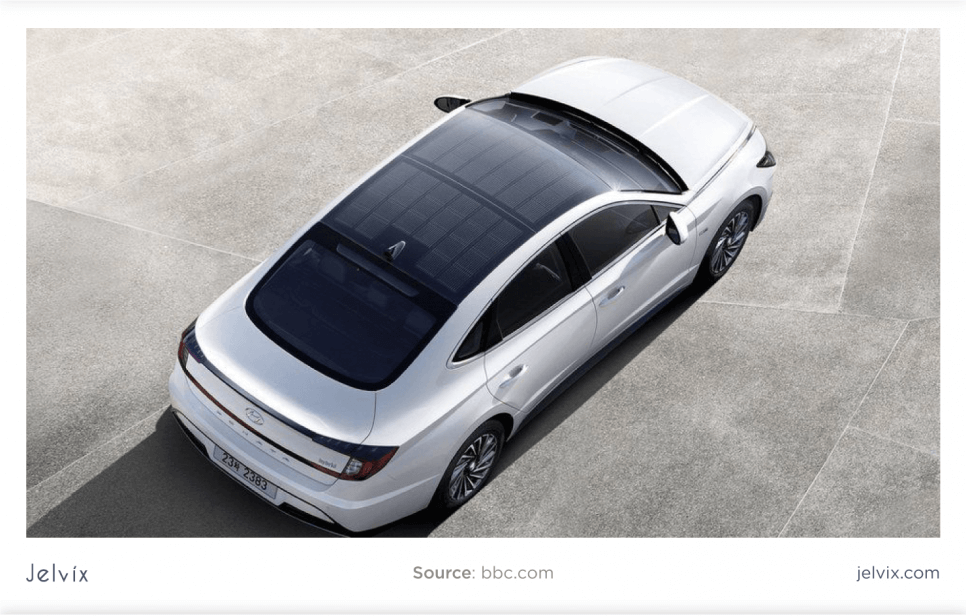 Although there are hurdles to making solar-powered cars mainstream this year or the next, the potential financial and environmental benefits of this technology are of more than enough motivation for automakers, and there are predictions that the solar vehicle market could reach $689 billion by 2027.
Advanced Driver Assistance System (ADAS)
One of the latest auto industry trends is making cars much safer for both drivers and pedestrians. This will invariably reduce the number of road accidents since an incredibly large number of car crashes happen because of human error. Therefore, if cars have systems in place that detect a potential crash or a careless activity from the driver that puts the car at risk of a crash, the system will either warn the driver of the situation or automatically engage in saving the day.
This is exactly what the Advanced Driver Assistance System (ADAS) is all about. It's essentially an active safety system that acts as an assistant driver to prevent an avoidable car crash. The ADAS employs a wide range of sensors, LiDAR, cameras, and with the combined action of these tools, a car can have a broader sense of what's happening both within and around it.
There are systems that monitor the driver's movement and help fight against distracted driving, there are also systems that ensure the driver stays in the right lane with a Lane Departure Alert and prevent head-on collisions with the AEB system.
Extensive Exterior Cameras
The ADAS uses both cameras and sensors to ensure safety on the road, and at the very core of this technology are extensive exterior cameras that perform different actions. There are external cameras for pedestrian detection and traffic sign recognition. There are cameras that track the painted lines on the road and send lane departure alerts to the driver, and there are cameras that assist drivers with parking.
Cameras have become an integral part of cars. Exterior cameras with a 360o view of the entire surrounding of cars are instrumental in preventing collisions of any kind. There are safety systems that combine cameras and sensors to achieve a higher degree of sensitivity.
Blind-Spot View Monitor
The Blind Spot Detection system uses a combination of sensors and side cameras to monitor the vehicle's blind spot and alert the driver when there is another vehicle and obstacle of any kind in the blind spot. This is a very important safety feature because the driver is unable to directly observe the blind-spot areas while busy with the car controls.
When exterior cameras detect a vehicle or pedestrian in a vehicle's blind spot, it alerts the driver either by sending audio, visual or haptic messages such as the vibration of the driver's seat or the steering wheel. Blind spot detection is actually a part of the Advanced Driver Assistance System (ADAS) and this 2023, there certainly will be more cars than ever with this system.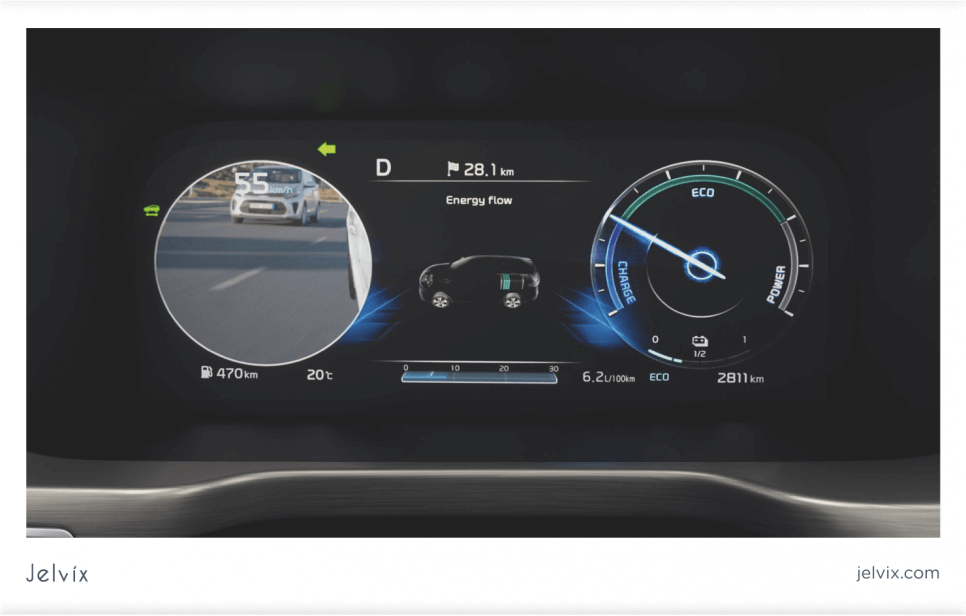 Circular Economy as a New Roadmap for Automotive Industry
Technology is challenged by a significant change in consumers' attitude and the pressing problem of climate change, the waste crisis and the skyrocketing of the prices of raw materials. All these problems call for the transformation of the industry through the lens of the circular economy and mobility-as-a-service.
The report from the World Economic Forum, the World Business Council for Sustainable Development, and Accenture state that the accelerated vehicle electrification coupled with the sustained circular economy in the automotive industry will decrease carbon emissions by up to 75% and non-circular resource consumption by up to 80% per mile by 2030.
What is even more interesting is the fact that decarbonizing and limiting waste from the automotive industry will contribute to a decrease in global warming while also meeting the rising mobility demands of end-users.
However, the success of the automated circular economy is hinged on other rising trends in the industry such as car electrification, recycling of electric car batteries, longer lifespan of cars and car components which can be achieved through subscription-based ownership, and finally by reducing carbon emissions.
Many automakers are already reducing energy consumption by remanufacturing car components to reduce waste. Last fall, Renault announced its intention to convert her Flins assembly plant to a "RE-factory" circular economy automotive production line with the goal of achieving a negative carbon footprint by the year 2030.

Wrapping Up
The auto industry is gradually going through a period of change as newer and better technologies enter the picture. Cars are becoming more than tools for transportation and more like sophisticated smart devices that can perform a variety of tasks simultaneously. Automakers are certainly not slowing down in their quest to design cars that will not only satisfy the increasing demand for luxury and convenience but will be environmentally friendly.
The future of the automotive industry is looking towards making only vehicles with smart technologies, advanced safety features, and zero carbon footprint.
Need a qualified team of developers?
Scale your development capacity with top-level expertise and resources.
Get in touch
Get in touch