The healthcare and wellness industry is shifting towards managed, personalized, and controlled healthcare. According to Stratview Research, the medical wearables market is growing at 23.7% CAGR per year and is expected to reach $95.4 billion in 2028.
Such growth is attributed to multiple factors, such as advances in medical equipment and the expansion of smartphones, followed by healthcare application development. Consumers may already choose from over 350,000 digital health applications, with 47% dedicated to managing specific health conditions.
Another significant factor is that people have become much more informed about their health and are willing to use wearables in their everyday lives. These opportunities foster beneficial conditions for medical services, equipment, and software providers who want to contribute positively to the global healthcare system.
So, we explore the potential of wearables in healthcare, how patients and clinicians benefit from these devices, and how you can use Jelvix's skills to capture the market share.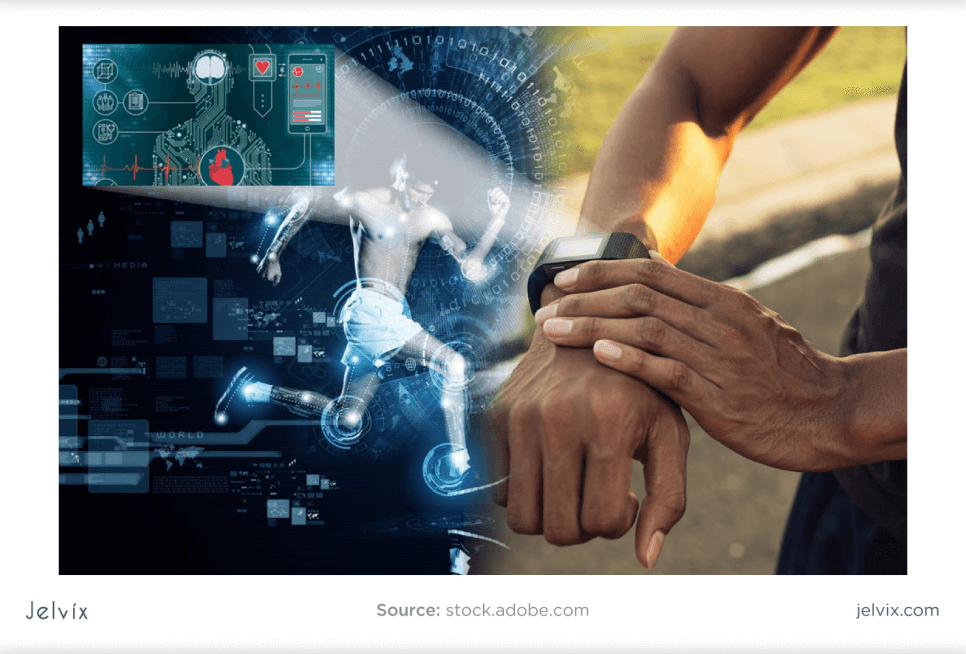 What is Wearable Technology in Healthcare?
Wearable technology in healthcare covers a variety of wearable medical devices and supportive accessories. The device or system has sensors that measure, monitor and collect the wearer's physiological information, biomechanics, or information about the environment.
The collected information can be immediately analyzed and transferred to the central processor (CPU) or cloud storage. The CPU can be wearable or stationary, like a smartphone, tablet computer, etc. Different types of information, such as augmented reality, navigation using smart glasses, or voice assistants, may be transmitted.
In simple words, wearable technologies are more than just monitoring tools; they provide platforms capable of gathering and sharing patient data in almost any setting. Let's sum up the factors which make medical wearables such popular:
Sensors integration into consumer devices;

A growing number of IoT of smart devices;

Increased awareness about health and well-being;

Ability to get well-timed medical support;

Investments by tech giants such as Apple, Huawei, Philips, Google, and Microsoft.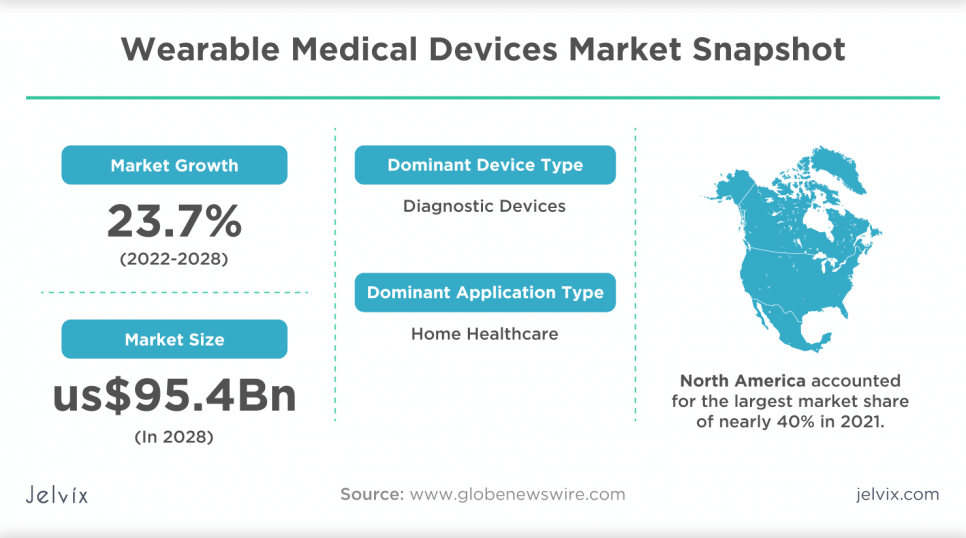 What are the types of wearable technology with health applications?
There are various forms of wearable medical technology:
Health monitoring devices
These interactive gadgets measure the patient's vital signs, including blood pressure, heart rate, sleep, calories, and body temperature, and transmit this data to healthcare professionals via smartphone applications and other devices.
Activity-tracking devices
These consumer devices use accelerometers to convert motion into various data forms according to scientific testing standards. Activity trackers aim to increase physical activity among different age groups and clinical and non-clinical populations.
Therapeutic devices
These wearable devices monitor patient performance related to therapy and disease management. They include sensors that scan the patient's physical condition, allowing doctors to adjust treatment accordingly. Devices for rehabilitation, pain relief, and respiratory therapy fall into this category.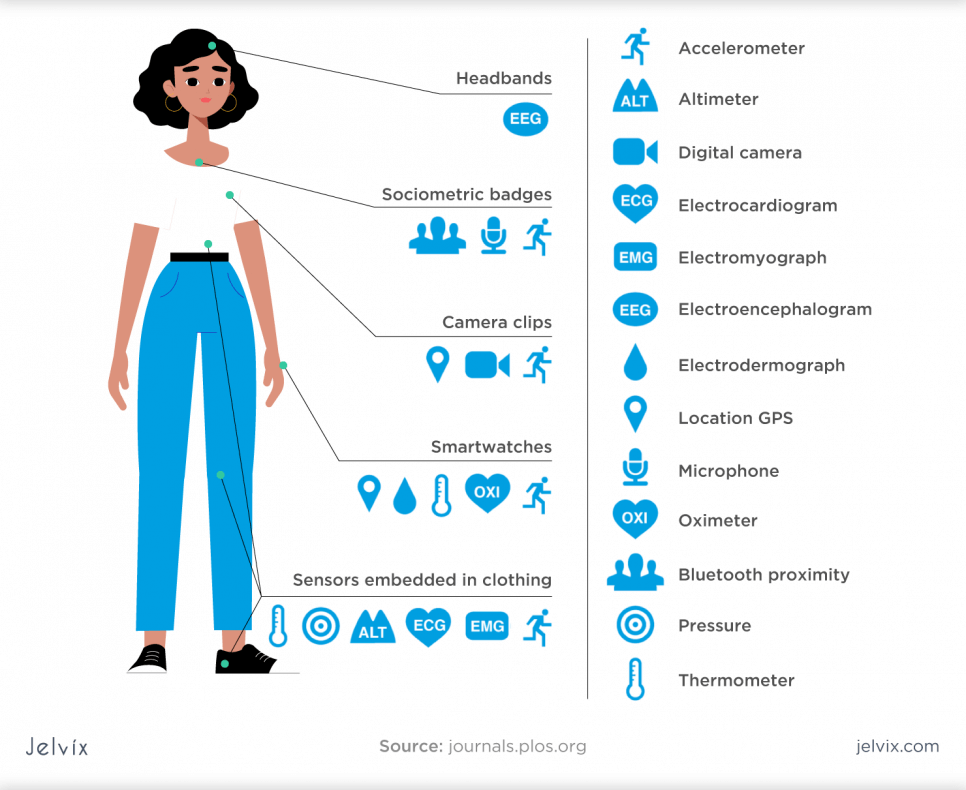 Top 5
Wearable Devices in Healthcare
With Examples
The availability of wearable sensor technologies has given rise to a wide range of consumer and medical devices. Because wearable devices can provide real-time feedback on a person's health status, they can offer an objective alternative for treatment and health monitoring.
Continuous Glucose Meters
A continuous glucose monitor (CGM) is a small device that helps control blood sugar levels for people with diabetes without finger stick tests. The CGM system consists of a sensor, usually placed on the abdomen or upper arm, and a transmitter, which continuously monitors the glucose level in the intercellular fluid and sends the data to a display device such as a smartphone or watch.
The Eversense CGM system

delivers precise glucose tracking using a rechargeable transmitter and an implanted sensor. Users can wear the equipment for up to six months, refusing conventional blood sugar monitors.

Abbott Freestyle Libre 2

– this sensor-based glucose monitoring system tracks your glucose constantly throughout the day and helps you understand what makes sugar levels go up and down.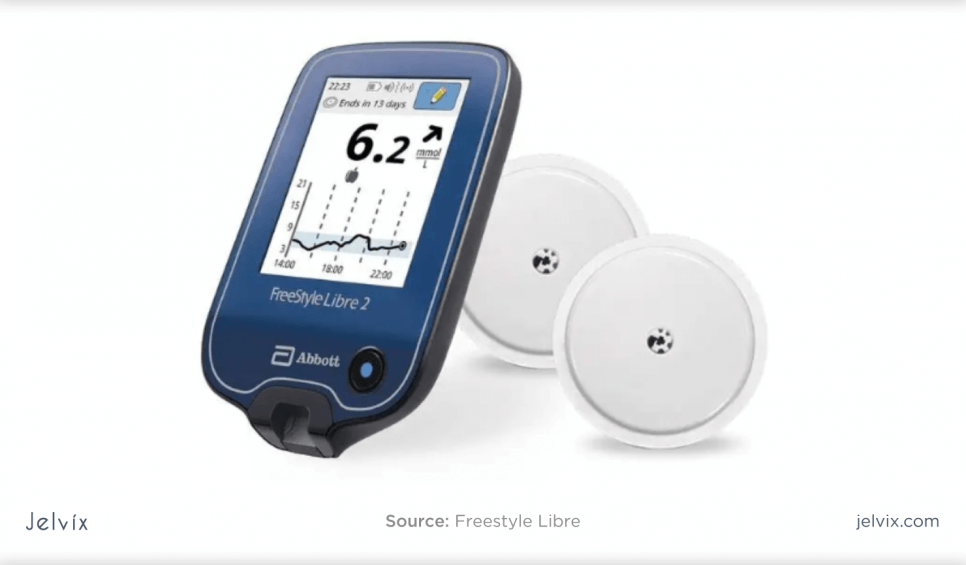 Smartwatches and Fitness Trackers
The most popular and affordable wearable devices, such as smartwatches and fitness trackers, are usually equipped with sensors to track physical activity, oxygen levels, heart rate, blood pressure, etc. These devices provide wearers with health and fitness recommendations, synchronizing with various smartphone applications.
The Fitbit Charge 5 from Google

is one of the most advanced devices. It tracks SpO2, heart rate variability, changes in body temperature, stress levels, and more. It uses a photoplethysmographic optical sensor to automatically collect heart rate readings, detect abnormalities, and notify the user.

Garmin vívosmart 4:

this smart fitness

tracker

can check heart rate and includes additional tools such as a relaxation breathing timer, all-day stress tracking, and VO2 max readings.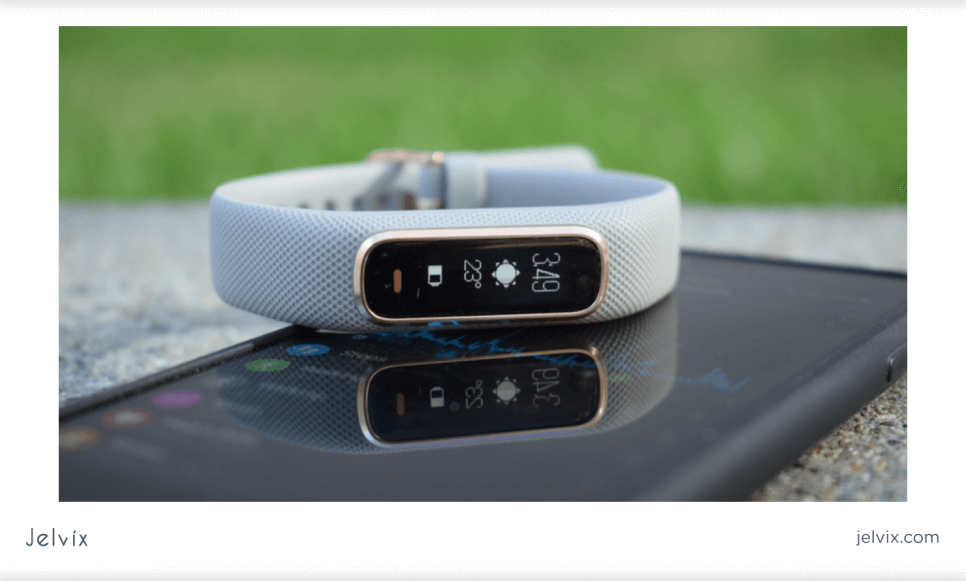 ECG Monitors
As smartwatches and other wearable devices have evolved from new gadgets to widely used health and fitness tools, electrocardiogram (ECG) technology has made its way into product applications. They connect to a smartphone or computer app where users can record, view, store, and share ECG readings.
VivaLNK:

This small

monitor

is designed for in-clinic and remote patient monitoring applications. It records heart rate, RR interval, respiratory rate, and other indicators. Several studies proved the effectiveness and accuracy of this device in several.

AliveC or's KardiaMobile 6L:

The FDA has approved this

portable monitor

to identify bradycardia, atrial fibrillation, and tachycardia. Users attach the bottom electrode to their left ankle or leg, place their fingers on the top two electrodes, and obtain the readings in 30 seconds.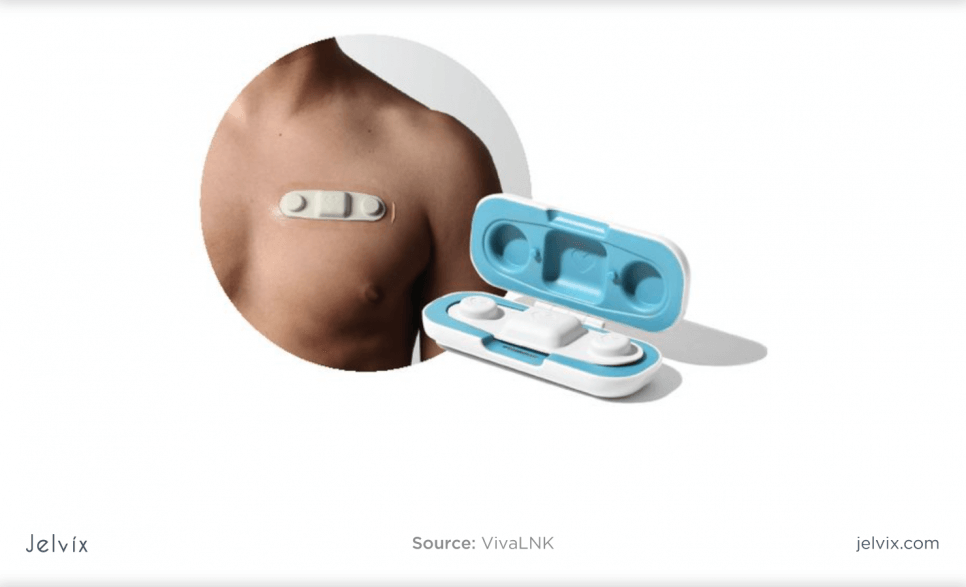 Blood Pressure Monitors
Cuffless blood pressure monitors and smartphone-enabled wireless upper limb blood pressure monitors are the most frequently used wearable devices for blood pressure assessment and management.
LifeSource Upper Arm:

this is a

one-armed

cuff that alerts users to irregular heartbeat when measuring blood pressure and classifies blood pressure according to guidelines set by doctors.

Omron Healthcare HeartGuide:

the first clinically-accurate wearable

blood pressure monitor

that tracks blood pressure and other daily activity, including calories burned, steps walked, and the distance traveled.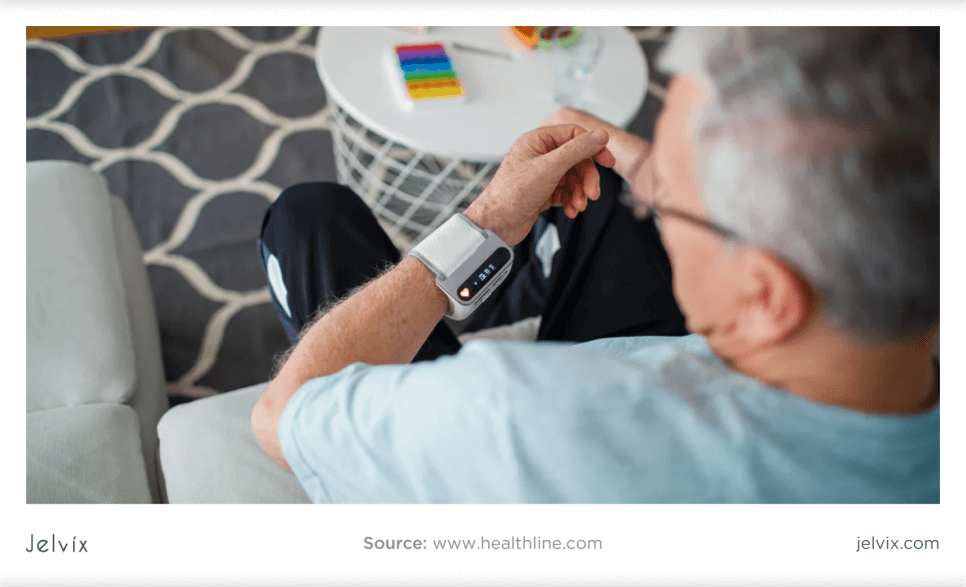 Biosensors
Biosensors are bioanalytical devices that merge biological and physicochemical components to detect chemicals. They are mainly used for personalized health monitoring and can be incorporated into wearable technology, such as smart textiles, patches, rings, electronic tattoos, and contact lenses.
Philips Biosensor BX100:

this

self-adhesive patch

measures vital signs, posture, and activity as a single-use wearable patch that should be incorporated into clinical workflows.

Philips Wearable Biosensor:

this unique self-adhesive

biosensor

records a wide range of vital signs, including heart and respiration rate, skin temperature, single-lead ECG, and R-R interval (RR-I).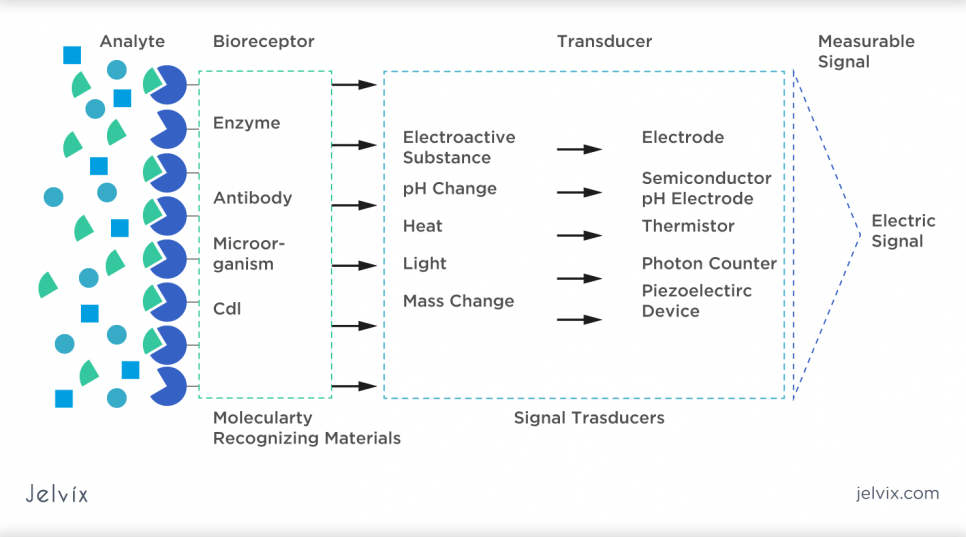 Benefits of Wearable Technology for Patients and Professionals
The combination of digitization, artificial intelligence (AI), and machine learning in wearables offers the industry the following:
Real-time access to patient health data.

Wearable medical devices make it easier for patients to get proper care because they enable real-time data tracking from a distance. According to a

HIMSS survey

, more than half of doctors think wearable technology in healthcare helps keep track of their patients.

Better accountability.

Eventually, practitioners can collect data from wearable devices and sensors as part of their daily care. Digital technologies and merged data enable more accurate EMR, clinical expertise, and medical research, creating a more holistic medical picture at the micro and macro levels.

Improved medication compliance.

Wearables can benefit patients in various ways, such as by sending them regular notifications about their medications and ensuring they are taken as prescribed.

Reduced burden on staff.

With a real-time remote measurement of patients' physiological data, hospitals can free up beds; doctors can monitor patients' vital signs no matter where they are and improve work efficiency. That is especially important as hospitals expand their telehealth and "at-home" care capabilities.

Greater patient outcomes

. Connecting EHR and wearable devices benefits primary care patients and patients with chronic diseases. It helps practitioners reduce medical errors and identify potential problems early before they develop into serious health problems. According to Deloitte, over the next 25 years, patient monitoring technologies might help the healthcare sector save

$200

billion.
The Challenges Faced by Wearable Technology in Healthcare
Wearable technologies provide many benefits to the healthcare industry. Still, to implement such devices in medical practice, they must meet stringent requirements for accuracy, availability, processing speed, low end-to-end latency, etc. In addition, there are other aspects that all developers and manufacturers of medical devices should consider.
Sensors inaccuracy.

For example, some wearable devices allow you to track your VO2 max, measuring how much oxygen your body can use during exercise. According to a

2022

study, the VO2 maximum measured with wearable devices was less accurate than the laboratory VO2 max test performed by qualified medical practitioners.

Interoperability issues.

There are many interoperability issues as wearables require different ways of collecting data, providing data according to other data models, etc. Developers must consider all these differences and develop appropriate interoperability solutions.

Surveillance and privacy abuse.

According to a British Medical Journal study,

88%

of mobile health apps can collect and potentially share user data.

The FDA recommended manufacturers of medical devices (i.e., app developers) incorporate risk management programs to address vulnerabilities that may permit unauthorized access, modification, or patient information.

Small-screen form factor.

The device has to be small enough for a person to comfortably wear it on their body, often under their clothes, while continuing to meet performance requirements for connectivity. It needs advances in software architecture to compensate for navigating challenges on such small-screen interfaces.

Ultra-low power operation.

A wearable device should ideally sustain a lifetime operation without or with minimal user interference. That requires low-power operation for analog and digital electronics of a wearable.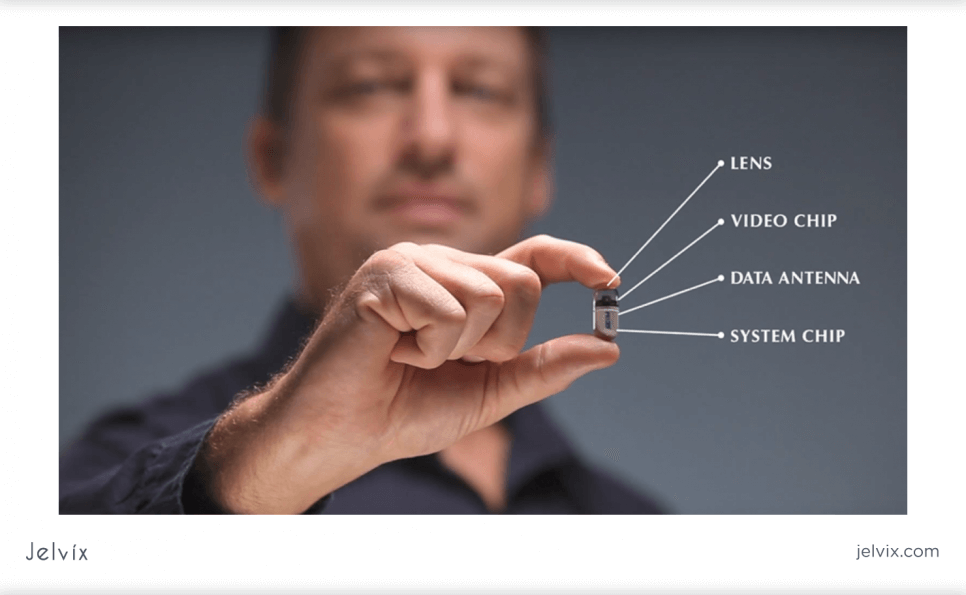 Other pitfalls in wearable technology
As with many new technologies, wearables come with additional risks and unforeseen problems that need to be addressed. We have noted only a few key areas that may be of concern.
Device failure.

Wearable device issues could lead to erroneous or incomplete patient data. Healthcare providers must ensure that devices are properly maintained and that data is backed up in case of failure.

Fakes.

If consumers have a bad experience with knock-off wearables, they are much less likely to buy premium ones. Counterfeit wearables offer less than a tenth of the features or control, which could devalue the industry.

Device dependency.

Using digital and wearable technologies in healthcare may lead to addiction. Healthcare providers should advise patients on properly using these gadgets and ensure they do not overuse them.

Health hazards.

There are concerns that the constant use of digital devices can cause eye strain, neck pain, or carpal tunnel syndrome. Therefore, healthcare providers should educate patients about the potential dangers of using wearable devices and take steps to minimize those risks.

Battery life. If patients use a wearable ECG monitor, constantly changing or recharging batteries can burden and negatively impact their ability to live their lives. To optimize convenience and practicality, wearable device developers must consider the battery life of a product.
Usability.

Since the device is worn on the body, wearable technology in healthcare can withstand various conditions a person faces daily. For example, patients may be required to use a wearable diabetes monitor at all times, so they will shower with it, requiring it to meet different standards than a fixed medical device, which would normally not be submerged.
If efforts are made to address these issues, wearable technology will fundamentally change how medical treatment is delivered.
How Will Wearable Technology Affect Healthcare in the Future?
The wearable medical technology market is growing, and its development will put more wearable technology in the hands of consumers and businesses.
In particular, wearable devices will become less and less visible. Instead of a fitness bracelet or clip-on tracker, the devices will look more like jewelry, a patch, or a strap. In addition, device connectivity will expand as more accurate wearable sensors are developed, allowing doctors, insurance companies, and employers to promote healthy lifestyles and improve profitability.
Smartwatch innovation is rapidly progressing with advances in sensors, semiconductors, and artificial intelligence. For example, premium smartwatches are now equipped with optical sensors that continuously measure changes in blood volume and composition using photoplethysmography technology. Algorithms created and continually improved with machine learning use data from the sensors to deliver insights into users' activity levels, stress, heart rate abnormalities, and more.
Another goal of wearable technology manufacturers is increasing battery life. Wearing a watch that has to be constantly removed to charge is frustrating. Therefore, engineers are actively working on wearable devices that can harvest energy from movement, heat, or ambient light, when worn directly on the body.
The application of AI in healthcare will increasingly influence the effectiveness of wearable devices. That will improve measurement accuracy and reduce cybersecurity risks. In addition, with the combination of IoT technologies and predictive analytics tools, healthcare can become more context-based and automatic and will help better understand patient data.
Applications will become more intelligent and dependable, allowing physicians and patients to track a broader range of health conditions. It is becoming apparent that it will stimulate more software development companies to produce software solutions to serve healthcare needs.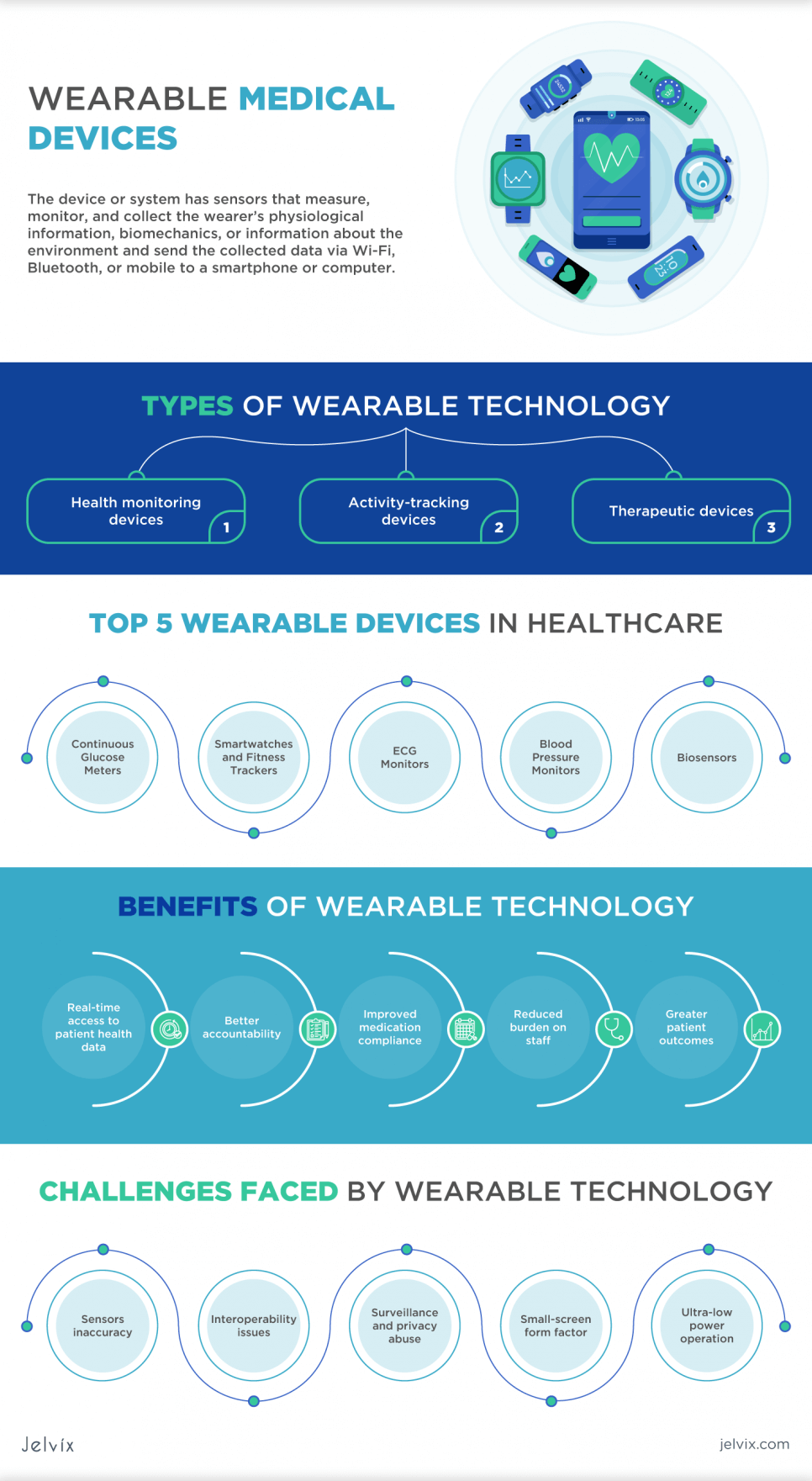 Our case
We at Jelvix recently developed telehealth software (mobile applications and a web platform) for 24-hour patient monitoring that helps improve the efficiency of medical staff, avoid unnecessary individual visits, and improve the quality of care. The solution is also equipped with voice input and a virtual assistant that answers patient questions and provides a quick connection with the right doctor.
The app and system also have alerting features in case health indicators decay, and all sensor information is transmitted to the system via Bluetooth or USB. Another characteristic feature of the platform is the online signing of documents. That prevents patients from making unnecessary medical appointments and obviates a large influx of people in the clinic.
Conclusion
Undoubtedly, the demand for consumer and medical wearables will grow over the next few years. That is highly lucrative and offers ample opportunity to improve the healthcare environment. However, you need a reliable technology partner to deliver wearable software development services to thrive in this space.
The fact that you are here is not a coincidence. Jelvix is a global software development company with talented developers that can scale value in wearable technology by creating software solutions that meet your company's and end users' data standards and needs. Contact us to know what we can offer to your healthcare business.