We live in the digital world and expect everything around us to be accurate, fast, and efficient. That is especially true in the healthcare industry, where time is of the essence, and patients don't want to waste it waiting in line or talking on the phone. It has formed a necessity for advanced digital tools to handle requests, streamline processes and reduce staff workload. That demand has led to the emergence of medical chatbots.
As an important component of proactive healthcare services, chatbots are already used in hospitals, pharmacies, laboratories, and even care facilities. The ubiquitous use of smartphones, IoT, telehealth, and other related technologies fosters the market's expansion. Market Research Future found that the medical chatbot market in 2022 was valued at $250.9 million and will increase to $768.1 million by 2028, demonstrating a sustained growth rate of 19.8% in a year.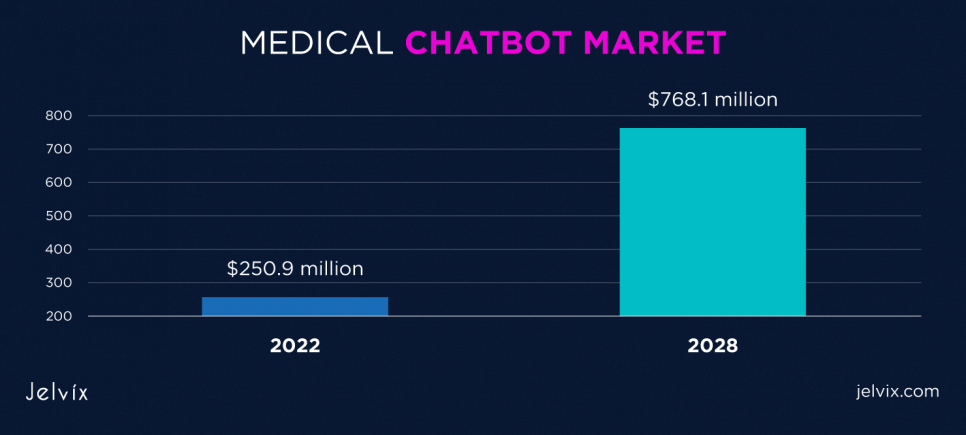 The chatbot's prevalence in healthcare has objective causes. We will reveal them in our article. By reading it, you will learn about chatbots' role in healthcare, their benefits, and practical use cases, and get to know the five most popular chatbots.
What is Medical Chatbot and Its Role in Healthcare?
A medical chatbot is a software program developed to engage in a conversation with a user through text or voice to provide real-time assistance. This technology allows healthcare companies to deliver client service without compelling additional resources (like human staff).
The general idea is that this conversation or texting algorithm will be the first point of contact. After starting a dialogue, the chatbot extracts personal information (such as name and phone number) and symptoms that cause problems, gathering keywords from the initial interaction.
After making a short scenario, the chatbot takes control of the conversation, asking clarifying questions to identify the disease. The case history is then sent via a messaging interface to an administrator or doctor who determines which patients need urgent care and which patients need advice or consultation.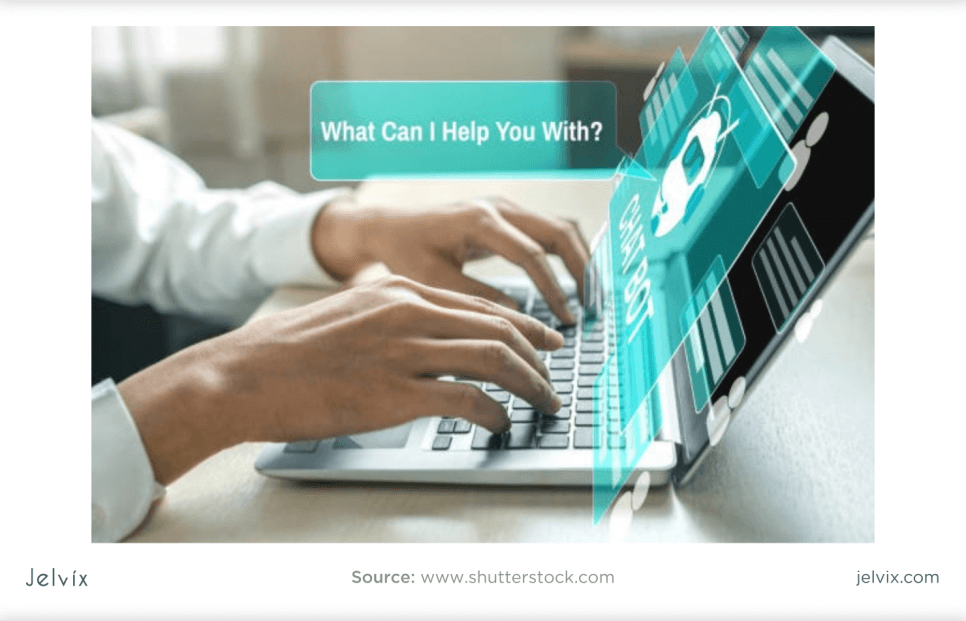 What are the Three Basic Types of Medical Chatbots?
Today's healthcare is dominated by three types of chatbots: informational, conversational, and prescriptive. Each of them provides users with different styles and communication options.
Informative chatbots
These simple rule-based chatbots provide patients with helpful information and support using "if-then" logic for conversational flows. Before answering, the bot compares the entered text with pre-programmed responses and displays it to the user if it finds a match; otherwise, it shares a generic fallback answer. These chatbots do not learn through interaction, so chatbot developers must incorporate more conversational flows into the system to improve its serviceability.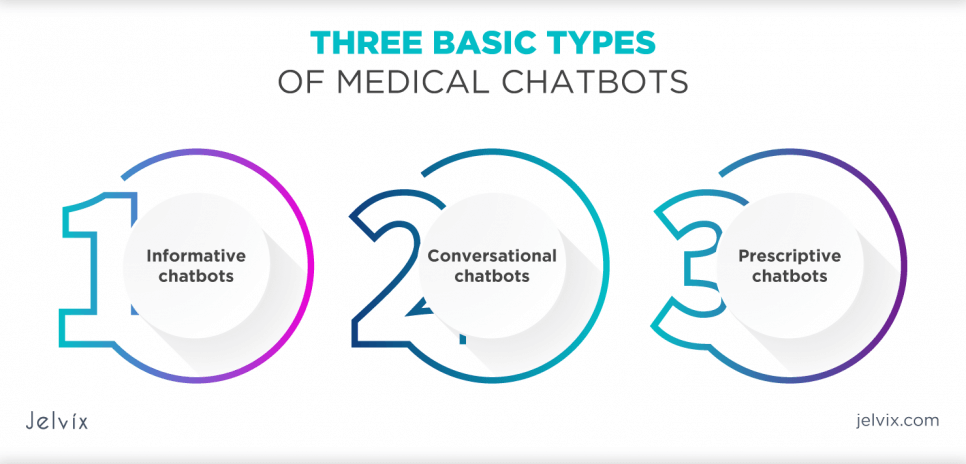 Conversational chatbots
These chatbots are data-driven, meaning they learn from patterns, conversations, and previous experiences to improve the quality of their responses. Thus, the more data the developer enters, the more complex discussions the chatbot will be able to handle in the future. So far, machine learning (ML) chatbots provide the most positive user experience as they are closest to reproducing the human experience of interaction.
Prescriptive chatbots
These chatbots employ artificial intelligence (AI) to quickly determine intent and context, engage in more complex and detailed conversations, and create the feeling of talking to a real person. The best part of AI chatbots is that they have self-learning models, which means there is no need for frequent training. Developers can create algorithmic models combined with linguistic processing to provide intelligent and complex conversational solutions.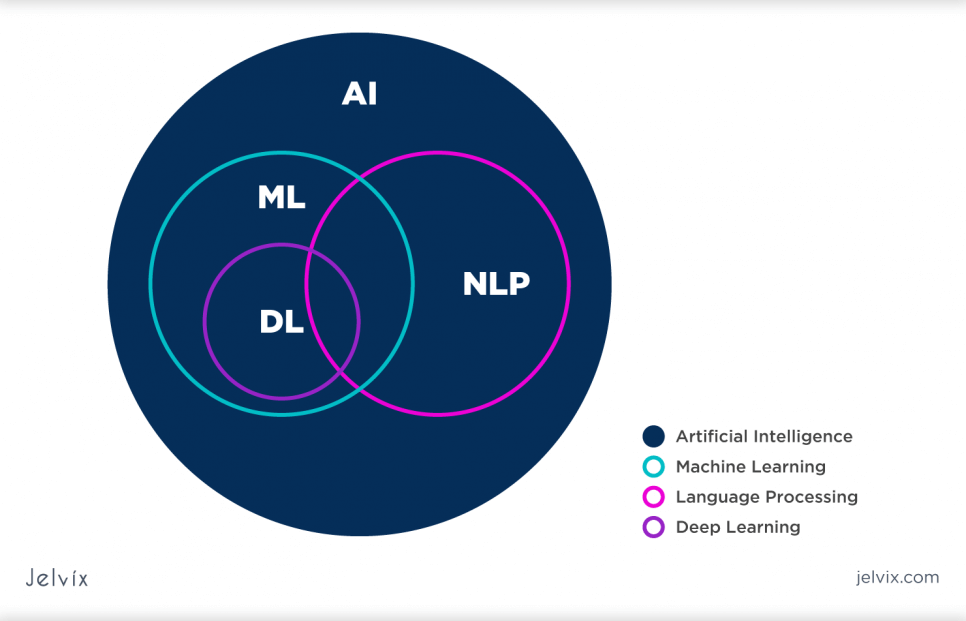 How Does
AI in a Chatbot for Healthcare
Work?
AI is not an API or a software solution you can integrate to get information quickly and automate the helpdesk. AI is a concept that runs on a combination of two core technologies: Natural Language Processing and Machine Learning.
Regarding AI in chatbots, two technologies work together to automate tasks that otherwise require some human intervention, for example, understanding a request written by a client in a live chat window and responding to it based on information obtained from the knowledge base. With the help of AI in your chatbot, you are automating exactly this sequence and many others.
Through deep machine learning, chatbots can access stale or new patient data and parse every bit of the complex information they provide. But the algorithms of chatbots and the application of their capabilities must be extremely precise, as clinical decisions will be made based on their suggestions or risk assessments.
Chatbots' Unique Benefits for Healthcare
Here are some considerable advantages of using chatbots in your healthcare business:
Availability 24/7
Chatbots are not people; they do not need rest to identify patient intent and handle basic inquiries without any delays, should they occur. And while the technology will require an initial investment, it will pay off in process efficiency and reduced human workload.
Reduce no-shows
Part of the responsibility for the ineffectiveness of medical care lies with patients. Some estimates show 23-34% of patients do not attend appointments. According to Forbes, one missed visit can cost a medical practice an average of $200. Digital assistants can send patients reminders and reduce the chance of a patient not showing up at the scheduled time.
Quick access to important information
Health chatbots can quickly offer this information to patients, including information about nearby medical facilities, hours of operation, and nearby pharmacies where prescription drugs can be filled. They can also be programmed to answer questions about a particular condition, such as a health problem or a medical procedure.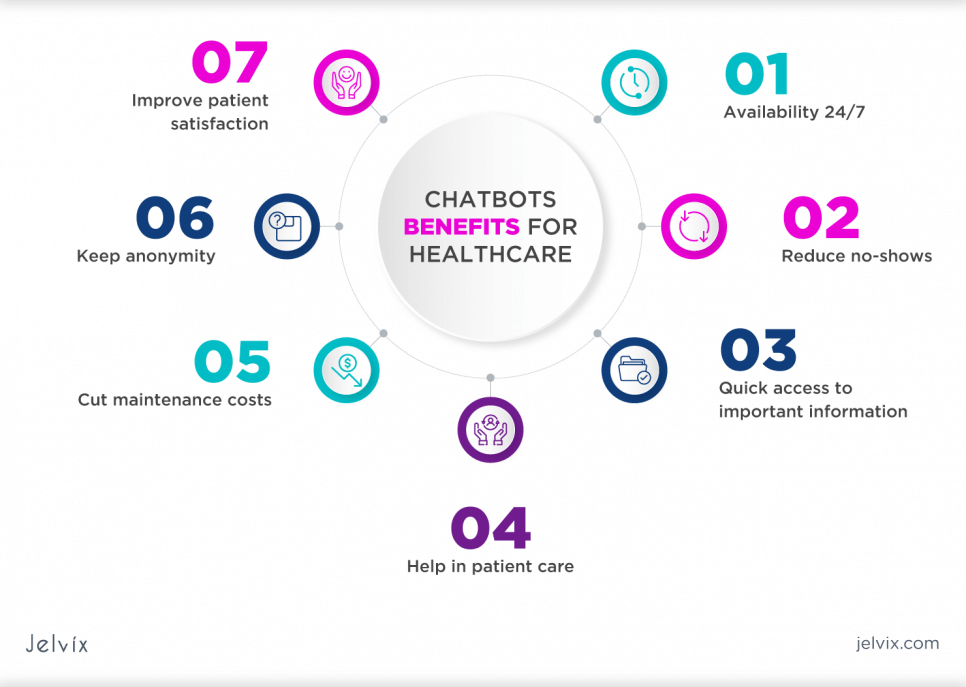 Help in patient care
From helping a patient manage a chronic illness to helping visually or deaf and hard-of-hearing patients access important information, chatbots are an option for effective and personalized patient care. Chatbot, integrated into a mobile application, can transmit user medical data (height/weight, etc.) measured (pressure, pulse tests, etc.) through Apple watch and other devices. These solutions can also be programmed to identify whether a situation is an emergency.
Cut maintenance costs
To prevent staff time answering a series of basic questions, having a question-answer bot take care of this can be helpful. A chatbot may resolve up to 80% of routine queries, sometimes even more effectively than a human assistant. Lauren Foye, a Juniper Research analyst, estimates that medical bots can save providers around 4 minutes per request, which equates to cost savings of about $0.5-0.7 per interaction.
Keep anonymity
While many patients appreciate the help of a human assistant, many others prefer to hold their information private. Chatbots are non-human and non-judgmental, allowing patients to feel more comfortable sharing sensitive medical details. Besides, they collect and manage patients' records in a GDPR-compliant way.
Improve patient satisfaction
A big challenge for medical professionals and patients is providing and getting "humanized" care from a chatbot. Fortunately, with the development of AI, medical chatbots are quickly becoming more advanced, with an impressive ability to understand the needs of patients, offering them the information and help they seek.
Healthcare Chatbots Use Cases
There are countless cases where a digital personal assistant or chatbot can help doctors, patients, or their families. Better organization of patient routes, drug management, emergency or first aid, and offering simpler solutions to medical problems are all possible situations in which chatbots can intervene and ease the burden on medical professionals.
Here are a few chatbot healthcare use cases that power the industry:
1. Appointments scheduling
For most healthcare providers, scheduling questions account for the lion's share of incoming patient inquiries. In this case, introducing a chatbot saves patients from filling out dozens of forms and simplifies the entire booking process. Chatbots can reply to scheduling questions and send meeting and referral reminders (usually via text message or SMS) to help limit no-shows.
2. Symptoms checking
The AI-enabled chatbot can analyze patients' symptoms according to certain parameters and provide information about possible conditions, diagnoses, and medications. Sometimes a chatbot can even catch what a human doctor misses, especially when looking for patterns in many cases.
3. Providing relevant information and support
An advanced virtual assistant can be the backbone of a healthcare website. Visitors can start a conversation with a specialist through the chatbot, calculate potential treatment costs, read the latest research, get special offers, and so on.
4. Coverage and claims
Whether patients want to check their existing coverage, apply, or track the status of an application, the chatbot provides an easy way to find the information they need. Physicians will also easily access patient information and inquiries and conveniently pre-authorized bill payments and other questions from patients or health authorities.
5. Enhancing the patient experience
Chatbots provide a private, secure and convenient environment to ask questions and get help without fear or judgment. Chatbot technology can also facilitate surveys and other user feedback mechanisms to record and track opinions.
6. Helping with therapy
AI conversational chatbots can also utilize more complex tasks, such as changing treatment plans based on a patient's health status, such as adding a new medication if a patient is found to be allergic to a medication prescribed by a provider.
7. Assisting with remote patient monitoring
Some patients need constant monitoring after treatment, and intelligent bots can be useful here too. Patients or their caregivers can enter information about their daily activities and health status into a database through chatbots, which the respective physicians can view to investigate the condition and take appropriate action. It helps the doctor to monitor the patient remotely.
Top Health Chatbots That Make Patients' Life Better
Over the past two years, investors have poured more than $800 million into various companies developing chatbots and other AI-enabled platforms for health diagnostics and care, per Crunchbase data.

As the number of health chatbots has skyrocketed, we've chosen to highlight some of the most exciting ones that are enabling interactive and smart healthcare in the upcoming year:
Buoy Health
Buoy Health offers an AI-powered health chatbot that supports self-diagnosis and connects patients to the right treatment endpoints at the right time based on self-reported symptoms. The company said more than 1 million Americans had used this platform to assess symptoms and seek help during the COVID-19 pandemic.
HEALTHILY
This free AI-enabled medical chatbot offers patients the most likely diagnoses based on evidence. The bot also provides useful health advice and information about medicines, service providers, and doctors and is compatible with all popular platforms.
Sensely
Sensely's Molly is another example of a healthcare chatbot that acts as a personal assistant. Its algorithm has a function that recognizes spoken words and responds appropriately to them. Sensely processes the data and information when patients report their symptoms, analyzes their condition, and proposes a diagnosis.
GYANT
Another symptom checker chatbot is called Gyant, and users can find it on Facebook Messenger and Alexa from Amazon. When a patient answers a chatbot question about their symptoms, the chatbot delivers the information to a licensed physician who can promptly diagnose the patient and begin therapy. Additionally, the program generates suggestions based on precise, verified medical data.
Youper
The AI-based health chatbot from Youper focuses on enhancing mental wellness. Youper monitors patients' mental states as they chat about their emotional well-being and swiftly starts psychological techniques-based, tailored talks to improve patients' health.
How to implement a healthcare chatbot
Choosing a chatbot type depends on the organization's size, budget, existing IT infrastructure, and specific needs. You can deploy a simple rules-based chatbot on your website in weeks or spend months deploying an AI-based solution that fully integrates with your infrastructure. However, some points are mandatory anyway:
Assess your needs and decide on use cases
Do you need to serve patients faster, automate appointment scheduling, or offer additional services? Identify your company's bottlenecks and articulate what you want to achieve by a chatbot implementation to your system. For example:
Use case: the problem you are planning to solve

Chatbot functionality: the features you are trying to incorporate
The goals you set now will establish the very essence of your new product and the technology on which your artificial intelligence healthcare chatbot system or project will be based.
Check your integrations
Aside from connecting to patient management systems, the chatbot requires access to a database of responses, which it can pull and provide to patients. Chatbots Journal names it "fuel" for chatbots. Companies limit their potential if they invest in an AI chatbot capable of drawing data from only a few apps.
Maintain HIPAA Compliance
Compliance is a constant concern for healthcare organizations. Therefore, it is essential to ensure that the chatbot solution protects sensitive consumer data, encrypts messages, and securely transmits identifiable patient information to other secure systems (e.g., electronic health record software).
Find the right vendor
Finally, choose the company to entrust the healthcare chatbot project. Bot-building companies are typically software development vendors that employ AI technology to help businesses deploy their own chatbots across a platform.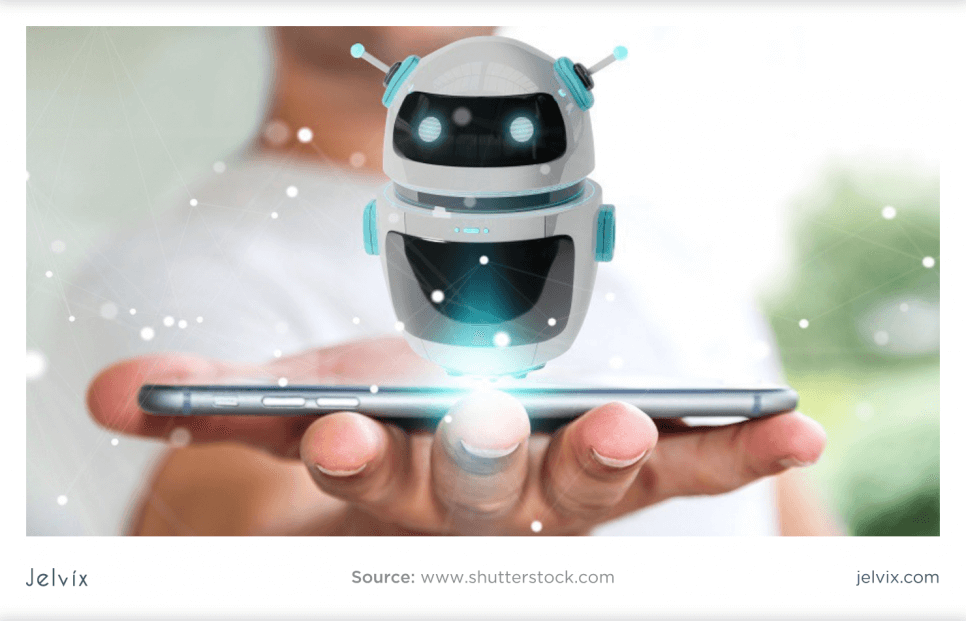 Our experience in healthcare software development
At Jelvix, we have engaged in numerous healthcare development projects, which have provided us with opportunities to learn and gain experience in the field. Some of our recent solutions include:
mHealth App
Our team has developed an easy-to-use application with a wide range of functions, a web-based administrative panel, and a health and wellness application for Android and iOS platforms. That app allows users undergoing prostate cancer treatment to track and optimize their physical and mental health by storing and managing their medical records in the so-called health passport.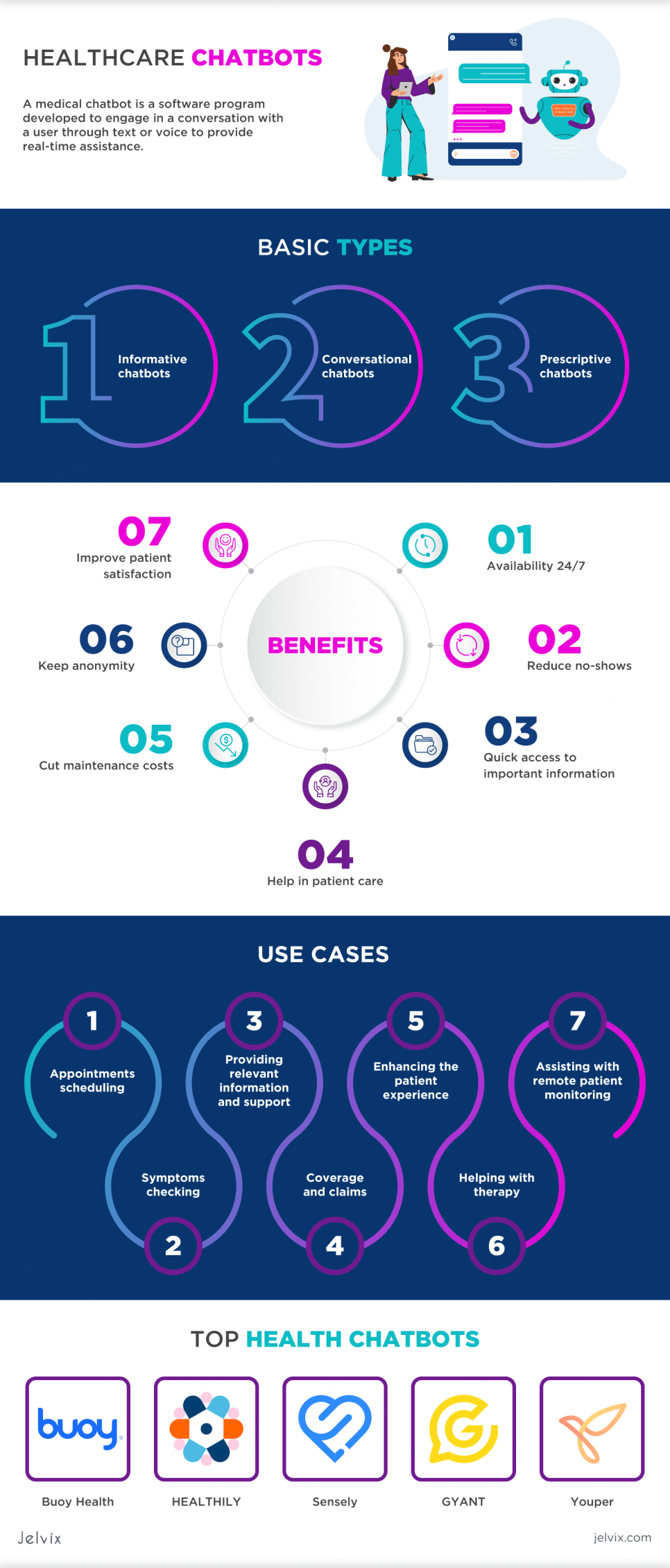 Home Physical Therapy Exercise App
Jelvix's HIPAA-compliant platform is changing how physical therapists interact with their patients. Our mobile application allows patients to receive videos, messages, and push reminders directly to their phones. The platform's web version will enable them to shoot videos/photos using a webcam. Thus, responsible doctors monitor the patient's health status online and give feedback on the correct exercise.
Telehealth Solution with a Remote Patient Monitoring Module
The Jelvix team has built mobile and web applications for remote patient monitoring. It simplifies the process and speed of diagnosis, as patients no longer need to visit the clinic and communicate with doctors on every request. They only must install the necessary sensors and an application to perform the required tasks. As a result, the clinic staff can quickly access patients' vital signs and health status.
Conclusion
Undoubtedly the future of chatbot technology in healthcare looks optimistic. Of course, no algorithm can match the experience of a physician working in the field or the level of service that a trained nurse can offer. Still, chatbot solutions for the healthcare sector can enable productivity, save time, and increase profits where it matters most. Algorithms are continuously learning, and more data is being created daily in the repositories. It might be wise for businesses to take advantage of such an automation opportunity.
We have been an innovation partner for many medical services companies. Whether it's customized telemedicine software, custom healthcare solutions, or HIPAA-compliant chatbots, Jelvix developers have the best experience to help you with everything technology related! Talk with our experts on how to make the most of chatbot solutions in healthcare.