Today, an enterprise learning management system (LMS) is an advanced solution that can maximize and streamline the learning within the company or for its benefits beyond it. Getting a powerful learning environment can improve the quality of the training process, thus resulting in better performance and productivity.
Learning management solutions now can not only foster the growth of the organization but also help companies stand out among their competitors. Needless to say, the growing demand for enterprise LMS remains one of the key drivers for the global eLearning industry, which is projected to reach $457.8 billion by 2026, according to the 2022 market recap by ReportLinker. But why is LMS a must-have solution for multiple companies today?
This article will introduce the specifics of enterprise learning management solutions, explaining the core benefits and deployment perspectives of these systems across different industries. As a part of the discussion, business owners will be able to determine what makes the enterprise learning management (ELM) system great and whether or not they should adopt one into their business in particular.

eLearning Management Systems for Organizations: Market Overview
Developed as a part of the informal education system, eLearning solutions have evolved far beyond the target industry due to the pandemic. At present, LMS and eLearning software has become the mainstream in learning delivery across multiple industries, with the perspective to reach $1 trillion by 2028, according to Global Market Insights 2022 research.
It might seem surprising at first, but one of the most promising areas of eLearning and LMS development is the business industry. According to FinancesOnline, LMS can significantly contribute to enterprise development and growth. Moreover, a recent review has uncovered that over 72% of organizations use LMS innovations to gain a competitive advantage, and up to 10% already report improvements and positive changes in profit and productivity.
Basically, the accessibility, high ROI, and instant customization of learning management systems have only increased their value for enterprise optimization and workplace training. Now it's time to discover the basics of LMS solutions to get a deeper understanding of the advantages this technology can provide for a business once implemented.
Enterprise Learning Management System Explained
An enterprise learning management system (also known as "enterprise LMS" and "ELM system") refers to the software designed for the administration and delivery of various types of corporate training to employees. Traditionally, enterprise LMS is used for building proficient knowledge and specific skills, maintaining certifications, and complying with government and state regulations.
Additionally, LMS for enterprise is used for training activities outside the company, where the non-staff workers (partners, sales representatives, customers, etc.) obtain essential knowledge about the specific business products or services.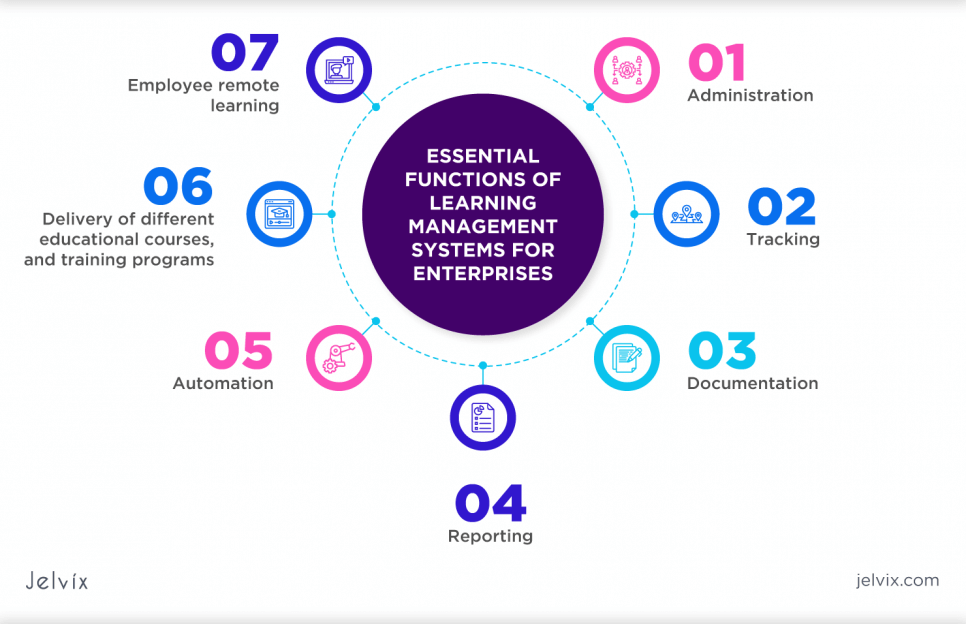 The essential functions of learning management systems for enterprises are:
Administration

Tracking

Documentation

Reporting

Automation

Delivery of different educational courses and training programs

Employee remote learning
Therefore, ELM systems help corporations to maximize the benefits of a modern training program. It employs the combined learning approach (informal, formal, and blended learning techniques), which is basically a winning solution for business owners, trainers, and employees.
Main Benefits of Using
Enterprise Learning Platforms
As mentioned before, 5 out of 7 companies implement LMS enterprise solutions to gain a competitive advantage within their target industry. However, that's not the only advantage the learning management systems can provide once embedded. Here is the list of the absolute merits of ELM environments: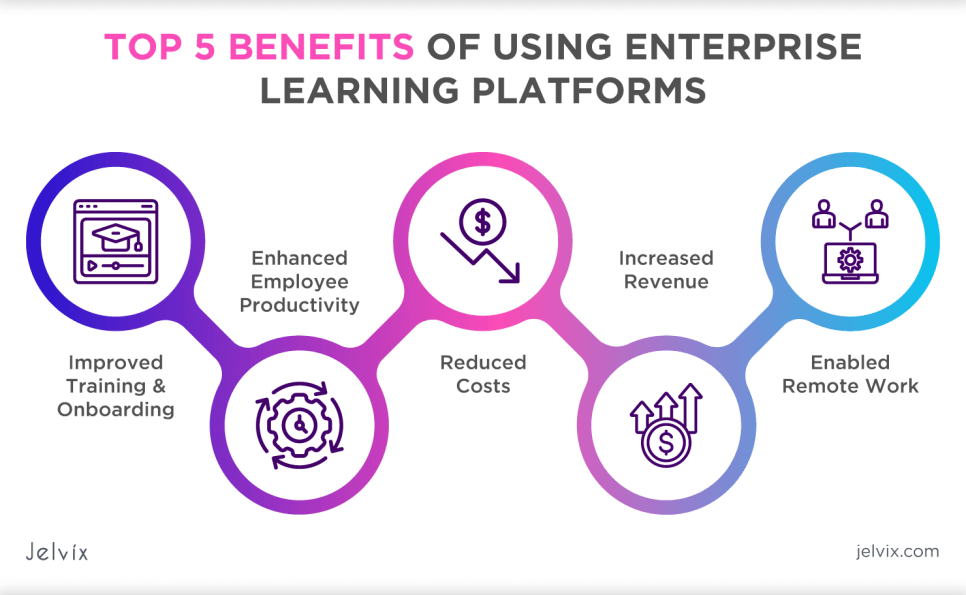 Improved Training & Onboarding
One of the most undeniable LMS advantages is the ability to streamline and optimize employee training. According to a Brandon-Hall Study, the eLearning system requires 40% to 60% less employee time and the company's resources. This is mainly related to the ability to be performed asynchronously and on-demand without interrupting the other internal processes.
Enhanced Employee Productivity
The next advantage that makes the LMS solution so lucrative for enterprises is the ability to improve team productivity. Newcomers can access the information they need without interrupting their co-workers, which only increases workflow efficiency. As a result, that benefits the overall business performance due to the lower interruption triggers.
Basically, this made internal training and development programs a must for large corporations and continually appeared in the small and mid-sized business segments.
An excellent example of this practice is IBM: the company currently spends over $574 million on its internal training and development program. What is more, every dollar invested in online training results in $30 in productivity, mainly because employees are able to resume their work faster and apply their skills immediately.
Reduced Costs
Cost-efficiency is probably one of the most powerful reasons why companies decide to implement ready-made or launch custom LMS systems for their businesses. Typically, the in-person training becomes extremely pricey because of the expenses for the professional trainers and learning resources. What is more, these are not one-time payments.
On the contrary, LMS for enterprises enables employees and partners to complete the learning whenever they want to and wherever they are. As for the companies, this significantly reduces the training costs without sacrificing the training quality.
Increased Revenue
However, the learning management systems are not solely applied for internal training. By offering effective training to your partners, companies can increase the awareness of the items, processes, benefits, and unique selling aspects of the product offerings.
In turn, partners are able to apply this knowledge to drive more leads and sales to your company. And again, it doesn't require regular investments into the training!
Enabled Remote Work
In the post-pandemic times, more and more employees prefer hybrid or completely remote work, which has become a serious challenge for enterprises across many industries. Apparently, it's much harder to train employees not on site and ensure they've covered all the materials and skills needed to do their job great.
However, eLearning approaches such as enterprise learning platforms have become an excellent solution for companies and perfect assistance to their employees. IBM research has found that participants who used an eLearning program have learned nearly 5 times more material within a shorter amount of time or any add-on employee resources involved.
How to Choose the Best LMS for Your Enterprise
To get a better understanding of which learning management system fits your business best, it's essential to analyze what features you should look for. Listed below are some of the most critical aspects that make enterprise LMS effective and profitable.
Intuitive UI Design.

Convenient user experience is one of the basic features of any ready-made or custom LMS, as it directly impacts employee engagement and motivation. That is why it's essential to opt for a simple and intuitive learning environment that offers an effortless training experience to various departments within an enterprise or its global chain.

Certification Features.

For the

extended enterprise LMS

solutions, certification or credentialed training support is what can showcase the learner's achievements and allow them to provide their proficiency. Other merits of certification features include improved employee motivation, performance tracking, knowledge assessment, as well as providing goal-oriented training to the participants.

Device-Friendly & Cross-Platform. Similar to the UI, companies should also mind the accessibility of their learning management systems for trainees. Typically, it implies creating a cross-platform solution that can be accessed via multiple devices. This feature allows employees to perform their training anytime and from nearly anywhere, making the training process extremely productive.
Advanced Reporting & Analytics.

This feature enables companies to always keep on track of the training performance and evaluate its efficiency. At present, many

extended enterprise LMS

platforms offer metrics that can evaluate nearly any aspect of your online training course, from the assessment scores to what courses are most popular and efficient and drive more sales.

Customization & Personalization.

This option is equally important for both enterprises and their employees. While first, ones can easily

modify the interface

and branding and update the courses and materials, learners can gain more educational opportunities that cater to their needs.

Secure & Compliant.

Today,

enterprise security

is more important than ever before. That is why companies should opt for solutions that provide multi-factor authentication and data backups and ensure permission-based access to prevent third-party interference. Additionally, the LMS has to be compliant with the data corresponding security regulations (GDPR, HIPAA, SOX, etc).
Without any doubt, finding a perfect enterprise LMS that ideally fits all the business needs is not easy and requires deep research of what's offered on the software market today. However, it's also possible to launch a custom EML system that fully corresponds to all the requirements and delivers the maximum value to your business.
When Is It Worth Creating a Custom
Enterprise LMS
?
Launching a personalized learning management system requires considerable investments, so most enterprises question its efficiency. Here are the compelling reasons why companies should consider creating the custom LMS for their business today:
To nurture a sense of integrity and credibility via the branded, user-focused training system.

To implement advanced learning scenarios for multiple departments and different user segments, including employees, customers, and partners.

To provide different learning styles within a single interface (blended training for workers, micro training for partners).

To comply with the corresponding regulations.

To provide first-class security, which is not always offered by the ready-made platforms.
If any of these reasons are relevant to your enterprise, then it's the right time to invest in the creation of a custom tool that is secure, functional, and fully corresponds to your expectations and requirements.
Finally, the average payback period for the enterprise LMS solutions is up to a year once implemented. It's also worth mentioning that the training platform is reported to provide 120% to 430% ROI, which is another compelling advantage that makes LMS so popular among various companies nowadays.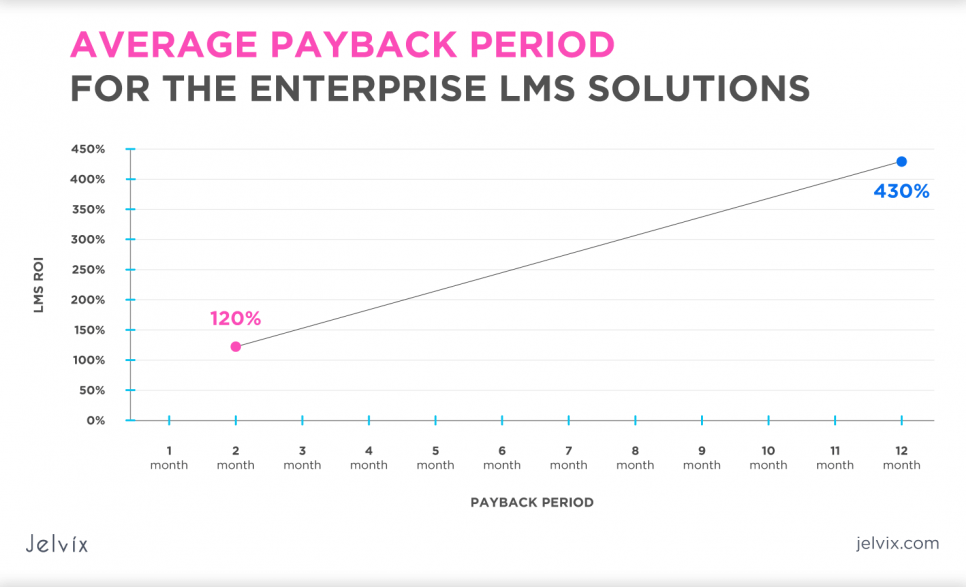 Core Challenges of LMS Software for Enterprises
Along with the benefits of enterprise learning management systems and their features, business owners should also be aware of the major challenges within the target scope. This will give an overall idea of what to expect from the ready-made LMS solutions offered on the software market, as well as the understanding of the specifics of creating a custom learning management system for the enterprise.
Below we've analyzed the major challenges of LMS with a focus on off-the-shelf products and custom software development solutions.
High Investments
Considering that an LMS is a big investment for a company, this might be one of the core reasons why business owners neglect it. Nevertheless, it's still worth the costs: according to the results of the Total Economic Impact of Degreed 2022 study, the payback for the product can be gained in up to six months, with plenty of advantages and cost-savings received in addition.
What is more, it's not obligatory to immediately hire developers for designing an LMS for your small or mid-sized business: the software market offers a plethora of ready-made solutions to start with. In the beginning, this can both save some costs and provide a better understanding of what features you really need to maximize the training process within your enterprise.
Lack of Customization & Add-on Features
Another challenge that companies face when embedding the first LMS is the lack of customized features. In fact, customization is one of the core aspects that maximize the efficiency of enterprise learning platforms, as it allows one to easily embed various learning materials, assessments, and resources within a single platform.
Nevertheless, this challenge has been tackled with custom LMS development. Enterprises outline the functionality and goals of the learning management system they need and entrust the development hassle to dedicated IT specialists. As a result, they receive a single, functional, and fully adjustable LMS designed to meet all the needs of a certain entity.
What is more, customizing the enterprise training management system is more efficient compared to the ready-made options, as companies can centrally control the system and reduce the costs of delivery and management.
Longer Learning Curve & Difficulties in Use
The tricky thing about learning management systems (and tech tools in general) is that not every system has a different interpretation of user-friendliness, which doesn't always match with the trainees' capabilities. No matter if you're training new hires or dedicated employees, ensuring the target LMS has the most effective learning curve is a must to see the desired results.
That is why LMS for enterprises requires a significant degree of flexibility and simplicity in use so as not to lose the attention of the most motivated users, according to research by the University of Foggia. While with most ready-made enterprise learning platforms you'll need to test different systems to pick up the most convenient one, developing a custom LMS for enterprise enables creating a functional tool that is fully adjusted to learners and training goals.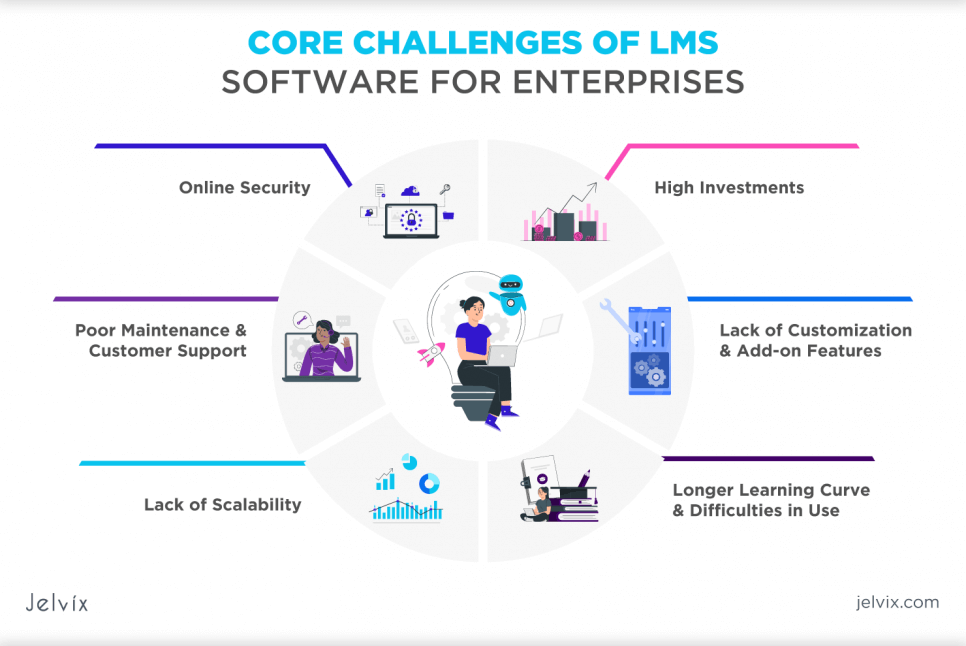 Lack of Scalability
Scalability is an essential aspect that tends to be overlooked by most enterprises at the start of LMS implementation. Companies used to opt for affordable solutions, which now might be losing efficiency in terms of growing business scale.
No matter what the size of a business and its target scope, getting an extended enterprise LMS can become an excellent contribution to the company's competitiveness, efficiency, and profitability. Depending on the learning goals, companies should look for long-term learning management solutions that can handle more data, enable multiple organizational units and comply with complex needs.
Poor Maintenance & Customer Support
Similar to any other software solutions, enterprise learning management systems also require continuous improvements. This helps companies to always maintain the efficiency of the training process and fully comply with the current goals. Typically, once enterprises launch a bunch of learning courses to the LMS, those are never updated. The reasons can include expired support agreements, lack of expertise in LMS management, and more.
Regardless of whether it's a ready-made LMS or a custom system created specifically for a certain enterprise, keeping the materials up-to-date is one of the key aspects that make employee training really efficient and productive.
Online Security
LMS for enterprises tangent to a variety of internal workflows including HR, customer orientation, partnership programs, and many more. For this reason, these systems should be highly secured to prevent monetary and reputational damages to the company and its employees.
It's worth mentioning that according to the recent report by Internet Crime Complaint Center (IC3), the annual loss caused by reported cyber crime amounted to $6.9 billion, up from $1 billion in 2015.
Therefore, apart from keeping the LMS environment up-to-date, it's also essential to work on its security to successfully withstand the potential threats today and in the future. Some great tips that can benefit here include:
Optimizing the security settings of the

enterprise LMS

(or get the system updated regularly – for the ready-made solutions)

Set strong passwords and multi-factor authentication

Conduct regular backups and keep sensitive data encrypted
These are only a few of the multiple ways to efficiently minimize LMS vulnerabilities and improve the security of the entire enterprise.
Conclusion
Embedding a functional and productive enterprise learning platform is an extremely challenging but important process that can either make or break the performance of your company's training strategy. However, having a platform that maintains the high-end internal workflow can greatly stimulate enterprise development and growth.
If you're still in search of the best corporate LMS product that covers all the required features and qualities and can be a good option for the long-term perspective, consider launching a custom LMS for your enterprise.
With years of experience in software development, Jelvix has helped hundreds of companies to excel in creating and embedding custom IT solutions that ideally match the client's goals and requirements. Regardless of the project, you need to launch, our team of dedicated developers is always here to help.
Contact us today to discover how to successfully embed a custom LMS and what opportunities it can provide for your business.
People Also Ask
Is there any difference between
enterprise LMS
and ELM?
Currently, the enterprise learning management system has two different acronyms for its designation: LMS and ELM. While ELM (enterprise learning management) is specifically targeted at the learning environments created for enterprises, LMS (learning management system) has a wider meaning that defines any software used for a specific learning process.
What is the difference between TMS, CMS, and LMS?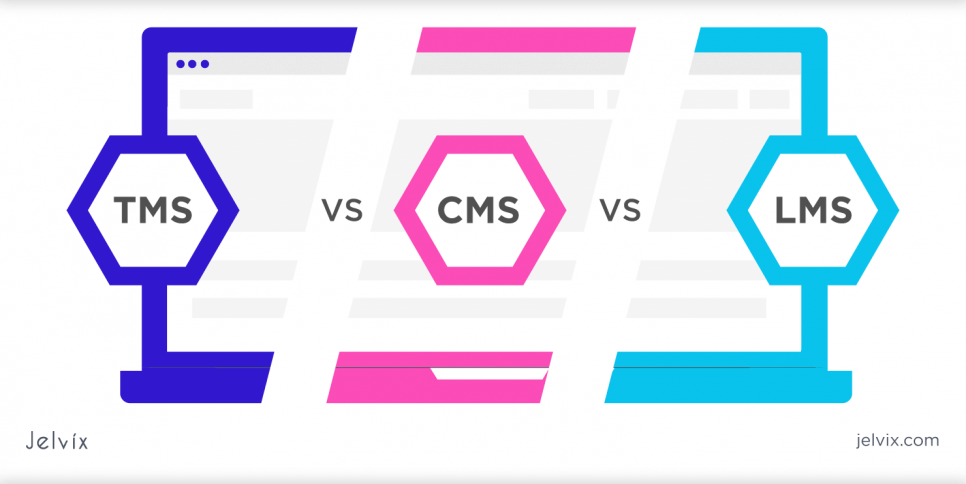 While each of the systems is used for delivering and tracking the user's training and learning, the evidence of these solutions' culture, competence and capability is completely different.
A training management system (TMS) is mainly focused on the delivery and recording of the user's training performance. The system can be designed for external, internal, and/or on-the-job use.
A learning management system (LMS) is used to deploy eLearning content and record the results on completion. As a rule, the completion is defined by a knowledge assessment through tests, questionnaires, etc.
A competency management system (CMS) is aimed at all the aspects of learning and development to continually improve the employee's expertise through their career lifecycle.
Need a qualified team of developers?
Unlock new business opportunities with the first-rate dedicated development team.
Get in touch
Get in touch