In an increasingly complex world, the need for flexibility continues to stimulate demand for effective supplier management. This helps save time and money and further reduces the outflow rate. Today, progressive organizations are adopting effective programs to take appropriate measures to control costs and minimize potential risks to improve service delivery and value in the long run.
Businesses need to invest in technology solutions, such as vendor management systems to make their processes better. Although there is no one-size-fits-all approach, there is always space for custom software and solutions to manage suppliers and contracts.
This article is for you if you want to understand the concept first and then be willing to invest and master your vendor and vendor initiatives.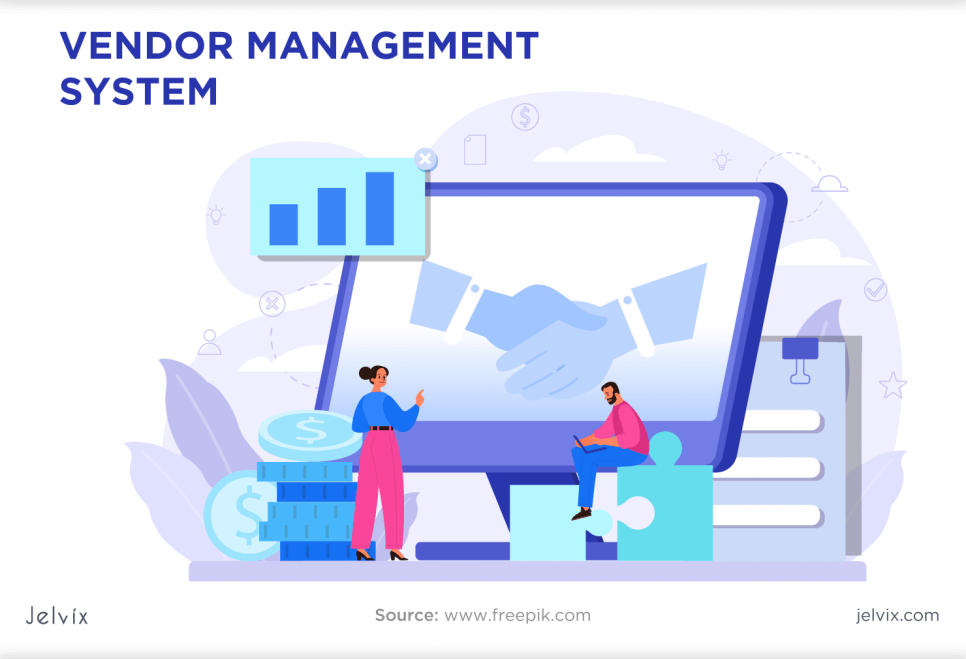 What is a Vendor Management System?
VMS is a web-based software program that allows you to manage the entire hiring process of your company with one easy-to-use solution.
As a mechanism for your business to manage and attract unforeseen employees through recruitment agencies, VMS automates and optimizes every step of finding, acquiring, managing, and paying temporary workers.
VMS will allow your company to collect applications from managers, facilitate staff adaptation, automate transactions, store and collect data at every stage of your hiring process, and manage indicators such as cost tracking, candidate information, salary data, and bills.
The company typically uses vendor management system directly to manage its independent human resources or MSP on behalf of the customer to optimize its temporary workforce better.
Key Features
Wondering which system is best for your organization? Based on your industry requirements, you should try to create an individual solution. However, the following list highlights the main features you should consider when developing a reliable VMS: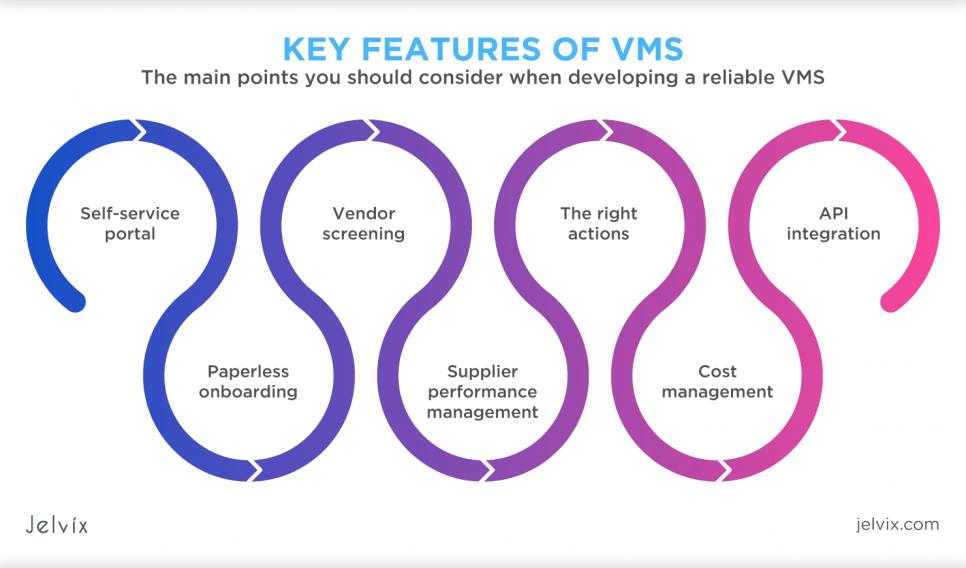 This feature lets suppliers and customers manage their profiles, update order details, and track payments through a convenient collaboration platform.
With paperless VMS adaptation, purchasing managers can instantly retrieve information from your existing or third-party databases and eliminate the grim reality of document registration. Moreover, specially designed processes ensure that all suppliers' adaptation experience remains consistent.
Get and verify vendor information and certificates at the touch of a button. You can enter the vendor's DUNS number and obtain such information as business reports, financial data, credit risk reports, etc., which can help verify the value and integrity of the vendor.
Supplier performance management
Visual reports provide a comprehensive picture of the effectiveness of suppliers, including downtime, regulatory compliance, and more. Companies can use visual reports to get valuable information, identify buying risks and opportunities and make better deals.
VMS and its built-in dashboards make it easy to track vendor performance metrics and initiate a vendor corrective action plan (SCAR) when performance falls below an acceptable level. In such cases, companies also have the opportunity to go beyond the supplier and close existing contracts.
With cost management built into vendor management software, organizations can capture all categories of costs and manage them through rule-based and automated notification workflows. These workflows will ensure that budget constraints are met, eliminating any risk of special prices or dark purchases.
If you use multiple purchasing solutions, you will probably want to integrate them into your vendor management system. With API integration, you can increase the speed of your procurement process, productivity, and productivity from bids to payments by integrating with ERP, accounting systems, and third-party databases.
Types of VMS
The economic investment allows you to manage the operations of suppliers smoothly. Here are some of the features of vendor management solutions that organizations consider while managing and controlling third-party communications.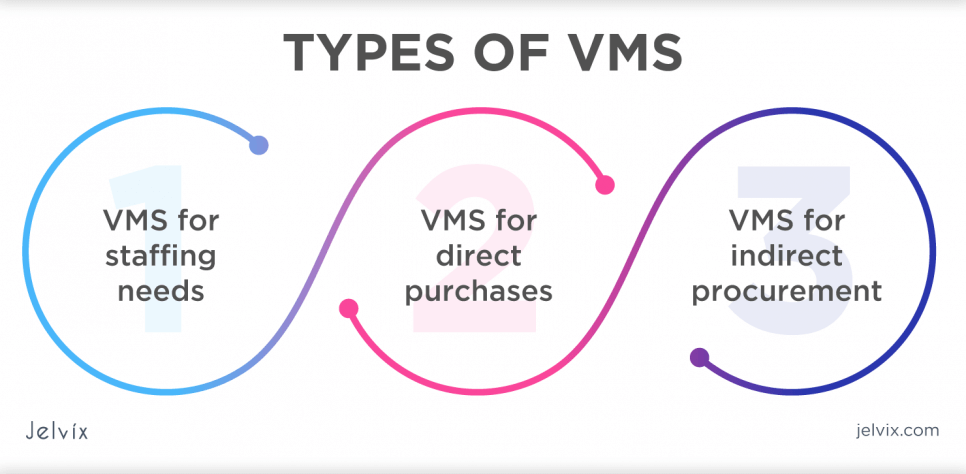 Helps to create a human resource reserve to manage staff and service providers. When a vacancy is opened in the VMS, relevant candidates from the personnel reserve are immediately notified and can apply, making the recruitment process fast.
Helps to create a database of suppliers of raw materials and ingredients and make inquiries for purchases online. Less reliance on personal communication with suppliers and e-mails helps not to be late with the supply of raw materials or components and ensures a smooth production process.
VMS for indirect procurement
It helps to create a single base of all suppliers of goods and services needed to support the life of your organization. In this case, the system aims to support internal processes and contributes to staff satisfaction, comfortable working conditions, timely maintenance of facilities, and more.
Useful integrations for different vendor management systems
Other business systems can be involved because the processes assisted by the supplier management system belong to different business areas (human resources, production, office administration). The most critical system integrations are for VMS, but your specific situation may require a different integration map.
1. VMS + accounting software
Deliver invoices directly to the responsible team, thus eliminating delays usually caused by manual transfers.

Pay contractors.
2. VMS + ERP
Rely on capacity plans to purchase raw materials, avoiding shortages and surpluses.

Ensure the visibility of purchase order statuses for staff without access to the VMS (for example, a procurement planning team).
3. VMS + Intranet
Collect applications for stationery from staff and organize them into application lists.
4. VMS + personnel management software
Provide information on current talent gaps and vacancies required for a limited period.
Benefits of Implementing
VMS Tools
Choosing the right VMS for your business simplifies every step of your temporary workforce, from finding and purchasing to managing and paying employees on demand. Here are some of the advantages that your company will get from VMS implementation.
Conditional personnel management programs are complicated. What does it lead to? Most companies are left with fragmented processes that lead to the absence of unified hiring or management strategy.
However, with the help of all temporary workers through VMS, all stages of the hiring process go through a transparent route used by HR and procurement professionals in your organization to ensure a unified approach for the entire company. This gives your business a complete vision of staffing and costs.
Your HR and procurement departments have a wide range of data, indicators, and documents to look out for when hiring and managing temporary staff. These time-consuming tasks waste precious time for your company and lead to mistakes that could otherwise be avoided.
Fortunately, the vendor management system allows you to automate the whole process. Whether you are requesting a set of documents to work with an employee, reviewing schedules and costs, or analyzing the work of suppliers, your internal team will have all this data at hand in one easy-to-use solution.
Staffing goals are constantly changing, mainly if your company operates in an industry that is experiencing seasonal or peak demand. That's why your organization needs to create a talent pool that can be used when required.
VMS can help you with this. By keeping track of the highly talented contingents you have worked with before and staff providers, your company will be able to identify quality candidates quickly and reduce recruitment time.
The lack of visibility and control over their staff management programs means that most companies overpay for their on-demand talent. This negatively affects margins and profits.
VMS offers your company the reporting and analytics tools you need to determine where you can overpay or underpay your temporary staff. You will be able to see if your company pays more or less the market rate for temporary workers and allowances to staff suppliers.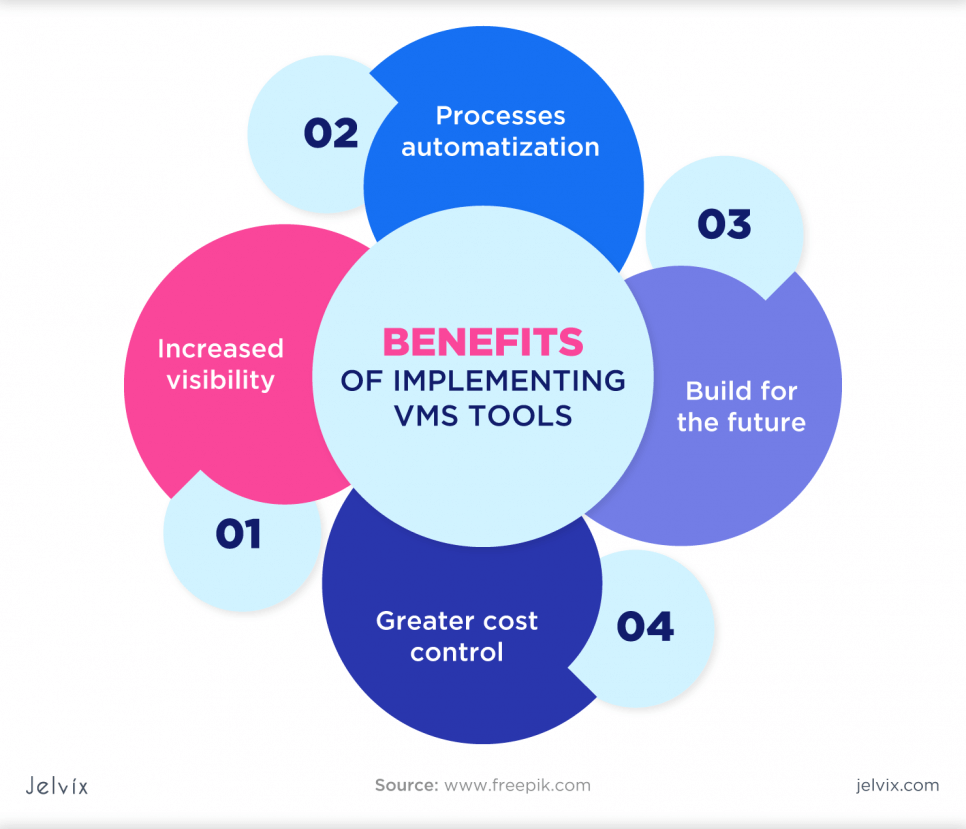 Vendor Management Software
Examples
However, many companies today use vendor management systems to make these processes more efficient and accurate. But which solution is best for your business? After all, there are plenty to choose from.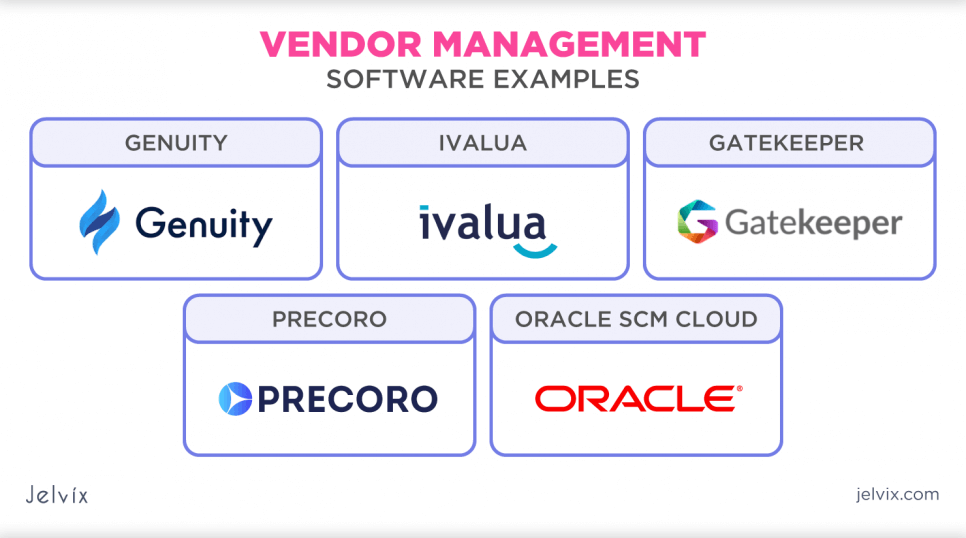 This is where we work. Examples of VMS companies include the following.
This VMS platform includes many IT features, such as managing telecommunications costs and automating requests to support.
It also provides most of the capabilities one would expect from supplier management, such as contract management, cost tracking, and asset visibility. One of the big advantages is that Genuity integrates many platforms, including Quickbooks, AWS, Salesforce, and G Suite. Genuity's low, transparent price is mainly due to the limited set of features compared to other solutions on this list.
Ivalua is the ideal VMS system for medium and large businesses that want to manage budgets, contracts, and accounts. With its strategic sourcing, pay-as-you-go, and direct cost management, Ivalua includes many of the classic features you'd expect from the vendor management software.
The main advantage of Ivalua is its adaptability, with many ways to customize the functions according to the business's specific needs. It is also elementary to use and pleasing to the eye.
Gatekeeper is the ideal solution for large companies. Gatekeeper is a vendor management system where each plan has unlimited storage and a total number of users – a huge benefit if you're thinking about how much you want to spend on a solution.
The critical advantage of Gatekeeper is that it is a cloud system that is very easy to train for teams, both large and small. This means that its vendor management functions are easy to learn and get the most out of.
Another supplier management system with customizable features, the Precoro online portal, allows you to manage contracts, store all relevant vendor information, and track performance. With this software solution, it is easy to drive purchases.
Users benefit from Precoro through its simple, easy-to-use interface and helpful customer service. This means that suppliers can easily familiarize themselves with the VMS technology through smooth adaptation. It also integrates with various platforms, including Quickbooks Online and Xero.
Best suited for small and medium businesses, Oracle SCM Cloud is one of the oldest vendor management systems on this list, and there are many good reasons why it has been running for so long.
With a wide range of applications for procurement processing, order management, product lifecycle management, inventory, and more, this software solution can do almost nothing in terms of supplier management.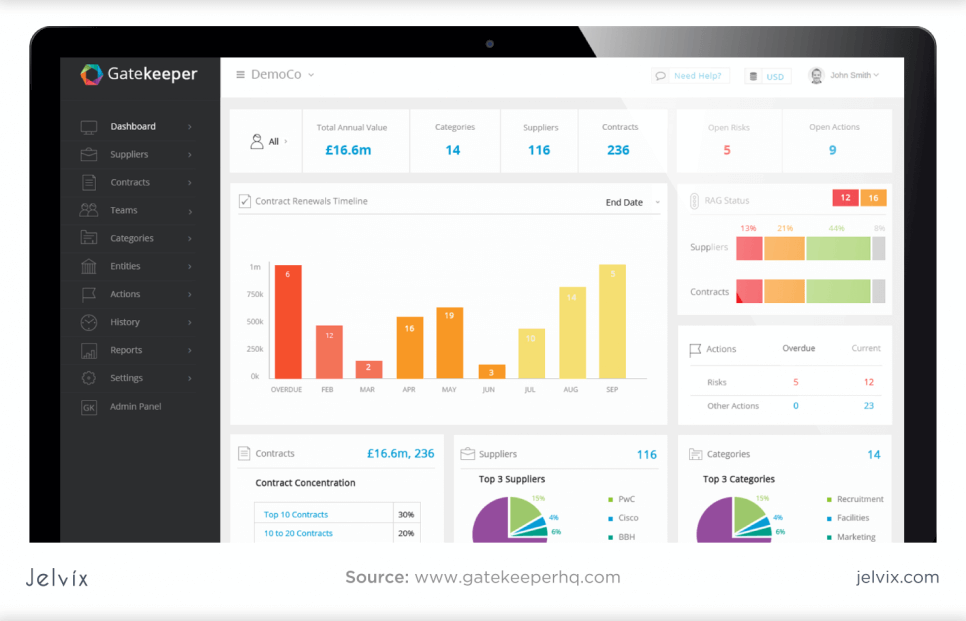 Vendor Management Process
While it is not possible to have one specific supplier management process that covers all businesses and suppliers, we can combine the basic steps that underlie an organization's interaction with its suppliers from start to finish.
1. Defining and setting business goals
Before starting a vendor management process, it is essential to define and set business goals that require vendor involvement. It helps to get each business unit's requirements and prevents duplication of effort and waste of resources when selecting and contracting with suppliers. It also helps in the later stages of measuring and evaluating the effectiveness of the supplier, as these goals set appropriate indicators.
2. Creating a team
Once the business goals are recognized, the next step should be to create a dedicated supplier management team. This centralized team should have the skills to set business goals and KPIs for supplier management, select appropriate suppliers, negotiate the contracting process, periodically evaluate suppliers' performance and track all transactions.
This team is crucial because it will act as an intermediary between business units and suppliers and ensure cooperation.
It will also prevent the involvement of too many stakeholders – when vendor management is decentralized to the business unit. It leads to too many contracts with the same supplier or separate transactions with several suppliers. It prevents tracking and evaluating the effectiveness of suppliers and exposes the organization to supplier risk.
3. Building a database for all the information about suppliers
Once the business goals are clear and the vendor management team is up and running, the next step is to create an updated and classified database of all relevant vendors and vendor-related information.
Here is a list of benefits that database implementation gives:
It will meet the needs of business units with the correct supplier. For example, the administrator may determine the appropriate stationery suppliers and computer equipment;

After categorizing suppliers based on their type, comparisons between suppliers will be easier to assess;

It simplifies information – disparate details on suppliers will be stored in one place and will give an idea of ​​the current state of work of suppliers, such as suppliers with a contract, suppliers in need of renewal, etc.;

This will ensure efficient budgeting – you can quickly identify long-term, critical suppliers and short-term, tactical suppliers and estimate budget allocations accordingly.
4. Defining selection criteria for suppliers
Once all vendor-related information has been sorted, updated, and classified, you must select the criteria by which all relevant vendors will be selected.
Although the cost has been the primary criterion for selecting suppliers, companies are increasingly looking for other criteria to determine which supplier meets their requirements best. After all, the lowest cost does not guarantee the highest value. Article CIO1 recognizes factors that are not costs to consider when choosing suppliers – financial stability, previous business experience, recognition of industrial companies, supplier compliance procedures, economies of scale, and legal/regulatory regulation. It is essential to consider all of the above criteria in order to have a holistic assessment of suppliers.
Companies also participate in bidding procedures that include inquiries and offers before choosing a supplier for high-value purchases.
5. Evaluation and selection of suppliers
At this stage, suppliers need to be evaluated based on selection criteria and, if possible, the bidding process. The proposals submitted must be carefully evaluated to understand the pricing structure, scope of work, and how the requirements, terms and conditions, terms of validity and renewal, etc. will be met. This ensures that your organization gets the most out of the vendor. Pay attention to the hidden opportunities for savings!
Assess the internal strengths and weaknesses and explore how external opportunities and threats can affect your transaction and the supplier management process. Once you've completed the entire evaluation process from start to finish, it's time to choose your supplier.
6. Development of contracts and completion of work with suppliers
Well, now you have a chosen one. It is time to complete the contracting process and engage your suppliers. Typically, the contracting phase is assigned to the legal and financial team and senior management related to suppliers. The remaining business units receive a contract and interact with suppliers upon completion of the process. This is usually suboptimal in the long run – business units are finally working with suppliers daily and have valuable information on how to maximize the efficiency of suppliers. Therefore, all relevant stakeholders should be involved in the decision-making process.

Final Words
A supplier management system can help different industry leaders connect better with suppliers and business partners through a single platform. It enables collaboration, sharing of information, and open communication. This creates a trusted ecosystem where your external workforce is encouraged to achieve better results.
Contact Jelvix for a personal consultation on a web-based software program to manage the entire hiring process.
Need a qualified team of developers?
Jelvix's team is ready to develop custom inventory software that helps automate and optimize daily inventory operations.
Get in touch
Get in touch