It is no surprise why remote teams are on the rise. The onset of the COVID-19 pandemic opened new avenues toward adapting to remote working. This transition to remote work came as a necessity for many companies to continue their operations. No wonder remote working slowly turned out to be the new normal.
Research by Global Workplace Analytics revealed that remote workers are 35 – 40% more productive when compared to their in-office counterparts. The adoption of this new remote working environment has not only helped many companies build productive teams but also scaled their teams and grown the business.
One of the few industries that could adopt remote working without any hassles was the software engineering industry. Software engineering is also one of the rapidly growing industries across the world. Gartner forecasts IT spending across the world is expected to grow by 5.1% this year.
So, to keep up with this growing demand, software companies are aiming at scaling their team, especially their engineering teams. Remember scaling a team is not just about hiring new employees. It also includes strengthening your company culture, redefining your processes, boosting your communication strategies, and building an amicable workplace.
Before starting with scaling operations, companies need to understand why they need to scale their engineering teams.
The Need for Scaling Your Engineering Teams
According to the Startup Genome Report, 70% of the startups tried to scale much before their processes, and other fundamentals were in place. It also revealed that premature scaling played a major role in the failure of startups.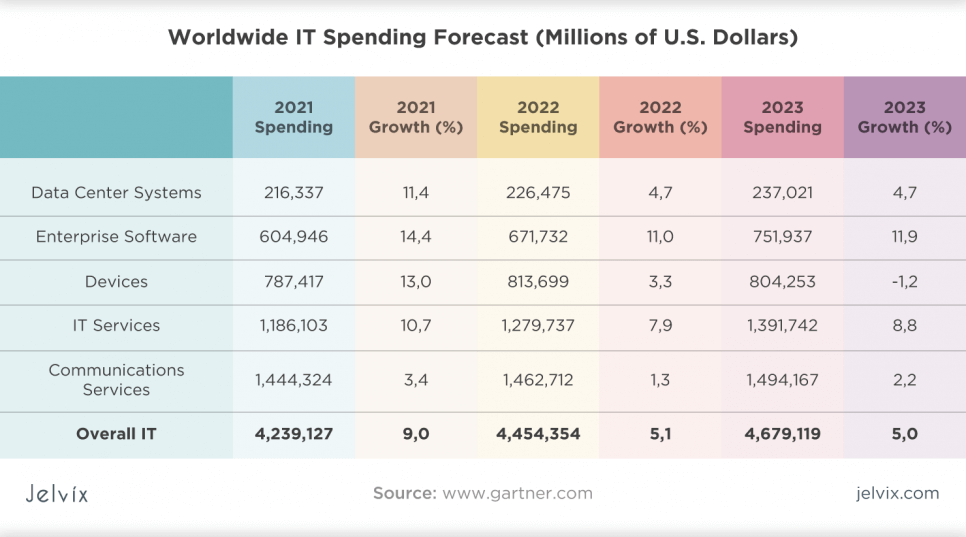 When teams are smaller, there is excellent collaboration. As the work processes are already defined, the entire team knows their duties and responsibilities. However, as the business grows, the team is overburdened with work. They might not be able to deliver the assigned work in the stated time duration. In such cases, it becomes essential to have more pairs of hands on the desk to work for you.
This expansion will help you deliver more products or services to your clients on time in a cost-effective manner. However, you need to define structured processes that offer planned changes to complement this expansion.
Another instance when you should consider scaling your engineering team is when you notice a skill set gap in your team. You could have certain projects that demand additional skills.
In situations like these, conduct a skills gap analysis to identify the required skills and compare the same to an employee's actual skill set. If the skills gap is too difficult to minimize (with additional training or certifications), you should consider expanding your team to bring in new knowledge and skills.
Team expansion is a serious liability. Before actually going forward with hiring new employees, determine the reason you wish to expand your team. Understand your company's vision, goals, and culture to gauge whether the expansion is necessary.
Even though scaling teams might seem to be an easy task, it does come with its set of challenges.
Challenges Most Companies Face while Scaling their Team
Most companies find it challenging to find the right candidates for their roles. Hiring teams have to hunt for skilled candidates. The recruitment industry today is candidate-driven and talent is scarce.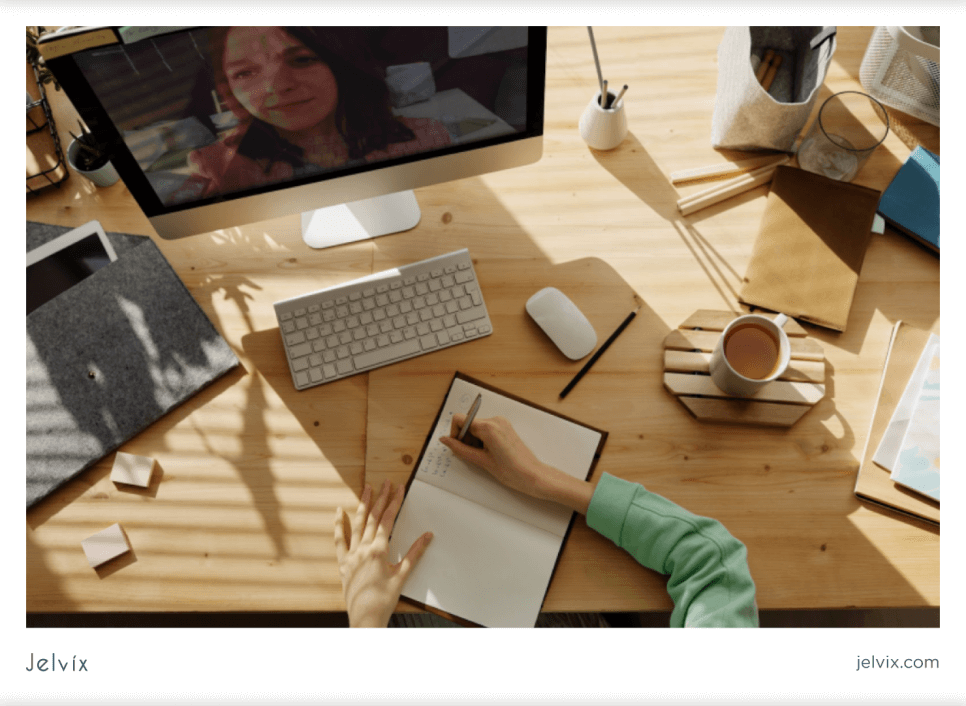 Secondly, employee retention is becoming tougher. So, with team members quitting their jobs, the hiring team is focused on filling these roles rather than creating new opportunities.
According to Manpower Group, 69% of employers are already facing difficulty in filling their open jobs.
A few more challenges that companies face are:
Stagnant hierarchy – With growing teams, companies should rethink their management hierarchy and reassign roles to adjust to the new changes.

Cash burns – Scaling the team does bring in additional costs for the company. These could include salaries, infrastructure, software, and others.

Performance and quality issues – With additional team members and good investments in technology, you should be able to upgrade the quality and performance of your services.
A Quick 5 Step Guide to Help You Scale Your Engineering Team
Step 1 – Sourcing The Right Talent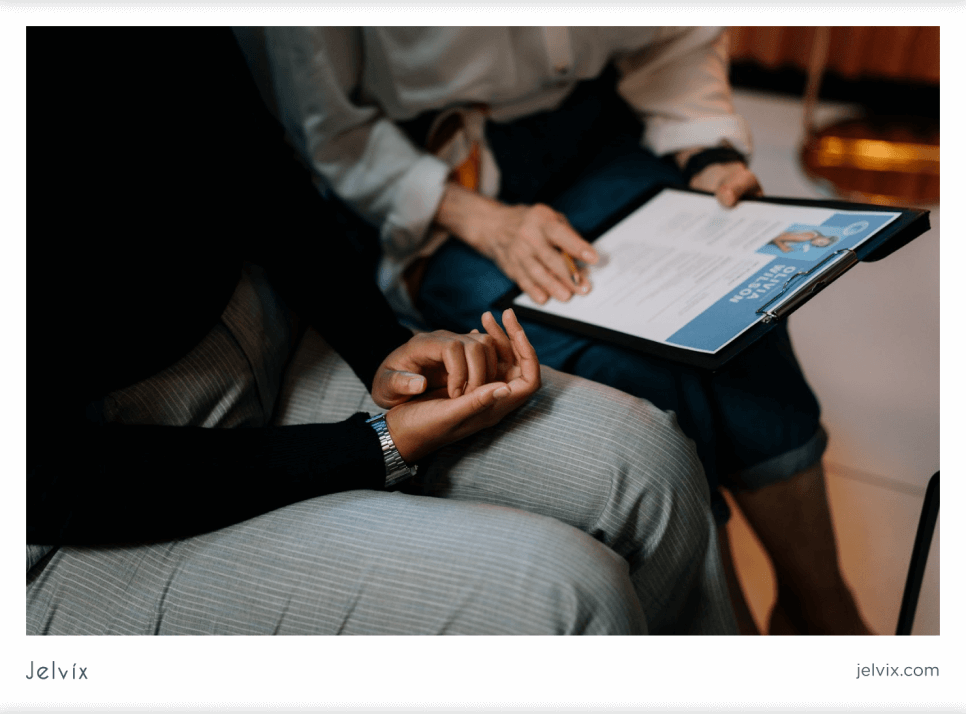 Finding the right and competent people matters the most, especially for remote teams. You ought to identify such candidates from amidst your talent pool and assess whether they would fit well in your company culture.
Implement the best candidate sourcing strategies to reach out to the best engineering professionals. Advertise your job openings on your company website, leading job boards, as well as social media networks. You can also tap into your existing talent database and contact the candidates who could be best fits for the roles.
Furthermore, you can host or participate in virtual as well as physical recruitment drives and job fairs.
An employee referral program is also an excellent sourcing technique that can help you find the best talent. Reward your employees with some tangible awards, such as online subscriptions, food vouchers, gift cards, and more for every successful referral.
Remote working offers an upper hand when it comes to hiring. As work location is not a barrier, you can source global candidates for your roles. It will expose you to a larger and more diverse talent pool.
Here are some tips to help you attract candidates to your job roles.
Write a clear job description mentioning the roles and responsibilities.

Focus your job advertisement focuses on portraying your team culture

Mention the perks you offer with the job, such as compensation, health benefits, flexible work timings, and more.

Motivate your employees to share their experience working for you and share the same on your website.
Step 2 – Interviewing and Evaluating Candidates
The next step towards successful team scaling is interviewing the candidates for the role. Interviewing your candidates and evaluating their skills can help you make informed and well-thought hiring decisions.
Interview evaluations help you hire the right candidate for your roles. While a candidate's education and work experience are important, ensuring that the candidate would be a cultural fit matters the most. Hiring culture-fit candidates contribute towards a healthy work environment and foster positive working relationships.
Remote working has paved the way for conducting interviews on video. Video interviews or virtual interviews quicken your recruitment process as you no longer have to conduct phone screens or other candidate screening rounds. It saves your team from the hassles of interview scheduling and ultimately, interview no-shows.
Black Box Corporation, a leading technology solutions company uses video interviews to reduce the amount of time they spend on initial candidate screenings. They use an intuitive tool, Spark Hire to conduct video interviews.
Here are some interview red flags to look for while interviewing candidates:
The candidate does not have clear communication skills;

The candidate does not answer your questions correctly;

The candidate does not provide accurate details about previous job roles, personal information, and other details;

The candidate keeps on bragging about other offers;

There are inconsistencies in the candidate's resume;

The background check of the candidate came out with multiple issues;

The candidate does not demonstrate or show any passion for your job role;

The candidate does not provide any reference details.
Once the video interview is done, share a skill-based test or a coding test for the next round of interviews. It will help you determine the candidate's competency level.
For example, if you are hiring a full-stack developer, you need to check their coding skills and their knowledge of various front-end and back-end technologies. Checking the quality of code can also be one parameter for grading the candidate. The candidate's response to your technical test will be the first criteria for candidate evaluation.
Now, let us understand other factors that can help you understand your candidates and their suitability for the job role.
Consider your candidate's skills – technical as well as soft skills. Although it is important to have strong technical skills, the candidate's soft skills should also be considered. Soft skills can influence how your candidate would work with your team.

Focus on the work experience. Since you are hiring for a remote position, find out how comfortable your candidate is with the remote work setting. Understand how they performed in their previous roles, and the responsibilities they were assigned, and try to match the same with the role you are offering.

Assess the candidate's educational background. Engineering roles usually require specialized training. By taking a glance at the education, you will know more about your candidate's academic background, certifications, as well as knowledge in the field.

Find out whether the candidate is a culture fit. The right candidate should contribute towards building a happy and healthy team and thus, the workplace. Consider your candidate's communication skills, personality, career goals, and values. If there is a match between the candidate's ideologies and your company goals, you have rightly found your perfect candidate.

Gather a second opinion. Always ask the other members of your hiring team for feedback regarding candidates. Making informed hiring decisions is the key to making the best hire.
Step 3 – Onboarding new talent
Candidate onboarding is the next step towards building a team. A proper onboarding process makes your new employees feel welcomed to the company. In addition to helping them understand their job role, it helps them understand the company, its culture, and the team better.
Onboarding also helps you introduce your new employees to the team. According to the research by Brandon Hall Group, an excellent employee onboarding process can improve employee retention by 82%. A proper onboarding plan has a proven effect on the employee's productivity as well.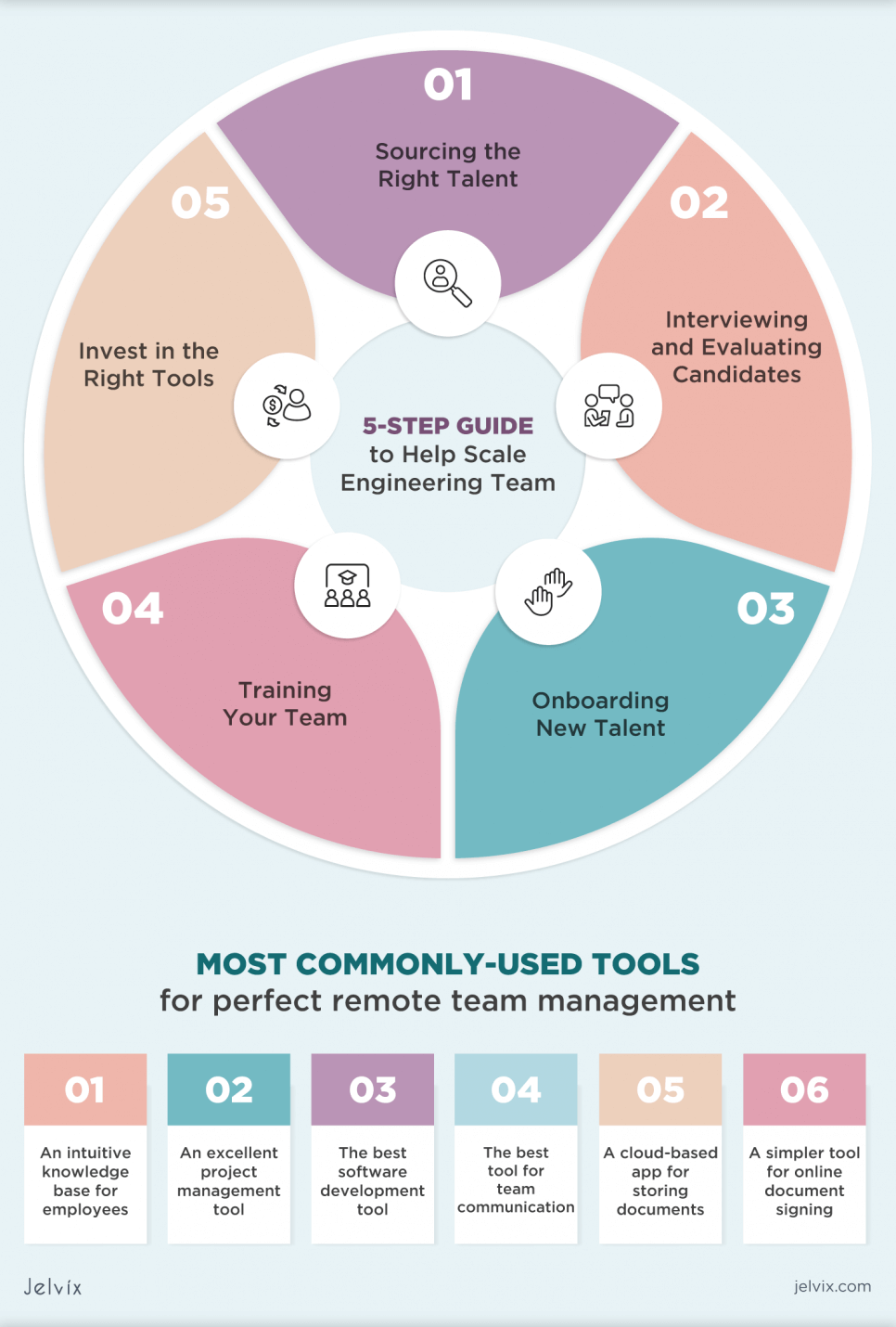 How to onboard a new employee?
Plan and create an innovative and smooth onboarding process. Here are a few steps to get you started.
Before starting with the onboarding process, send a welcome email to your new employees introducing your company. Also, mention the necessary documentation you will need for new hire paperwork. Share a copy of your company handbook, if possible.

Share the usernames and passwords of the relevant accounts with the new hire. You can also share the link to your company's

internal knowledge base

so that the new employee gets familiar with the company policies, client projects, and other information.

Introduce them to your team. Since the employee would be working remotely, you can schedule a virtual meeting for a quick introduction session.

Convey the job expectations along with the core job responsibilities to the new employee. Giving a quick walkthrough of the projects would help the employee get familiar with the projects.

Ask your new employee to share feedback about the onboarding process. Identify the challenges and utilize their feedback to make improvements in your onboarding process.
Step 4 – Training your team
Team development contributes significantly towards the success of your business. Invest in your team's training and employee development by providing them with various learning opportunities. Provide your employees with opportunities not just for professional but also for personal development.
Based on your needs, you can undertake the below-mentioned training sessions for your employees:
Team-building training – This training focuses on team bonding to enhance positive relationships among the team members.

Technical training – This training focuses on improving your team's technical knowledge. It could be about learning a new technology or framework.

Soft skills training – This training aims at improving the interpersonal skills of your employees. This includes communication skills, time management, attention to detail, listening skills, and empathy.

Conflict resolution training – This training helps your team in resolving conflict situations at the workplace. It helps them identify the problems and arrive at a solution collectively.
Furthermore, you can provide reimbursements for certifications your employees might be interested in.
Step 5 – Invest in the right tools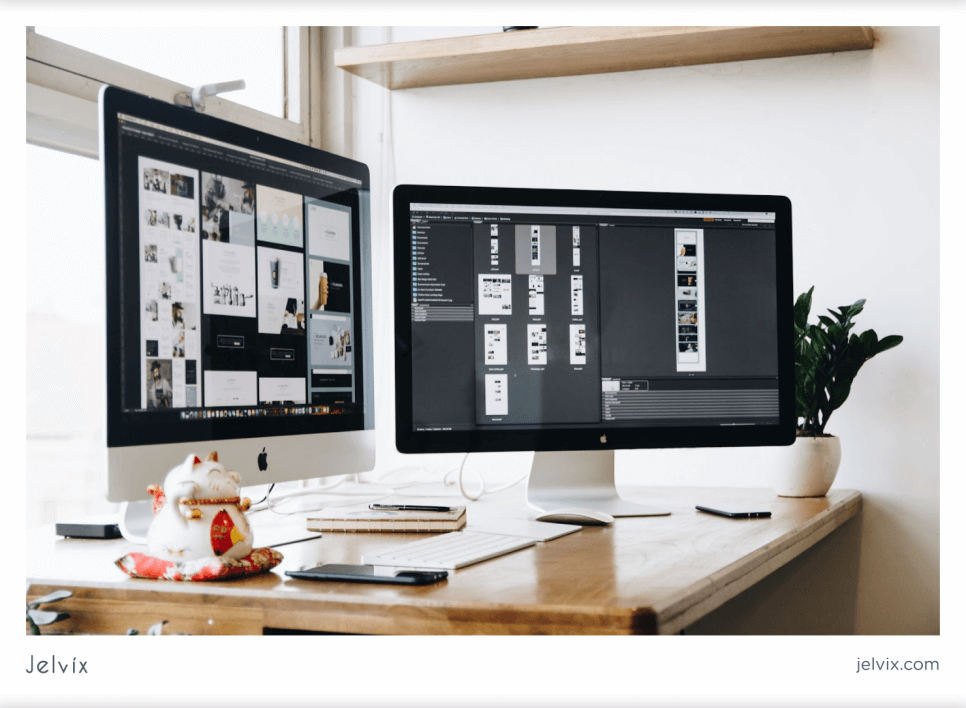 Choosing the right tools and sticking to them goes a long way in boosting your processes while maintaining excellent team collaboration. It helps with proper organization and eliminates chaos.
Here are some most commonly-used tools that you will need for perfect remote team management.
#1. An intuitive knowledge base for employees
An internal knowledge base can aid your remote engineering team for better query resolution and collaboration. It acts as a central database to create, store, and share information related to the client projects, work policies, company information, training materials, and other files.
This can help you improve employee onboarding, training, and productivity. Document360 is a rapidly-growing platform that you can use to create an online knowledge base for employees. It is simple to use and can be easily customized to match your brand messaging.
#2. An excellent project management tool
If you are working on a complex project, having a project management tool or a scrum tool will help you track your project progress in a jiffy. It helps you organize and manage new features, issues, and bugs, as well as improvements in your project.
Jira is one of the most recommended tools for software project management. You can use the Scrum or Kanban boards for your projects and track the same via customized workflows. Furthermore, you can also generate reports to have insights into your team's performance.
#3. The best software development tool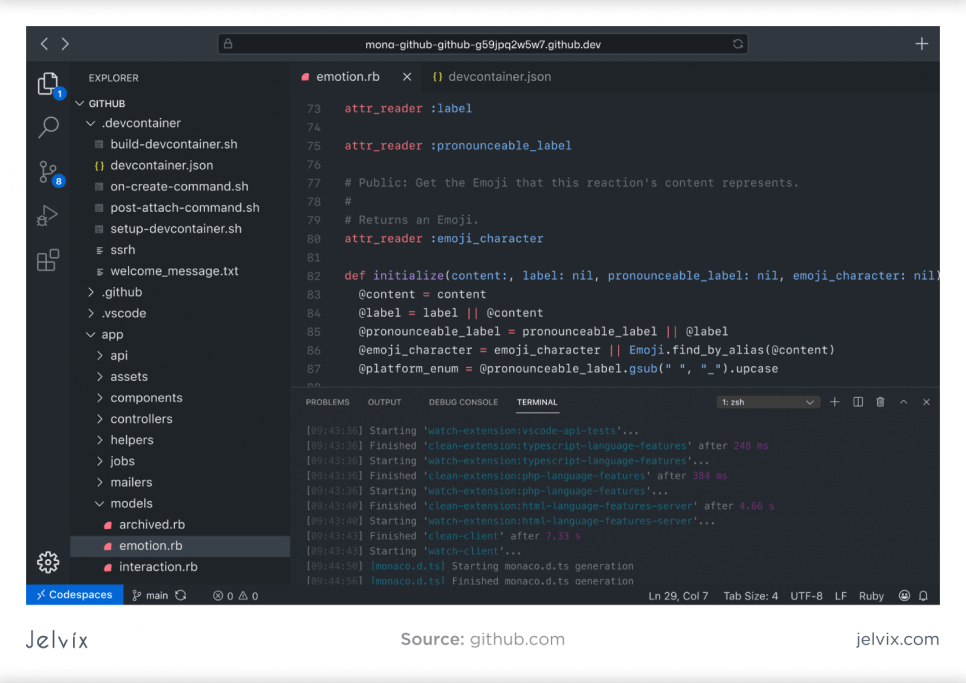 Github is the most preferred tool by developers for software version control.
It is also an excellent code hosting platform. It helps remote engineering teams to work together on projects regardless of their location.
#4. The best tool for team communication
Communication is the key to successful remote teams. An ideal communication platform should enable you to organize your conversations and offer video and audio chat capabilities to facilitate smooth team collaboration.
Slack is the most-loved app by remote developers for communication. It offers real-time messaging and calls. You can connect slack with other apps, such as Jira, Trello, Google Drive, and other work-related applications to receive quick updates. Features like quick file sharing, emoji reactions, message threads, and dedicated channels for every project make Slack the best choice.
#5. A cloud-based app for storing documents
Cloud storage is one of the most convenient methods for storing data online. Google Drive, DropBox, and Microsoft OneDrive are the most commonly used online storage services. A survey by GoodFirms reveals that Google Drive is the most widely used cloud storage service across the world, with an excellent 94.44 percent.
Because of the security and easy accessibility it offers, cloud storage is gaining widespread recognition. Cloud storages are cost-efficient and scalable to accommodate growing storage requirements.
#6. A simpler tool for online document signing
Today, convenience is the key for most remote teams. eSignatures can go a long way in enhancing your employee experience. You can collect signatures on contracts, approvals, proposals, and other documents seamlessly via online signing, without printing a single piece of paper.
HelloSign is the most used online document signing platform that helps users sign documents in a couple of minutes. Because of its integration with Google Drive, DropBox, and other storage apps, you can directly import them into HelloSign and share them for signing. This paperless workflow quickens your processes and is a cost-effective solution.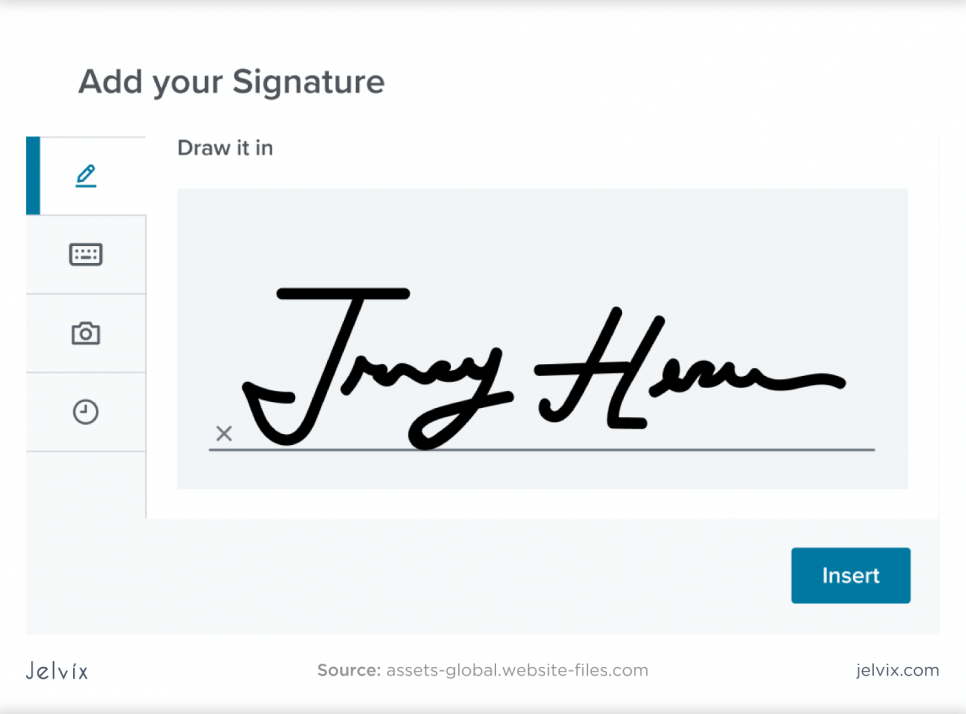 Final Thoughts
Every company out there has started small and then scaled to what it is today. Growth is possible. It is how you handle this business growth that determines your success.
By identifying the need and following a strategy, you can certainly scale your remote team successfully. Remember being prepared for the same and adopting the changes it brings along is important.
We would love to read your stories about scaling and growth. Do share them in the comments below.
Contact Jelvix to get solutions for innovative, complex, and sophisticated products or if you need to transform your business. Let's create something meaningful together.
Gaurav Belani is a senior SEO and content marketing analyst at Growfusely, He has more than 7 years of experience in digital marketing. He likes sharing his knowledge in a wide range of domains ranging from IT, eCommerce, startups, social media to human capital management and much more.