The use of mobile devices and apps has brought a lot of benefits to organizations that heavily rely on the deskless workforce. Irrespective of the size and industry, companies that integrated smartphones and tablets in their routine workflows experienced improved data accessibility, better collaboration, and increased employee productivity.
However, there's always the other side of the coin. Gaining real value from mobile tools may be a dangerous endeavor for a company. Businesses face the risks of employees losing the device, connecting it to not secure networks, or infecting it with malware. All of this may eventually result in data breaches, damaged reputation, and financial losses.
One of the ways to prevent the risks and keep your corporate data secure in the modern mobility landscape is the implementation of enterprise mobility management (EMM) solutions. In this article, we take an in-depth look at the definition of EMM and its components, determine the benefits of its implementation, and the industry use cases.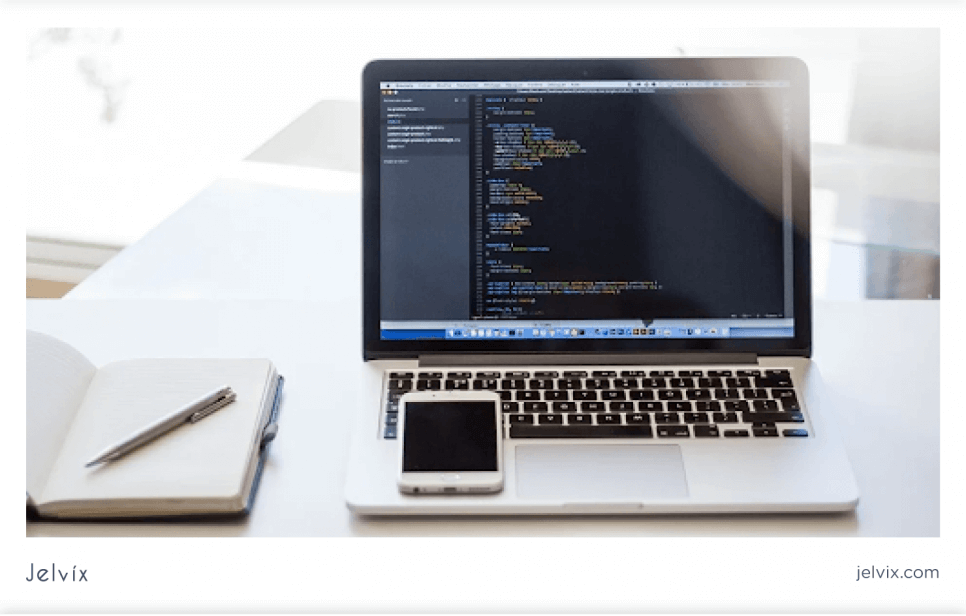 What is EMM?
Enterprise Mobility Management (EMM) is a combination of tools and technologies used by businesses to secure the corporate data stored and managed on mobile devices (both personal and company-owned). The main purpose of EMM is to eliminate data security threats that may occur when employees actively use smartphones or tablets to perform their work tasks.
The concept of the EMM solution may vary from company to company. For example, while some organizations implement solutions that are primarily focused on managing separate apps, others choose to regulate device configurations, manage, install, and update apps, and be able to wipe the data if needed.
Because of the recent events, the shift to remote working has become the new normal for a great number of organizations. Therefore, more and more organizations integrate the use of mobile devices into their workflows to improve their workforce productivity and allow their staff to work and access business data from anywhere and at any time.
Consequently, together with the number of mobile devices used to manage business operations, the need for efficient EMM solutions to protect business data is also increasing. According to Markets and Markets research, the EMM market is expected to grow from $16.6 billion in 2020 to $63.6 billion by 2026, with a CAGR of 25.1% during this period.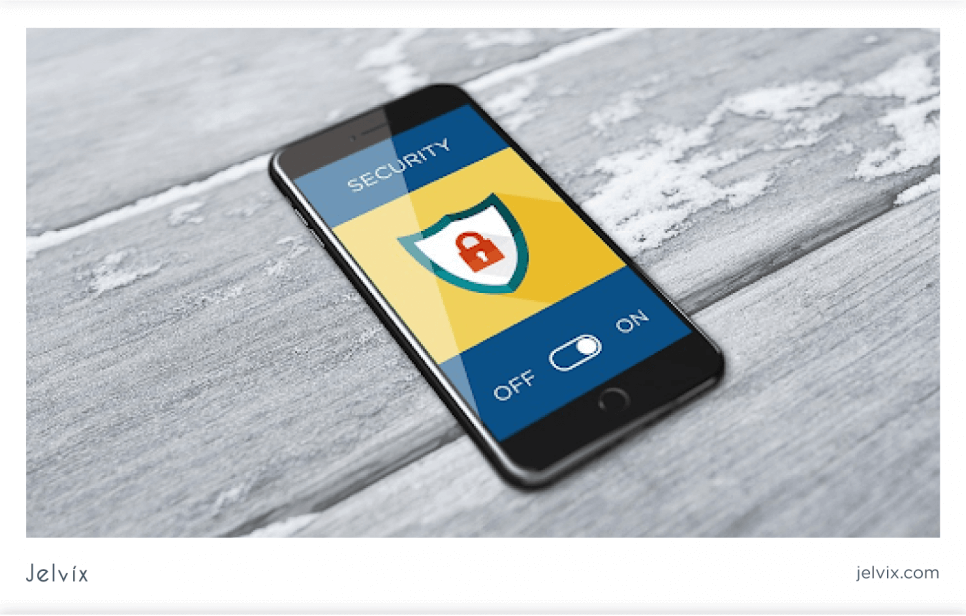 How did EMM Evolve?
The pandemic was only a catalyst for the increase in the use of mobile devices for enterprise-related activities. As reported by FinancesOnline, 95% of organizations allowed the use of personal devices in the workplace long before the pandemic. So, how did enterprise mobility management appear?
Before the emergence of smartphones and tablets on the technological horizon, IT staff had absolute control of the devices that could be connected to the enterprise networks. However, the steep advancement of mobile devices put an end to that control.
With smartphones' and tablets' new functionalities and convenience, employees started to use personal devices alongside enterprise ones to perform everyday work routines. This has led to the rise of Bring your own device (BYOD) movement that was actively adopted by organizations.
Yet, providing access to sensitive corporate data from personal devices became a nightmare for IT staff. It created a wide range of security risks. With the need to manage both personal and enterprise-owned devices, mobile device management solutions (which then evolved into enterprise mobility management) came to light.
Mobile device management was primarily focused on monitoring and securing individual devices that could access data. However, the steep advancement of functionality and the growing trend of deploying extensive mobile networks showed that an in-house mobile device management solution might not be enough to address all the needs.
All of this gave a start to the rise and growing popularity of enterprise mobility management solutions. The EMM software provided a broader set of tools and allowed IT departments to protect business data from loss, threats, and breaches. At the same time, they provided the employees with flexibility in terms of preferred devices and applications for work.
MDM vs EMM vs UEM: the Difference Explained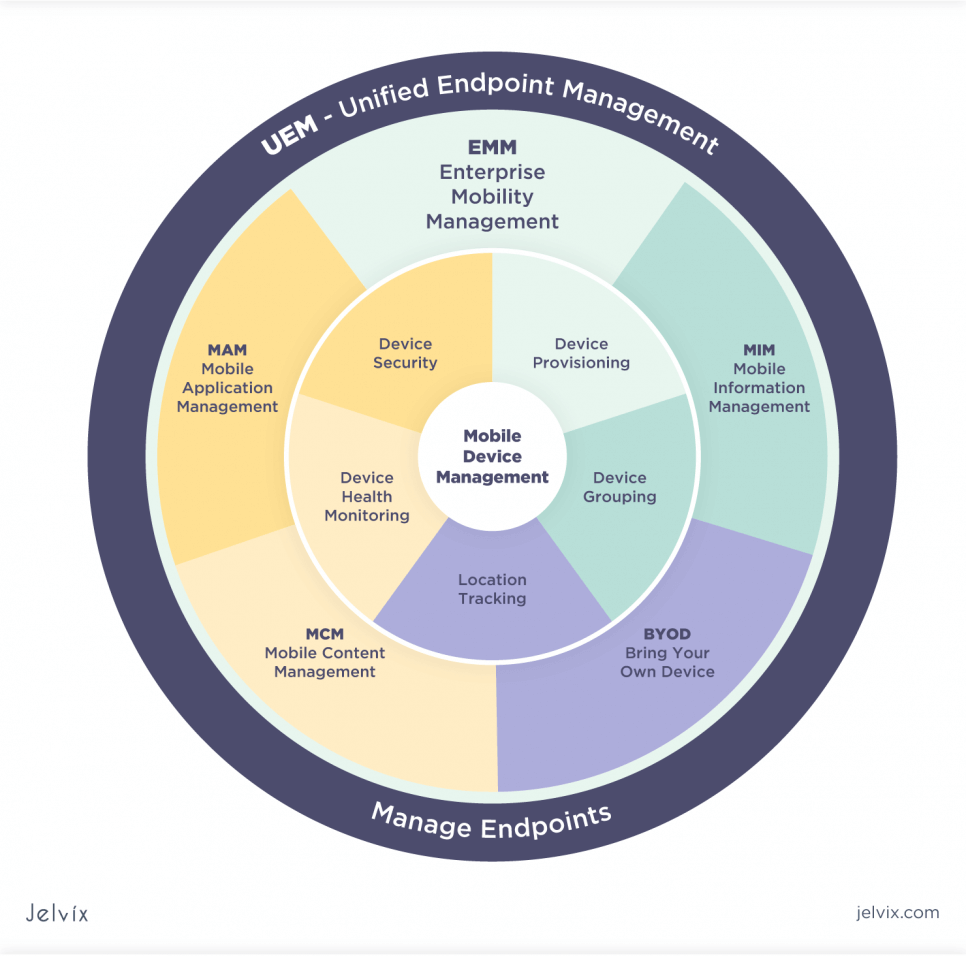 When it comes to managing mobile devices in a business context, people inevitably came across these three terms – MDM (mobile device management), EMM (enterprise mobility management), and UEM (unified endpoint management).
All the acronyms represent different evolutionary stages of dealing with mobile devices and addressing issues related to data privacy and security. Understanding the difference among them is crucial for choosing the right solution for your business and avoiding the risks of deploying the wrong strategy and, as a result, facing financial losses.
What is MDM?
Mobile device management (MDM) allows the IT staff to remotely manage both personally-owned and corporate devices such as smartphones or tablets. These solutions allow organizations to remotely track, monitor, and enforce security policies on enrolled devices from the MDM console.
The MDM solutions function primarily at the device level. These tools enable the organizations to configure Wi-Fi access, install and manage enterprise apps, enforce strong passwords, find and eliminate security threats, etc. Businesses can also remotely wipe the data (both personal and corporate) if the device is lost or stolen.
The growing adoption of BYOD (Bring your own device) and COPE (Corporate Owned Personally Enabled) practices established an environment when devices were actively used for both personal and business purposes.
This led to the rise of a new dilemma. On the one hand, sensitive business data had to be kept secure, but on the other, the private data of employees couldn't be compromised as well. That is the reason why MDM tools evolved into EMM solutions.
What is EMM?
Having incorporated all the capabilities of MDM tools, enterprise mobility management is focused not only on securing and controlling devices. It's also aimed at maximizing the productivity of employees by implementing stringent security measures.
The EMM solutions encompass a wide range of tools for secure application and content management, work-app containerization, and email management. The software ensures data and document security, policy compliance and incorporates into the network directory services.
Thanks to the concept of containerization, IT staff can separate personal and business data within one device. The EMM provides the ability to create encrypted and policy-enabled containers that allow employees to handle business operations securely on their personal devices.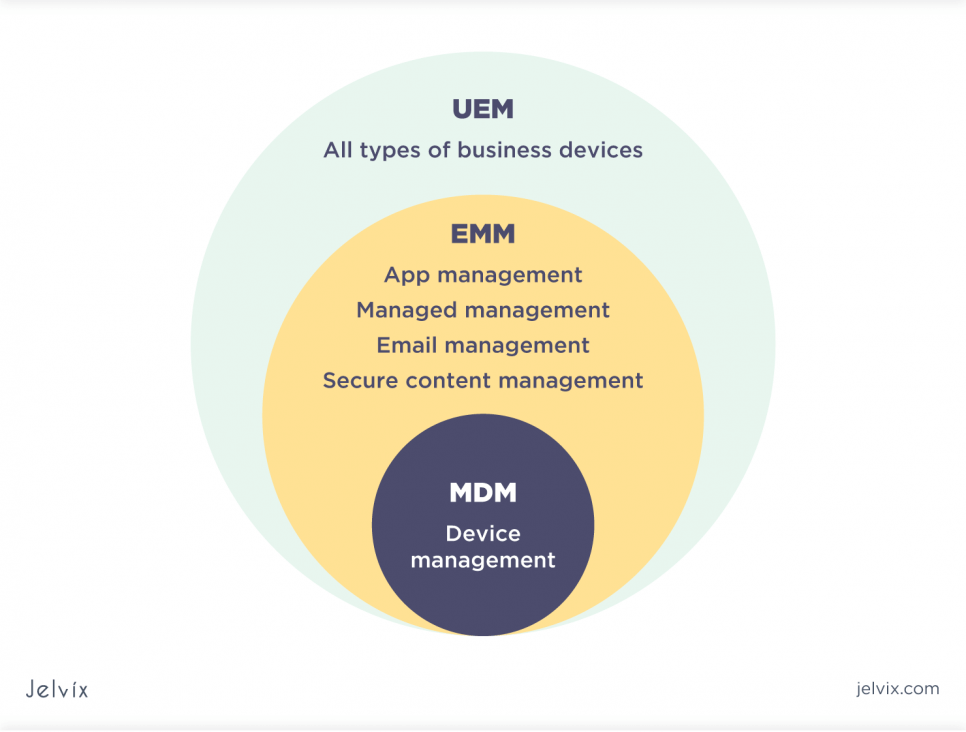 What is UEM?
Again, as the number and types of end-user devices (also known as endpoints) were growing, the EMM started to transform into Unified endpoint management (UEM) solutions. The UEM presupposes management and control of all mobile devices, desktops, laptops, wearables, and other IoT devices.
The UEM tools include the functionalities of their predecessors and allow businesses to manage devices across various platforms. They make it easier to lockdown hardware and protect sensitive data.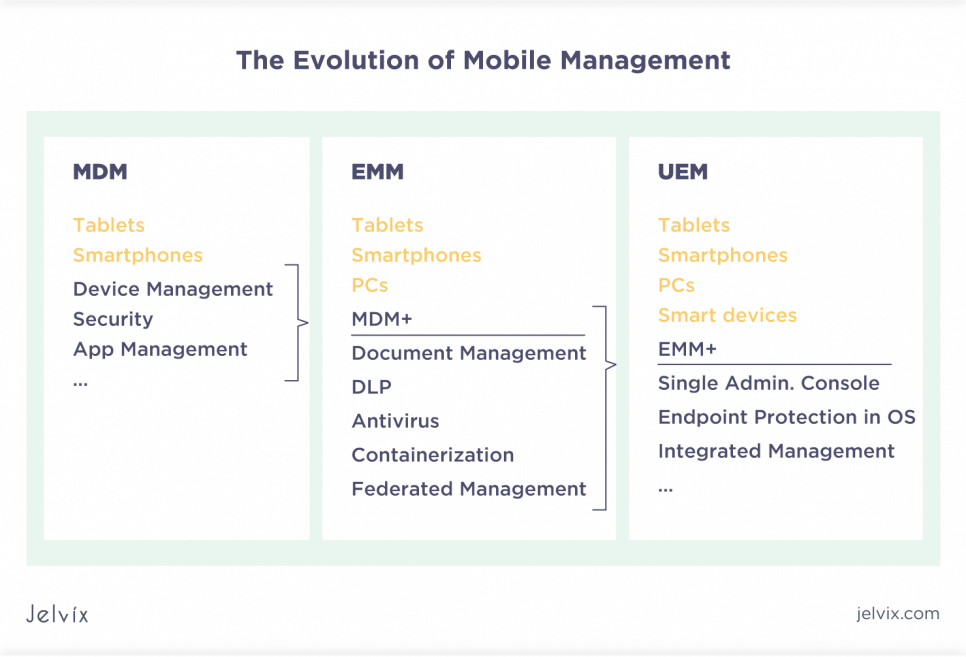 Components of Enterprise Mobility Management Solutions
A conventional EMM solution is a perfect amalgam of four major components:
Mobile Device Management (MDM)

is the cornerstone of any

enterprise mobility

strategy. It is used to manage the endpoint device through the profile installed on it. The technology enables organizations to control, encrypt, set policies, and configure settings remotely irrespective of the OS or type of the device.
Mobile Application Management (MAM)

is another crucial component of effective

enterprise mobility solutions

. Unlike MDM, MAM is built around providing security for specific applications or a subset of applications rather than the device. The technology relies on built-in MAM APIs in the apps or in the OS itself.
It allows organizations to manage, update, and lock down specific apps that contain corporate data. By using MAM, the IT staff can secure and wipe down confidential business information, while the employees' personal data will be unaffected.
Mobile Identity Management (MIM)

is focused on ensuring that only authorized users and devices can gain access to business information and applications. A typical MIM solution incorporates identity and access management capabilities such as single sign-on, digital certifications, app code signatures, and authentication.
Mobile Content Management (MCM)

enables organizations to securely transmit and share sensitive corporate documents and data with employees. It involves taking care of content security, access, and push, as well as file-level protection. The MCM technology allows ensuring that the data can be accessed only via the authorized apps, cloud services, and devices.

Mobile Expense Management (MEM)

allows businesses to monitor the expenses on mobile communication. It provides insights into the usage of services (calls, SMS) that presuppose BYOD reimbursements. The MEM can also be used to audit mobile device usage, identify and prevent billing errors and reduce misuse of corporate-owned devices.
Benefits of EMM Tools
At the most basic level, EMM solutions provide the following benefits for an organization:
Protection of enterprise data
Of all the benefits enterprise mobility management provides, data security is definitely the most significant for businesses. The built-in features for device authentication management, application, and site blacklisting or whitelisting allow companies to mitigate cybersecurity risks.
Implementing enterprise mobility solutions enables the IT department to wipe down information from a stolen or lost mobile device. In this way, companies can be sure that the sensitive information won't fall into the hands of a malicious actor that can exploit it.
In addition, EMM provides the ability to deploy device locator services that help to track down lost or stolen devices. The solutions may also aid in monitoring and restricting the rights of an enrolled mobile device to download corporate digital data after viewing.
Protection of employee information
Along with protecting corporate information, EMM solutions safeguard employees' private data. They solve the challenges brought forward by the BYOD trend. Enterprise mobile solutions ensure that employees can use personally-owned devices at work without the fear that their own data will be compromised or disappear.
It goes without saying that the better employees know the functions of the device, the more productive they are. By owning the device, employees don't feel stressed and overwhelmed with new functionalities and interfaces. As a result, they can perform business processes on the go, while the enterprise mobility solution will take care of security.
Enforcement of compliance policies and restrictions is another key benefit of EMM solutions. They ensure that the information processed on mobile devices is secure and your business is compliant with the industry regulations all the time.
Simplified device management
As a rule, companies make use of a wide range of devices on a day-to-day basis. The EMM provides the ability to centralize corporate device management. It enables to control, manage and update corporate or security applications, as well as troubleshoot devices remotely, using a single console.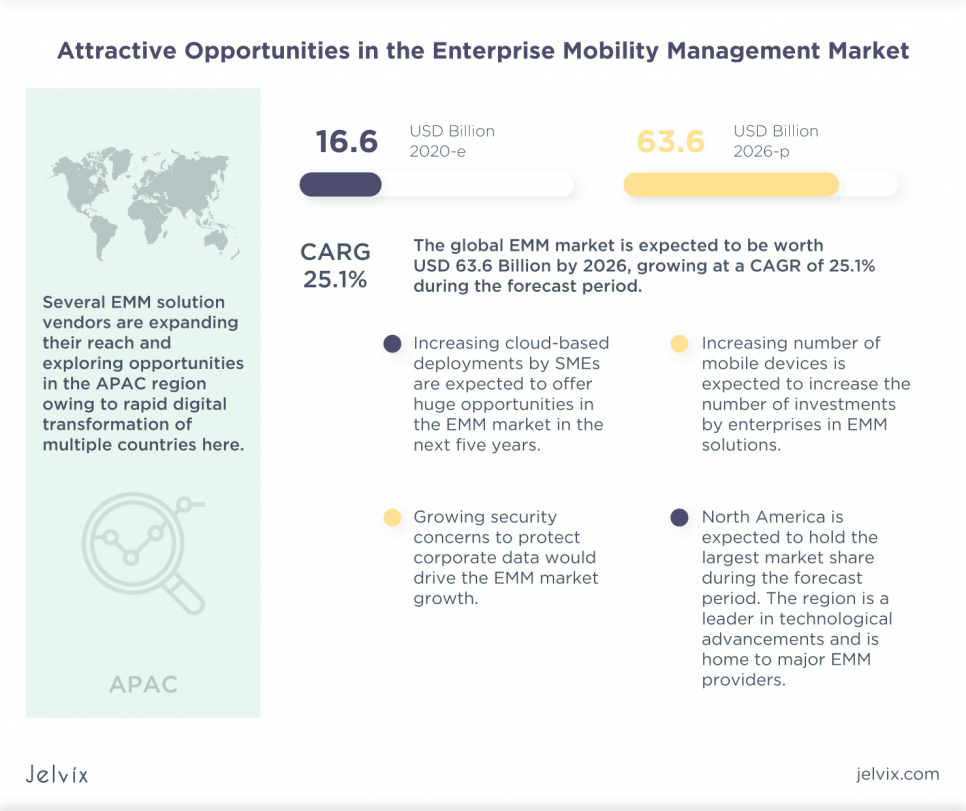 Industry Use Cases for EMM Solutions
With increasing employees using multiple mobile devices, the enterprise mobility software has turned from a nice-to-have to a must-implement solution in various sectors. Here are several examples of how enterprise mobility management can be used to address the needs of various industries:
Healthcare organizations deal with sensitive patient information on a regular basis. Therefore, they should ensure that the data they store on mobile devices is safe and they stay compliant with the industry standards, such as HIPAA. By implementing an EMM solution, the healthcare organization can accomplish both goals at once.
The real estate industry requires mobility like no other. Since showing houses may be a time-consuming process, more and more companies create apps to showcase real estate to potential customers. The enterprise mobile solution allows agents to securely transfer all the data into tablets or smartphones and show the virtual tours of the building.
Transportation and logistics firms can also reap the benefits from the implementation of enterprise mobility. The EMM software enables the IT staff to remotely make sure that the enrolled mobile devices are functioning correctly. Apart from that, the solutions may be used to track the device location in real-time and provide employees access to custom apps.
Retail and service industry
Smartphones and tablets are widely used to accomplish different business operations in the retail and service industry. Since these sectors presuppose that the same device can have multiple users, it becomes crucial to ensure that the devices are secure.
The introduction of enterprise mobility solutions also allows monitoring while the device stays in a specific location. Aside from that, it may help to customize the device configurations and enforce restrictions and policies to keep the business data safe.
As schools and universities are actively incorporating tablets and smartphones in the learning processes, the need to ensure that these devices are not misused by students is rising as well. The EMM software allows educational institutions to configure all devices involved in the teaching process from a single console.
Along with providing the ability to distribute learning material to students, the software may be used to blacklist harmful applications, restrict access to specific functionality, and control what kind of websites are visited by students.
The privacy and security of data are among the top priorities for any governmental organization. Given that governments usually adhere to a lot stricter security standards than businesses, their need for an efficient EMM solution becomes apparent.
The enterprise mobility software aids government entities to stay compliant with the regulations ensures secure access to sensitive information for employees, and prevents the risks of data leaks.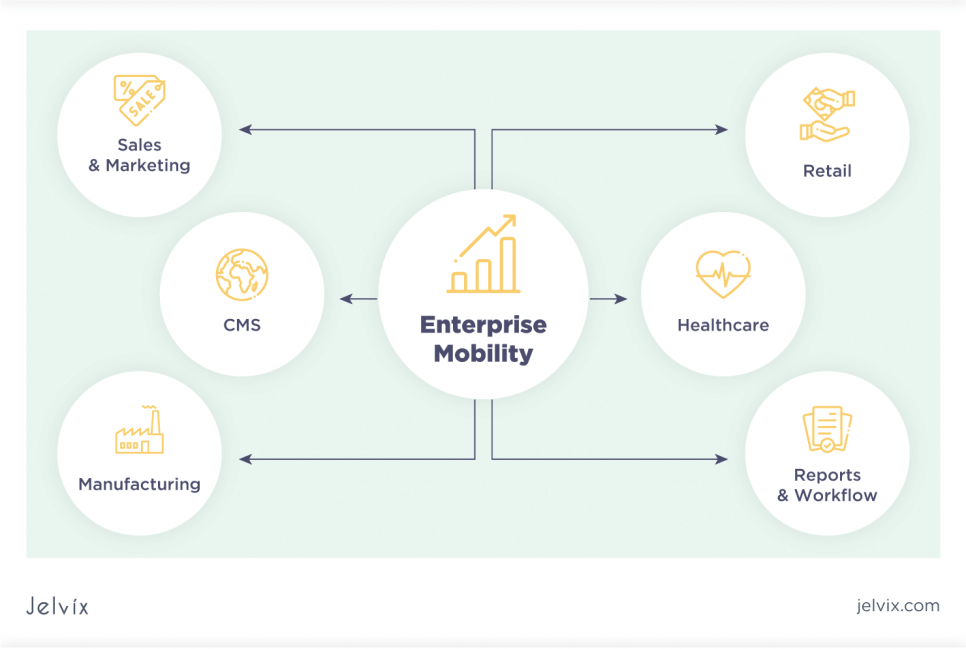 Recommendations on Choosing the EMM Solution
Nowadays, there is a wide range of EMM solutions available on the market. Yet, each solution comes with a different set of features that will suit different business needs. If you're considering introducing enterprise mobility in your organization, we've prepared a list of things you might want to consider when comparing various EMM providers.
Supported operating systems
In most cases, organizations make use of various mobile devices and operating systems every day. While most EMM solutions work on all operating systems, some support only one OS.
Managing multiple operating systems within one platform will bring more benefits in the long run. It helps to streamline the work of your IT department, gives your employees the freedom to choose any device they like, and saves your company from spending money on several solutions.
Different businesses need to solve various pain points and, therefore, will require different solutions. Thus, before starting to look for EMM software, take time to think about what features your business needs. Once you have the list of functionality must-haves, it will be easier to compare vendors and select the right software.
On-premises vs in the cloud
In general, EMM solutions can be hosted either on-premises or in the cloud. Cloud-based solutions are more scalable and do not require resources for maintenance and additional investments in the hardware.
However, if you prefer to host systems on your own servers, you can opt for an on-premise solution. But it is necessary to keep in mind that on-premise software requires a dedicated expert that will take care of the maintenance and updates.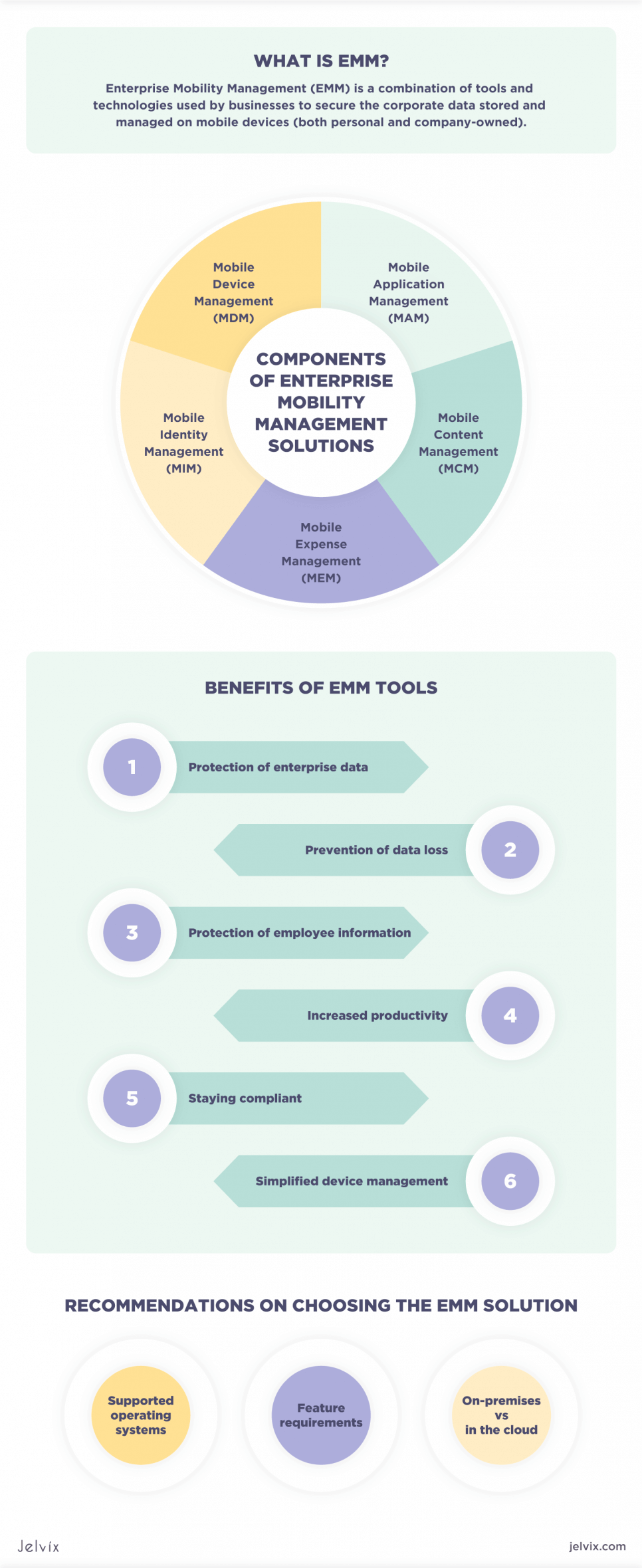 Final Thoughts
Simply put, the main goal of enterprise mobility management is to provide employees with the flexibility to choose the preferred device for work. While enabling a high level of convenience for employees, the software ensures the needed level of control, compliance with standards, and security of business information.
Given that trends for remote work are on the rise, implementing an enterprise mobility strategy is critical for many organizations. The software will help companies to organize and support their business operations while their employees work from home.
If you want to learn more about how to increase your digital assets through the adoption of the EMM solution, our experts are always ready to share their knowledge with you. Do not hesitate to contact our team and receive a free consultation that will help you choose the right software.