When it comes to technology, people don't usually realize its actual impact on their daily lives. There are many devices we interact with every day without actually giving them much thought: lightbulbs lighting up immediately after we flip a switch, a car turning on in a split second, a wireless internet router signal enabling instant connections, and so many more.
As the world becomes more connected, many of these things are getting combined with other technologies through Bluetooth Beacons.
The Beacon technology has become an inseparable part of many business industries especially retail and marketing. Beacons had come a long way of development before they evolved into an Apple trademark technology. After Apple iBeacon was introduced in 2013, many problems associated with mobile visibility and user experience have been solved.
According to Global Market Insights, the beacon technology market will surpass $25 billion by 2024. It could thus be seen that technology has enormous future potential and can be used in conjunction with great mobile apps to improve proximity marketing and more.
In this guide, we're going to explain the Beacon technology basics and how it can benefit your business. If you own a business and consider using Beacons for your business app, this article will provide you with the necessary information about their potential and novelties.
What is Beacon Technology and How Does it Work?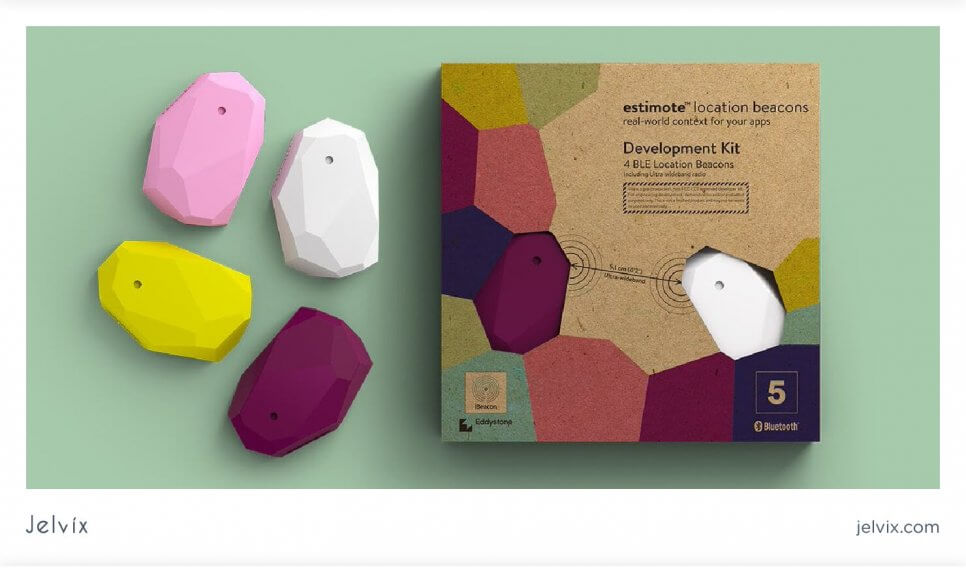 Beacons are low-cost, wireless transmitters that use Bluetooth Low Energy technology to transmit proximity-based signals to other devices nearby. The use of less energy ensures a twice longer battery span and allows the use of Beacons for longer periods.
In most cases, Beacons are made up of three parts: some batteries, a central processing unit (CPU), and the radio; each Beacon device has a Unique ID (Universally Unique Identifier) that is broadcast by Bluetooth to a receiver (like a phone) and application on that receiver provides information about its proximity to the broadcaster.
For example, if you have the Kroger app installed, you'll likely receive sales notifications whenever you enter a Kroger parking lot. In addition to tracking technology, Beacons can showcase advertising information. For example, if a retailer has in-store Beacons installed, you'll receive different coupons/offers depending on the part of the store you're in.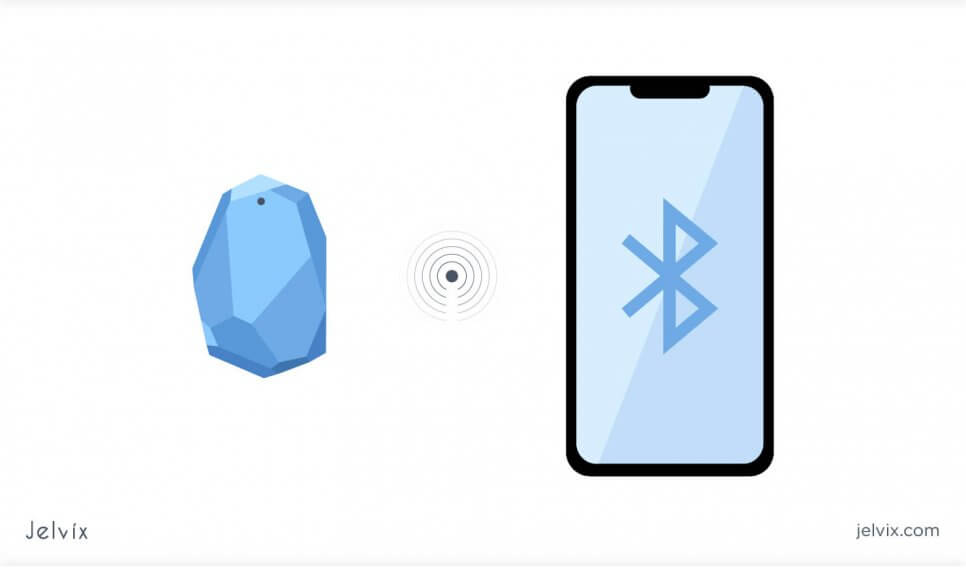 Beacons enable more accurate location within a narrow range than GPS and are used in various environments, such as retail stores, restaurants, hotels, airports, and even sports arenas. Restaurants generally use Beacon technology to send marketing messages, whereas, in hotels, it is used to unlock doors or accelerate the check-in process.
Beacons and IoT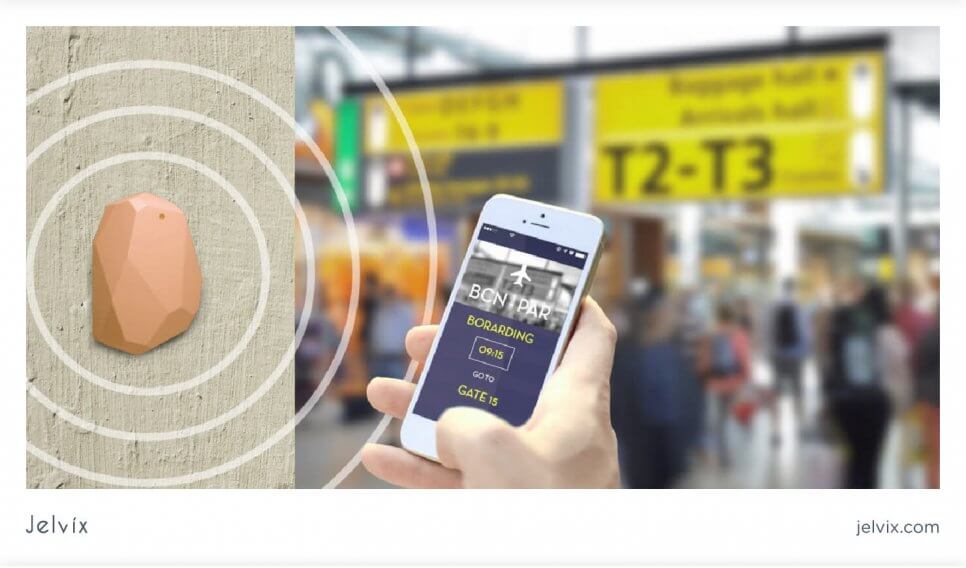 There are several technologies associated with IoT; the industry goes beyond the normal consumer devices and is a part of a broader technology ecosystem which creates the blending of physical, digital, and human worlds.
Some IoT use cases exist across industries (e.g., home life, corporate buildings, and even law enforcement), while others are more vertical, and include smart businesses, smart transport, and smart government services. This is where the Beacon technology comes in.
Think of the Beacon as an advanced barcode that comes with a Unique ID corresponding to specific functions. In government services, it can be used instead of virtual tickets to save the time that would be spent in queuing or give information for guidance or instructions. In transportation, Beacons can be used to provide passengers with line information or schedules, or even service visually impaired.
For smart home development, Beacons can act as surveillance items and keep homeowners informed of the number of people coming in and out of their houses. Many smart home projects use Beacon technology to create a smart home's neural network, but most Beacon devices require special hardware to be fitting for this particular purpose.
Types of Beacons
There are many different types of Beacons out there with the most used configurations being either iBeacons or Eddystone Beacons. The main difference between a Beacon and iBeacon is that the latter is not a physical device, it's a technology.
The idea behind iBeacons was to develop a trademark for Apple for their future BLE Proximity systems. iBeacon is Apple's implementation of BLE wireless technology to create seamless interactivity between iOS and iBeacon hardware; Apple's iOS 7 operating system has the technology built-in which makes Apple devices continuously scan for Bluetooth devices nearby.
When it comes to differentiating iBeacons from Eddystone Beacons, the main difference lies in the Unique IDs and their security features. For instance, iBeacon's Unique ID has one advertising packet, whereas Eddystone Beacon has several ones that can cycle to provide more security.
The following list includes common Beacon types with information on the size, battery life, use cases, and the level of resistance to exogenous factors.

Standard Beacon. A small computer, roughly the size of a Wi-Fi router.

These are boxy plain-looking devices equipped with proximity and indoor tracking capabilities. Standard B

eacons

are typically used in retail shops and are perfect for those looking for simplistic types.

Portable/small Beacon. A small handy device, typically the same size as a standard credit card or a large sticker.

Portable B

eacons

are used for asset location tracking and proximity marketing,

for example,

retailers employ these B

eacons

to make sure that the goods are delivered to

their destinations.

USB Beacon

.

A small portable device, roughly the size of a flash drive.

Similar to portable B

eacons

, these are also perfect for asset location tracking and proximity solutions.

Video Beacon

. An interface transmitter plugged into the back of a screen to deliver personalized content and build deeper connections with passers-by based on the data gathered by a

Beacon

-enabled app. Video B

eacons

are big game-changers for retail, hospitality, travel, transportation, and other industries.

AI Beacon

. A relatively new type of B

eacon

empowered by machine learning algorithms to

record, analyze, and store interactions between the screen and the user.

AI B

eacons

come in the form of video interfaces and are capable of detecting different movements and gestures.

Parent Beacon

. These are large-size devices used to track other B

eacons

, coordinate all the data that transmitted, and store it in the cloud.
Dedicated Beacon

.

The most durable type of Beacons.

Dedicated B

eacons

are

resistant to extreme environmental conditions (rain, snow, dust, and mud) and other exogenous factors (

shattering, antistatic, and UV). They are widely used in harsh environments to prevent lags and loss of data.
Most of the abovementioned Beacon types that were developed in the years since the inception of Beacon technology had the aim to help different companies adapt to the new technology and create value. The new ones, that may appear in the future, will probably be more focused on providing companies with new customer engagement strategies.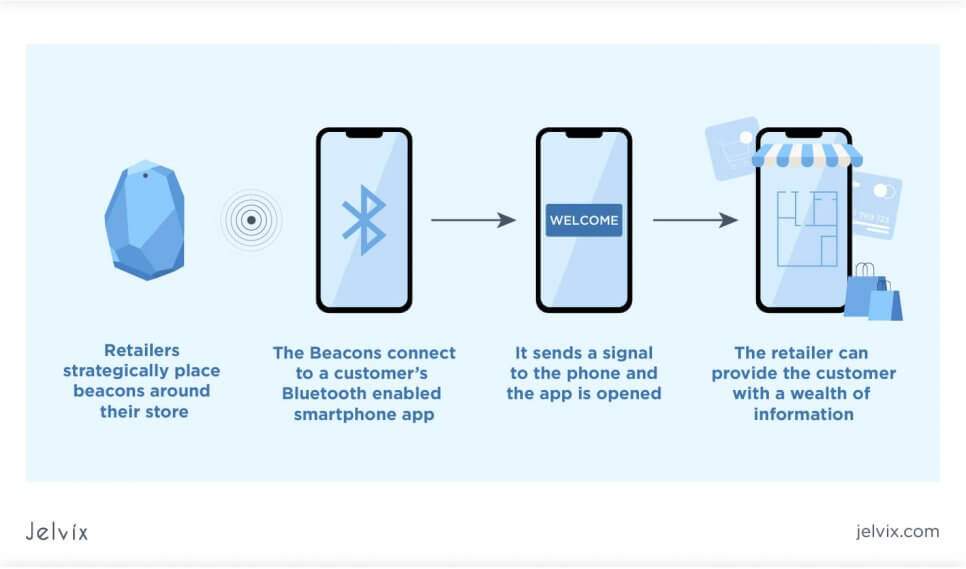 Beacon Use Cases: Beacon Usage in the Retail Industry
Beacon technology has proven to be effective in promoting trade and improving user experience, helping retail businesses streamline their operations, and build a loyal customer following. In particular, Beacons seem to be encouraging impulse buys and unplanned purchases, allowing the retail industry to benefit from them the most.
In a standout example, the shopping mall Lyngby Storcentre in Denmark came up with a great idea to keep kids entertained while their parents were shopping in the mall. They use an app called "GeoTrail GO" to set up an indoor treasure hunt with indoor maps of the expo area.
The app provides a schedule of events and information about the challenges to solve in the location. Using indoor location technology, the challenges appear on the screen when the user approaches the location and encourage the dialogue between visitors and staff.
Kids can go through treasure hunt challenges, find virtual treasures, and earn points when they are present at the designated areas in the proximity to a Beacon. Winners are announced every day and rewarded with prizes. The mall reps consider this the best way to keep kids occupied, buying parents some time to do shopping.
The Beacon treasure hunt is a very effective approach to marketing proximity as it allows businesses to boost sales and increase customer engagement.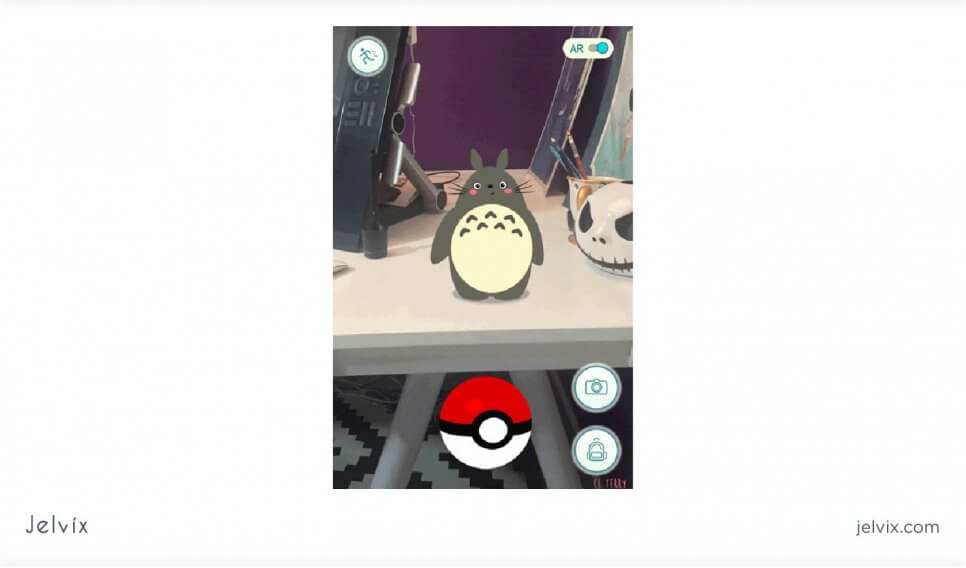 Another good example of implementing Beacon technology in retail would be retail hypermarket Auchan. In December 2016, a Beacon pilot project was launched by Auchan Ukraine hypermarket and continued its pioneering work in 2017.
The main purpose of this project was to tackle the challenge of indoor positioning and navigation. The hypermarket decided to use Beacons to maximize smooth customer experience and keep customers' attention.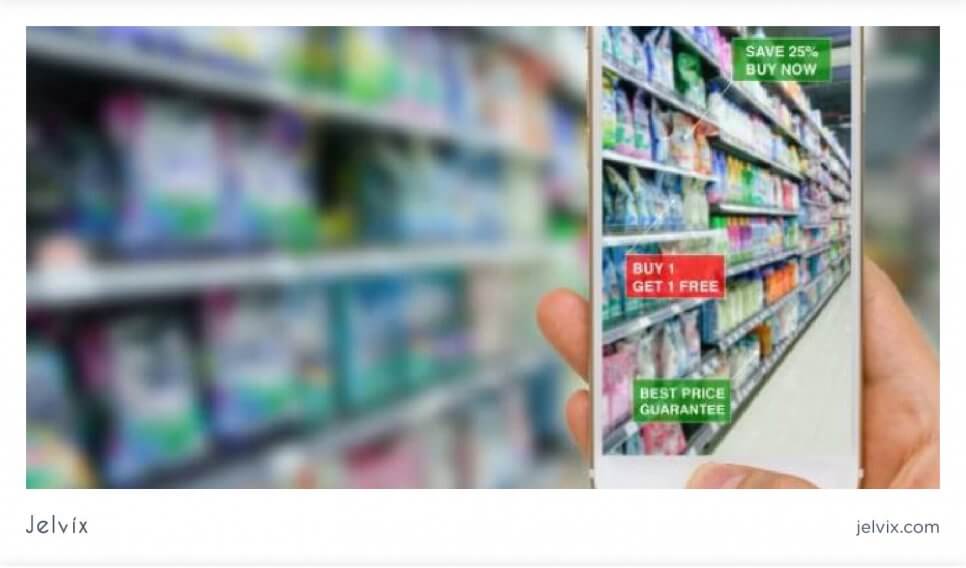 Auchan is a particularly large store (31,000 sq. feet), which definitely complicates the task of providing easy indoor navigation. However, with the use of Beacons, it allows its consumers to navigate through the store with the help of an indoor map.
Moreover, they have made sure that visitors receive real-time push notifications for wayfinding and marketing offers as they move through different sections of the store; whenever they click on "MAP VIEW", the map helps them find aisles or products they need.
Last but not least, we'd like to mention one of the most powerful examples of utilizing Beacon-based AR in the retail industry: the Living Wine Labels app. In 2017, a winemaking company called Treasury Wine Estates (TWE) developed an AR platform across its portfolio of wines to boost consumer engagement and business growth through its brands.
The main idea of the project was to help the company's brands stand out at the point of purchase and make the process of selecting wine more informative and fun.
In particular, TWE created a unique app that scans wine labels and gives detailed information about the product such as wine regions, expert reviews, purchase price, and directions to the nearest stores where you can buy it, etc.
On top of all that, Living Wine Labels has augmented reality functionality that can bring characters featured on the label to life, using storytelling to promote brands and share their history. To interact with AR-enabled bottles, wine lovers simply have to download the application from an app store and then point their smartphone's camera at the wine label to watch its story unfold.
With the use of Beacon-based AR technology, Treasury Wine Estates was able to drive the demand for their products (24 million+ bottles sold yearly) while enhancing the purchase experience and strengthening positive brand associations.
Beacons in Foodservice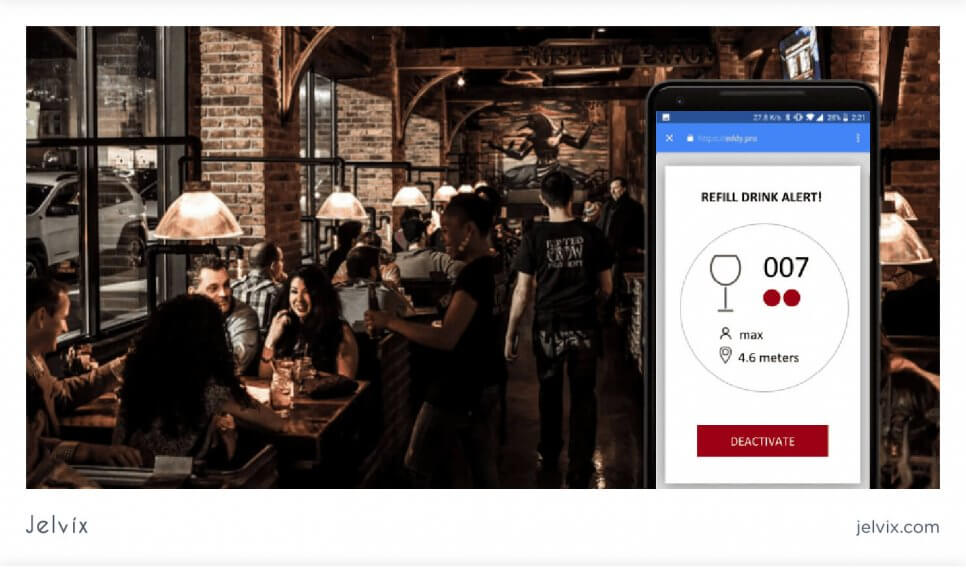 Today, the foodservice industry has the most to gain from emerging technologies to deliver superior customer experience and exquisite catering. With the use of small and hidden Beacons, bars and restaurants can have a great impact on the level of visitors' satisfaction.
Italian alcohol brand Martini came up with an efficient approach to supercharge marketing in bars and restaurants. The company created a Smart Cube to help bar owners improve crowd management and monitoring, while still providing an amazing experience to its visitors.
The smart cube is based on iBeacon technology that sends a Bluetooth message to the bartender when the visitor's glass hits a slurping point. The cube provides the bartender with the precise location of the visitor so that he can get another drink without having to leave his seat.
Eddystone Beacons in Public Facilities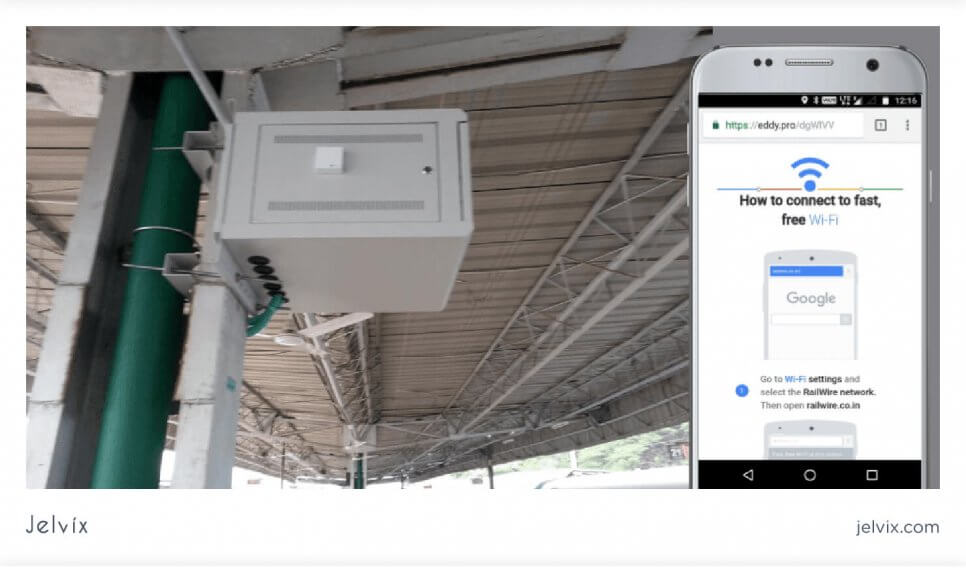 In 2016, Google launched the Railwire project with the purpose to roll out free and high-speed WiFi hotspots at 100 railway stations across India. In 2017, the company expanded the network alongside 2000 Indian railway stations. This project was executed in partnership with India Railways and RailTel.
Beacons at stations would deliver silent notifications to travelers whenever they approach the nearest device. When the phone is near and WiFi is on, it receives instructions on how to connect to the free WiFi.
Google reports the average CTR of 8-10% with a million notifications sent already! The main reason for such high click-through rates is Eddystone Beacon campaigns which do not require an app at the user's end. (Keep in mind that Android smartphones no longer support Nearby Notifications after December 2018).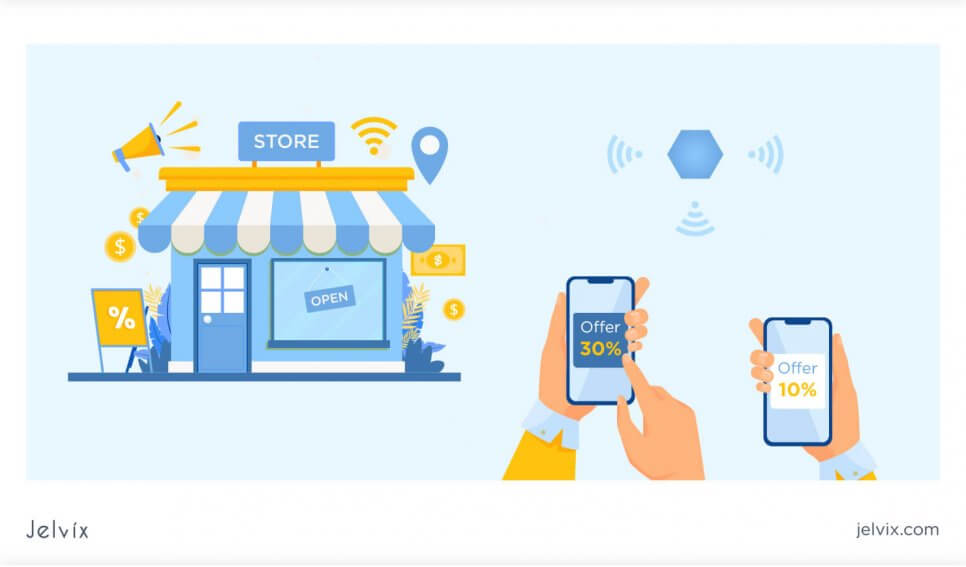 Pros and Cons of Using Beacon Technology in Your Business
Now that we have learned about the main use cases of Beacons across different industries, we may proceed with the advantages and disadvantages of the technology. The Beacon technology has many positives and only a few negatives. We have outlined both in the following list.
Pros:
Cost-effective

.

Standard B

eacon

models are relatively inexpensive as they are made of low-cost materials like plastic.

Easy to deploy.

Most B

eacons

are self-contained devices that easily work out of the box.

Proximity marketing.

Beacon

technology transforms customer engagement across different industries by giving them ways to engage with a brand.

Reliability.

Since B

eacons

rely on Bluetooth technology, their signals are capable of passing through walls and other obstacles; some models are resistant to extreme environmental conditions.

Vast outreach.

Most modern operating systems support BLE technology (your users need to make sure they have iOS 7 or Android 4 or higher installed on their smartphones).

Easy to implement.

Most innovative B

eacons

come with the programming tools (SDK and backend tools) and integrate easily into existing apps.
Cons:
Users may reject notifications.

Since most B

eacons

require user's permission for context-aware massaging, you risk your B

eacon-based

notifications being rejected. The information overload in today's information age is endless, and even if a person uses only a few apps daily, he/she still receives lots of notifications.


Because of such content overload, some users may turn off Bluetooth on their devices, thereby denying themselves the pleasure of having an exciting B

eacon-based

experience, even if it is exciting and non-intrusive.
A mobile app is a must.

For B

eacons

to work, they must pair with a mobile app. So if you want to deliver seamless customer service, you'll need to have this feature implemented in your business app.
Creating effective proximity marketing is not easy.

The abovementioned use cases of businesses using B

eacon technology

to improve retail and hospitality experience have proven workable and effective.

Beacons

can also be used by other non-profit organizations to develop smart location and proximity solutions.
In other cases, you should get the most out of your technology chops and creativity or hire a professional engineer with

expertise in

Beacon-based

and geofencing solutions.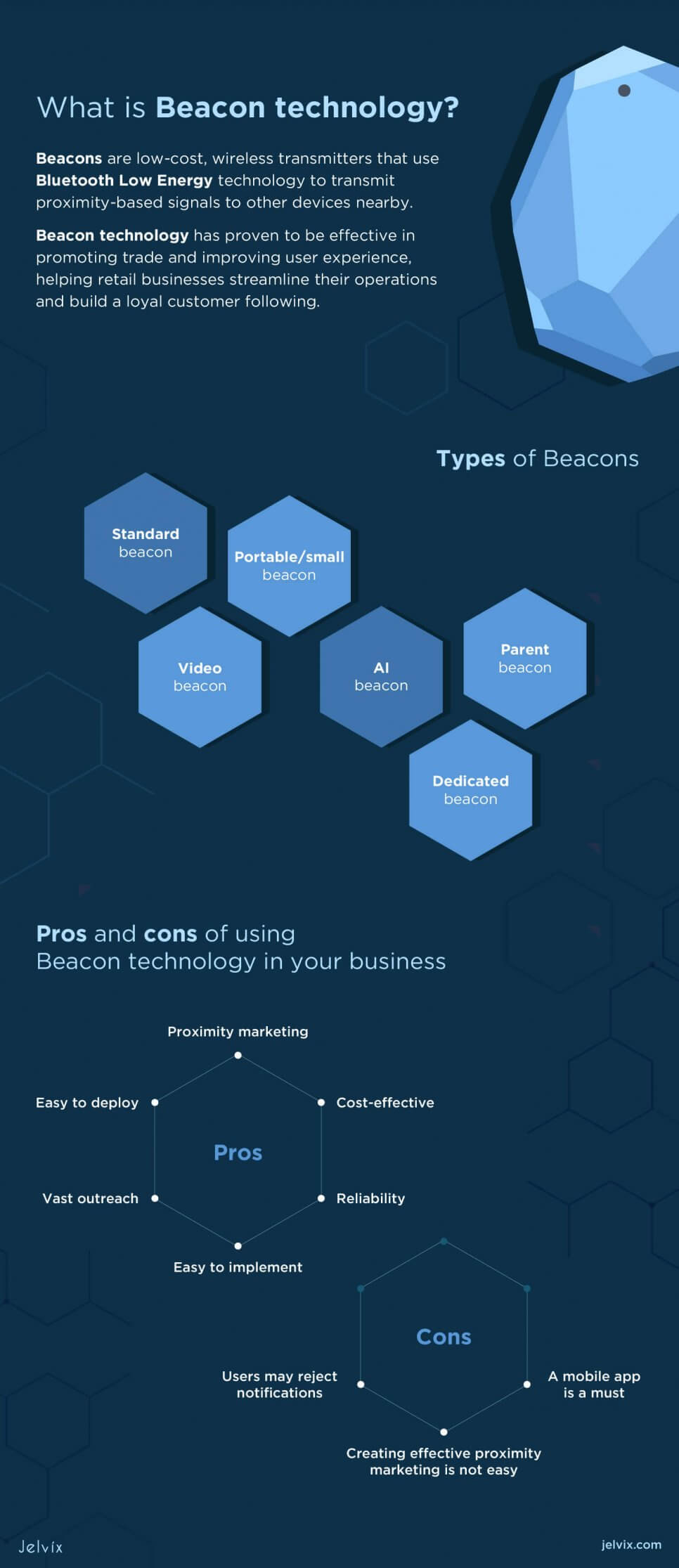 Conclusion
Based on the surging demand for location-based marketing solutions and the exponential growth of technology itself (Beacons will soon be developed on the cloud), we believe that it is worth investing in Beacons for your business needs.
With the new application types appearing (like AI Beacon, introduced by Estimote in October 2019), many organizations operating in retail or logistics will be the first to register positive growth on the market.
Plus, when information overload in our tech-saturated world seems endless, the Beacons' promise of providing new exciting ways of having the spot-on non-intrusive marketing experience makes it more desirable to your customers. After all, Beacon devices are incredibly simple, cost-effective, and come with tools for managing the deployment process, so why not leverage them?
We, at Jelvix, help companies make the most out of pioneering tech solutions and provide them with data-driven insights. If you're looking for smart digital solutions to transform your company today, please contact us.