The growth of the software development market, in particular outsourcing, pushes teams and business owners to look for new tech standards. There's a need for a specific set of criteria that can be used to evaluate vendors and organize development.
This is where ITIL comes in, one of the most popular sets of IT methodologies and metrics. In the article, we'll take a look at chief ITIL practices, advantages, and implementation tips.
What Does ITIL Stand for?
The ITIL acronym stands for Information Technology Infrastructure Library, which is a set of practices for IT service management. ITIL doesn't regulate code quality itself; it describes methods for building, delivering, and organizing IT services.
What is ITIL?
ITIL is a framework used to organize and manage IT services. ITIL basic components are published in ITIL Foundation Guides. Up to now, there are 4 of them, with ITIL 4 being the latest version.
However, apart from these four books, there is an entire library of supporting materials. Companies who implement the framework, can get books that cover each module separately, and even obtain an ITIL certification.
What's the Point of Using ITIL?
ITIL is primarily used by medium and large organizations that run complex IT services. They need a clear structure for their management, service design, support, and communication. ITIL provides them with the best practices, templates, and ready solutions that all work within a single framework. You don't need to mix several approaches, hoping to synchronize them well, since all aspects are covered by one methodology.
ITIL Has a Broad Application
Information Technology Infrastructure Library consists of multiple books, checklists, and guides that describe specific processes. These tasks are universal and don't depend on the tech stack or industry of the organization.
The certification for ITIL is managed by AXELOS, a private organization. It's not considered to be universal approval of IT service quality. So, companies don't need any official permission or documentation to implement ITIL practices.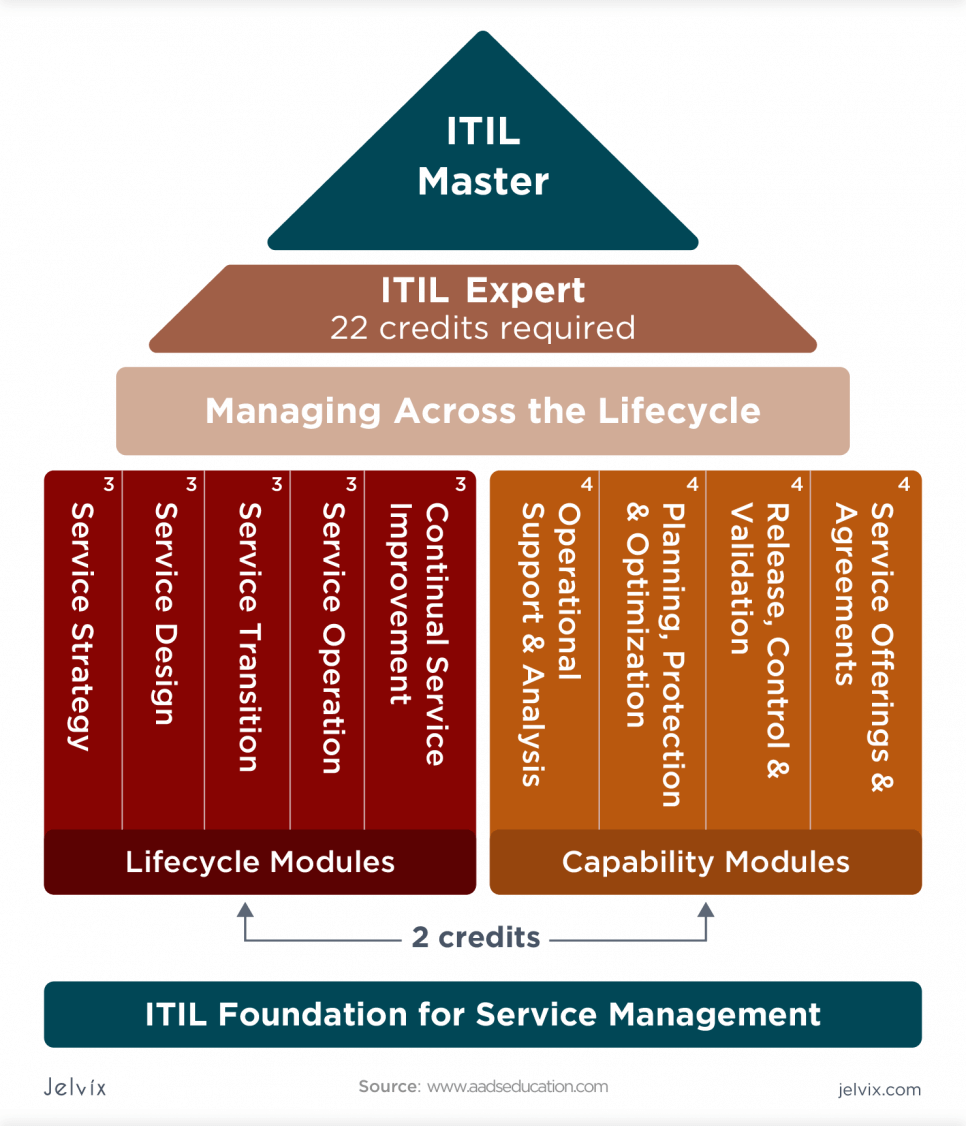 The Purpose of ITIL
ITIL is a library of resources (books, guides, and templates) that describe the best approach to handling IT services. The methodology, proposed by ITIL experts, is recognized at the international level and adopted by US state and local governments, financial institutions (Bank of America and others), universities (in particular, Yale University), and lastly – corporations (Walmart, IBM, etc.)
Companies use ITIL as a collection of go-to best practices. By adopting key principles of ITIL and relying on official guides, businesses can unify their organizational process. ITIL is a good place to start for companies who want to begin a digital transformation. It's a must-have resource for tech companies, business owners, and CTOs.
To understand if ITIL is something that your company could rely on, we encourage you to check free resources first. The official website features thousands of freely available guides and checklists.
In summary, ITIL resources help business owners reform and organize IT management, change management, risk evaluation, planning, communication, negotiation, and communication with clients. With free resources available, companies can evaluate the framework and adopt basic principles.
What is an ITIL Process?
ITIL helps companies to build their IT services practically from scratch – that's the main purpose. However, IT services encapsulate multiple processes and fields. Let's take a closer look at what processes ITIL is mostly focused on – and also, what aspects it prefers not to consider.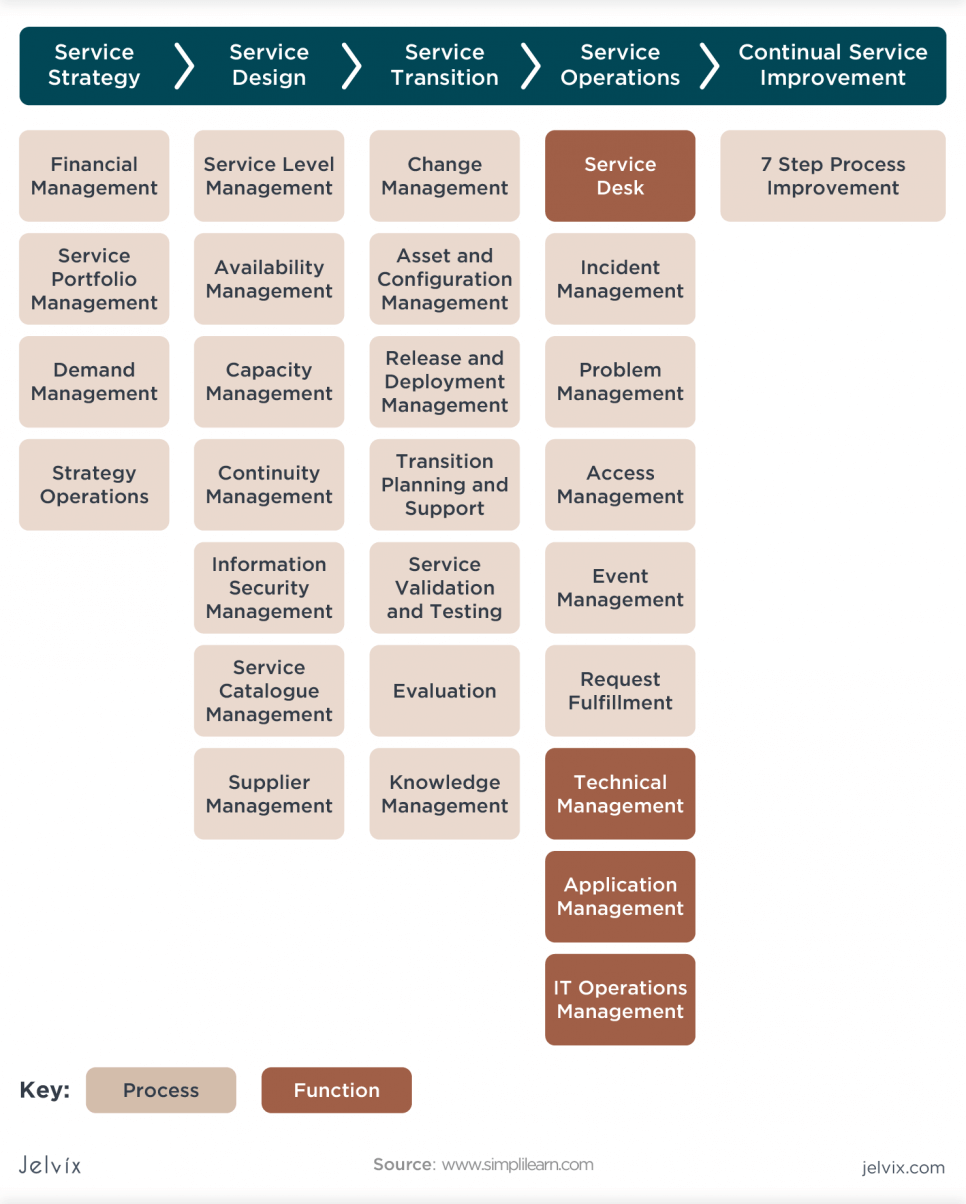 Core ITIL Components
ITIL methodology covers up to 20 IT service management processes, and it is constantly expanding. Not all of these services are necessary for most organizations; however, there are some key modules that you definitely should focus on. We describe the factors that have the most impact on IT service management – regardless of the industry or tech specifics.
ITIL Service Strategy
Service Strategy is one of the defining stages of ITIL methodologies. In practitioners' guides and free materials, ITIL experts recommend starting adopting the framework by carefully making changes to a current service strategy of the company – or devising a new one from scratch.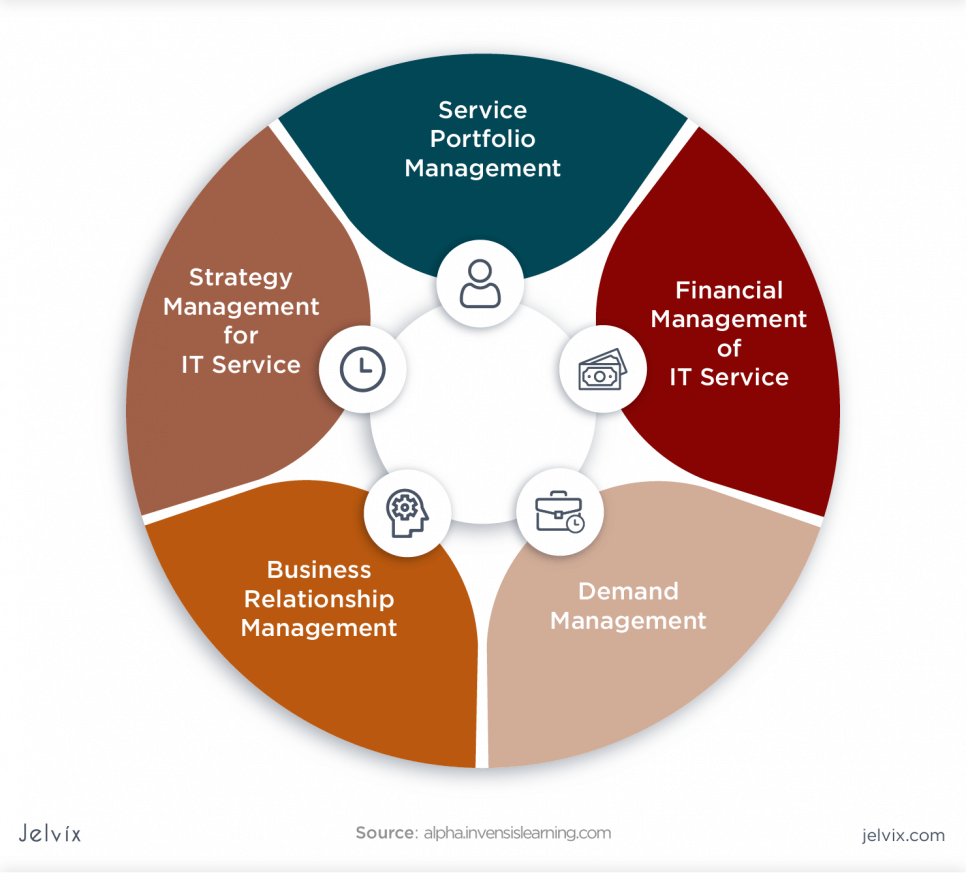 ITIL approach to service strategy
ITIL's approach to focusing on strategy first is hardly unique. The majority of organizational frameworks start exactly from here – after all, strategy sets the foundation for the entire organization.
ITIL covers activities and techniques that help business owners to define the strategy of their ITIL services. The strategy comprises key principles, objectives, technical concerns, long-term and short-term artifacts, and management tips and tricks.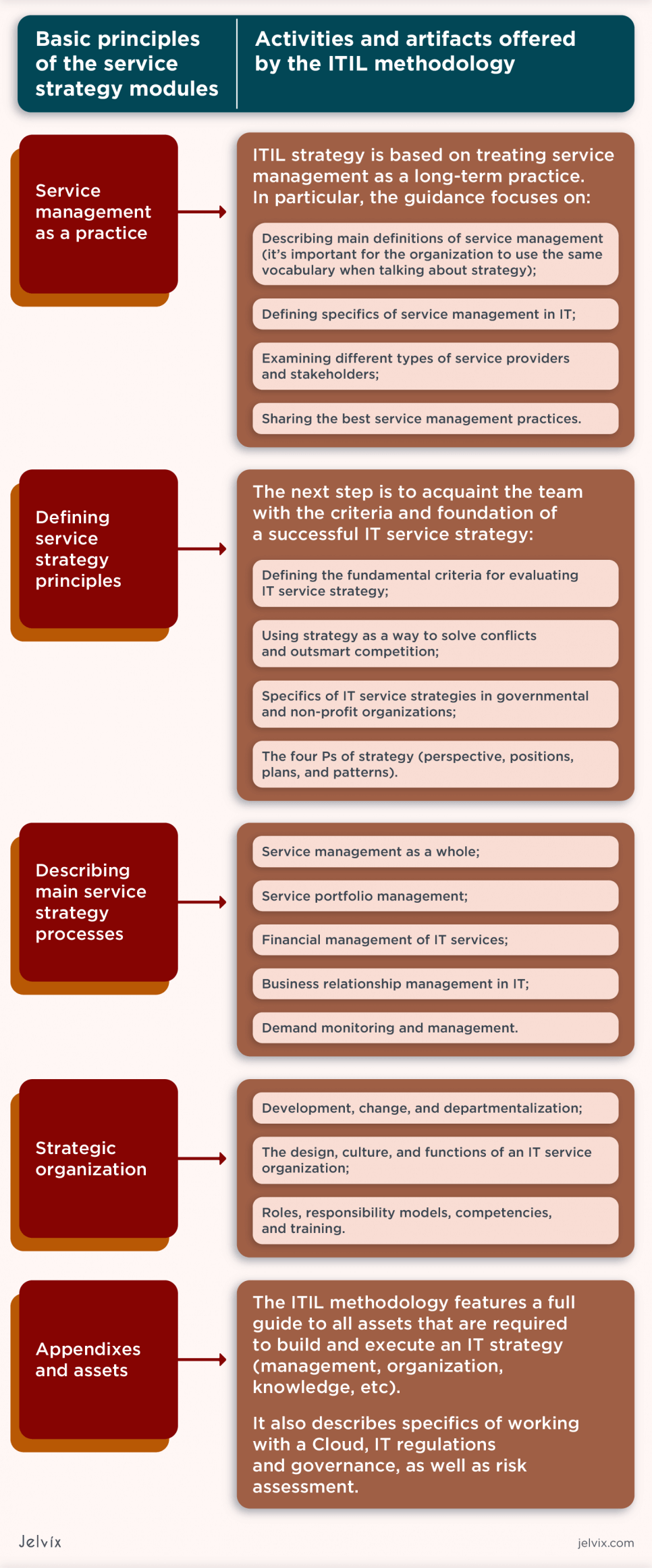 In our opinion, ITIL methodology stands out with its balance of theory and practice. When a team starts getting into ITIL practices for service strategy, members will likely be overwhelmed with the sheer amount of information. However, the practices are nicely structured in a way that a theory is immediately followed by practical tips and assets.
ITIL resources for service strategy:
ITIL Service Strategy

– this book describes the fundamentals of building a service strategy and is essential for understanding main ITIL practices;

Service Strategy Syllabus

– a free guide that describes the standards of Service Strategies for companies that want to obtain an ITIL certification. It's a good way to understand how high the bar is set by the framework and get familiar with practical applications.
ITIL Service Design
A service design module covers aspects of designing new IT services and reforming the existing ones. If the strategy design block is focused on getting knowledge about the methodology and establishing the theoretical framework, a system design course offers a lot more practical insights.
Materials on these processes are, in our opinion, particularly suited for companies that start integrating IT services into their consistent practices. It's also a nice fit for those who want to introduce a new service or reform an existing one.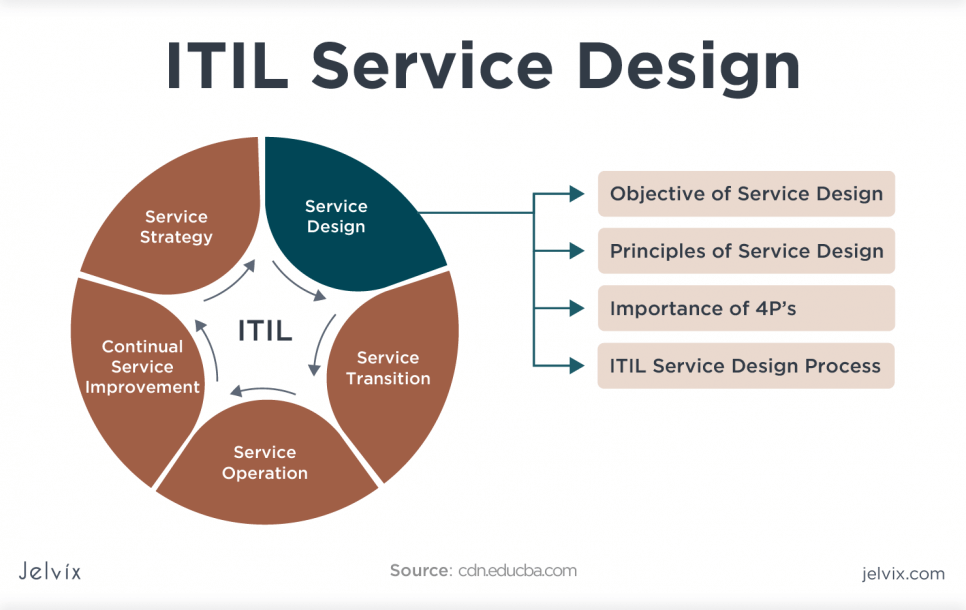 Basic principles of ITIL service design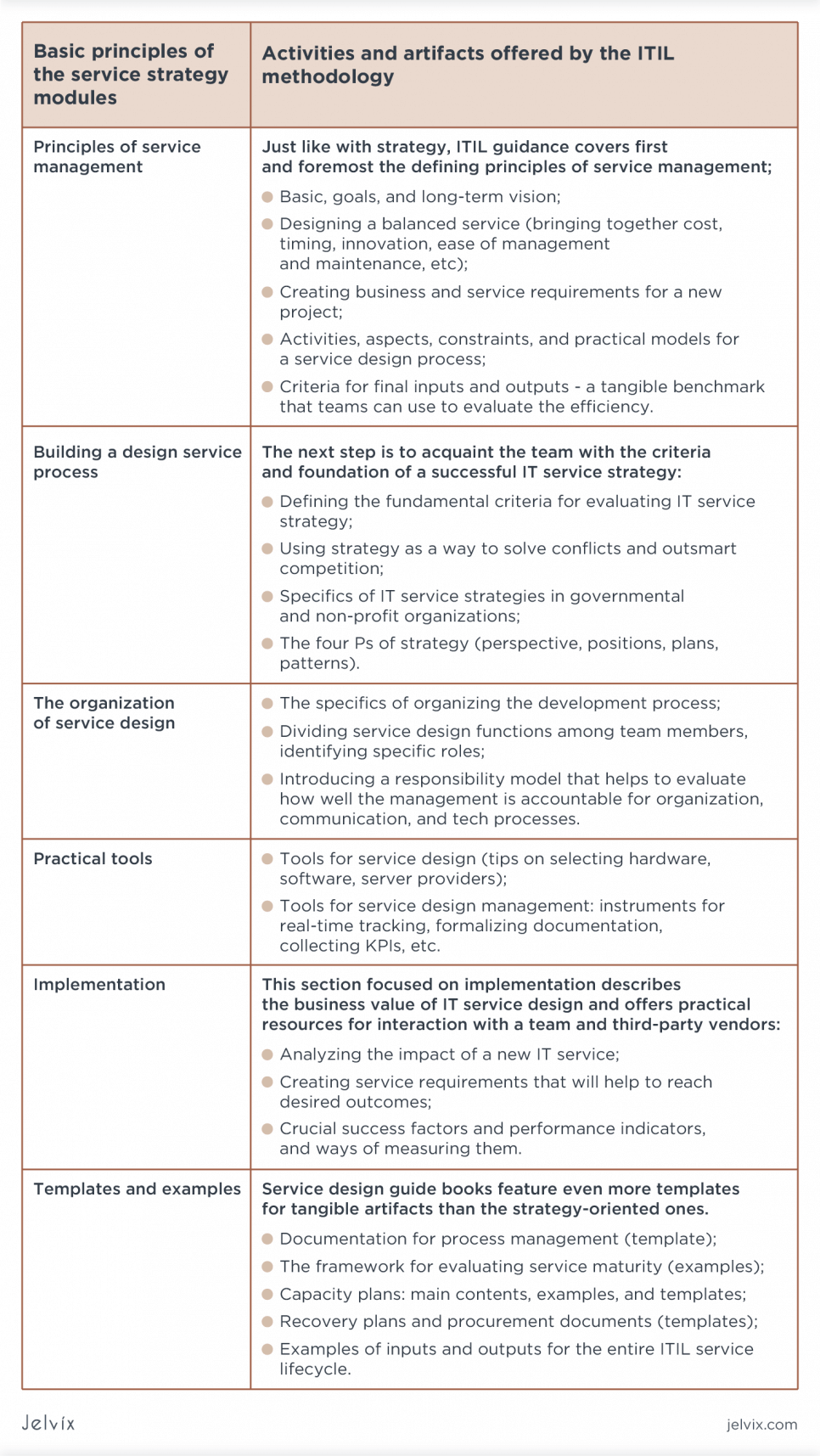 The section for IT service design is one of the most useful ones in the entire library. It offers tons of paradigm-shifting theoretical interpretations, but what's even more valuable is the collection of practical assets.
Teams can use templates, examples, and document contents to build their full documentation for IT services. These documents are used with clients, stakeholders, and vendors across the entire lifecycle of the service, and can be used for the next ones as well.
Official ITIL resources on IT service design
ITIL Service Design – a fundamental guide to ITIL service design principles with key templates and examples.
ITIL Small-Scale Implementations – big organizations are the main target audience for most ITIL.
Service Transition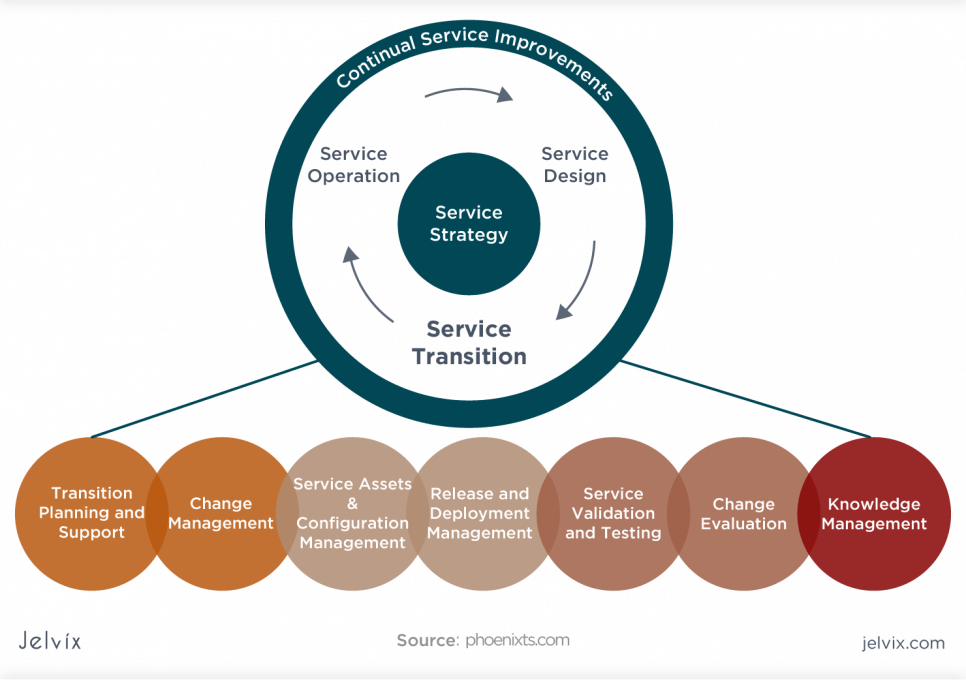 When an IT company transitions IT services to a new environment, introduces modifications to the organization and changes the strategy, there will be challenges. Since ITIL focuses specifically on different stages of digital transformation, it's natural that service transition is one of the most important modules of the methodology.
Efficient service transition is the process of defining the service that no longer meets the expectations and redesigning it. ITIL methodologies describe triggers and indicators of transition, business requirements, and best practices. After learning the module, business teams can create a new service package, establish an ITIL environment, and measure gains.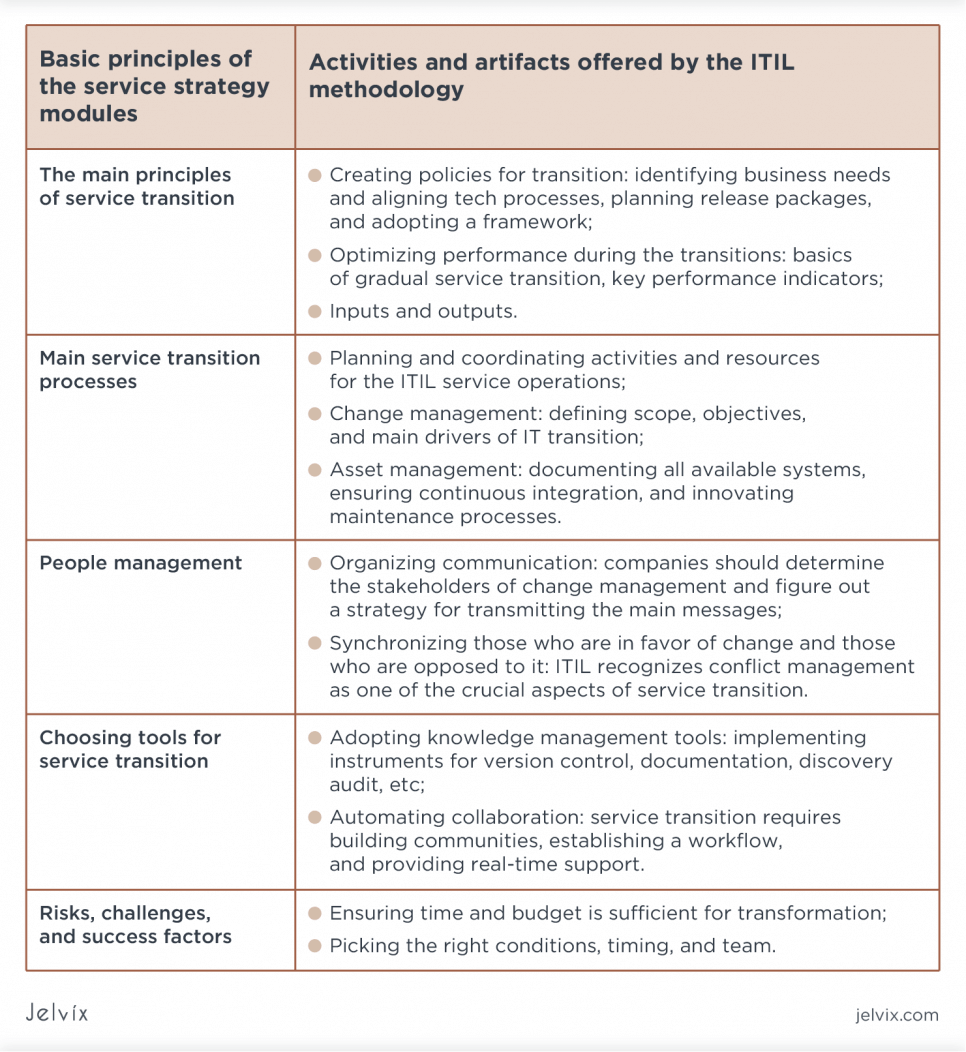 Resources on ITIL Service transition
The main principles of ITIL
ITIL methodology has core values that are applied to the entire IT service lifecycle. These principles are adopted by organizations that follow ITIL practices and help them set a long-term foundation for digital transformation.
Focus on value
The team should understand what values the end IT service provides to users and all the members. This is why IT service design and strategy planning in ITIL always starts with setting up benchmarks and examining objectives.
End result is prioritized over time spent;

To determine value, companies should embrace real-time tracking;

Personal growth and learning should be encouraged.
Keep it simple and practical
The focus should always be on optimizing users' experiences. Developers and ITIL service managers have to think about the best ways to solve the problem, not settling for just an option.
UI/UX design team should participate in the process of forming requirements;
User experience should be tested and verified through the entire lifecycle;

Adopting the best testing practices and complying with recent standards are the priority of ITIL methodology.
Start where you are
Mistakenly, some teams think that to introduce new practices they need to tear down the existing infrastructure. ITIL helps business owners save time and money by reusing old resources.
Evaluatу current practices and determine what works and what doesn't;

Start collecting data to evaluate existing infrastructure before starting the transformation;

Identify risks and challenges of the transformation.
Work holistically
A successful transformation of IT services is based on a long-term approach. Sometimes, teams focus too much on one thing – they start obsessively implementing documentation or automating every action. However, rather than focusing on one aspect, the real challenge is to combine all of them in a balanced fashion.
Examine costs for automation and redesign before applying the theory of ITIL;

Encourage departments to collaborate throughout

ITIL processes;

Research practices that your competitors use.
Progress iteratively
To catch mistakes in time and quickly roll out changes to the market, ITIL encourages teams to embrace continuous integration. We have been releasing our products with minor interaction for many years, so this principle has always felt natural to us. The iterative approach lets the team see progress, identify mistakes, and prevent the accumulation of tech debt. It's a faster and simpler way.
Embrace Agile practices

: a flexible approach to software development is built on the concept of interactions;

Adopt tools for continuous delivery and integration

: you need software that rolls out updates automatically and shares them with the team;

Get user and tester feedback for every iteration
Collaborate and promote visibility
Documentation lies in the core of the ITIL methodology. Teams should collaborate, conduct peer-to-peer reviews, and receive feedback from other members. Management makes decisions together with everyone – all teams are involved and ready to take responsibility.
While it's better to designate responsible entities, the entire team should be a part of the discussion;
Embrace collaborative project management software;
Collaborate: peer-to-peer coding sessions and communication between developers and testers blur the lines between team members.
Who Benefits from ITIL?
Since ITIL is quite a large-scale methodology, there are a lot of benefits. Business owners, managers, and developers get to leverage their opportunities. So, what are the benefits of ITIL if you decide to implement it?
Organizations
ITIL allows organizations to plan and execute digital transformation. For instance, if a big company wants to expand its research and development centers, they need to innovate management and development processes. ITIL tells them how to do it correctly – from choosing the timing for such a change to measuring its final result.
ITIL practices are long-term oriented. Companies that implemented ITIL 5-6 years ago keep reaping its benefits. This is because they've established a solid foundation of documentation, metrics, and management systems. Implemented once, these methodologies and tools can be used forever.
ITIL helps organizations to outsmart competitors. Today's unpredictable economic and technological factors like the COVID-pandemic can interfere with strategies and can cause budgets to plummet. ITIL methodologies offer multiple B and C plans that help companies face all kinds of emergencies. This is what makes them stand out from the competition and keep pursuing tech innovation, regardless of market changes.
Managers
ITIL methodology is mainly oriented towards the management chain of IT services. CTOs, project managers, and HR managers will benefit from adopting documentation, planning, and measurement practices, described in the library.
In our opinion, the most valuable portion of ITIL is the artifacts – tangible templates of documentation that can be used directly to manage your company's data. All you have to do is get the template, read about its applications, and stick to these practices long-term.
Developers
Although ITIL materials aren't directly oriented towards developers, the engineering team also benefits from their implementation. When business owners and managers have a clear vision of the team's growth, developers can focus on innovating.
Overall, the goal of ITIL is to take out the unnecessary management challenges that distract from actual technology. Automation, estimation, and cooperation practices reduce the load on an individual developer.
How to Get an ITIL Certification
ITIL components are measured with credit systems and certification. The company gets an official acknowledgment from the organization that owns the library and uses it as proof of their successful adoption of practices. Companies like IBM, Hewlett Packard Enterprise, and Microsoft welcome ITIL certifications for their teams.
Types of ITIL certifications:
Foundation

: a basic certificate that proves that the team has a good grasp of key principles of ITIL lifecycle and IT management;

Practitioner

: a certificate that proves that the company knows how to apply these principles in simple projects. This module requires learning change management, metrics, and communication practices;

Intermediate

: intermediate modules heavily focus on service lifecycle, in particular, service design and transition;
Managing professional

: an IT service manager who can show expertise in the creation, delivery, and support of IT service, demonstrate expertise in specific modules like High-velocity IT and Direct, Plan, and Improve.

Strategic Leader

: in ITOL 4, this is the final stage of expertise, and it requires the demonstration of the strategic vision and profound insights for IT services.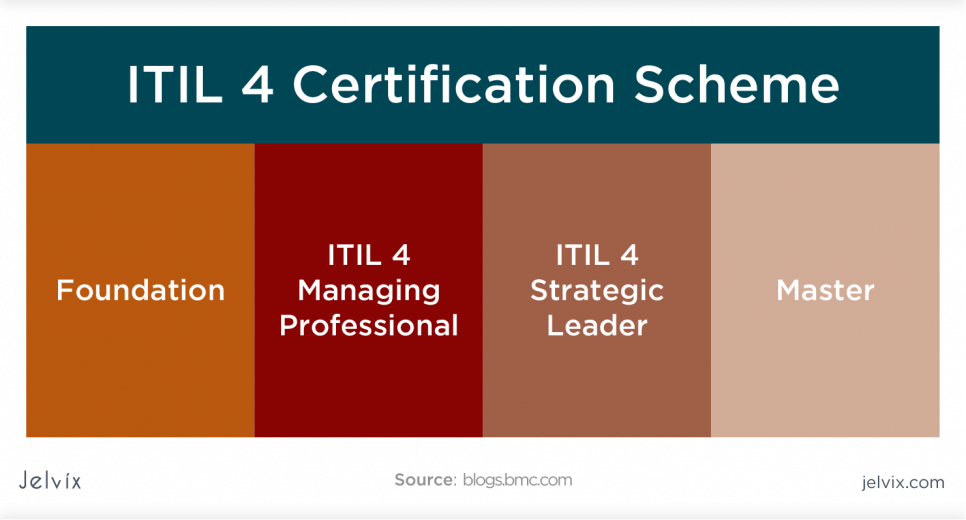 Conclusion
Getting an ITIL certification is the final step for polishing IT organization and management practices in the organization. Is it a necessary condition? No. Even just getting familiar with the basic principles and artifacts from linked guidebooks will help you to synchronize the development process and deliver more value. Ultimately the certification process motivates for the organization and delivers business value to a company's end users.
If you'd like to work with a team whose management and development practices are fully aligned with ITIL, you can contact our team. The Jelvix team has been following the library from its very first versions, and actively applying principles and tools, recommended by the experts. So, we are ready to help you establish the same processes in your R&D and software development department.